Coming into the handy round in second place, Jenny Karazissis moved up to win the $10,000 USHJA International Hunter Derby aboard Michelle Cobb's Really, on April 13. Galloping on the grass at the Rancho Mission Viejo Riding Park in San Juan Capistrano, California, Karazissis topped a field of 31 entries. The pair finished with a two-round total of 390 points, while John French rode Laura Wasserman's Skyhawk to a second-placed finish.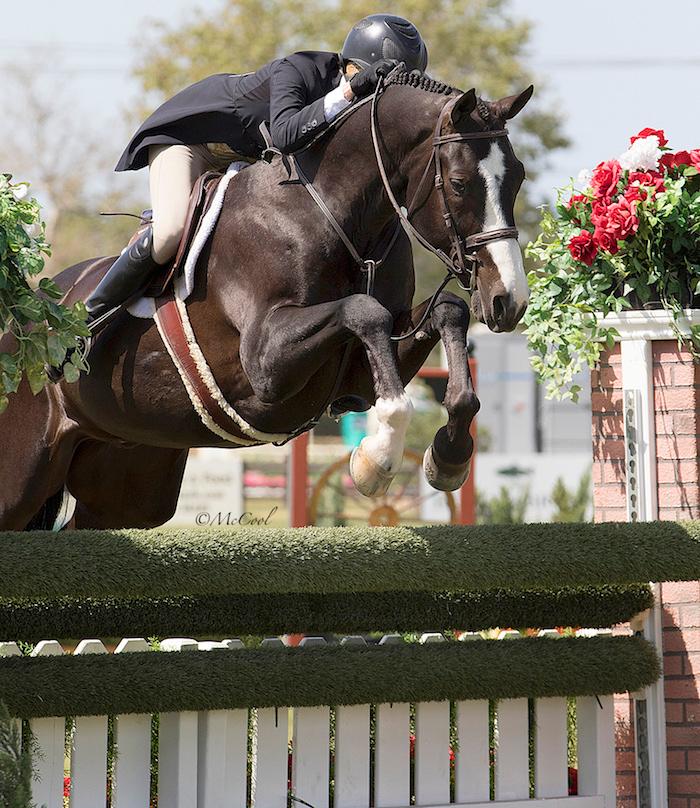 The two judging panels for the class consisted of Kim Dorfman with Mark Jungherr and Meg Schulman with Brian Lenehan. Alan Lohman designed two beautiful tracks on The Oaks International Grand Prix Field. Twelve horses advanced to the handy, where tight inside turns combined with spaces to gallop made for an exciting finish. Lohman set the high option fences up to 4'9″, and Karazissis took full advantage of the extra points, taking all four high option fences in each round with ease.
"This is Really's first derby win," said Karazissis. "He's really special; he's really relaxed. We've been second in a few derbies together, but he really felt like he was relaxed today. He has all the scope in the world; I never doubt him at the high options."
She also earned fourth- and seventh-placed ribbons on Big Shot and Legacy, respectively.
"I've ridden Legacy for a few seasons now," she said. "He's a great horse, very brave and very confident. This was only Big Shot's second derby, so I was very pleased and impressed with him. Legacy and Really are already qualified for [the Platinum/Performance USHJA International Hunter Derby Championship (Ky.)], so I'm planning to show them there, and I'd like to get Big Shot qualified to go as well."
Kost Karazissis was awarded the Arthur J. Hawkins Award for Excellence for his continued support of the show hunter industry. His name was a great addition to the list of talented horsemen and horsewomen who have won the award in previous years.