In the wake of legendary eventer Jim Wofford's death earlier this month at age 78, we asked readers and colleagues throughout the horse industry to share some of their favorite memories and quotes—or "Woffordisms."
Here are just a few of the stories they told; more will follow in the next issue of the Chronicle:
---
"Your horse comes first."
I started riding with Jimmy at clinics in California at an early age, around 12. I loved his classroom-like lectures the most, where he would write things out on paper and show the mathematical arch of a horse's perfect jump. It made sense to me.
I got the opportunity to be his working student after my freshman year of high school and continued for over three years. He not only taught me so much about horses, their care and my own riding, but he knew I needed him more than just as my trainer. My father had recently passed, and he and his sweet wife Gail became surrogates to me while I was in boarding school nearby. He left me cartoons that reminded him of me and crossed out names and replaced them with mine. He taught me to love history and mystery; he told stories of local history with such a deep passion. He sent me videos and homework so I could always better myself.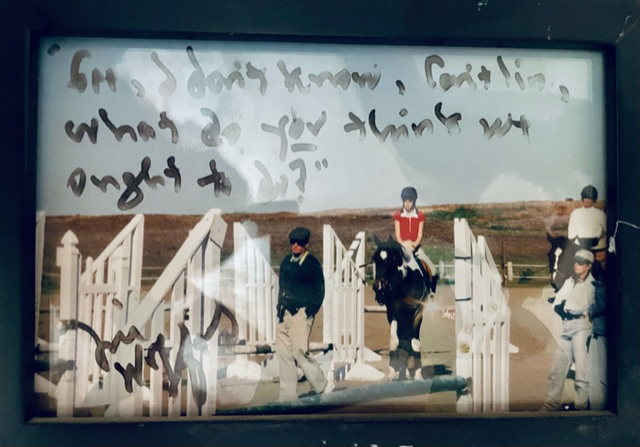 Once during his famous "hell week," my horse Montana Native [previously ridden by my main trainer, Rainey Sealey, another student of Wofford's] flung a shoe during his "Jim-nastics" session. I hadn't noticed, so he went and picked it up and handed it to me, simply saying, "Goodbye." I took it and must have looked confused because after a few seconds of staring at each other, he continued, "You can't continue. This is a front shoe. If it was a hind, maybe, but not a front shoe. Your horse comes first. Goodbye." I thanked him, hopped off and walked back to the barn. He had a solid point.
The "your horse comes first" really stuck with me. I'm now an equine veterinary technician and made it my life's mission to make sure I can advocate for other horses and their needs coming first.
We emailed often enough to keep up with each others' lives, and I saw him every time I could. I'm so grateful he got to meet my son, Lochlan, last spring. He was so proud that I named him after him. (Lochlan's middle name is James.) He was the first person I would contact after big events. I owe a lot of my accomplishments to him.
Jimmy and Gail were so kind to me when I battled cancer in 2019 and rejoiced when I got pregnant with my son in 2021. I emailed him almost immediately and told him I was reading his new book and needed to let him know my baby would be named "Something James," after him. He emailed me right back: "C, I don't know about you but I think Something James Peterson has a nice ring to it! -J"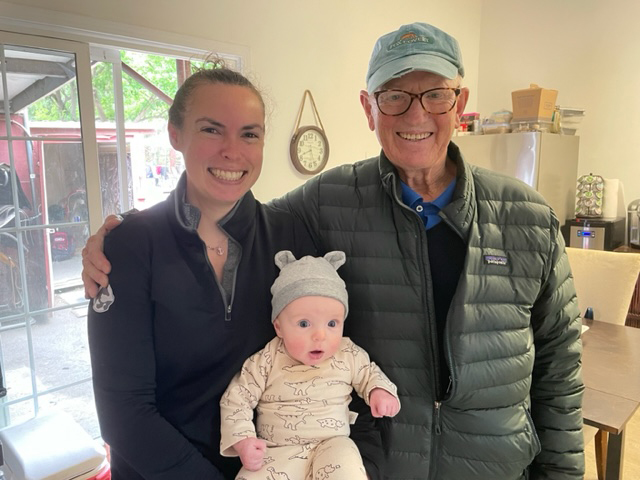 We last talked over Christmas, where he told me he could never forget me. It came out of nowhere, but now I know why he said that. I could never forget you either Jimmy. I'm forever grateful for everything you've done for me.
Caitlin Lighthouse Peterson, Auburn, California
---
"Experience is what you get just after you needed it."
Back in the 1990s our local DCTA hosted two clinics with Jimmy, a brilliant and gracious man who happily accommodated our meager budget by staying at a Red Roof Inn and ate more than his share (I'm sure) of barbecue and potluck. I don't think any of our attending riders were above training level, but he gave each one us an Olympic master class. And it wasn't all riding.
He gave us lectures on theory complete with diagrams before anyone stepped foot into stirrup. He was charming, engaging, intelligent, knowledgeable and funny.
My favorite quote: "Experience is what you get just after you needed it."
He was the ultimate equestrian renaissance man.
Judy Olcott, Columbia, Missouri
---
"You may have been riding all winter, but you haven't been RIDING all winter!"
As we all agree, Jimmy was the most brilliant coach. He was able to pull out the best in you and make you believe it—to the point that you thought it was already a part of your training program, like it was your idea! He was just a mastermind.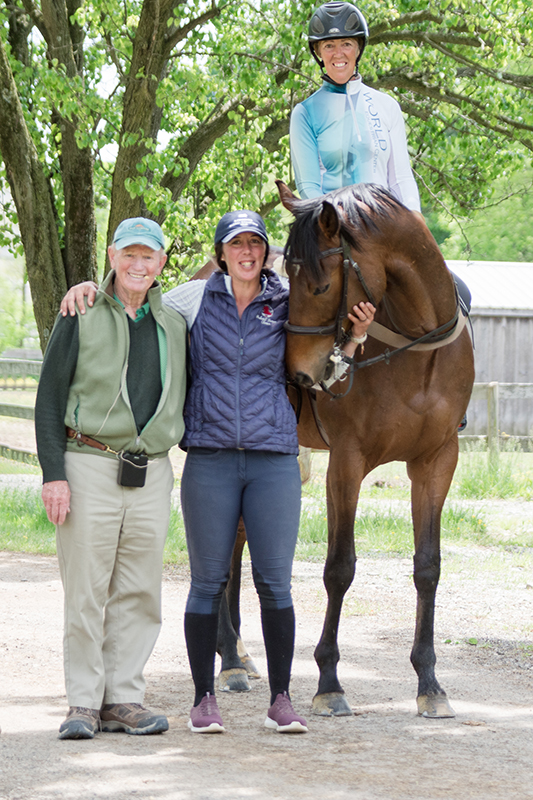 My favorite and most humbling moment was having been "training" in Wellington all winter riding hunters and jumpers, and in my first lesson back [he said], "You may have been riding all winter in Florida but you haven't been RIDING all winter!"
Pow! It hit me like a load of bricks. But you know what, from that moment on I started really riding again, and it's stuck!
Priscilla Godsoe, Nottingham, Pennsylvania
---
"[T]he color of the ribbon pales in significance."
As a 23-year-old student trying to train her own dressage horse with a limited budget and less experience, I read this quote [in Practical Horseman], changed my entire mindset that I had been using with my horse, and found success. I also made this quote art myself and asked my mum to frame it for me. It's hung in my home for nearly 15 years.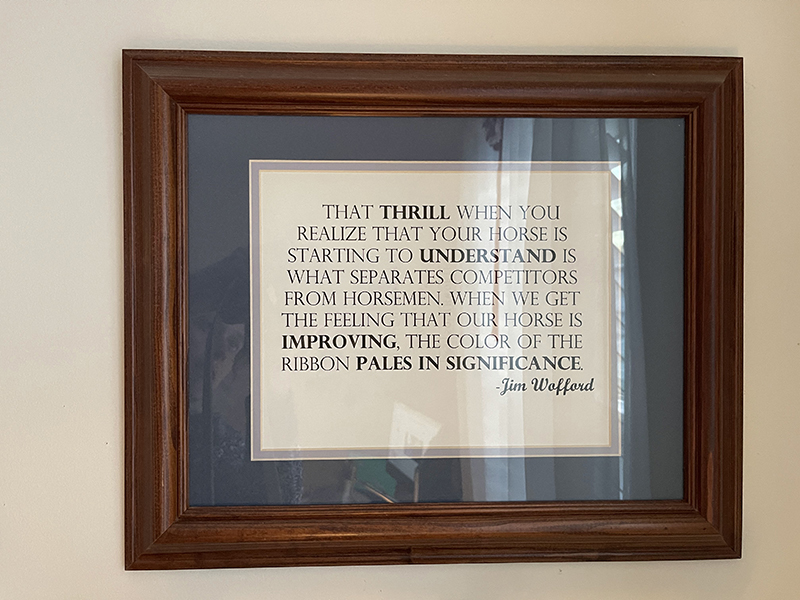 I think when you're young, winning can feel like the most important thing. This quote taught me that winning means nothing— the only thing that matters is the horse and their journey together with you.
Sarah Spaulding, Gaithersburg, Maryland
---
I'm not wearing my 'I Care' T-shirt
My relationship with Jim started in Virginia, when I was 17 years old and just starting to ride at the preliminary level. Little did I know that I would continue riding with him in one way or another, in lessons and clinics, in three states and over the course of three decades. He seriously raised the bar in my riding, and he taught me a lot about how horses think and how best to train them for a strong partnership. Jim wasn't one for fads, gimmicks or shortcuts. All horses, he once told me, with proper training should be able to jump around Badminton in a snaffle.
Most precious to me, though, was his willingness to indulge me when I repeatedly asked him to write a book (I went on to have a career in publishing; he politely declined, loyal to his publisher) and his genuine interest in my family. You see, Jim loved his students for both their accomplishments in the saddle and for what was going on in their personal lives. Perhaps unlike so many professionals today, he lauded his students who were raising kids and working in fulfilling careers while still pursuing a love for eventing. I'll forever be grateful that this man who was one of my heroes growing up was also a valued teacher and supportive friend.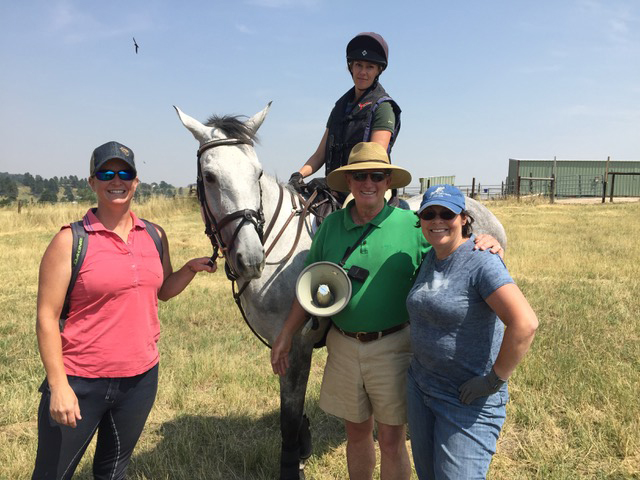 There are so many great Woffordisms, but one sticks out for me. At a clinic back in 2008 or 2009, I was not riding well, and my horse was not really cooperating. Frustrated at one point, I lamely made an excuse.
Whipcrack fast, Jim said, "Don't you see? I'm not wearing my T-shirt today."
Confused, I replied, "What T-shirt?"
"The one that says, 'I Care.' "
That was the thing about him: He could put you in your place so fast and with such wit, that you couldn't help but laugh at yourself while taking the lesson to heart. Jim taught me many valuable lessons about horses and life alike. What an honor to have known him and learned from him. I am content knowing he's enjoying a big, beautiful river in the sky, grinning down on us all.
Ashleigh McKown, Castle Rock, Colorado
---
"I'll see you before you see me."
There are so many who are expressing what Jimmy Wofford meant to them. He's been an immeasurable part in so many lives in this sport and outside of it. His influence, knowledge and guidance are part of what has made this sport great.
Personally, for me he is and will always remain my compass—unwavering in his direction but always allowing for personal influence and instinct while showing me the path I should take to reach my destination. Even with this, there will never be enough words to express what he means both personally and professionally to me.
Our relationship truly started with his love of and insight into a completely egotistical, feral Thoroughbred freak of nature [Shiraz, Rutledge's first five-star horse] who was a cross-country machine that shaped who I wished I could be. Jimmy's belief in this horse took me around the world and into places I never believed I would belong.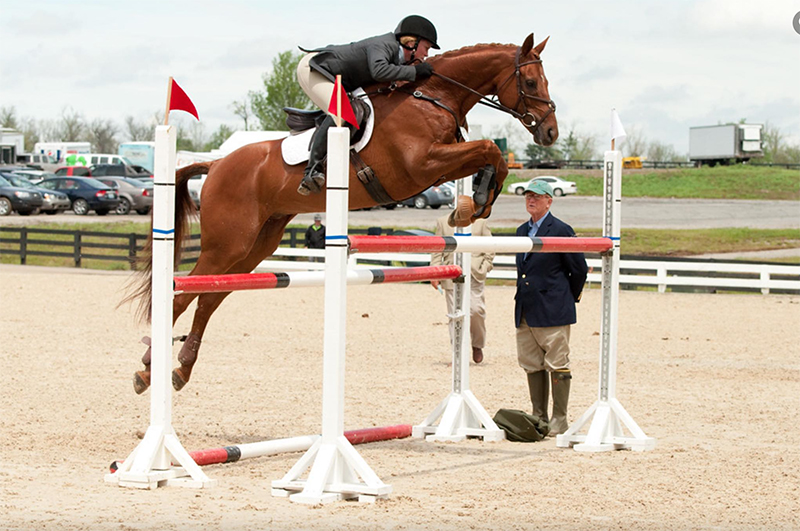 His innate intelligence with both horses and humans shaped how I listen to my horses' voices as well as how I teach my students. His unwavering confidence in my horses and in my ability to communicate with them allowed me to surpass my dreams and to expect more from myself.
He has been and always will be an unwavering fixture in my life that will never be replaced, and I will miss him every time I step on to the back of a horse or onto a cross country course or even see a body of water that might hold a fish. I treasure every moment I was ever blessed to have with him. I will always hear his parting statement to me after I would come see him to discuss my upcoming course: "I'll see you before you see me."
You will sir, forever more.
Colleen Rutledge, Mt. Airy, Maryland
---
He loved sharing his knowledge with people who wanted to learn.
One of the best things I did when I first moved to Chester County, Pennsylvania, was explore different learning opportunities.
I was starting up my business, felt a little lost and was searching for something that would challenge me. I religiously rode in clinics with Jimmy Wofford at Melissa Stubenberg's Kealani Farm and loved every minute of it. He treated me with the utmost respect, and I could tell how much he loved sharing his wealth of knowledge with people who wanted to learn.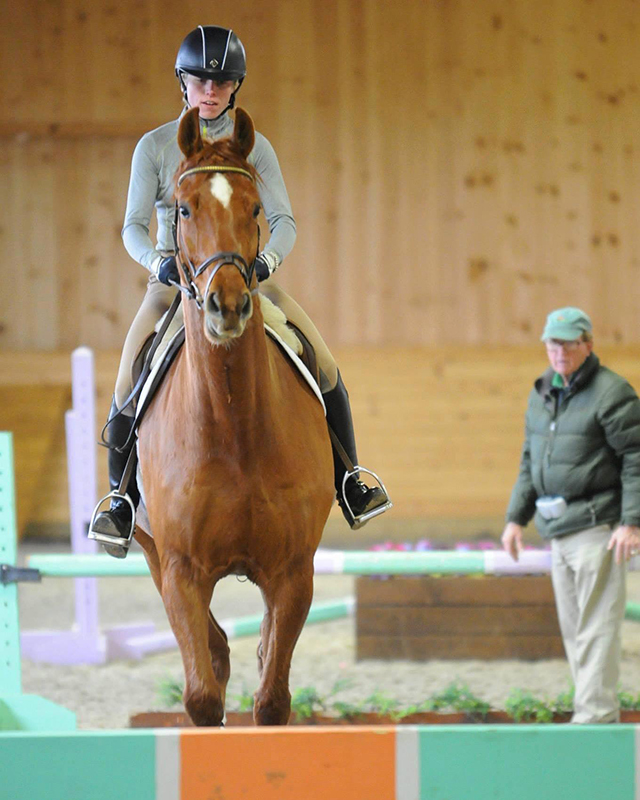 I was a sponge and took advantage of the opportunity to learn from Jimmy, knowing full well that my future was not in eventing or jumping, but that this was an opportunity to learn about being a good horseman. It was about correct riding, which is something that any person can benefit from regardless of what discipline you pursue.
Jimmy affectionally named Bunny "Igor" because he recognized that my stout chestnut had a little bit of stubbornness in him that needed to be ironed out. The lessons I was fortunate to have with Jimmy left a lasting impression on me and are something I will cherish forever. When you read the countless tributes written about Jimmy Wofford, you quickly understand that his impact on equestrian sport was vast and something you don't see too often—he touched the lives of so many, and because of that the equestrian world is a better place.
Emily Donaldson, Parkesburg, Pennsylvania
---
Amateur rider Courtney Lobel rode regularly in clinics with Wofford, and said she had "a million Woffordisms to share." Here are just a few:
"We must not take counsel of our fears"
After my horse refused a jump twice because I was clearly scared, Jimmy gave this advice to me through his megaphone: "Courtney, Gen. Patton said we must not take counsel of our fears. Now go jump that jump." And I did.
"Not every fantastic horse has to compete at Kentucky."
Once when a very green Irish Draft Horse was going beginner novice in our clinic, Jimmy formed a real attachment to the horse. After one fence where the horse saved his rider's bacon with his honesty and quick footwork, Jimmy turned back to the rest of us with a huge smile and said, "Not every fantastic horse has to compete at Kentucky. That's a fantastic horse." His glee at seeing this clever draft horse go was infectious and full of joy.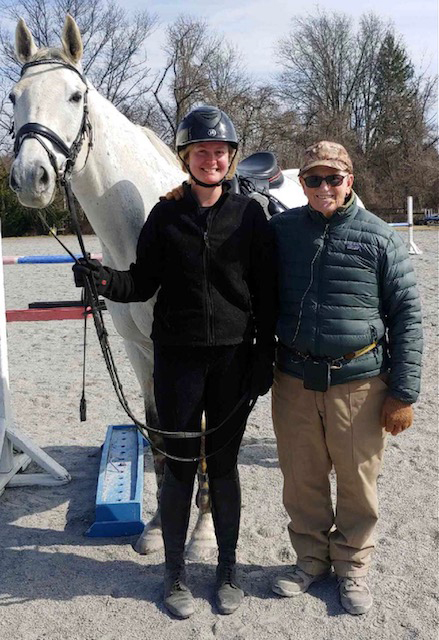 "It's your horse that thanks me."
After a dozen or so clinics with Jimmy, it became clear to both of us that I was starting to put the pieces together and meaningfully improve my riding. I rode up to Jimmy and thanked him from the bottom of my heart for everything he had done to help me become a better rider. He replied, "It's your horse that thanks me."
Courtney Lobel, Alexandria, Virginia
---
"It's raining, but as the Irish would say, it's a dry rain."
(Editor's Note: Stealing another one of Courtney's quotes here, but it's perfect for this story.) 
My favorite memory was when I was lucky to enough to get an impromptu private jumping lesson at Jimmy's farm.
Mostly, jump lessons were given in small groups, but it was pouring rain that day, and I was the only one to show up. There I was with my horse on the trailer, expecting him to turn me away, but instead he greeted me in a long raincoat and informed me everyone else had cancelled due to the dodgy weather.
He followed that with, "The dress code doesn't apply today. Meet me at the ring. I'll get my hat."
He always had a dress code: Never show up without your tall boots polished (NO half chaps!), collared shirt tucked neatly into breeches. Well, I had polished everything and didn't even have my half chaps with me—so, there I was in my good tall boots with the most waterproof jacket I had that day and headed to the ring. (The jumps were in his outdoor ring.)
It turned out to be the most incredible lesson of my life. Visibility was often poor as sheets of rain streamed off my helmet visor, but we jumped—and jumped well. My horse, Manny, jumped eagerly as each challenge increased in front of us.
Manny LOVED our lessons with Jimmy. As a coach he had such a soothing quality to his voice, which calmed my often-nervous chestnut Thoroughbred.
That entire hour the master horseman was standing in the middle of the ring providing sage advice, encouragement and often breaking into a contagious smile or laugh as Manny jumped as well as he ever had amidst intermittent downpours. I left soggy as a drowned rat but smiled the whole trip home. That day changed me as a rider. I'll never forget that lesson.
Petra Groat, Purcellville, Virginia
---
Wofford's 'spatial awareness'
I have two favorite memories of Jimmy Wofford. One is of him making me tea in his kitchen as we edited a video project and getting off topic. We might still be there if the Redskins' game hadn't kicked off at 1 p.m. that day.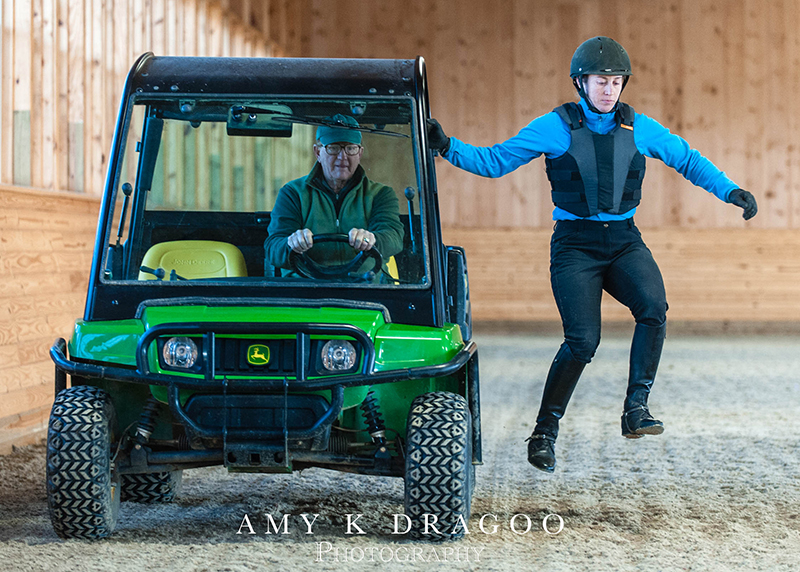 The second is him driving at me in a golf cart with Hillary Moses jumping off the side, practicing rolling falls for Practical Horseman magazine. I'm sure he didn't get near as close as it seemed, but I do remember questioning his spatial awareness.
[Editor's note, the MANY readers who submitted stories about Wofford standing in a line or behind a jump to discourage their horse from rushing might share the same sentiment about his spatial awareness.]
Amy Dragoo, Coatesville, Pennsylvania
---
"Signs of intelligent life in the universe."
I had admired Jimmy Wofford as a rider, trainer, and clinician well before [riding with him in a USHJA Emerging Athlete Program training session in California], so getting the chance to work with a top-level eventing rider was so exciting to me as someone who aspires to compete in eventing at that level as well.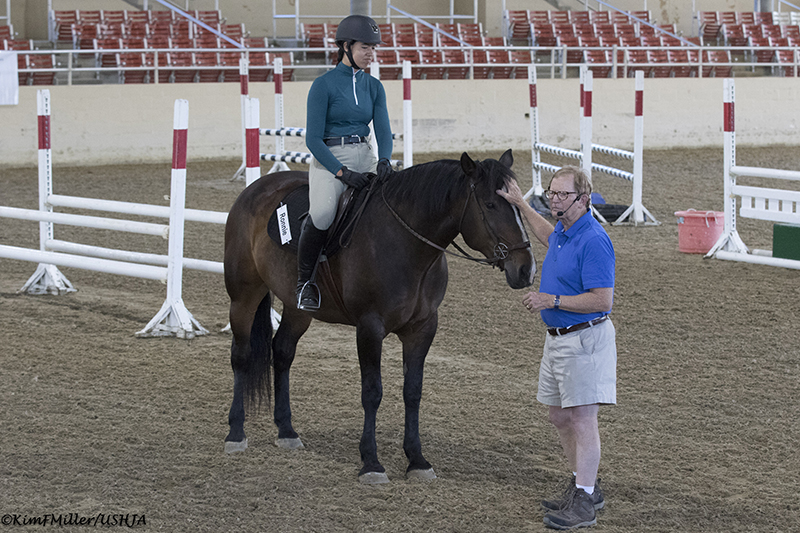 I've worked with many different clinicians in the past, but to work with someone in a jumping clinic that understood the importance of dressage only increased my admiration for him. I was riding a horse named Darla, a PMU mare who was not built for jumping, but made it over the fences nonetheless and held her own against all the fancy warmbloods.
I was having trouble getting my distance to one oxer, and Jimmy told me to try and get a gallop, and then Darla took off from a little better spot.
He claps very slowly and says, "Signs of intelligent life in the universe." And then later he says that, "It was good, not wonderful, but better."
I think these quotes are so quintessentially Wofford because there is a humor and wittiness about him that I really admired, out of all the clinicians that I worked with. He was truly one of the greats of eventing and horse riding. I'm so lucky to have ridden with him and gotten to experience his wisdom.
Ronnie Cruz, Los Angeles
---
"Jimmy Wofford just changed your tire."
I got a flat tire years ago, around 1989, in my old tag-along horse trailer on a back road in Maryland, while I was on my way to a competitive trail ride. A nice man stopped to change it for me. His buddy said to me, "Jimmy Wofford just changed your tire." Such a nice gentleman.
Patti Pizzo, Upper Black Eddy, Pennsylvania
---
A service for Jim Wofford will be held at 11 a.m. Feb. 24 at Trinity Episcopal Church in Upperville, Virginia. Donations in his memory can be made to The National Sporting Library, 102 The Plains Road, Middleburg, VA 20117, or The Piedmont Fox Hounds Conservation Fund, P.O. Box 592, Upperville, VA 20185.