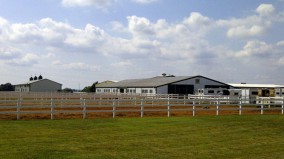 With three months to raise $7.3 million, students, alumni and community members in Lynchburg, Virginia, have been working tirelessly to save the Randolph College Riding Center from closure by May 15.
But the group was only able to raise around $110,000, and on July 2, Randolph College President Bradley Bateman announced that the board of trustees voted to close the riding center. It was not a unanimous decision, but it was an overwhelming decision, according to Bateman.
The board also voted to shutter its study abroad program at the University of Reading (England), which has been running for 50 years.
The riding center, which sits on 100 donated acres and houses 40 horses, 26 of which are school horses, required $300,000 for immediate maintenance costs. On average, it required $350,000 a year to operate, and the board believed it was too risky to try to fundraise that amount of money each year. (The fundraising group originally aimed to raise $300,000 to cover immediate costs and then an additional $7 million to go into an endowment fund.)
Declining interest in the riding program was another factor.
"We were in a situation where student interest in riding has fallen considerably," said Bateman. "When I came to the college five years ago we had 50 riders, and this year we had 25 riders. The operation annually runs a $350,000 deficit, so that means every three years we're spending $1 million to support the riding center beyond what it's able to generate. In the face of falling interest, it's not a financial calculus that works."
Under director Chris Mitchell, Randolph's Intercollegiate Equestrian team sent four riders to the IHSA Nationals in Pennsylvania this year. The team also won the 2018 Old Dominion Athletic Conference title.
As for the Reading program, Bateman said the college owned four buildings for students to live in and one for classes, but last year representatives from Reading said they were raising the fees charged by 500 percent. Randolph worked with Reading to get that number down to a little over a 200 percent increase, but the program has only broken even twice in the last 11 years.
"Our students will still study abroad and have all kinds of opportunities to study abroad, but the question was whether we needed to run our own program, and given the cost structure, that didn't make sense anymore," he said.
Bateman said the board looked at several ways to keep the riding center running, including adding boarders and creating a high school or community riding program, but none made financial sense.
"One of the things that the proponents of the program pushed hard at us was, you need to sponsor more IHSA high-end events and advertise [the programs] more," he said. "We had done that. We did that until three years ago, and we weren't having recruiting success doing that. When we stopped doing that it didn't affect the number of kids who matriculated. We considered whether there were other riding events that we could sponsor, or that people could run at our facility, so we could generate more income that way. The ad hoc committee of the board that looked at those things included a couple of people who either own horses or own equestrian centers, and their conclusion was that none of them were going to generate enough income to reduce the deficit significantly enough to make the program financially sustainable."
The riding program will continue for the next school year, but it will end on July 1, 2019. The school will continue offering an equine studies minor, utilizing other sites.
Bateman said arrangements will be made for the school horses to be rehomed at the end of the season next summer.
"Our first priority is to place the horses in appropriate homes, whether that's with another collegiate riding program or with a therapeutic riding program," he said. "Several of the horses are gifts, and the donor has the right of first refusal, so that will be what we do with many of those."
He said the board isn't seriously discussing what to do with the land yet, but he said it could possibly be used as a sports field for other teams, as a nature and conservation center, or could be sold to someone to operate as a riding center.
"There are a lot of options. We're not facing that yet," he said.
Six to eight staff members' jobs will end when the center closes.
"This was a very hard decision for the board," said Bateman. "Riding is a fabulous activity. It's clear that the students who are involved love it, and love it very much. The alums made clear to us what we knew but articulated it so beautifully—that their experiences riding had given them discipline and helped build their character. Everybody who had to make this decision understood fully what the benefits of having a program are, and they're sad that there isn't enough interest—on the one hand it's such an expensive sport, and on the other hand that there's not enough interest that it results in the financial calculus that we faced. There's nobody who made the decision who was happy about making the decision."
Mitchell said he's already had interest in rehoming some of the horses, and that will be his priority.
"A lot of people are sad, and [the riding center] is a gem, and I don't think the school is understanding what they're missing," he said. "I can assure everybody that the horses will be first and foremost in my mind and here at the riding center. We'll have a team for the year, so we need our horses for the year, and then we'll be making plans for moving them to different new homes in the spring."
Caitlin Unterman, a 2012 graduate and former riding team captain, had spearheaded the fundraising efforts.
"It's an end of an era and one of the oldest riding programs in the country," she said. "Sad is an understatement. I am disappointed in the college for the lack of support for the program. My only hope is the property remains a horse property, and the horses that have created a nationally known program find great forever homes."