She and Federico Daners win two in a row.
Federico Daners and his 14-year-old, Oldenburg mare Quick Silver were two-thirds of the way toward a possible hat trick after winning the $15,000 jumper prix at the Blue Ribbon Summer Festival I in Waco, Texas, on June 21.
The pair had won the jumper prix at the Blue Ribbon Summer Preview the previous week, as well, and just missed a third and final win in the jumper prix on June 28 when they finished second.
"I love it here," declared Uruguay native Daners, 37. "It's not very often that you can go somewhere and win two grand prix in a row."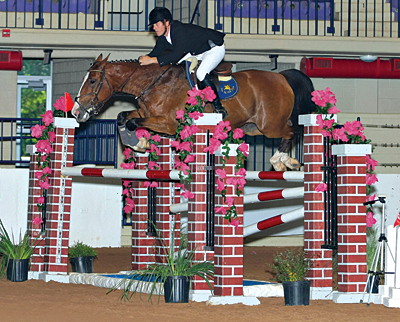 In the first round, Daners and Daniel Bedoya (aboard CR Mystery) were the only two riders to jump clean from a field of 15 over Cecilia Galvan's course.
"It was a well-designed course," Daners said. "People had faults everywhere; there didn't seem to be just one or two trouble spots. The jumps weren't that high, but they were delicate."
Bedoya went first in the jump-off, finishing double clean in 30.01 seconds. But Daners remained confident.
"Daniel had a great jump-off round," he allowed, "but I felt I could go in and better it. I was a little worried about the approach to the in-and-out, but I know my mare can really attack the jumps."
After he and "Princess" stopped the clock in 29.95 seconds, Daners said: "What made the difference is that I was a little bit faster than Daniel to the last fence, and I cut the final turn a little sharper."
Prior to the Blue Ribbon Festival, Princess had only competed in one other grand prix, at Gulfport (Miss.) this year. That's because her co-owners Daners and his wife, Gigi Hewitt, spent the second half of 2006 and all of 2007 building their training facility, Step By Step Farm, near Austin. The couple met at a Mexico City stable where Daners trained and Hewitt kept her horses. Married in 2004, they moved to the United States two years later with their son Carlin, now 5.
Daners and Hewitt had become interested in Princess in 2003 after hearing about her consistent wins in Europe and Mexico. But the Mexico-based entity La Silla bought her as a broodmare, taking her out of competition for two years.
"In 2005, we called and convinced them to give her to us to continue jumping. In return, they have the rights to her embryos every year," said Hewitt. To date, two foals have resulted from the embryos of Princess, who is by Quick Star and out of a Jalisco B mare.
The 16-hand Princess is laidback at the farm, said Hewitt. "She loves to nap! She hates working, but she loves competing. She's impossible to jump at home, but she comes to the shows and is all business. We only hack at home. And she gets turned out a lot, with her buddy Lottie [grand prix horse Charlotte Amalie, owned by Step By Step and ridden by Hewitt at Waco]."
Princess will become a fulltime broodmare when she retires from show jumping. But for now, she's headed toward the summer shows in San Diego, Calif.

Following In Mom's Footsteps
Amanda Roche was a mere toddler when her mother, Kathy Graham Roche, competed in the amateur-owner division at the 1999 National Horse Show, when the event was still held at Madison Square Garden in New York City. Eight years later, 10-year-old Roche of Austin, Texas, is aiming toward the fall indoor shows herself with her two small pony hunters, Skippy and Just The Fax.
Lately, though, Roche has been on a bit of a rollercoaster ride. Skippy has been recovering from colic surgery in early May, so "Teddy" has been her sole mount in the interim.
And while Roche and Teddy ended up winning the small pony hunter championship at Waco, Roche had to ride without recalling the fact that her family's car was violently broken into outside a restaurant near their hotel on Friday evening, leaving a vivid memory of shattered glass, stolen valuables and flashing police lights. But Roche dug deep to maintain her focus.
"When I'm riding," she said, "I forget everything else. I just think about what Donna [Cheney, her trainer] tells me at the gate. At this show, I was concentrating on pressing all the way though the lines and using my corners. Donna is really picky about the corners."
Cheney was impressed by Roche's steeliness. "In spite of what happened," she said, "Amanda actually focused better this weekend than a lot of riders would have, regardless of their age. Even though she was a little shell-shocked, I knew she'd try to do the best she could, because that's what I always get from her, no matter what."
Riding just one pony, Cheney added, "has been really good for Amanda, because Skippy has always been her little superstar, the one who usually won. She tended to think of Teddy as her second-place pony, and they were hit-or-miss. But now she realizes how consistent she can be on Teddy too."
"I think I've become a much better rider," Roche chimed in, "because [Skippy's lay-up] has allowed me to just focus on Teddy at the show ring. And I've been lucky that Donna has other ponies at the barn that I get to ride."
Roche bought Teddy from Mindy Darst in May 2007. "I had to learn how to ride his jump," Roche said, "because he puts his head down. I also had to learn how to ride his spook. But these are the things that make him jump so well."
Roche has qualified for the USEF Pony Finals on both ponies. She's designated Skippy for the medal and Teddy for the hunters.
Family Bonding
Sue Takata and her daughter Lauren also share a love of horses. Sue won the amateur-owner, 36 and over, championship on Dolce, the 8-year-old, Westphalian mare she's owned since 2006.
Nine-year-old Lauren shows her pony, Best Boy In Town, in beginner hunter with the goal of advancing to the children's hunter pony division next year.
Sue, of Athens, Texas, also owns and shows an adult amateur jumper. She keeps all of her equines—including a broodmare and several babies—on her family's 17-acre property. Sue found a gem in Dolce, an import she bought from Tracy Fenney and Mike McCormick.
" 'Greta' was dead green when I got her," Sue recalled. "She'd never been shown, and she didn't have a lot of
self-confidence. I had to adjust to that and also to her huge stride. The 3'6″ height was never a problem for Greta! She's very scopey and can jump from almost anywhere. She's always been very willing."
Greta and Sue quickly became a force to be reckoned with. In 2007, Greta was Zone 7 champion in the amateur-owner, 36 and over, division, as well as in the first year green working hunters (piloted by Sue's trainer Stacie Goodsen).
Like many adults, Sue, a native of northern California, has been riding since childhood. Not having grown up in a horse-oriented family, she was determined to start Lauren in the saddle at an early age, even going so far as to ensure an ideal birthday for a future junior rider.
"My due date for Lauren was around the end of November," Sue explained, "and they wanted to induce labor then. But I told the doctor: 'No, you'll have to wait and induce on Dec. 2!' So they did. To this day, my husband's still puzzled about that."
Lauren piped up: "When my mom was a kid, she begged her parents for a horse—and when they didn't give in, she rode the couch!" Luckily, Lauren has the real thing to ride—and the assurance of many
mother-daughter riding years yet to come.

The Comeback Kid
Claire Wenholz had plenty to celebrate. She was champion in the children's hunter, 15-17, division on her 8-year-old Hanoverian-Thoroughbred cross Touch Of Gold, as well as in the modified children's/adult hunter division.
Those accomplishments were particularly sweet, as "Austin" (the same name as Wenholz's hometown) had just come back from an 18-month lay-up due to a suspensory injury. Wenholz started walking the gelding in January, followed by increased flat work in February and March. Finally, they were able to start jumping again in the spring.
"The first week we jumped, he acted a little green," Wenholz said. "He had to learn how to pick up his feet again, but after he regained his confidence, he remembered his job and came back as strong as ever. Now he's made a full recovery and feels just like his old self.
This weekend, he was very workman-like, attentive and obedient. You would never know he had missed a year and a half of showing!"
Wenholz reflected back on the summer of 2005 when she bought the 17-hand chestnut from her trainers, Bill and Susan McMorris: "He had just turned 5, so he was very green. I had to learn how to transition from my junior hunter, As You Wish [now owned and shown by Wenholz's mother, Andrea], to riding in the 2'6″ baby greens. It was a little frustrating at first, but it's been a great learning and growing experience for both of us. Austin is very obedient and easygoing, rarely spooky. He has a great personality and very friendly barn manners."
In the fall, 17-year-old Wenholz will enter Southern Methodist University (Texas), where she'll be a member of the school's varsity equestrian team. "I'm very excited about being able to continue riding in college," Wenholz stated. "I couldn't imagine not riding."
But she won't have to say a permanent goodbye to Austin. "We're planning to lease him while I'm in college," Wenholz said. "Austin is definitely capable of doing the 3'6″, but he needs some time to work up to the bigger jumps. We don't want to push him too fast."
Wenholz said she's grateful to Susan McMorris for helping Austin heal and return to the show ring and for molding her equestrian talents during the past 10 years. "Susan is able to identify pinpoint the strengths and weaknesses in a horse and rider," Wenholz said, "and then capitalize on their strengths. She is extremely smart and talented, and I see her as a role model."
Anne Lang