Upper Marlboro, Md.—Oct. 26
In the eight years she's been riding Quest, Stephanie Danhakl has picked up a lot of primary-colored ribbons, but one tricolor has always eluded her: the championship at the Washington International.
"We've been champion at Devon (Pennsylvania), Capital Challenge Horse Show (Maryland), [The Pennsylvania National] and the National (Kentucky)," said Danhakl, Dover, Mass. "Now we've done all of our indoor shows. I'm really happy about that.
"The handy is really his strong suit," she continued. "I made an inside turn that I'm not sure many people made. With him it's absolutely no problem—I can slice and dice and turn. Then he continued being great into the stake. I was a little bit nervous thinking about 'Oh this is the one show we haven't won yet.' But luckily we held it together and I'm really happy with that."
Quest won yesterday's under saddle and followed that up with a pair of blues today to claim the 3'3" amateur-owner hunter, 18-35, division championship over Mojito and Emily Goldberg.
It's been three years since Danhakl has been to the fall indoor circuit, as 2020 was cancelled due to COVID-19 and last year she was pregnant with her son, Miles Raymond.
"Being here feels like putting on an old shoe," she said. "I'm used to the pressure and the competition and the venue, I've been to this venue so many times."
When she's not taking care of her 9-month-old son, she's working on her Ph.D. at Boston University or foxhunting with Norfolk Hunt Club (Massachusetts).
"My husband [Peter Raymond] has been hunting as well—which I never thought would be possible," she said. "It's so much fun. I've always been a lover of tradition and history, so it feels like I'm able to be a part of the sport in the roots of hunters, which I really appreciate. It's fun to just kind of let go and gallop and jump some jumps that maybe would be a little scary. I've had a great horse who does it that I've had for four years. I'm having a blast. I have a lot of friends who do it. It's not a lot of show people; it's a different side of the industry."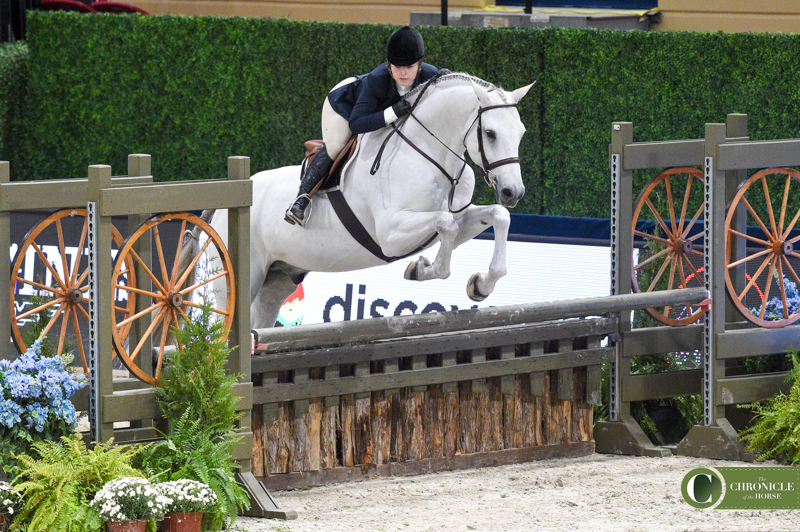 A Great Finish
Melissa Jacobs' trip to the Washington International didn't start out according to plan when she finished out of the ribbons with On Ice in yesterday's amateur-owner, 18-35, over fences class.
"I made a lot of decisions to the single oxer," she quipped.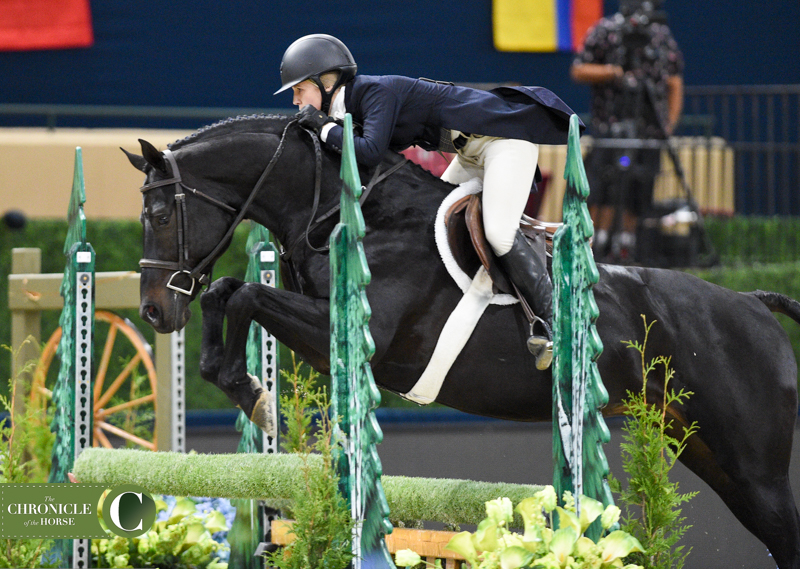 But today she came back strong, winning both over fences classes. Coupled with a win in yesterday's under saddle, she earned the division championship as well as the grand amateur-owner title at the Washington International.
"I woke up and saw I went first in the handy," said Jacobs. "Sometimes I feel like if you haven't seen [anyone ride the course] and you just have to go in and do it [it's better]. Especially the trot fence bending to an oxer, we can get overthinking that if you see what number someone else did. But I just went in and landed and rode up after the trot and the nine [strides] was there beautifully. He always gives me a 10 jump if I put him in the right place so it's very rewarding to ride him."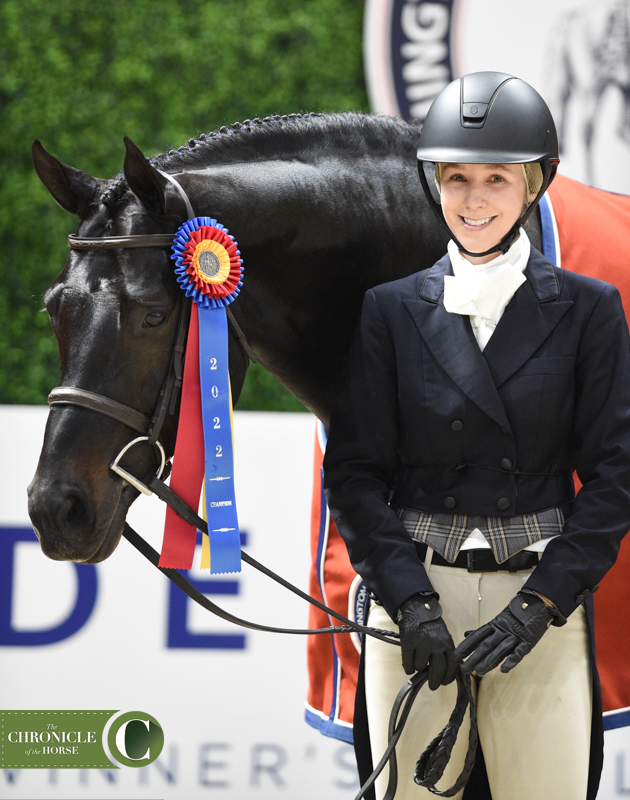 David Belford and Chris Payne imported the stallion from Europe in the summer of 2021.
"He's a little mouthy, but he's not mean. He's really friendly," she said. "He does want to hold something [in his mouth] at all times. We got him over here, and he did the 3'3" amateurs that year. This year we stepped him up to the 3'6" amateurs. He does the [3'6" green hunters] with Chris. He didn't get into that [division] here so I was a little nervous, but we pulled it together and I had so much fun out there."
Jacobs lives in Boston where she's a marketing manager, and her horses split their time between her family's farms in East Aurora, New York, and Wellington, Florida. She keeps her legs strong by working out with equestrian fitness guru Kali Cram.  When she needs to prepare for a horse show, for example between Capital Challenge and Washington, she'll get to her horses for a few days to get some rides in.
Payne was thrilled with how they both performed.
"She rode amazing and the horse was wonderful," said Payne, Cinncinati, Ohio. "He always tries to put in a good effort. He tries to be there for you, and she rose to the occasion. And came back from yesterday really well and rode beautifully."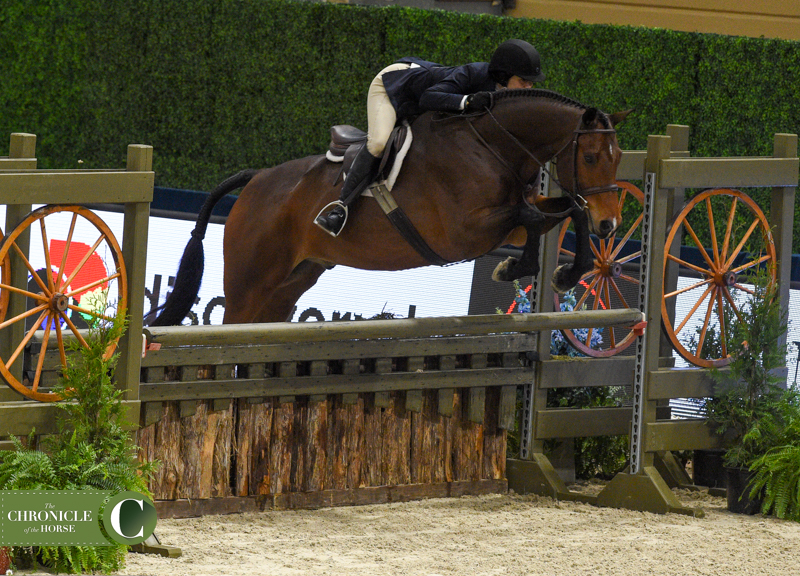 A Major Transformation
When Lee Kellogg Sadrian started showing Augustine at the start of 2021 he was a bit of a tough ride for her.
"He wasn't so easy in the beginning," said Sadrian, Summit, New Jersey.
"He was a little strong," she added. "I think wants to please so I think in the beginning he would get all nervous that he did something wrong. He'd get a little upset. Now he gets what he's supposed to do and he also is like, 'OK, they're not going get after me. They love me.' He's just really fun."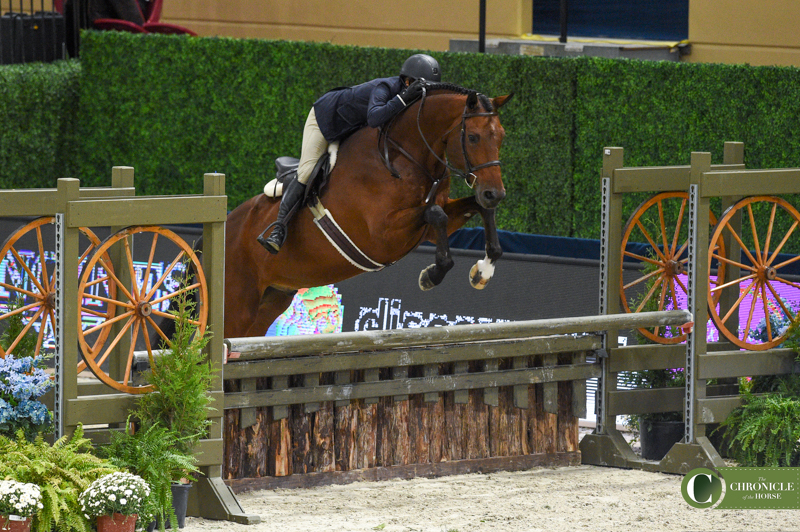 Augustine won both today's 3'3" amateur-owner hunter, 36 and over, jumping classes to earn the division championship over Sadrian's other ride, Blink.
"In the handy I was like, 'I'm going to be conservative on Blink,' and on [Augustine] I was like, 'I'm doing it. I'm going to do the inside turn,' " she said. "And I did it, and it was a 90 in the handy, and he did super inside turns everywhere. He just is so naturally balanced he can just float up or come back. He just did everything I asked. And it's so nice as an amateur, I don't ride all that much and to have a horse that's so honest and so brave and you can make mistakes on him.
"Blink is very different," she added. "He's just amazing and the best jumper in the world, but he doesn't really want you to make mistakes as much. He's gotten better and better, but he rocks off the ground so hard he's like, 'Lady, don't make me work too hard. Don't make a mistake—what are you doing?' "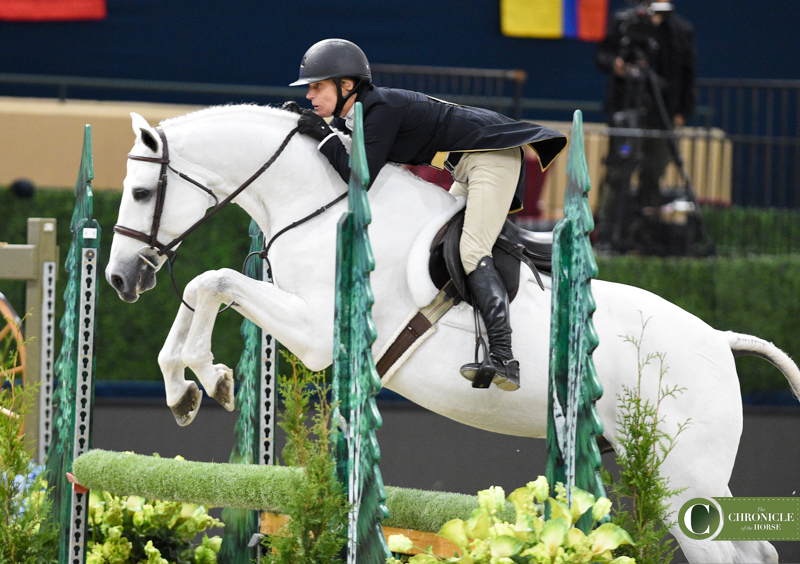 Sadrian gets to Frenchtown, New Jersey, an hour from her home, to ride with her trainer Jen Bauersachs as often as she can, and she stays fit by riding at the barn of her mother, Cynnie Kellogg, in Bedminster, New Jersey, closer to her home.
She dedicated her ride at Washington to her trainer, Bauersachs.
"Her mom just passed away and I really wanted to ride well for her," said Sadrian. "I wanted to make it special."
Neuwirth Makes Her First Washington International Count
Last year Irene Neuwirth came east from Los Angeles to compete in her first Capital Challenge Horse Show, and she returned home nearly empty-handed.
"I think I got a fifth in the under saddle," she said.
This time she capped off a tour of three the fall indoor shows with a pair of tricolors, with the championship in the amateur-owner, 36 and over, division going to Juan Carlos and the reserve ribbon earned by Guess Who.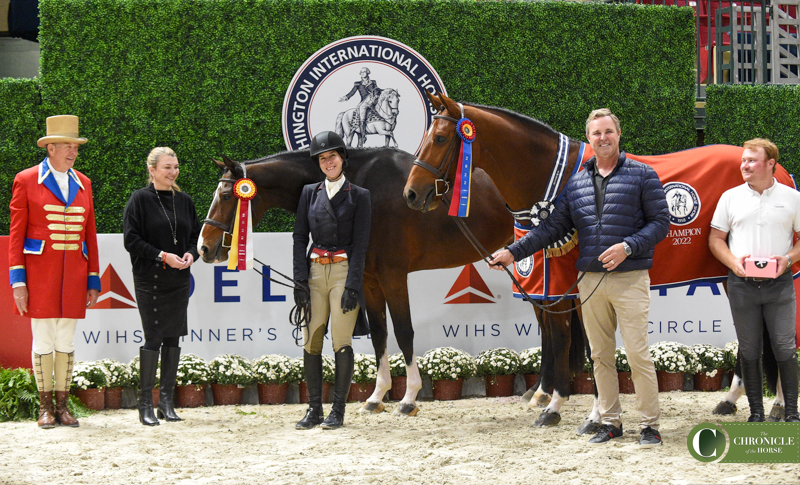 "He's the perfect amateur horse for me," said Neuwirth of Juan Carlos. "I feel like we're really in sync."
Neuwirth's trainer, John Bragg, first saw Juan Carlos in Christian Heineking's barn where he was a grand prix prospect.
"If you saw me jog in you'll know why that didn't work out," quipped Neuwirth. "He's really slow."
But that didn't bother Bragg.
"I told Christian when he decided he wasn't going to be a grand prix horse I'd want to make him a hunter," he said. "I showed him one time and he won all the 3'3" green classes and Irene took over and bought him that week."
Neuwirth and Juan Carlos got their first taste of national attention when they won the division title at Devon this year. She started riding Guess Who a year ago.
"He's pretty sensational," she said. "He's 7 and he just has a wonderful brain. I feel like he really goes around not like a green horse. He teaches me more than I teach him."
Neuwirth finds time to ride around her time as a jewlery designer.
"That's what allows me to ride which is the most incredible thing," she said. "I started my business 20 years ago and all I wanted to do was someday be able to ride on my own—my parents weren't really interested in supporting [my riding] as a kid. So I'm like, 'I'm going to do this as an adult.' I have a store in Los Angeles and I'm opening in New York next month."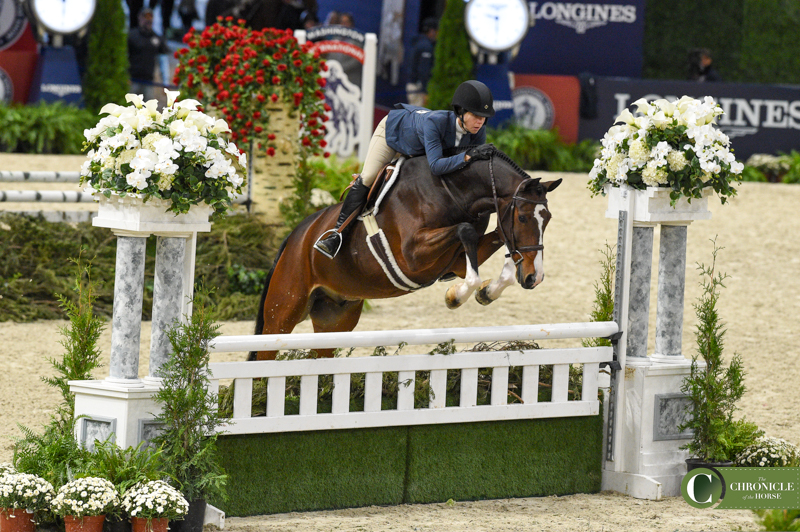 Find results here. Want more Washington International? Check out all the Chronicle's coverage here. You can see more news and analysis in the Nov. 21 issue of the magazine.