Devon, Pa.—Oct 1
Michael Bragdell has known Qredit Hilltop since he was a yearling and has done most of his training, and tonight the stallion's journey to the Dixon Oval at ShowPlus Dressage At Devon came full circle when he topped the CDI-W short Grand Prix (67.13%).
Bred by Judy Yancey, "Q," a 13-year-old Oldenburg (Quaterback—Dream Rubina, Dream Of Glory), won Grand Champion of the Devon breed show back when he was a yearling. Bragdell showed Q in hand before Chris Hickey took over showing him when he was 4 and 5. Bragdell took the ride back at third level and has been moving up the levels with him ever since.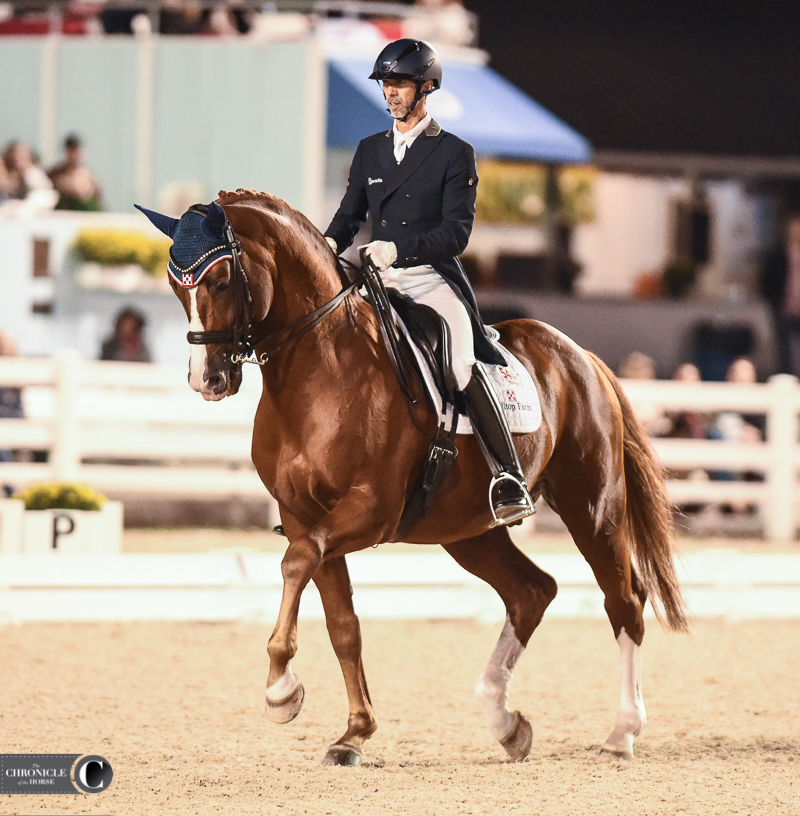 Owned by Hilltop Farm in Colora, Maryland, Q also spends time as a breeding stallion and has many offspring who've competed in the breeding and performance divisions at Devon over the years.
"It feels so much like home," said Bragdell, who's originally from Sweden. "I've been here for 20 years, and we're only an hour and a half away. This is very much like the home arena.
"I was pretty happy with his piaffe today," he said. "I liked that he came out almost a little too fiery. I need to ride a little cleaner test. I haven't ridden this test before. Everything comes up really fast, as much as you go over it. I think moving forward if I can clean up some areas and slow everything down a little bit, that would be nice.
"I like it, but it's very technical," he added of the short Grand Prix. "It's two minutes shorter than the regular Grand Prix. That's not necessarily a bad thing, but as a rider you really have to be on top of it. It's already hard in the Grand Prix and Special where things come up fast, and in the short Grand Prix it's compressed even more."
Bragdell says Q is pretty laid-back, especially for a stallion.
"[Our partnership] has evolved a lot," he said. "He was the first Grand Prix horse I made from scratch. With that comes highs and lows. You learn as you go, and I love where he's at and where he feels like he's going. I think we're connecting even more and finding things that we've not had when we first started showing him Grand Prix. That for me is very exciting."
Dressage At Devon is only the third show for Mary Lauritsen and Bella Donna S as a partnership, but the mare stepped up to the plate for her rider to score a 69.16 percent for the win in the CDI1* Prix St. Georges.
"It was a really solid test for me and Bella Donna, who is competing at this level for the first time this year," said Lauritsen. "She just carried me though that test so solidly, so reliably. She really made me proud out there, and I got to really enjoy the ride."
The 10-year-old Oldenburg mare (Bentley—Die Ruhe, Don Romantic) was imported from Germany for her amateur-owner rider, Victoria Lunt. She invited Lauritsen, a young professional, to base herself out of her Comfortside Farm in North Salem, New York, about a year and a half ago. She and Lauritsen, 32, share the ride on "Bella," with Lunt doing the majority of the riding.
"It's just another testament to how good this mare is, because she can let Vicky learn on her, and she's teaching her so much along the way, then I can get on and ask more of her. She's just so willing to work for both of us," said Lauritsen.
Lunt grew up in the Devon area and suggested Lauritsen try to qualify. Lauritsen has ridden at the show a few times over the years as a young rider, but it's been six years since she's competed in a CDI.
"It's really exciting to be back out in this ring," she said. "It's definitely my favorite horse show of the year. On a horse like her, she's just totally unaffected by [the atmosphere], like, 'Bring it on.' She's such a team player that I didn't even notice the atmosphere to be honest. She just gives me her all and gives me such a confident feeling that I feel like I could be at home. I feel like I'm at home going down the centerline with her."
Until this year, it had been about five years since Bella was in the ring in young horse classes. "She's very green, however she doesn't give any sort of green feeling in the ring. She's just so solid, and it feels like the sky's the limit for her," said Lauritsen.
She described Bella as a very alpha mare type, who's not particularly friendly to other horses or people, but under saddle, she gives her all and trusts her rider.
"I feel like it's getting better and better. I feel like we're just starting to scratch the surface here, especially at such a big competition," she said. "For her to just bring it like she did, I just feel like there's so much improvement. There's so many parts of this that are so new, but she just gives such a long partnership sort of feeling. I feel like we really trust each other now even though the partnership's still young."
2021 Dressage At Devon - Friday

Lindsay Berreth / Oct 1, 2021 11:40 pm

Click here for COTH's coverage.