Lexington, Ky.—Oct. 31
They say if you love your job you never work a day in your life, and who doesn't want to make a living riding some of the best show hunters in the country?
The professional hunter divisions wrapped up at the National Horse Show this afternoon, and lest you think these pros are tired or jaded this late in the season, we've got pictures and reports of the tricolors and smiles all around to prove you wrong!
What Is Love? It's Lafitte De Muze  
If you were wondering who Amanda Steege credits with her amazing indoor season that just concluded with a championship in the 3'6″ green hunters, it's Lafitte De Muze.  
"This guy!" Steege said with a big grin pointing at her partner.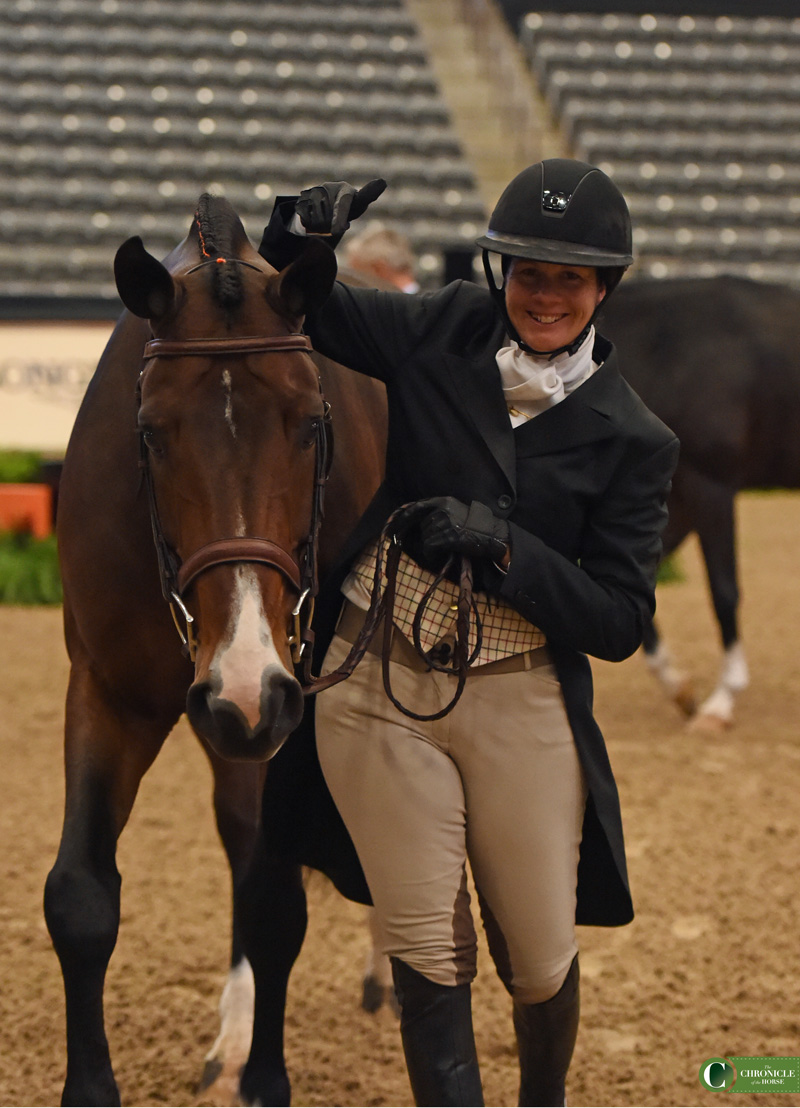 Steege has been riding the 7-year-old Belgian Warmblood gelding (Darco—Everlychin De La Pomme) for a year now, and her love for the horse is obvious.
"It feels great to win, but it's really just an added bonus," Steege said. "Honestly the rounds that I had on Lafitte this week—the feeling that you have when you finish a round like that—that's what it's all about for me. The champion is like an added bonus.
"He's a horse of a lifetime," Steege continued. "There is just something about he and I and the match; it's just pure joy out there."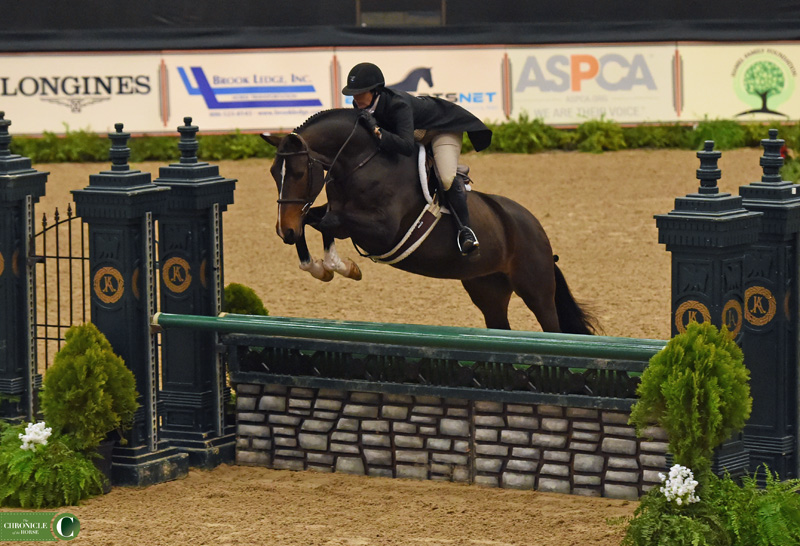 That Face, Though
The green conformation hunters gave mathematicians a champion to cheer for—Fibonacci and Chris Payne took the top call in the division.
"It's very nice to win; it never gets old," Payne said.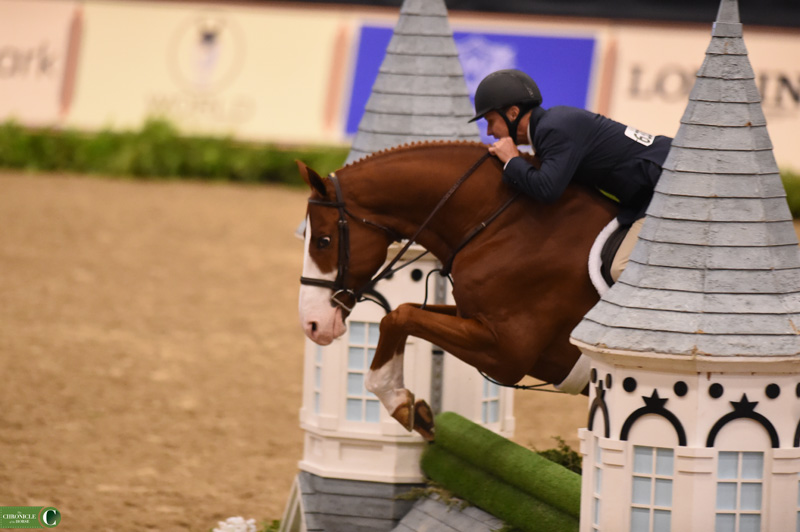 The horse's name comes from a famous pattern of numbers that when graphed create a specific spiral shape very similar to the one on the gelding's face.
"He came with the name; I'm guessing because he has such an interesting face marking," Payne said. He imported Fibonacci for owner Lisa Levine of Pleasant Plain, Ohio, earlier this year. "I thought that was really cool, so we kept the name Fibonacci."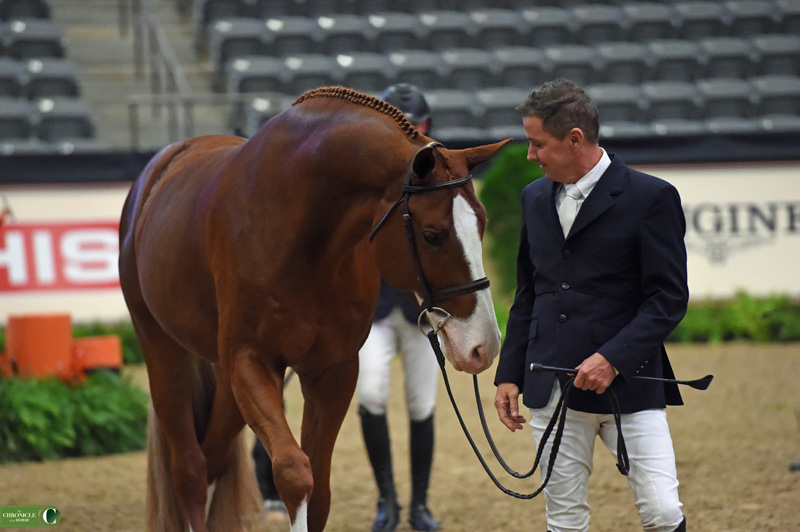 Though the flashy chestnut is now a gelding, Fibonacci was imported as a stallion.
"I've got a foal on the ground from him that looks just like him," Payne said. "I'm really excited to see what he grows up to be."
Fibonacci will continue competing with Payne and be geared toward derbies.
At The Wire, It's Tracy Fenney and MTM Outbid!
Tracy Fenney thought her hopes for a tricolor were lost after a middling first day in the 3'9″ green hunters with her own MTM Outbid.
"You come here hoping you have a pretty good shot, and then it was kind of a little bit depressing after yesterday. I was like, 'Oh boy,' " Fenney said with a laugh. "[My husband Mike McCormick] told me this morning, 'Alright, you have to win two classes to do this,' and we won the hack, and I thought, 'Well, we're halfway there!' "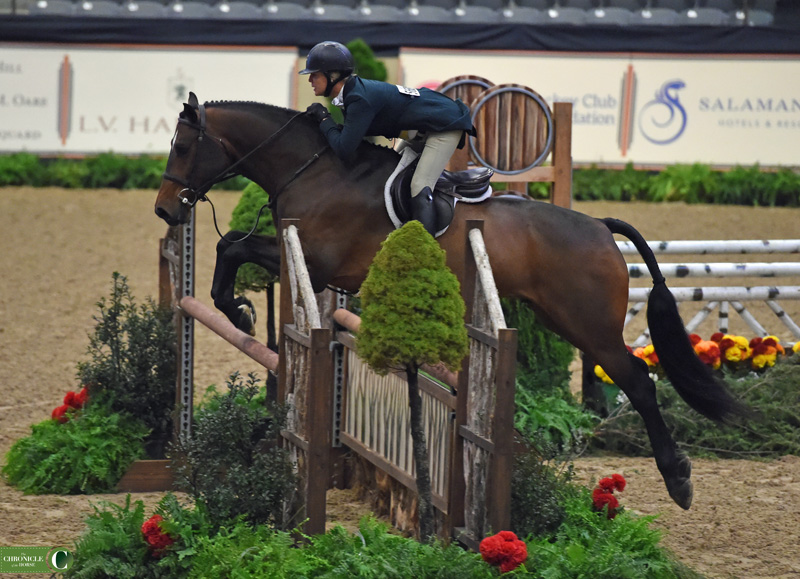 A win in the final stake class gave MTM Outbid the overall division win.
"This is crazy; I never dreamed this would work out," Fenney said. "That he would be champion? It's just awesome. He's a super-duper horse."
High Performance Hunters Are All Scott Stewart
Of the four tricolors up for grabs in the high performance conformation and high performance hunter divisions, Scott Stewart captured three of them. Private Life took the win in the conformation with Lucador in reserve, and Catch Me won the high performance division where Kelley Farmer and Because took the reserve.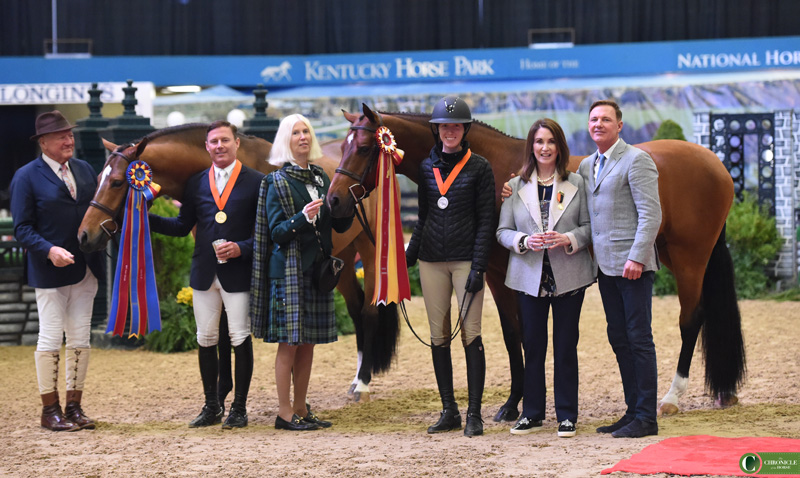 That slew of ribbons gave Stewart the leading hunter rider award for an incredible 12th year in a row at the National Horse Show.
"It feels great; it never gets old," Stewart said. "It's just great to be here with such amazing horses that can go out there and do that."
Catch Me's stake round was a particular highlight for Stewart even though they didn't take the top call.
"That was like the best round of my life until the rub at the final fence," Stewart said. "He just jumped amazing."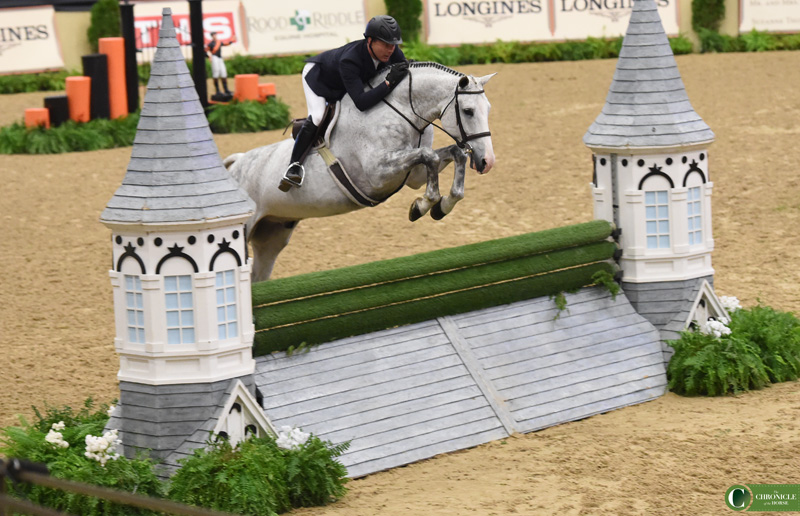 But wait, there's more hunters where that came from!
The champion, reserve and second reserve from each of the 3'6″ and higher hunter divisions at the National Horse Show qualifies for the $50,000 National Horse Show Hunter Classic Friday night, so all the horses we mentioned in this article are qualified for the night class on Nov. 2!
It's the first time the National Horse Show has hosted this sort of class for the hunters. Each rider can only compete aboard two horses, so additional invitations will be extended to third and fourth reserves after riders with multiple qualified rides select their mounts.
The class will run similar to the WCHR Peter Wetherill Palm Beach Hunter Spectacular with all horses jumping at their respective division heights but being judged against each other with the top 12 returning for a second round. The Chronicle will bring you all the action from that class and all classes here at the National Horse Show!
Click here for full results from today's divisions.