Yearling Hunter Breeding
OUTSTANDING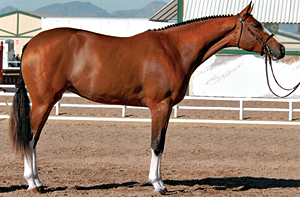 Owner Krisna Buyalos, Santa Barbara, Calif., knew immediately that her filly, Outstanding, was special. "Leslie Nelson was a genius to breed Delilah, whom I bought in foal, to Popeye K," she said. "We're waiting for a full sibling in 2009!"
Outstanding, or "Lola," has brought home many blue ribbons this year, including wins at the International Hunter Futurity Final and West Coast competitions and the Sallie B. Wheeler/USEF National Hunter Breeding West Coast.
"I've been handling her daily since birth," said Buyalos. "But Nelson has been in charge. She has collaborated with a lot of great people to make this year so amazing. We were so privileged to have Ted Fieger school her for us too. It's something I will forever appreciate."
Buyalos plans to continue to show her this season, saying that Outstanding loves the show ring. "She's really sweet and easy to work with, though she does have her favorite people," she said. "And she loves attention, I swear she used to cast herself a zillion times a day just so someone would come play with her. I'm so glad she's over that trick."
---
Grand Hunter Breeding
2-Year-Old Hunter Breeding
WOW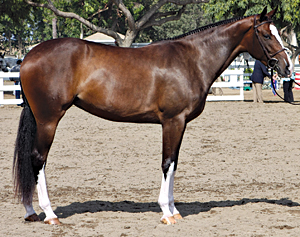 "She gets by on her good looks," said Leslie Nelson with a laugh. "She's grown in size and expanded her 'queen of the divas' personality."
Wow (Popeye K—Holy Cow) had another outstanding season, winning championships at nearly every venue, including 20 best young horse titles and the Sallie B. Wheeler/USEF National Hunter Breeding West Coast best young horse championship.
"Everyone who handles her kind of chuckles," said Nelson, Santa Barbara, Calif. "Gracie loves her job, and she loves men. She turns into butter for them."
Gracie has a full sister, 24 K or Karat, who also competes on the line. The fillies were born four days apart by embryo transfer, and they have two totally different personalities.
"Karat is the easiest thing in the world," said Nelson. "Gracie has been the difficult one, and she's very accident prone. She needs a padded stall! She'll come out spitting fire if she can."
Despite Gracie's fiery attitude, Nelson is looking forward to her career under saddle and plans on showing her in the baby greens soon. For now, though, Gracie is enjoying life in a field being a horse. "She's had two months off," said Nelson. "She has a long mane and whiskers and looks pretty comical."
Nelson has intentions of showing Gracie on the line as a 3-year-old as well, but she isn't sure if she'll go for the national championship. "I don't know if I can put my husband through it again," she said. "Winning the national championship was the biggest thrill. Everywhere I go and everywhere I take her, people go, 'Wow, and I say, yep, that's her name!' "
---
3-Year-Old Hunter Breeding
FOX WITH THREE SOX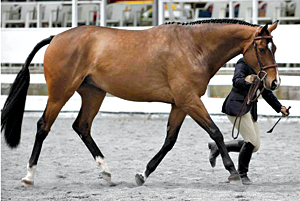 "He's a cool horse and unique," said Emily Anne Belin, owner and trainer of Magic Hill Farm LLC in Douglassville, Pa. "He loves to stand in the ring and look pretty. He's quirky in the barn, though. He loves only certain treats, playing with his flattened Jollyball and being curried and groomed, but he hates baths!"
The Thoroughbred gelding, fondly known as Ziggy, was destined for the race track before owner Marcia Heylin purchased him in the spring of 2007. His breeder and Heylin's dear friend, Robert Narvell, had passed away suddenly and since Heylin had always taken a special interest in the colt, she decided to buy him and show him to honor Narvell's memory.
"Ziggy hadn't been handled much before he came to us," said Belin. "He came right out of a field and was barely halter broken so we took things really slow. We treated his 2-year-old year like his yearling year, and now his 3-year-old year like he's 2. Even though he was mature looking physically, we gave him plenty of time to catch up and mature mentally as well.
"Marcia Heylin has been an exceptional owner to work with, as she understands why we wanted to take our time with Ziggy," Belin added. "At any time if I said he was getting tired or needed a break, she was all for it. She is supportive of the horse's needs and well being coming first."
The slow approach definitely benefited the fancy bay, who has accumulated 10 best young horse and seven reserve best young horse titles in 2008, including wins at Wyndsor Farm (Pa.), Warrenton (Va.) and Upperville (Va.). Last year, he was the 2-year-old champion at Devon (Pa.) and in Zone 2.
"It was nice winning the 3-year-old Thoroughbred class at Warrenton this year; it's one of my favorite horse shows," said Belin. "It was a big class, although there are not many Thoroughbreds doing hunter breeding anymore. He's a textbook example of the classic Thoroughbred hunter."
---
Grand Regular Hunter
Regular Working Hunter
RENAISSANCE
David Wright had never met Renaissance, an 11-year-old Hanoverian gelding, until his owners, Neil and Jeanie Paterson, of South Point Farms, Lloyd, Mo., brought him to a horse show in December of 2007. It didn't take long for the pair to start winning.
"We developed a friendly relationship quickly," said Wright. "He loves people, and he likes to play with you, especially in the jogs."
Renaissance stands 17.2 hands and makes a big impression. "He has a huge stride," said Wright. "So in some of the classics and hunter derbies I would leave out a stride to show him off."
Decisions like that were beneficial, as Renaissance and Wright won both phases of the Gulf Coast Magnolia Classic USHJA Hunter Derby in March. Cortney Paterson found success with Renaissance as well, qualifying for the USEF Junior Hunter Finals and the East Coast fall indoor shows in 2008. Renaissance was champion of the Gulf Coast Winter Circuit (Miss.) and won the regular working hunter division at the Washington International (D.C.) Horse Show with Wright.
Wright said the most difficult part of riding Renaissance was trying to keep his courses fluid and consistent at 4′. He also noted that he'd never ridden a horse, aside from Pappy Clifford, a former hunter of Wright's, that won so much. Renaissance earned championships in every division he entered, including adult amateur, junior and regulars. "He's just a fun horse," added Wright.
Unfortunately, Renaissance and Wright will be parting ways as Cortney's leaving for college. "I hope that whoever ends up with him appreciates him as much as we all do," said Wright. "He does a lot of jobs very well. He's a great horse who deserves a great home."
---
Regular Conformation Hunter
CUNNINGHAM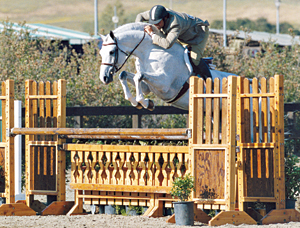 "He's a complete comedian," said Mary Slouka of her horse, Cunningham, an 11-year-old Holsteiner stallion. "Every once in a while when you get on him, you know not to let the reins go because he'll grab the left one and start trotting down the aisle."
The stunning, 17.1-hand gray was often mistaken for a filly as a youngster due to his looks and quiet demeanor.
"He's not your typical aggressive stallion," said Slouka. "He's a gentleman about everything. The grooms have given him all sorts of names like 'Fifi' and 'Chachi' after the character in Happy Days."
At home, Newport Beach, Calif., Cunningham is more fondly know as "Briggs," as he was named after the famous racecar driver of the 1950s, Briggs Cunningham.
"He's such a funny guy," said Slouka. "If he does something bad and you yell at him, he sticks out his tongue. He has about six different tongue tricks. If there is anything in the ring during his turnout, he will find it, and he runs around with his 'prize' in his mouth."
With John Bragg in the irons again, Cunningham cleaned up at the horse shows, bringing home tricolors at nearly every California venue, including the Menlo Charity Horse Show, Del Mar National, Los Angeles International and the HITS Desert Circuit shows.
Slouka started showing him in the adult amateur classes last year and will move up to the amateur-owner division. She said they are planning on doing fewer horse shows since Cunningham's bookings have doubled since his green conformation championship last year.
"It was such a great thrill to see him do the 4′ so well," said Slouka. "Everyone comes together to make it happen, from our farrier, to John, to the grooms. You have to be incredibly lucky to have this good of a horse. I am very humbled and appreciative of his success."
---
Grand Conformation Hunter
Green Conformation Hunter
AS ALWAYS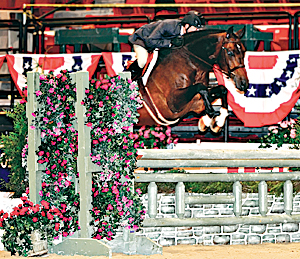 When Peter Pletcher imported As Always from Europe about three years ago, he didn't plan on keeping him as a stallion. But the stunning bay proved to be an even-tempered fellow.
"He's not temperamental, and he knows when it's breeding season and he knows when he's at the horse shows," said Pletcher. "He's got a good brain."
The 10-year-old Westphalian's oldest foals in the United States are weanlings this year, and Pletcher said that they are all different colors and beautiful.
Pletcher, Magnolia, Texas, rode As Always to more than 10 green conformation championships, and owner Becky Gochman found herself winning blue ribbons and tricolors in the adult and amateur-owner divisions too. Pletcher said his favorite win this year was at the Pennsylvania National, where the stallion only placed lower than third in one class and took home the green conformation championship honors.
Gochman and Pletcher have decided to campaign him on the FTI Winter Equestrian Festival Circuit (Fla.) this season and started out 2009 with another green conformation championship. Gochman also plans to show him in the amateur-owner divisions.
---
Grand Green Hunter
First Year Green Hunter
PRINGLE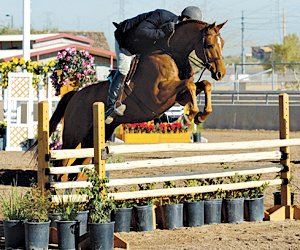 Archie Cox, Lake View Terrace, Calif., found Pringle by accident. At a horse show in November of 2007, Kelly Van Vleck told Cox that she had a "pretty chestnut horse" she wanted him to try, so when Cox spotted one of Van Vleck's grooms holding a horse that fit Van Vleck's description, he got on.
The "pretty chestnut horse" was Pringle, and while he was not the horse that Van Vleck wanted Cox to try, he ended up buying him anyway.
"He's the kindest, most willing horse to work with," said Cox, who sold the Oldenburg gelding to Ashley Pryde in early 2008. "He's a beautiful mover with huge scope, and he's always pleasant to ride."
Pringle won 10 first year green championships and five reserve championships, as well as seven small junior hunter championships; he also earned the Zone 9 small junior, 15 and under, championship.
Pringle was the HITS Desert Circuit first year green circuit champion and won good ribbons at Devon (Pa.), Capital Challenge (Md.) and the Pennsylvania National.
"Every question we've ever asked he's said yes," noted Cox. "He's a very quiet, easy-going horse. If he were a person, he'd always be described as a gentleman."
---
Second Year Green Hunter
WESLEY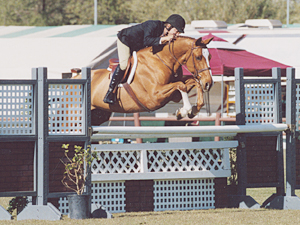 "He's a real trier," said Archie Cox of Wesley, a Dutch Warmblood gelding. "He always gives 110 percent."
Owned by Ashley Pryde, the flashy chestnut gathered 11 second year green championships and eight reserve titles and was also successful in the junior hunter ring, where he was the Zone 9 small junior, 15 and under, reserve champion. "He's got a real show presence," said Cox. "He's got a great expression and a fantastic front end for a hunter."
Wesley also won top ribbons in various hunter derbies under John French, Tina DiLandri and Shelby Wakeman. "He's an extremely willing competitor," said Cox. "He's a very brave horse."
Cox pinned Wesley's grand green hunter championship at the Del Mar National (Calif.) as his best outing of the year and said that in 2009 Pryde will be riding him in the junior hunters.
---
Amateur-Owner Hunter, 18-35
BLING BLING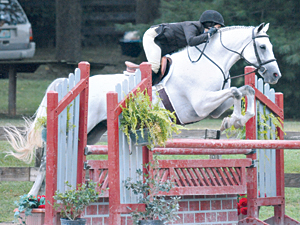 Jennifer Farri bought Bling Bling, an 8-year-old Holsteiner gelding, after seeing him free jump on a videotape. She imported the horse from Germany when he was 3 and was the first person to ride him. "It's very rewarding because it's like your child," she said. "I've never had kids, but I imagine it's what it feels like!"
Farri, Brooksville, Fla., started the fancy gray in the low adults at the end of his 3-year-old year and campaigned him for a year in the three-foot divisions before moving him up to the 3'6″ classes. "He was never the easiest one to figure out," said Farri. "He has a lot of heart and always tries. He's really honest and good to me."
Bling likes to display his goofy personality by sticking his tongue out at any given opportunity. "If he's in the ring showing or in a lesson he won't," she said with a laugh. "But in line-up after the hack, he has his tongue out."
The pair won tricolors throughout Florida, from the winter Jacksonville International to the North Florida Fall. They also earned the Tampa Equestrian Festival circuit title in April, one of her highlights, where they had the parade of champions at Raymond James Stadium.
"The atmosphere was amazing and of course his tongue was out," said Farri. "My parents got to be on the field with me. They have always supported and been there for me, so it was very special to share that moment with them."
Farri also credited Bling Bling's success this year to Mary and Kevin Eufemia of Ravenwood Farm, Palm Harbor, Fla., whom she started riding with about three years ago. This year, Farri has a new project to work with and is giving Bling some time off.
"I've never had a bond with a horse like I have with him," she said. "He will forever be my pet, if nothing else!"
---
Grand Amateur-Owner Hunter
Amateur-Owner Hunter, 36 and Over
VANCOUVER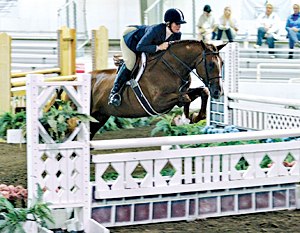 "It was always my dream that as soon as both my girls went to college I would get to show a little more again," said Nancy Sutherland, Olathe, Kansas. "I had no idea that being Horse of the Year would be part of the deal. That was an added bonus!"
Vancouver, a 7-year-old Royal Dutch Warmblood owned by Nancy's daughter, Margot Sutherland, won more than 10 championships this year in the amateur-owner divisions.
"We call him the 'barefoot wonder' because he shows bare foot," said Nancy. "In August of 2006 he pulled a shoe, and by the time the farrier got there he had pulled two more. His feet did so well [without shoes] that we never put them back on."
Vancouver was champion at the Kentucky National, Dallas Harvest (Texas), American Royal Hunter Jumper (Mo.), St. Louis National Charity (Mo.), GO Preview (Okla.), and many Lake St. Louis shows.
Nancy pinned her Kentucky National championship as one of her favorite moments, but she also said the score of 90 she received in an amateur-owner classic was exciting as well.
"He is such a character," she said. "He will do anything for a treat. He is a pet and friend; he's the horse of a lifetime and it's a joy to get the privilege to ride him."
---
Small Junior Hunter, 15 and Under
ANGELO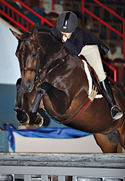 There's little doubt that Angelo is good at his job, as the 11-year-old Westphalian gelding gathered 13 small junior hunter championships in 2008.
Owned by Katie Dinan, New York, N.Y., he was also successful in hunter derbies and the regular working divisions. Among his many accolades, Angelo was the grand junior hunter champion at Lake Placid (N.Y.), high-point small junior hunter at the Pennsylvania National, was first and second at the USEF Junior Hunter Finals-East, and third in the AHJF Hunter Classic Spectacular of Palm Beach with Tim Goguen in the irons.
Angelo's small junior championships also included Kentucky Spring, Washington (D.C.) International, the Pennsylvania National, the Capital Challenge (Md.), and the Palm Beach International (Fla.).
---
Small Junior Hunter, 16-17
CONTENDER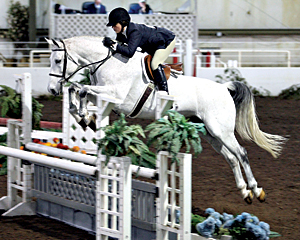 When it's time to go to a horse show, Contender is always first in line. "He's at the front of his stall saying, excuse me, I'm really important, don't forget me," said Micaela Kennedy, Chesterfield, Mo.
Contender got his start in the jumper ring before making the transition to the hunter world. Coming off grand regular and regular working national championships last year, Contender continues to be successful, winning numerous small junior championships as well as great ribbons in the hunter derbies and equitation classes.
"Contender doesn't seem to care what he does," said Kennedy. "He just wants to go to the horse shows. Whether you're a seasoned professional or have low mileage in the ring, Contender's there for you."
"Everything you ask he will step up and do," she said. "He gets a little enthusiastic about his job because he's an overachiever but has a huge heart.
"Contender is a true winner for Kennedy Farms. He's straight forward, great fun and a joy to be with," finished Kennedy. "You bet he's going to the show!"
---
Grand Junior Hunter, 15 and Under
Large Junior Hunter, 15 and Under
PERFECTIONIST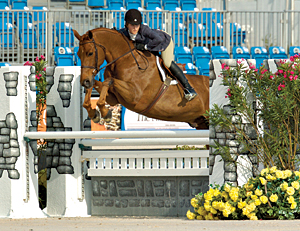 "He's like a pet goat," said Stacey Schaefer of Perfectionist, an 8-year-old warmblood gelding owned by Scott Stewart. "He chews up everything. He went through three bridles this year, but it's OK."
Perfectionist's antics don't seem to bother his partner, Samantha Schaefer, who has been riding the horse since the National Horse Show (Fla.) in 2007. "He's really funny in the barn," she said. "He's such a pet, and he's so spoiled."
Samantha, Westminster, Md., has been riding with Kim Stewart for the past eight years and got the ride on Perfectionist through her. "Kim is good friends with Scott Stewart and Ken Berkeley," said Samantha. "They've given me a lot of opportunities to ride amazing horses; I've learned so much."
The pair had a fantastic year in 2008, winning the Jacksonville (Fla.) circuit championship and picking up tricolors at Upperville (Va.), the WCHR Spectacular (Fla.), Ocala Masters (Fla.), Lexington Spring Premier (Va.), Manchester Classic (Vt.), Pennsylvania National Horse Show, Washington (D.C.) International to name a few. At the Hampton Classic (N.Y.), they won the Centennial Trophy, and at Capital Challenge (Md.) they were awarded the EMO Junior Hunter Trip of the Show, along with the championship.
"He knows his job," said Samantha. "He's always ready to win, and he walks into the ring and says, 'OK, I've got it.' He's really fun and easy. He's perfect!"
"We're really grateful to both Scott, Ken and Kim," said Stacey. "Perfectionist is Samantha's go-to horse. When the chips are down, she really counts on him. We are really, really lucky to have had such a great horse to show in 2008."
---
Grand Junior Hunter, 16-17
Large Junior Hunter, 16-17
SMALL TOWN
"He's like a shy person," said Nicoletta von Heidegger of Small Town. "He's shy around new people, but once he trusts you he's really sweet."
Von Heidegger has leased the Hanoverian gelding from Elizabeth Reilly for the past three years and has won championships all over the West Coast with him. They captured more than 10 California championships in 2008, including wins at the Los Angeles International Show Jumping Festival, Menlo Charity, Showpark Summer Festival, the HITS Desert Circuit Championship and the overall large junior hunter championship at the USEF Junior Hunter Finals-West.
"When I first got him he was a little green and really spooky, but he had a good attitude," said von Heidegger. "He always wanted to try, but he got scared sometimes. He took getting used to, but once I established trust he was a breeze."
Von Heidegger said that Small Town was sensitive, but in the way that he was very in tune with her and her riding style. "He taught me a lot," she said. "I got a lot of good mileage out of the time I had with him."
That mileage included a tour of the East Coast, where the pair won ribbons at Capital Challenge (Md.), the Pennsylvania National, the Syracuse Sporthorse Invitational (N.Y.), and they were the large junior hunter champions at the Washington (D.C.) International.
"He excelled on both coasts," said Heidegger. "Being champion at Washington was such a good feeling because we worked so hard, and it was the end of our career together. He's a great horse and has plenty of time left. He was a great teacher to me, and I hope he does the same for someone else."
---
Grand Pony Hunter
Small Pony Hunter
FANCY FEET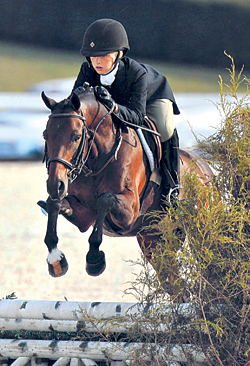 Normally a birthday is pretty exciting, but for Morgane Qualls, it meant she could no longer show her partner, Fancy Feet, in the small pony division. "I really miss showing him," she said. "But I get to ride him at home, so that's good."
Qualls, Murfreesboro, Tenn., started riding Fancy Feet after the 2007 Pony Finals and began showing him in December. She didn't find success immediately, saying that it was hard to get to know him. Once they clicked into place, however, the championships kept coming.
"He always knew what I wanted," said Qualls. "But, sometimes he thought he knew better and would save me, and sometimes things didn't work out."
The pair captured championships at Lake St. Louis (Mo.), Smokey Mountain Fall Gathering (Tenn.), Tennessee Hunter/Jumper Classic, Equifest (Ill.), and many others. "He's a very fancy pony," said owner David Wright. "You can count on him to walk in any ring anywhere and go right to the jumps."
Qualls even took him into the equitation ring once, and he was the only pony in a class of 23. "It was pouring down rain, and mud was flung all over us," said Qualls. "He thought he was bigger than all of them. It was hilarious; there were all these huge horses and stuck in the middle was this little pony."
At home, however, Fancy Feet turns into a loveable guy. "He loves hugs," said Qualls. "He's a treat freak, and he'll eat anything. His favorite game to play is 'chase the carrot.' "
---
Medium Pony Hunter
CORTINA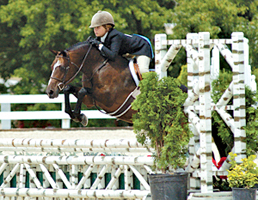 Cortina has found success with many riders on her back, but Victoria Colvin piloted her to more than 10 medium pony hunter championships in 2008.
Now owned by Madison Maners, Weddington, N.C., who bought the 11-year-old bay mare in the fall of 2008, she has continued her winning ways with her new owner and rider.
Cortina won championships at the Kentucky Summer Classic, Upperville (Va.), I Love New York—where she was also the grand champion pony hunter—Palm Beach International (Fla.), and was the Winter Equestrian Festival circuit medium pony hunter champion.
---
Large Pony Hunter
MIDNIGHT HOUR
Midnight Hour and Porter Allen, San Antonio, Texas, were highly successful in the large pony hunter divisions, winning more than 10 championships together.
"He's really fun," said Allen. "He's pretty easy. His lead changes are sticky sometimes but it's easy to find distances on him. He's smooth and polite."
Allen started riding the 11-year-old bay gelding in January of 2008 and took over his ownership in October of the same year.
"The first time I met him I went into his stall and he bit my shoe," said Allen. "My mom had to bring in a peppermint to get him to stop."
The pair won championships at the Ocala Winter Festival (Fla.), Tampa Bay Classic (Fla.), RMI Mid-Florida I (Fla.), Atlanta Spring Premier (Ga.), Lexington National (Va.), and more. They also won eight USEF Pony Medals classes, leaving Allen tied for third in the national standings for the 2007-2008 show season.
"He'll whinny if you walk down the aisle and he knows you," finished Allen. "And he loves treats. Especially peppermints and bananas."
---
Grand Green Pony Hunter
Small Green Pony Hunter
MONROE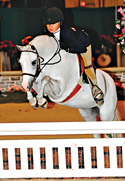 Meehan Shirey, Lake Worth, Fla., debuted Monroe in May of 2007 and hasn't looked back since, piloting the 9-year-old gray Welsh-cross to more than 20 small green pony championships in 2008.
The pair also found success in the regular small pony division, adding 10 championships to their long list of accomplishments and finishing eighth in the national standings. They took home tricolors from the Palm Beach International (Fla.), Kentucky Summer Classic, Kentucky National, Bluegrass Festival (Ky.), Showplace Fall Classic (Ill.), Colorado Summer Classic, Kentucky Summer Classic, and many others.
They were third in the small green pony under saddle class at the USEF Pony Finals (Ky.) in August and finished ninth overall in the division.
---
Medium Green Pony Hunter
CHAMPLAIN CHARADE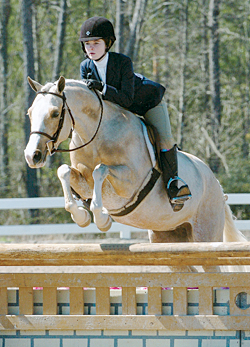 Katie Ramsey bought her pony, Champlain Charade, sight unseen, because David Wright knew there was something special about her. The special part didn't show up right away, though. "She was really bad in the beginning," said Ramsey. "She was a rearer. It took a year before she was really rideable."
Once the 5-year-old mare found her stride, the pair was unstoppable, winning championships at Smokey Mountain Fall Gathering (Tenn.), Tennessee Hunter/ Jumper Classic, Alderwood Festival (Tenn.), Nashville Classic (Tenn.), and more.
"She's so much better this year," said Ramsey. "I would think we were ready to show and she would stop and rear. Now she is so fun to ride. She has perfect balance, and her distance is always there. People don't think she is the same pony."
After a great outing at the USEF Pony Finals (Ky.), where the pair placed eighth in the hack out of all medium greens, Ramsey is looking forward to showing Charade in the regular mediums, where they have already found success.
---
Large Green Pony Hunter
TOP OF THE MORNING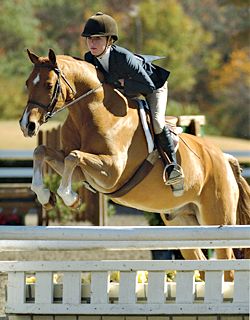 It's rather appropriate that Top Of The Morning, also known as "Clover," arrived at the Waters family's farm, Waterworks Farm in Sparr, Fla., on Saint Patrick's Day.
The flashy chestnut dominated his division with rider Hayley Waters this year, winning blue ribbons at nearly every venue and taking home championships from the USGPL Finals (Va.), Cavalier Classic (Va.), Jacksonville Finale (Fla.), and the HITS Culpeper (Va.) and Jacksonville Winter Circuit championships.
"He's really nice to jump," said Waters. "He's very brave to jumps and likes to ride out on trails. He was really fun at the end of the year last year because he was so good."
Waters said that a challenge she faced with Clover was getting him to stand in the model classes, but she managed at USEF Pony Finals (Ky.), snagging a third-placed ribbon for her efforts.
"It was really fun to teach a green pony from Europe how to be a pony hunter," she finished. "And once he learned about treats, he would paw and go crazy every time someone walked past him!"
Top Of The Morning was sold to Grace Howard, and she has already piloted Clover to good ribbons at the Carolina Horse Park December Classic.
---
Ladies Side-Saddle Hunter
GARNET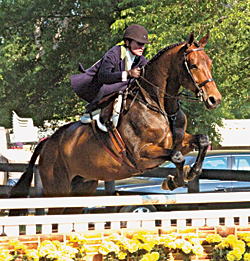 Versatile would be an appropriate word to describe Penny Denegre's 11-year-old Hanoverian mare, Garnet. "She's done a little bit of everything," said Denegre. "My trainer Gavin Moylan started her in the baby and pre-greens, then I did the adult amateurs and amateur-owners."
Garnet has also competed in the first and second year green and conformation classes with Moylan and competed in the jumpers and some medal classes. She's even been foxhunting and led the field with Denegre, who said she is sure of foot and enjoys the job.
"She's such a sweetheart," said Denegre. "Everyone loves her. She's got those big doe eyes, and she loves carrots. She's very uncomplicated and easy to ride."
Denegre, Middleburg, Va., decided to campaign Garnet as a side-saddle horse because of her desirable qualities, saying that a good side-saddle horse should be an exceptional mover, a good jumper and well mannered. The bay mare gathered side-saddle championships at Devon (Pa.), Warrenton (Va.), Loudoun Benefit (Va.), and Keswick Hunt (Va.) and the reserve honors at the Pennsylvania National and at Upperville (Va.). "I've been impressed with the numbers in the side-saddle division," said Denegre. "It's a lot of fun to go to the bigger shows that offer it.
"Side-saddle is the last division that is a touchstone to the root of show hunters," added Denegre. "It's a beautiful way to show a lovely horse."
---
Adult Equitation
AMY BRUBAKER
It's hard to believe that Amy Brubaker took an 18-year hiatus from riding, not with three adult equitation national titles under her belt. "It sometimes was like learning all over again," said Brubaker of her return to riding 10 years ago, "but in some ways it wasn't. Little changed in the 18 years I was gone."
The Pasadena, Calif., resident said she rides in the equitation mostly out of necessity. "I don't personally own a horse," she said. "I primarily borrow horses, and equitation horses are more likely to be offered than hunters. I love to show, and I really try to show every weekend if possible. Archie [Cox] was great in helping find me horses."
This year, Brubaker leased Punk't from Melissa Doddridge and said that he was her favorite and most consistent ride. She also competed on Coventry, owned by Stephanie Danhakl, Carlara, owned by Michelle Ebert, Pantera Z, owned by Kristina Novak, and Amigo, owned by Hannah Goodson-Cutt.
Brubaker's best moment, however, came at the Capital Challenge (Md.), where she rode Sherri Crawford's All The Answers to the blue ribbon in the WCHR Adult Amateur Hunter Finals. "It was the thrill of a lifetime," said Brubaker. "I still get goosebumps talking about it!"
For 2009, Brubaker's goal is the WCHR adult amateur national title, under the guidance of Tracey Baer, with whom she began training at the beginning of the season. "I'm so appreciative of Archie," she said. "He accepted me as a customer several years ago to do the amateur-owners, but I was financially unable. He really went above and beyond to find me a safe place to land. I'm really grateful for that."
---
Open Jumper
UP CHIQUI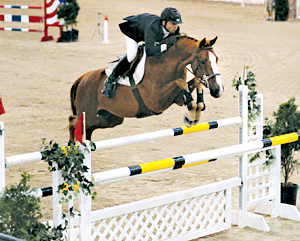 Up Chiqui and Kent Farrington, Chicago, Ill., proved to be unstoppable again this year, winning the open jumper championship by more than 50,000 points.
The 1997 Belgium Warmblood won the $75,000 Prix de Pennsylvania National, the $50,000 CSI-W Lexington (Ky.), the $50,000 Vermont Summer Celebration Grand Prix, the $75,000 Grand Prix of Lake Placid (N.Y.), the $25,000 Upperville Welcome Stakes (Va.), the $50,000 Idle Dice Open Jumper Stake (Pa.) and the $75,000 FEI Nations Cup and $150,000 CN US Open (Fla.).
Continuing his winning ways in 2009, Up Chiqui has already won the $60,000 Holiday And Horses FEI World Cup class and the $25,000 Green Cove Springs Welcome CSI, both in Florida.
---
Low Junior Jumper
JORDY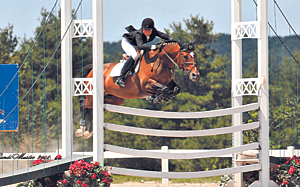 "He's just fun," said Laura Pfeiffer of Jordy, her partner in the low junior jumpers for the past three years. "He's really feisty and really game. When you go in the ring he wants to win too. He gives you that little bit of fire to go for it."
The pair won blues at nearly every venue they attended to, including sweeping the low junior jumper division at the Jacksonville National (Fla.) and taking home the tricolor. They were also champions at the Jacksonville International and Jacksonville Finale, and were the Jacksonville Circuit champions.
"He's always good," said Pfeiffer. "He always wants to win. I always have to be in the game with him, and I always have to be fired up."
At the Ocala Winter Finals (Fla.), Pfeiffer competed the 11-year-old warmblood gelding in the $15,000 Junior/ Amateur-Owner Low Classic, where they were faced with a one-stride triple combination that ended in four strides to a skinny. "We did it in two, two, and five," Pfeiffer laughed. "We left it all up and won."
Pfeiffer, Temperance, Mich., has continued competing Jordy in the lows this year and has already won two classics on the Jacksonville circuit.
---
Junior Jumper
RASTELLA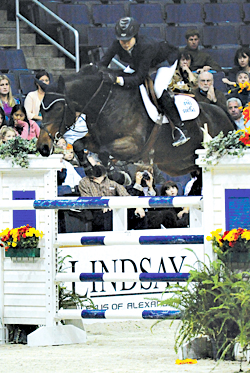 Clementine Goutal had been admiring Rastella from the sidelines for some time before her parents leased her from the Wood family of Halifax Farm. "Addy Phillips had shown her for about two years," said Goutal. "She was crazy, hot and fast, an amazing little horse. I loved to watch her go."
Rastella's transition to Goutal didn't go as smoothly as she hoped, though. "The first time I rode her she wouldn't walk to the ring," she said with a laugh. "We started in the lows, and it was a disaster, of course!"
Goutal, New York, N.Y., said she had to learn how to channel Rastella's adrenaline and excitement into what she was doing. "I had to learn how to feel comfortable with that fire she exudes when riding her," she said. "I found a confidence with her that I never had with any other horse."
Rastella, an 18-year-old Swedish Warmblood, and Goutal won junior jumper classics on the Winter Equestrian Festival Circuit during weeks 1, 2, 8 and 9, and the $30,000 Junior Jumper Invitational at WEF 12. Goutal's favorite show, however, was her second-placed finish in the $15,000 High Junior/Amateur-Owner Classic at the American Gold Cup (Ohio).
"They built this huge course," she said. "I had been at school so I felt a little out of the loop. Everyone was freaking out. McLain Ward said, 'Are we back at the Olympics?' I was thinking, 'This old mare is not going to make it around.' But she just totally pulled through. It was so clear how hard she was trying and how good she was feeling."
Rastella was supposed to retire last year, but her shining bill of health and zest for the show ring has allowed Goutal to continue showing her. They've already won their first two amateur-owner classics in 2009.
"If there's any sort of sign she doesn't want to do it anymore, she'll be retired," said Goutal. "The Wood family has been the most unbelievable parents to her. They're constantly checking on her and concerned for her well being. Any success that happened is in large part to their trust."
After Goutal returned from college on break, she went first to Rastella's stall. "Having my ultimate comfort zone waiting for me was the best feeling in the world," Goutal said. "She was the one horse that if my day went to pieces all I wanted to do was ride her. She's been the greatest influence on my life."
---
Low Amateur-Owner Jumper
LARGO
Cynthia McGrath loved Largo the moment she sat on him in Europe. "He's the sweetest horse in the barn," she said. "He's laid back and just wants to hang out. Anything you eat, he will."
The 7-year-old Dutch Warmblood was imported about 11⁄2 years ago and has found success in the jumper ring, winning the circuit championship at HITS-On-The-Hudson (N.Y.), the $15,000 low amateur-owner classic at the USGPL Final (Va.) and the $10,000 amateur-owner classic on the Winter Equestrian Festival Circuit (Fla.).
McGrath, Harrisburg, Pa., said that the most difficult part of working with Largo is keeping him fit, as the horse is extremely lazy to flat and hack, but not to jump. "When jumping he wakes up and will start to buck and play," she said. "I have to be ready for him to leap into the air. He's little, only 16.1 hands, but he's catty, and he's very enthusiastic about his job.
"He's the easiest horse I've ever ridden," continued McGrath. "He makes you feel like you can ride, and he's given me so much confidence. It's thrilling every time we go in the ring."
Largo will be moving up to the medium amateur-owner jumpers at WEF this year, and McGrath hopes to have him in the highs at some point as well. She is taking him slow deliberately, though.
"I just want to see how far he can go," said McGrath. "I need the practice, he doesn't. He instinctively knows what to do. He's a very special horse."
---
Amateur-Owner Jumper
SUBLIEM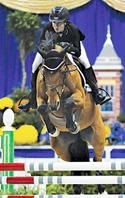 Whitney Weeks, South Port, Conn., and Subliem, 14, repeated their 2006 national championship win with consistent performances all over the East Coast.
The talented pair snapped up championships at Devon (Pa.), the Charlotte Jumper Classic (N.C.), the Winter Equestrian Festival (Fla.), the Washington (D.C.) International, I Love New York and Manchester And The Mountains (Vt.).
The Belgian Warmblood mare also won the $15,000 Show Jumping Hall of Fame Amateur-Owner Classic at Devon, the $50,000 Amateur-Owner Classic at Charlotte, and the $30,000 Amateur-Owner Invitational Classic at WEF 12.
---
5-Year-Old Young Jumper
ZERO POINT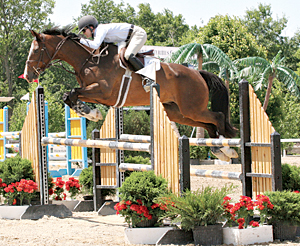 "He's competitive," said Maggie Jayne of Zero Point. "He's had his picture taken plenty of times, and he's very proud."
Jayne, who said that he loves to go fast and jump clean, describes the young horse as a "ball of energy." "He's all business in the show ring," she said. "When he comes out of the ring he stops and looks for a treat."
Zero Point came home with many ribbons from the young jumper classes, including blues from the Kentucky National, Showplace (Ill.), Equifest (Ill.), Ledges (Ill.) and the Winter Equestrian Festival (Fla.). "He had no rails in Kentucky," said Jayne. "He had amazing double clears, and he was so solid and consistent!"
Jayne, Elgin, Ill., said they plan on keeping him in the young jumper classes because they don't want to push him.
"I don't want to run him off his feet because he's 5," said Jayne. "I know he can do it—we both want to go fast."
She mentioned that it's hard to be conservative on Zero Point because he's one of the easiest rides she had all year, especially for being so young.
"If he ever took a rail it was usually my fault," she said with a laugh. "We'll keep going as far as we wants to go; he hasn't backed off yet."
---
6-Year-Old Young Jumper
DA VINCI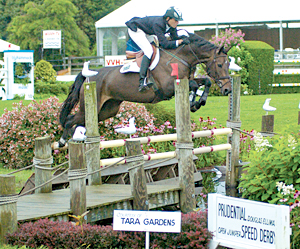 Consistency was the name of the game for Robert Castro's Da Vinci in 2008. The bay gelding was in the ribbons at nearly every venue.
Da Vinci got his start in March of 2007 in the 5-year-old young jumper classes and finished in the top 20 nationally. As a 6-year-old, he found his stride, winning classes at HITS-On-The-Hudson (N.Y.) and Kentucky Spring, and placing second in the $20,000 WEF Young Jumper 6-year-old class (Fla.) during week 12.
Already off to a good start in 2009, Da Vinci and rider Andres Rodriguez have placed well in the 7- and 8-year-old young jumper classes at WEF.
---
7- and 8-Year-Old Young Jumper
LITTLE BIG MAMA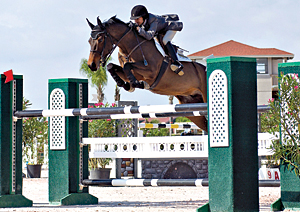 Although Little Big Mama has a famous cousin in Little Big Man, Laura Chapot said they are two very different horses to ride.
"They're both extremely careful," she said noting their one similarity. "When you go into the ring, you have a very good chance of a clear round."
The lovely bay mare certainly had a wealth of clear rounds this season, winning the Winter Equestrian Festival circuit championship and the reserve circuit championship at the HITS-On-The-Hudson (N.Y.) Spring series. She also won good ribbons at Lake Placid (N.Y.) and was three for three in the 1.30-meter division at I Love New York.
"She's very careful and brave, but she likes to do her own thing," said Chapot. "She doesn't like to be bossed around too much and has one speed, which is fast."
Chapot mentioned that at first it was hard to find a bit she would tolerate because she was strong, yet sensitive. "I had to find a compromise where she could be her own horse but allow me to control and guide her," she said. "It was nice to see her get used to my ride, relax, get stronger as she went."
Little Big Mama has already won ribbons at WEF this year, but Chapot has no specific plans for the mare's show schedule aside from taking it week by week to see how things go. "I never like to make predictions about the future," she said. "I like to let them surprise me."
---
Pony Jumper
FOLLOW MY LEAD
"It wasn't easy, " said Gerri Clark of her daughter Tommi's journey with Follow My Lead. "It was one fence at a time with 'Chica,' and she put Tommi in an ambulance, but now watching them jump is the most beautiful thing in the world."
Chica went through six different owners in three years until she found a permanent home with the Clarks.
Tommi first rode her at a clinic, but someone else bought the mare. "I told the people who bought her that if they ever gave up to give me a call," said Gerri. "We got the call and tried her for 10 days and kept her."
The decision to keep Chica turned out to be a good one, as the mare went on to snag many California titles, including the circuit championship at the HITS Desert Circuit and tricolors at the LA International, Memorial Day Classic and the West Coast Pony Jumper Finals. Most importantly, though, they topped the Farewell Class at the USEF Pony Finals (Ky.).
"She was getting tired, but I knew she could do it," said Tommi of the Farewell Class. "No one could believe that we went that fast. She gave it all she had. It was so hard to gain her trust because no one understood her. Once I got it, there was no going back."
Tommi, Burbank, Calif., has aged out of the juniors, but she plans to participate in ride and drives, where she hopes to win a golf cart or two.
"Lots of people want to buy her," said Gerri. "But the pony has given her heart and soul to Tommi. All she wanted was someone to love her. We all forget about the silly things like sitting in the field with a sandwich and playing cards while your horse grazes next to you, spending time together, but that's what made the difference.
"We owe her," finished Gerri. "She deserves the recognition. She has given us so much and never said no."

Coree Reuter