Lexington, Va.—May 27
After two consecutive years finishing third in the USEA Intercollegiate Eventing Championship, the Auburn Eventing Team finally secured victory. Rising senior Sallie Johnson, rising senior Aubrey Wagner, rising senior Meredith Kramer and recent graduate Lydia Kennedy of the Auburn University Orange team fought hard for the orange and blue, producing stellar final phase performances to win the 2018 Intercollegiate Championship at Virginia Horse Trials on a combined team score of 92.125.
Johnson and Kennedy have attended the Championship since the inaugural year in 2016. "As fun as it can be just to come and be in the top three, winning is a completely surreal feeling because we've all worked so hard to get here with our individual horses," Johnson said.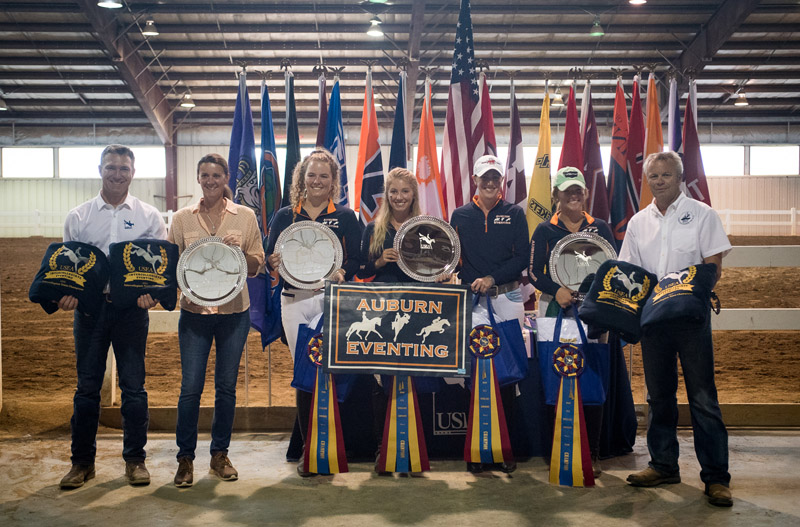 Between studies, the students have been training as a team during clinics and putting the pieces together with the focus and drive to win. Wagner, a first timer at Championship, said, "I knew it was a big deal but I didn't realize how big a deal it actually was. All the teams showing their school spirit and the camaraderie that we all had was a really special feeling."
Wagner and Kramer both won their individual divisions. Finishing on her dressage score of 29.8, Kramer and her 16-year-old Thoroughbred, Kentucky Gentleman, won the Novice Rider division out of 40 starters. 
"He was really great all weekend," Kramer said. "He was super consistent and put in a great dressage test to start off at the top, and we had fun the rest of the way."
Wagner and her 9-year-old German Sport Horse, Clooney MS, were the only pair in the CCI*-B division to show jump double clear, which moved them all the way from ninth place to win on 39.9. 
"I don't even know what to say," she said moments after discovering she had won. "I couldn't believe he was still full of all that jump after [yesterday's cross-country]. He was amazing. I can't thank him enough."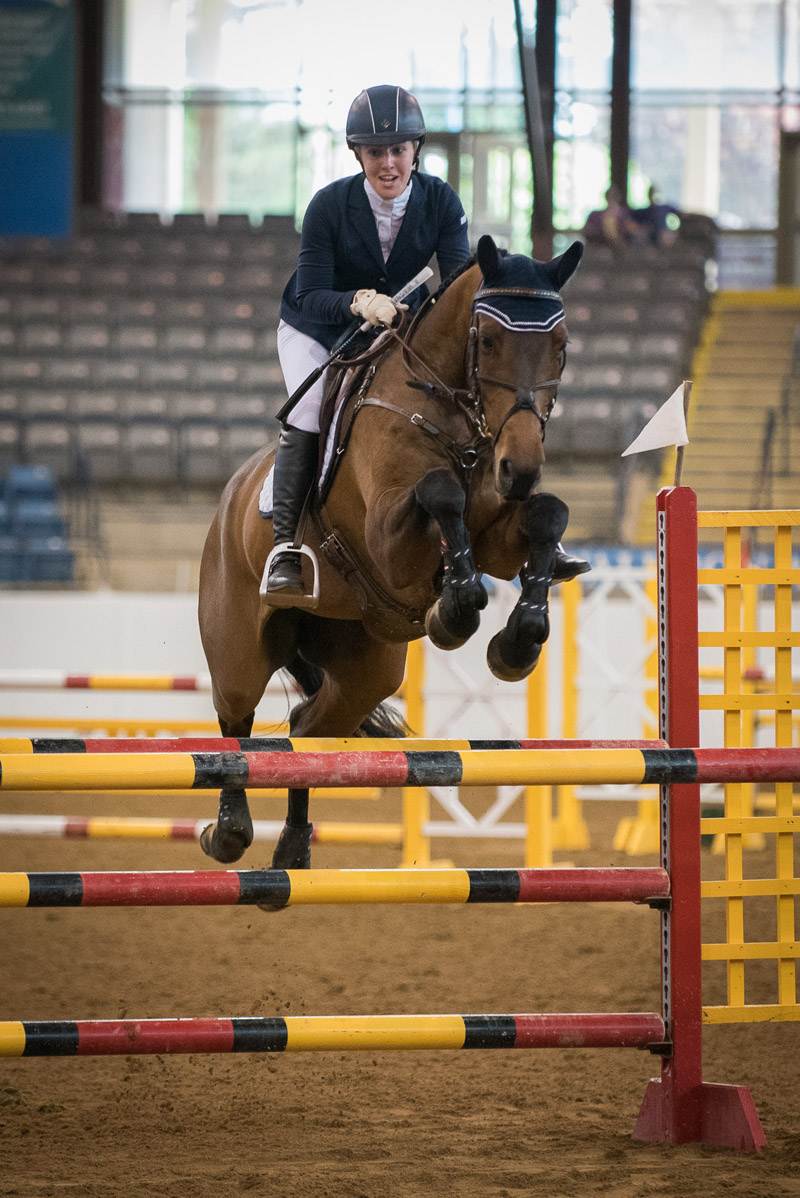 This was Wagner's first one-star with Clooney, a horse she's owned less than a year. "He exceeded expectations. I'm so proud of him," she said. 
Wagner's clear round took the pressure off teammate Johnson and Mark and Cynthia Rowan's 13-year-old Thoroughbred mare, Looking Rosey, who finished seventh on 51.1 in their CCI* debut. 
Kennedy and her 14-year-old Thoroughbred/Percheron mare, Subtle Dream Unveiled, a horse she has previously competed up to preliminary level, finished on their dressage score of 32.4 to finish sixth in open novice. 
Auburn University's Blue team, including Lydia Kennedy with Double Dare, Sallie Johnson with Things to Ponder, Aubrey Wagner with Fernhill Valarchin and Cari Budney with Solo also made a good showing to finish fourth in the team championship on a combined score of 109.715.
Clemson Clinches Reserve Champion Title
Clemson University hoped to defend their 2017 Champion title and came within less than two points of doing so. The Clemson Tiger team, one of three teams fielded by Clemson, finished on a combined team score of 93.73 to win reserve champion for the second time. Sarah Pyne, Alex Peterson, Kaitlyn Bardos and April Crawford are fiercely competitive and worked hard for the last year to bring the heat once again. 
"Sarah and I have been on all three teams," Peterson said. "Last year after winning champion and knowing how that felt and the work it took to get there, we laid down the schedule, we said we need x, y, z and we made it happen. We had fabulous [fundraising combined tests], and we had a lot of team competitions to get each other ready for this." 
School ended nearly a month ago and the Clemson students took on the responsibility to continue their focused preparations after going home. In addition to the second place finish for the Clemson Tigers, the Clemson Orange team, made up of Pyne with Call Me Commander, Peterson with Willie Wiggins, Jessica Ruffa with Magical Dreamer and Molly Micou with Navajo Ca Lo, finished sixth on a team score of 117.14. 
University of Kentucky Show Wild(cat) School Spirit
Clearly the collegiate teams put untold hours and efforts into ensuring they are ready to produce good results, but the students also bear in mind the VHT sponsored Spirit Award, which returns the entry fees of the team deemed to have the most school spirit and team camaraderie.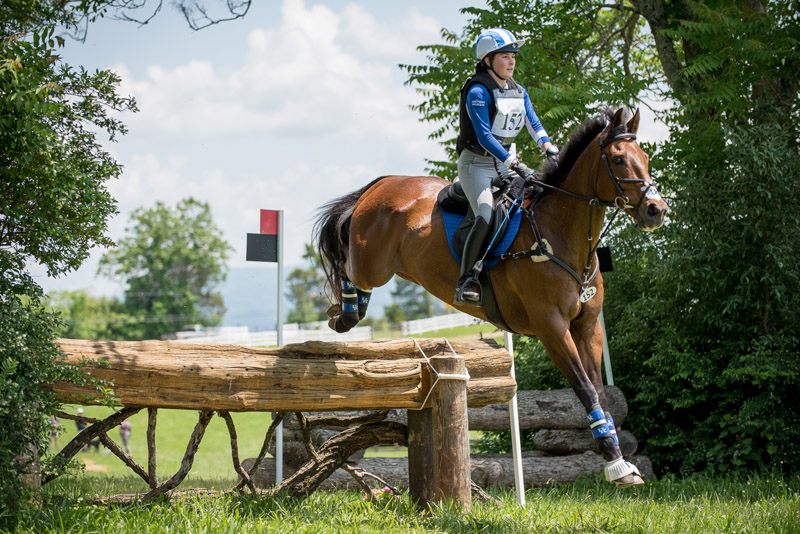 The University of Kentucky team of Jackie LeMastus, Mia Fox, Elizabeth Silva-Chandley and Shannon McCall finished seventh in the team competition and were selected as the 2018 Spirit Award winners, a goal they had set for themselves following last year's competition.
"Last year we came and saw how unprepared we were. We had a good effort last minute but wanted to nail it this year," Fox said. "We set up meetings and planned every detail down to the socks. It wasn't about beating the other teams and showing off it was literally just to have fun."
The well established UK Dressage and Eventing Team drew the riders to the school, and they were eager to show their Wildcat pride. 
"We wanted to show that we're a team with a lot of spirit and we have a lot of fun and we wanted to bring that here," LeMastus said. "Our eventing team at our university has helped make our best friendships. I didn't know any of these girls before going in. It's been really cool to get to know everybody. We just have a lot of fun."
Intercollegiate Championship to Return to Virginia in 2021
During the closing ceremonies, the USEA announced the future host sites of the Intercollegiate Championship. After three successful years at VHT where the program was first born and matured, the Intercollegiate Championship will move to Chattahoochee Hills in Fairburn, Georgia. The team competition will take place during the May Horse Trials of 2019 and 2020. 
In 2021 and 2022, the Championship will return to VHT during the Memorial Day weekend horse trials. VHT organizer Andy Bowles and Chattahoochee Hills organizer Hugh Lochore submitted a joint bid for the Championship to allow for a rotation between a northern and southern venue. 
"We're extremely privileged to be involved with the Intercollegiate Championship. We are pleased to see it continue to develop at Chattahoochee Hills and look forward to it coming back in 2021," Bowles said.