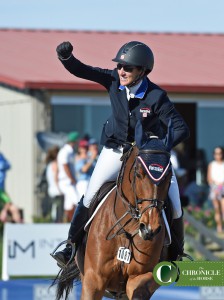 Thermal, Calif.—Mar. 19
"Honestly, I was so excited and so happy with how the horse performed, and that I didn't screw it up, that whatever was going to happen was going to happen," Mandy Porter said after the jump-off of the AIG $1 Million Grand Prix.
When she walked out of the ring after her jump-off round, Porter had laid down the fastest trip so far in the big-money class. But there were a few more riders to follow—including the individual gold medalist from the 1990 FEI World Equestrian Games (Sweden), Eric Navet.
For Porter, the relief that she'd ridden well and her horse rose to the challenge was enough to keep her content whether Navet bested her or not. But when the dust settled, she was left with both that feeling of satisfaction and a big check to go with it.
Porter earned a $350,000 paycheck as the top finisher in the AIG $1 Million Grand Prix, besting Navet and four others in the jump-off.
"What happened?" Porter said as she sat down for the press conference afterwards. "I'm speechless. I don't know what to say. The horse I have, Milano, is a bit of a freak, and he's improved every class in the ring, and he thrives for the attention. I think he likes pressure a lot more than I do. I kept telling myself that I had to stay out of his way because if I get in his way problems happen. If I stay out of his way he's really good."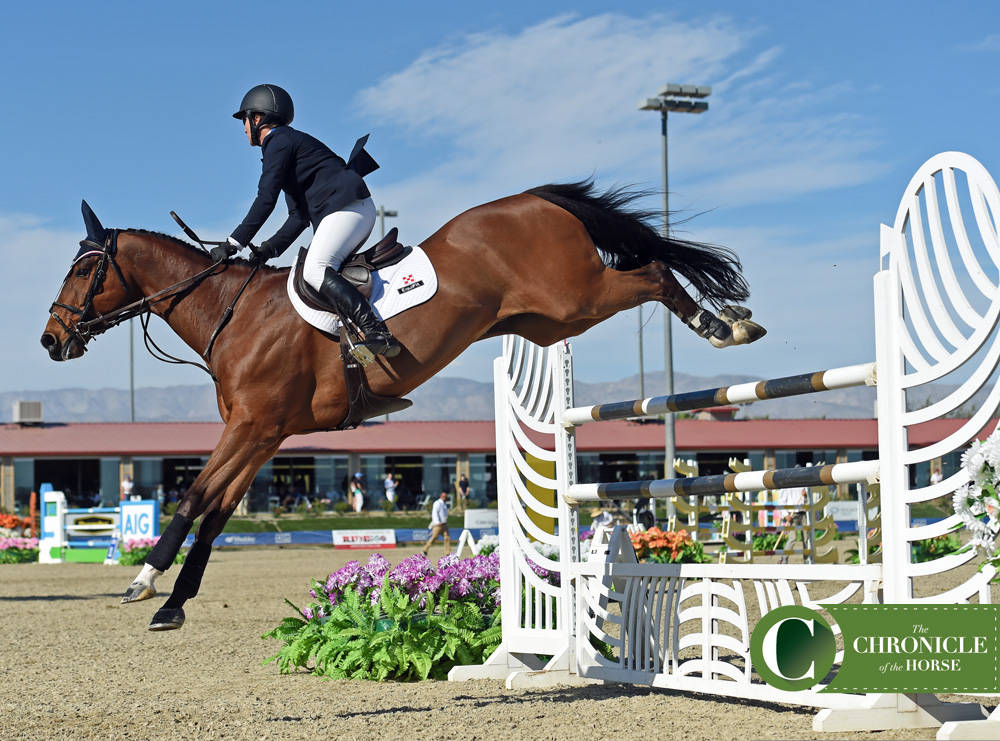 The 12-year-old gelding couldn't have had a better lead-up to the final event of the HITS Coachella Desert Circuit—on Friday he topped the $25,000 Grand Prix.
Porter got the ride on the Swedish Warmblood a year ago after owner Abigail Weese decided she needed to step back from competing as she planned her wedding.
"She used to ride him and had some really good results on him, and she decided to let me keep riding him this year, so he's a really good competitor," said Porter. "Every time in the ring he gives it his all, and if there's something he needs to practice he thinks about what you're trying to help him figure out. Every time he comes out he tries to do it better and better.
"I think he thrives on all the attention and everything that he gets along with it. He's just improved steadily. I think there's great things ahead for him. He hasn't even peaked yet I don't think," she continued.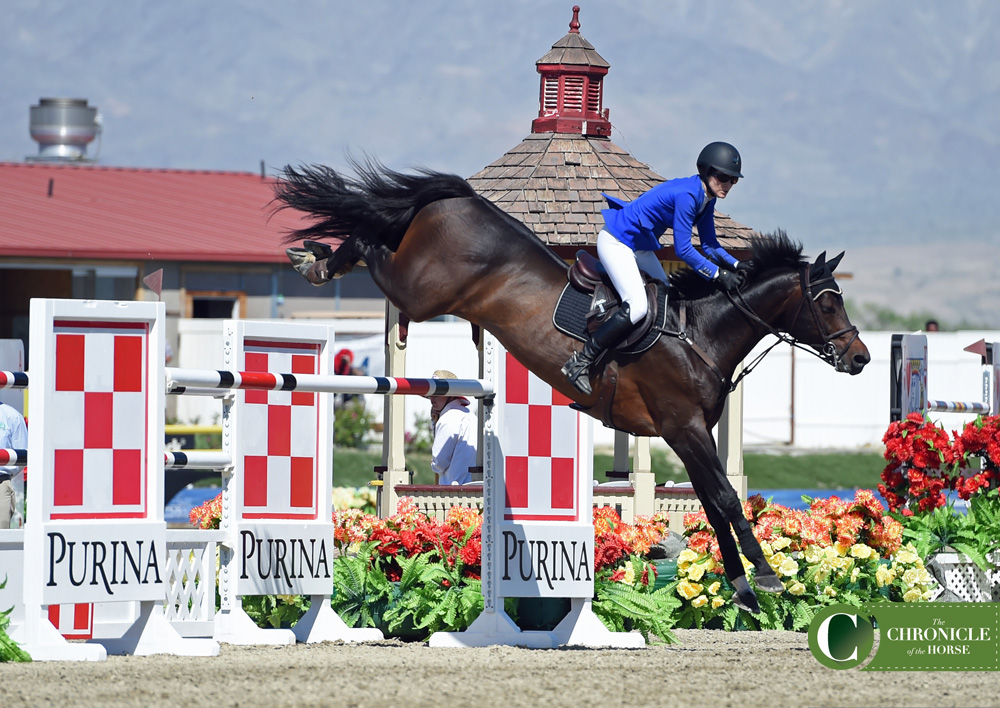 Of 54 starters, six riders jumped clear around Alan Wade's first-round track. Many riders' dreams of the big check were dashed by jumping clear for most of the course before faulting in the final combination. Three that advanced to the jump-off turned in double clear performances with Canadian rider Tamie Phillips taking second on Cristar and pathfinder Cian O'Connor taking third with Good Luck. Andre Thieme (Conthendrix), Eric Navet (Catypso) and amateur rider Uma O'Neill (Clockwise Of Greenhill Z) had 4 faults apiece.
The height of the course was dropped from 1.60-meter to 1.50-meter this year, which caused plenty of discussion since it was announced, but overall the riders felt the decision was beneficial for this show.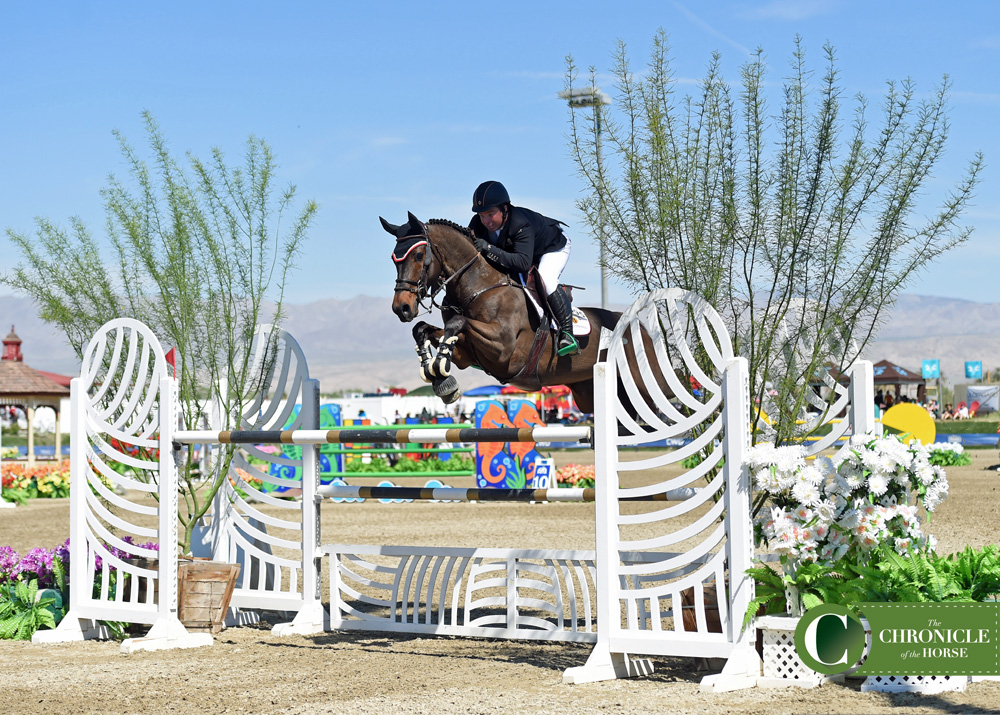 "I'm delighted to be here. It's a fantastic show; it's my first time here," said O'Connor, who traveled from Wellington, Fla., to compete. "Their new height with a 1.50 this year—it really gives other people a chance to jump and jump very well as you can see from the line-up. I'm very happy to be a part and to jump my double clear."
"I was also pleased with new height," said Phillips. "It gave me a lot of confidence going into this class. My horse was just absolutely on fire today. I put down my best round that I could, and you know, almost hung in there, but Mandy just got it in the end. It was a really fun class."
See full results from the AIG $1 Million Grand Prix.
Want more from HITS Coachella? Read about Hope Glynn's new derby star, about Kaitlyn Lovingfoss' big equitation win and check out a gallery from the professional hunters and don't forget to pick up a copy of the April 3rd issue of the Chronicle for more in-depth coverage.