Thermal, Calif.—March 1-3
When Mandy Porter walked into the Strongid® C 2X™ Grand Prix Stadium on Feb. 28, the crowd expected to see her in the tack of her usual stallion, Con Capilot. This time, however, she piloted a 16.3 hand grey gelding named Lexito for Marguerite McAfee of P2 Capital, LLC.
Porter, who hails from Encinitas, Calif., catch-rode for Lexito's regular rider Toni McIntosh of McIntosh Stables after injury sidelined McIntosh. Despite the new partnership, Porter and Lexito earned them the win in the $25,000 SmartPak Grand Prix, presented by Zoetis.
"I rode this horse a little last fall for Toni [McIntosh], so I was familiar with him, but I certainly did not expect that we would go in there today and win," said a pleasantly surprised Porter. "This is a game horse, but he doesn't have a lot of experience at this level—my goal was just to help keep him right and building for Toni."
With technical distances and considerable size, the course allowed four to advance to the jump-off from an original order of 35. Jaclyn Duff of Edmonton, Alberta was the first to return in the jump-off aboard her own Pater Noster, but had trouble with a right-hand rollback and was eliminated after a fall.
With one grand prix victory already pocketed this season, Francie Steinwedell-Carvin jumped Taunus, owned by Prentiss Partners, in the jump-off. Taunus jumped around happily to a clear round in 54.15 seconds for 2 time faults.
Steinwedell-Carvin isn't shy about admitting that her goal at this point in the circuit is to save her chestnut gelding for the AIG $1 Million Grand Prix. Alexander Grayton of Preddis, Alberta finished the jump-off Candy Girl with one rail and 2 time faults.
The door was wide open as Porter trotted Lexito into the ring. After an inside turn from the second-to-last fence kept them safe from time faults, a long spot to the final effort cued gasps from the sidelines. "It didn't feel as desperate as it obviously looked," said Porter with a laugh. "He likes to go forward, so I didn't think pulling was in my best interest at that point—I wasn't worried at all that he couldn't get it done."
Two days later, Rusty Stewart and his Bristol took over winning duties at HITS Thermal. Stewart, who hails from Camarillo, Calif., has rested his longtime grand prix mount Bristol since the end of last season, but returned to competition on the highest of notes.
Stewart and the homebred 16-year-old gelding were the fastest double-clear effort in an 11-horse jump-off to win the $50,000 Horze Equestrian Grand Prix, presented by Zoetis, in front of a packed house in the Strongid® C 2X™ Grand Prix Stadium.
Despite the recent hiatus from competition, it took Bristol no time to readjust to the show ring. "He was just Bristol," said Stewart in reaction to how his horse performed. "He's getting faster every day and he loves to jump in front of a crowd—the course designer could have built anything and I would have trusted him to do his job today."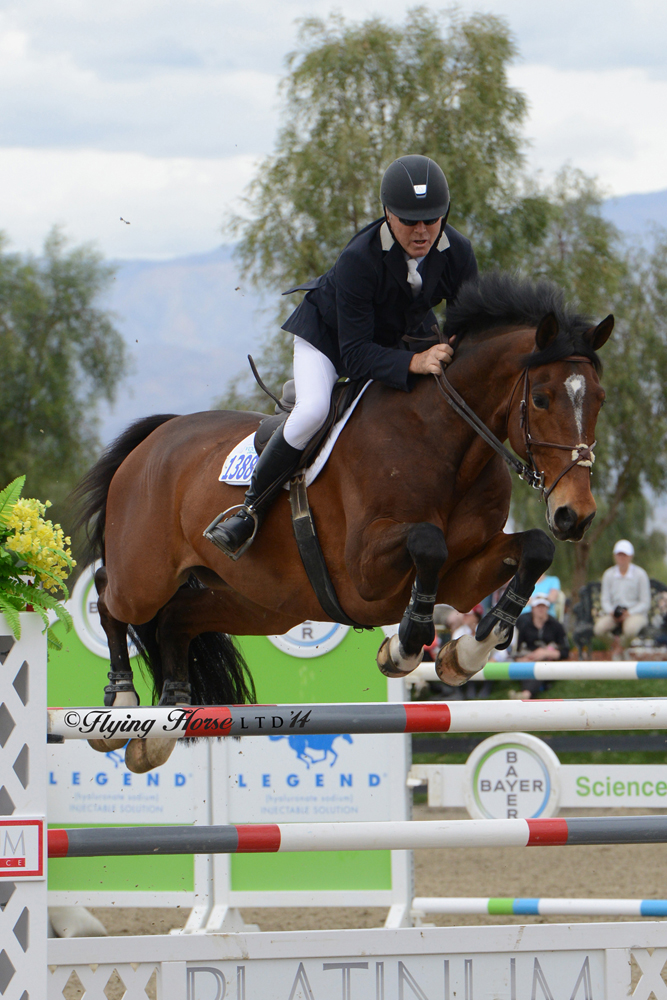 Rusty Stewart brought Bristol out for the first
time this season and won the $50,000
Horze Equestrian Grand Prix at HITS Thermal.
Photo by Flying Horse Photography
Stewart was one of only two in the 11-horse jump-off to jump double clear and piloted Bristol to a time of 47.96 seconds. Just one trip later, 16-year-old Hannah von Heidegger, a newcomer to the grand prix level, jumped her mare Geledimar to a clear round in 51.42 seconds to eventually land second.
Geledimar was the first of von Heidegger's two jump-off rides and she left the ring wide eyed and grinning after both. "I'm still hoping for my first grand prix win, but I could not have been happier with how this day went. I was so excited just to get my first one clean—the second one was icing on the cake," said von Heidegger.
Anyone watching as von Heidegger landed off the last fence would have been convinced she was the winner as she dove onto the neck of Geledimar and wrapped her arms around the mare, planting kisses in her mane. "We have been having 4 faults week after week and I knew this was coming soon—I could feel it!" said von Heidegger.
Von Heidegger was also eighth with Axl Rose for Monarch International. Earlier in the day, she piloted Monarch International's E-Unanime De la Haie to win the $10,000 HITS High Junior/Amateur-Owner Jumper Classic.
Von Heidegger is seeing dollar signs thinking about competing at the HITS Championship in September for a share of $250,000 and is competing in the High Junior/Amateur-Owner Jumper Classics at HITS Thermal in an effort to head east this fall. "It's certainly the most amount of money I have ever ridden for and it would be great to get there," she said.
$25,000 SmartPak Grand Prix, presented by Zoetis
| | | | | | | | |
| --- | --- | --- | --- | --- | --- | --- | --- |
| Place | Horse | Owner | Rider | Prize $ | Rd 1 Faults | JO Faults | JO Time |
| 1 | Lexito | P2 Capital, LLC | Mandy Porter | $7,500 | 0 | 0 | 49.95 |
| 2 | Taunus | Prentiss Partners | Francie Steinwedell-Carvin | $5,500 | 0 | 2 | 54.15 |
| 3 | Candy Girl | Grayton Farms, Ltd. | Alexander Grayton | $3,250 | 0 | 6 | 54.42 |
| 4 | Pater Noster | Jaclyn Duff | Jaclyn Duff | $2,000 | 0 | Elim. | Elim. |
| 5 | Lordan | Nayel Nassar | Nayel Nassar | $1,500 | 4 | - | - |
| 6 | Bristol | Grey Fox Farm | Rusty Stewart | $1,250 | 4 | - | - |
| 7 | Contendra | Bridgeside Farms, LLC | Bliss Heers | $1,000 | 4 | - | - |
| 8 | Mike | Mario Onate | Rodrigo Lambre | $750 | 4 | - | - |
| 9 | Katie Riddle | Rancho Corazon, LLC | William Simpson | $750 | 4 | - | - |
| 10 | Legis Venice | LEGISequine.com | Jenni McAllister | $500 | 4 | - | - |
| 11 | As Di Azurro | Jaclyn Duff | Jaclyn Duff | $500 | 4 | - | - |
| 12 | User ID | Onlyjumpers.com | Juan Pablo Gnecco | $500 | 4 | - | - |
.
$50,000 Horze Equestrian Grand Prix, presented by Zoetis
| | | | | | | | |
| --- | --- | --- | --- | --- | --- | --- | --- |
| Place | Horse | Owner | Rider | Prize $ | Rd 1 Faults | JO Faults | JO Time |
| 1 | Bristol | Grey Fox Farm | Rusty Stewart | $15,000 | 0 | 0 | 47.96 |
| 2 | Geledimar | Monarch International | Hannah Von Heidegger | $11,000 | 0 | 0 | 51.42 |
| 3 | Zamiro | Alix Fargo | Susan Artes | $6,500 | 0 | 4 | 47.99 |
| 4 | Cassiato | Oak Park Group, LLC | Harley Brown | $4,000 | 0 | 4 | 50.65 |
| 5 | Legis Venice | LEGISequine.com | Jenni McAllister | $3,000 | 0 | 8 | 49.05 |
| 6 | Chianto | Forest View Farm & Alison Heafey | John Pearce | $2,500 | 0 | 8 | 50.04 |
| 7 | Cesar | Bridgeside Farms, LLC | Bliss Heers | $2,000 | 0 | 8 | 50.42 |
| 8 | Axl Rose | Monarch International | Hannah Von Heidegger | $1,500 | 0 | 8 | 50.54 |
| 9 | Here I Come | LEGISequine.com | Jenni McAllister | $1,500 | 0 | 8 | 54.41 |
| 10 | Darius de la Ferme Rose | Morgan Hill Partners | Michelle Rodal | $1,000 | 0 | 8 | 54.94 |
| 11 | Clintord | Cross Creek Farms, LLC | Michelle Rodal | $1,000 | 0 | 12 | 53.00 |
| 12 | Agamemnon | Alex Lawler | Alex Lawler | $1,000 | 4 | - | - |