Wellington, Fla.—March 4
When Jacob Pope entered the ring on Team Rakowsky Equestrian, LLC's J'Adore, he was completely calm despite the fact that Wellington seemed a little restless—she blew gusts of winds that sent the flags surrounding Deeridge Farm's grass field flapping before settling down only to rage back up again.
Having only started riding for Ivan Rakowsky a few months ago, Pope admitted that he hasn't had a ton of experience on the mare. Yet their first round trip in the $5,000 3′ Deeridge Hunter Derby made it appear as though they've known each other forever—flowing effortlessly through the bending lines and natural brush despite Mother Nature's little gusts.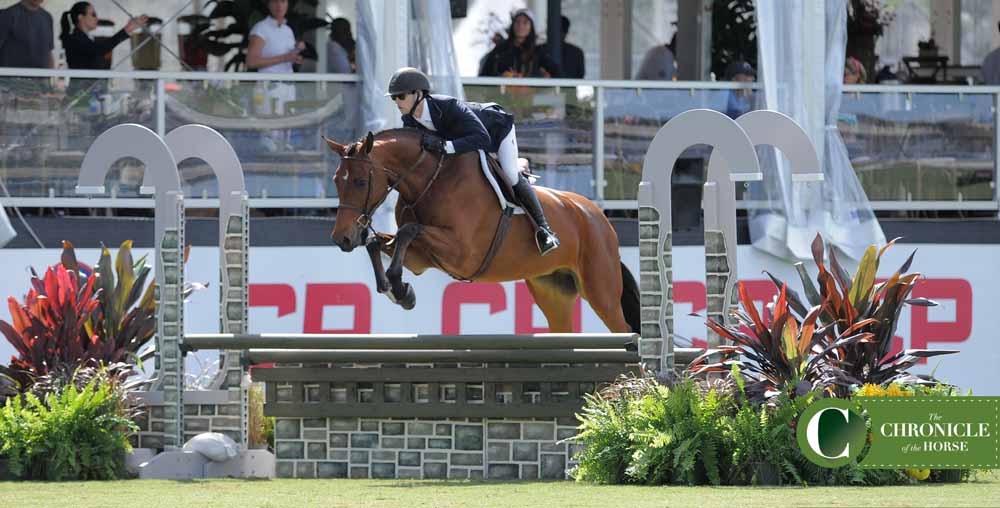 "She felt amazing today—the best she has felt. She has some experience in other national derbies and I think she'll make a really good junior or amateur hunter, national derby horse and international derby horse," Pope said. "She's the sweetest horse ever. You wouldn't really know that she's a mare. She's great in the stall and lovely to ride at home too."
J'Adore is an 8-year-old Belgian Warmblood mare of unrecorded breeding. She spent 2015 showing in the pre-green division with Geoffery Hesslink riding and then showed just one week in 2016 at the 2016 Winter Equestrian Festival (Fla.) with Lisa Jacquin riding. Her return to the ring was with Nick Haness aboard during WEF 6 mid-February in the 3'3″ performance division, then Pope picked up the reins  last week.
"I showed her last weekend in the national derby [at WEF], and she was great—so this was really my second time showing her," said Pope who is a young professional after a junior career of wins in the 2011 Emerging Athletes Program and the 2012 USEF Show Jumping Talent Search—East (N.J.) and ASPCA Maclay Finals (Ky.).
With a first-round score of 176, Pope and J'Adore came back on top for the handy hunter round only to score the same and best the handy and the overall Deeridge Derby.
But he wasn't the only consistent one. In section B of the class, 12-year-old Augusta Iwasaki rode her longtime mount Illusion to the top above all of the professionals.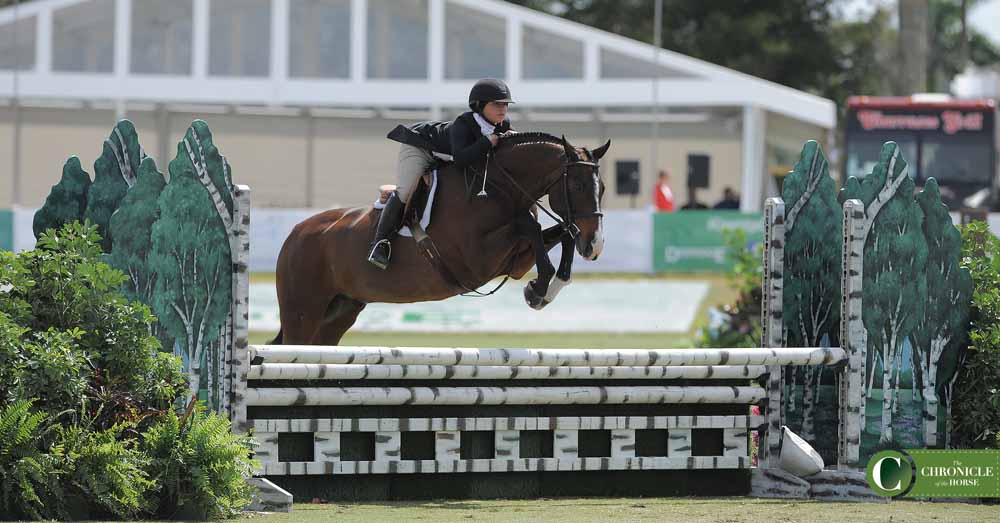 While she hasn't done many derbies on Illusion, she wasn't nervous with the grass and the more open lines.
"He doesn't really change," she said of the 18-year-old Hanoverian. They braved going last in both rounds only to cap a win in both.
Also read about the action in Round 1 of the $50,000 USHJA International Hunter Derby at Deeridge.