Adrienne Lyle had run through the test in her head, received her last words of advice from her coach, and was just waiting for the bell to ring for the Grand Prix Special in the FEI Nations Cup at the CHIO Rotterdam (the Netherlands) on June 23, when things abruptly went pear-shaped.
Upon entering the Rotterdam Arena, Salvino's noseband broke.
"I was trotting down the outside, and he felt really good," said Lyle. "All of a sudden he threw his head in the air, and I looked down and realized the noseband was flapping around. I immediately turned and ran back to the in-gate."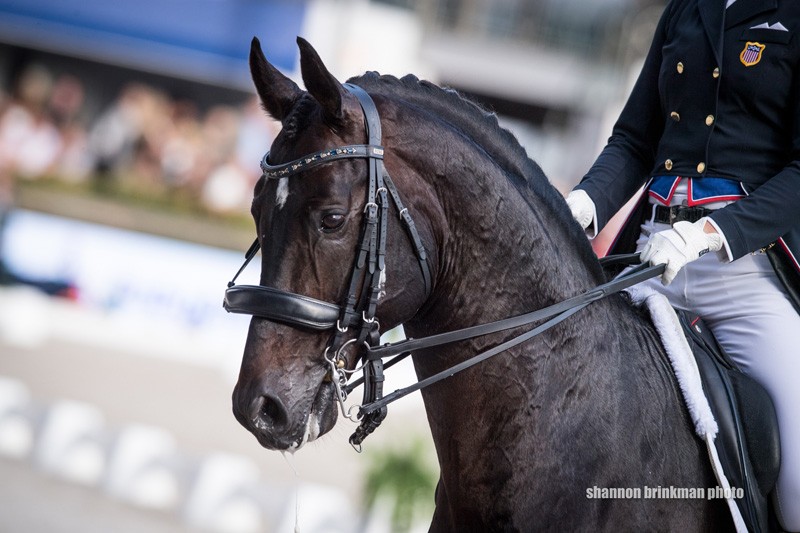 It was all hands-on deck from there, with Lyle's groom Morgan Klingensmith and members of the Dutta Corp. U.S. Dressage Team scrambling to fix the faulty tack.
"My groom always has extras of everything; anything you might need in case of emergency," said Lyle. "[The noseband] wasn't the right size for him; it was just an extra we had in the bag, so we had to make some quick adjustments to get it on in time for them to let me go back in.
"We have such a great team; they didn't hesitate at all to rush in and help me," Lyle continued. "I trotted [to the in-gate] like, 'What do I do? I guess I have to excuse myself; I can't go in with a broken bridle,' and then all of a sudden they're whipping out nosebands from backpacks."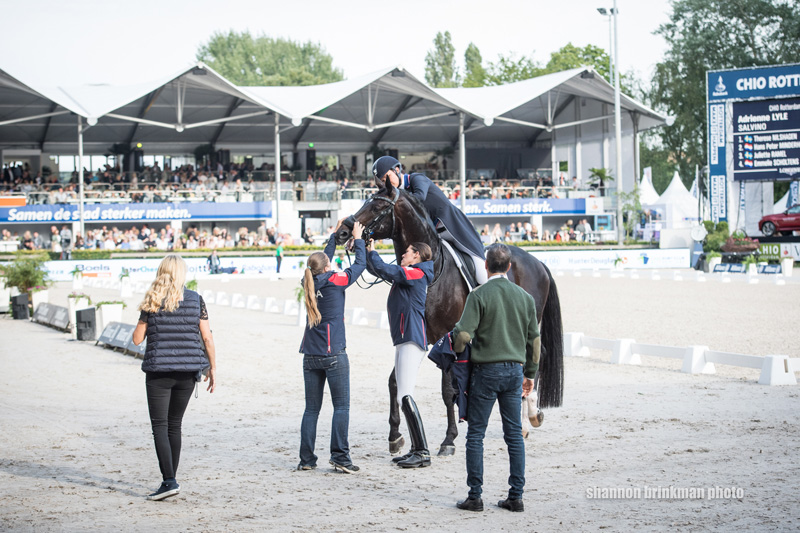 With the pressure already on—the competition doubled as an observation event for a team spot for the 2018 FEI World Equestrian Games (North Carolina)—the 11-year-old Hanoverian stallion (Sandro Hit—Dynastie, Donnerhall) managed to hold it together for a final score of 71.91 percent.
"It wasn't his strongest showing," admitted Lyle. "At the beginning of the test he was very tense; I could feel it in his back and in the connection. We put the noseband on in a rush, so I don't think things were fitting comfortably, and he didn't feel very comfortable [in his mouth], so I just tried to finesse our way through the test. We got through it, which was all we were trying to do at that point."
At the end of her test, Lyle, 33, Ketchum, Idaho, gave Salvino a pat on the neck, a rub of the ear and a kiss to reward him for his cooperation.
"I [didn't] want him to have a terrible experience, so I just [tried] to keep him calm," said Lyle. "I was really impressed that for being a stallion, never having been in that big ring before and having all this commotion, that he was able to get it together as fast as he did. At least he didn't say, 'I can't do it.' "
The Dutta Corp. U.S. Dressage Team, comprised of Lyle on Salvino, Olivia LaGoy-Weltz on Lonoir, Kasey Perry-Glass on Goerklintgaards Dublet, and Steffen Peters on Rosamunde, finished in third place in the Nations Cup competition.