Like many serious pony riders, 14-year-old Kailey Paul can rattle off the names of top junior hunters and big eq riders, the horse she'd most like to ride if given the chance (show jumper Chalou, known for his flamboyant "Superman" jumping style), and the riders she most admires (Hunt Tosh, John French and Jessica Springsteen). Her Clipmyhorse.tv account streams as often as her parents, Donna and Scott Paul, will allow it, and when she's not watching top rounds, she's window-shopping online. She hopes to eventually find the perfect horse to take her from the pony ring to the jumpers.
It's not the same as being at a horse show with friends, but for now Kailey will take it. She says her research on sales horses, along with reviewing old veterinary X-rays online to learn about equine health, and watching top riders, helps her get through her monthly chemotherapy treatments.
"I'm really passionate about understanding horses and how they go, and researching the differences between different kinds of bits, or lameness in horses, especially when it's lame on a soft surface but not hard, things like that," she said. "I like trying to see if I can find the problem in X-rays too."
Once a month, Kailey and her parents head to Albany Medical Center, in their hometown of Albany, New York. They arrive on a Friday evening, and Kailey is hooked up to a couple IVs—one filled with chemotherapy, another with anti-nausea medicine and antibiotics—that will remain tethered to her body for the next three to four days.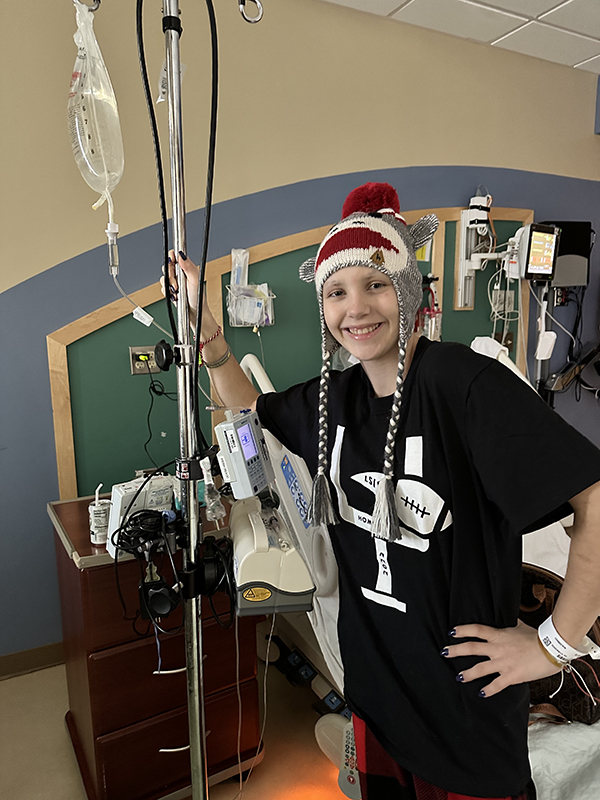 They'll repeat the lengthy process monthly for six months, along with numerous blood draws and check-ups to monitor Kailey's red and white blood cell counts.
Kailey and her parents try to have fun by watching movies and bringing take-out food into the hospital, but nausea is a major side effect of chemo. Kailey says the nausea is worse when she's not mentally engaged. So she dives deep into learning about horses online, especially through sales websites. While their budget may not allow for an imported, high-powered jumper, Donna says that doesn't stop Kailey from trying to learn as much as she can.
"I think she was 2 when she started saying the word 'pony,' " Donna said with a laugh. "And then she never stopped, and she still hasn't."
Taking Every Day 'In Stride'
The Pauls have four horses they keep at a boarding facility near their home: a Standardbred Donna adopted off the track as a 3-year-old, a young warmblood, and two kill-pen rescue ponies Kailey trained who are now teaching other young riders. Kailey's leased pony returned home last year. Since then, she's competed in Interscholastic Equestrian Association shows and catch-rode at premier shows in her area until she started chemotherapy.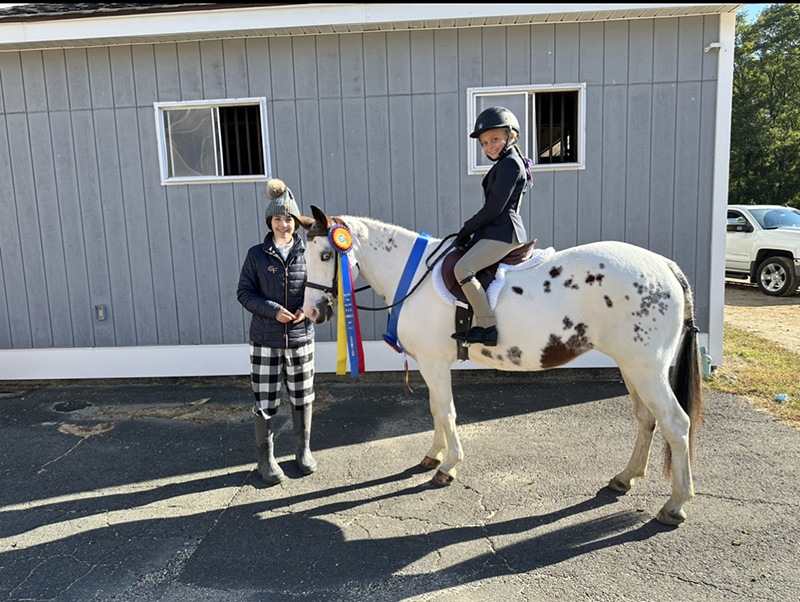 She was set to compete at one of those premier shows last August, even though she wasn't feeling well the week before. She'd lost a little weight and had started suffering headaches and neck pain. Eventually, the pain got so bad that Donna took her daughter to their pediatrician, who ordered an MRI. By the time she got to the MRI, Kailey couldn't move her head and neck.
"I thought maybe she'd pulled something or, you know, she was riding seven days a week and riding multiple horses," Donna said. "And the doctors told me I had to bring her immediately to the emergency room, that she had a tumor."
The doctors could see the tumor was blocking Kailey's spinal fluid from being able to drain properly from her brain, leading to painful swelling.
"We headed to the ER, and instantly there were neurosurgeons and pediatric oncologists in the room," Donna said. "They told us it was medulloblastoma, and she'd have surgery the next morning."
Medulloblastoma is the most common malignant brain tumor in kids, with 500 children diagnosed annually. It's notoriously fast-growing and can spread quickly to other areas. Kailey immediately began treatment while friends set up a GoFundMe page to help her family shoulder the expenses.
Kailey says that going through brain surgery was the easy part. She was more upset when the neurosurgeon informed her that she wouldn't be able to ride in the upcoming show.
The surgeon also told her that riding so much may have actually reduced some of her symptoms.
Kailey explained that a small opening connecting the brain to the spine allows cerebrospinal fluid, which protects and nourishes the brain, to move freely. The motion of riding, according to her neurosurgeon, had helped that fluid drain properly and kept Kailey from suffering some of the debilitating symptoms that kids often encounter.
"The rocking back and forth on a horse was moving the tumor just enough to where my spinal fluid could drain into my spine," Kailey said. "If it wasn't draining, I wouldn't have been walking."
Six weeks of daily proton radiation therapy in New York City came next last fall.
"Proton radiation is very targeted, so my whole body doesn't get radiation," Kailey said. "It's just the target spots, and it's to the millimeter. It treats whatever is left of the tumor."
Between brain surgery and radiation, Kailey managed to score a few ribbons in the jumper ring aboard a catch-ride at the September 2022 HITS-On-The-Hudson (New York). She and Ruth McAtee's 17-year-old Hosteiner-cross mare, Lucky Charms, even topped a class of almost 20 entries in both the .65-meter and the .80-meter jumpers.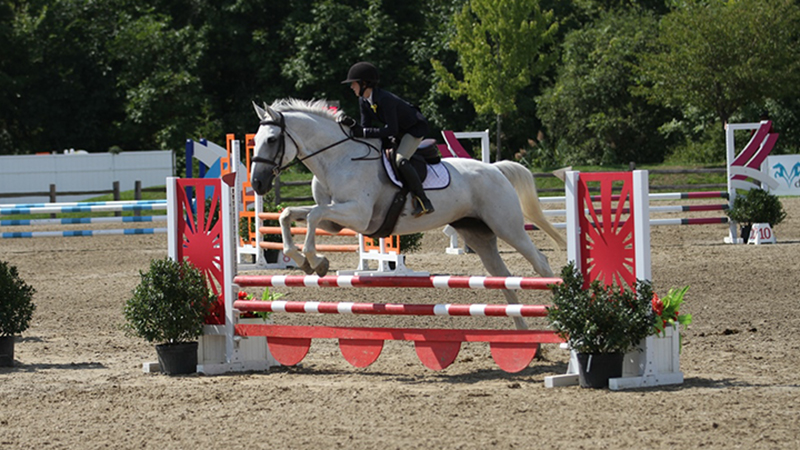 But now, Kailey is out of the tack and focused on getting through chemotherapy. After radiation, chemotherapy is used to stop any remaining cells from developing into another tumor, though its side effects are often excruciating. Jaw, bone and joint pain are common, and so are nausea and vomiting.
Kailey still tries to get to the barn as often as she can to visit the horses, but the chemo makes her body more sensitive to the winter cold. Her compromised immune system also prevents Kailey from spending much time with her friends.
"She just takes everything in stride," Donna said. "She doesn't really let it upset her; she just takes it day by day. We've been very upfront with her about everything and all of her treatments."
Next Stop: The Jumper Ring
While most teens can brush off a tumble from a green horse, because of chemo Kailey's body is too fragile at the moment for any riding. In its place, the mother-daughter duo are focused on finding a more experienced horse for Kailey once she's finished with her chemo and is allowed to ride again. She can't hop on a horse for a test-drive right now, but looking online keeps her excited for the future.
She'd like to compete in this year's USEF Pony Finals and is eager to apply for a Gochman Grant, which provides kids who've never attended Pony Finals and who demonstrate financial need the opportunity to attend, either on their own pony or on one provided for their use.
But beyond Pony Finals, Kailey is ready for the speed and height of the jumper ring.
"I really want to get into the jumpers, because I've done pretty much equitation and hunters my entire life," she said. "I'm ready to step into the jumper ring, I just need to find the horse for it. I really want to move up to the 1.10-meter and 1.20-meter jumpers and eventually into the grand prix."
The Pauls' two kill-pen rescues, Welly and Roxy, who Kailey patiently brought along for years, are testament to her abilities. She competed both in hunter-jumper competitions and now enjoys seeing them bring other riders through the ranks, including the walk-trot division and 2' hunters.
"She's always been interested in rescuing horses, and working with them and training them," Donna said. "She's always ridden a lot of different horses and has always been very hands-on with all of our horses. She can do standing wraps better than most adults."
It's not just equines Kailey loves working with. After meeting a Leonberger therapy dog in the hospital, Kailey decided she wanted to find a Leonberger puppy she could train, and one day return the favor for other kids and hospital patients. Nala, an 11-week-old Leonberger puppy, is the newest addition to the family.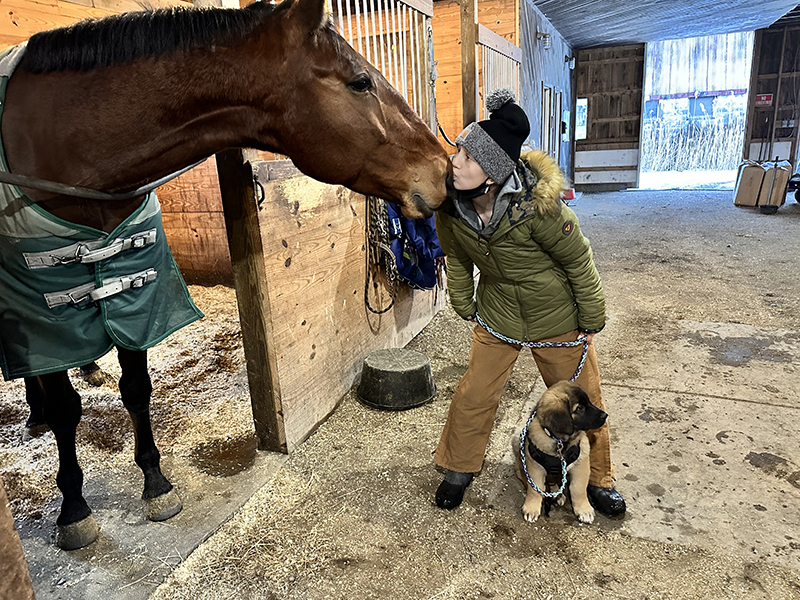 "She did all the research," Donna said. "She ended up finding a breeder, the only one on the East Coast with a litter of puppies. So she reached out, and come to find out that the breeder actually thought she was talking to me the whole time, but it was Kailey she'd been speaking with. She said, 'Wow, she's so mature for a 14-year-old. I really thought I was talking to an adult!' And I'm like, well, that's Kailey."
Kailey's worth ethic and positive attitude at the 2019 National Professional Horsemen's Association Show (New Jersey) caught the attention of longtime trainer and horsewoman Cynthia Williams. Williams brought the young teen down to horse-lover's paradise, the 2021 Winter Equestrian Festival (Florida) and tossed her on a couple of ponies and children's hunters for some successful catch-riding.
"It was my first time at a big A-rated show," Kailey said. "I've been hooked since then. It was a lot to take in, and it really opened my eyes to how far I can go with riding."
"She's very persistent," Donna said. "Very astute and organized, and she'll research something until she understands what it is she needs to do well. That's kind of how she's always been. The middle school she went to actually asked her to come back recently and tell her story to the  kids about her cancer and about being persistent, because that was one thing her teachers always said: 'Man, she's persistent!' "
Kailey's persistence is helping carry her through ninth grade. She attends her local high school online, to help with her treatment schedule and compromised immune system. She may still be a few years away from college, but she's already thinking about a future in anesthesiology or veterinary sciences.
"I don't take chemistry right now, but I'm going to take it next year," she said. "I really like it because you get to understand how different but also similar things are, and how something may not make sense at first, but then once you evaluate the problem and then learn what you're supposed to do about it, it all clicks."
Persistence—in schoolwork, in health and in horses—propels Kailey forward and underpins her approach to her cancer diagnosis.
"I want people to know that if they're diagnosed with an illness like this, you can't think of the bad stuff," Kailey said. "Stay away from Google, because all you'll find is a lot of misinformation. So you have to take what you find on the internet with a grain of salt.
"And if you are diagnosed with something like this, don't be scared," she continued. "You just have to keep believing that you're going to be OK, because that's the only way you're going to get through it."
Correction: An earlier version of this story incorrectly identified the trainer Kailey Paul worked with at the 2021 Winter Equestrian Festival. It was Cynthia Williams