Lexington, Ky.—Aug. 13
Six teams competed in the USEF Pony Jumper Team National Championship on Friday afternoon over a solid course designed by Jasen Shelley. After the two rounds of team competition, Zone 10A earned the team gold medal for the fourth consecutive time. Zones 1/7 collected silver and the Combined Flyers (Zone 3/8/9) took home bronze.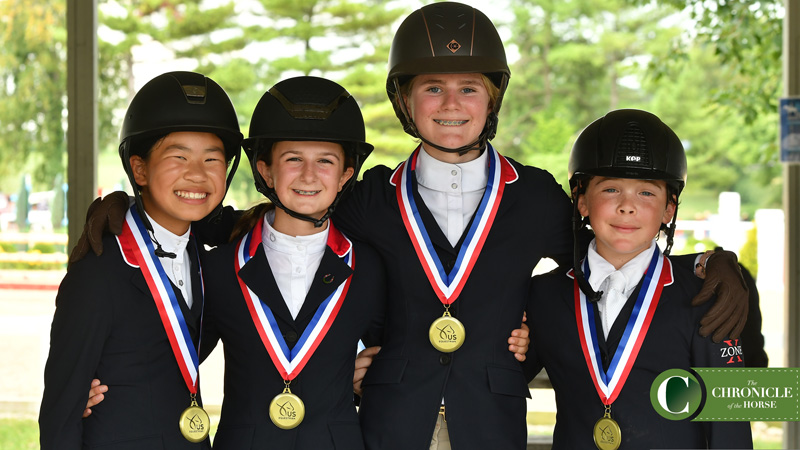 The Zone 10A team walked the course and came up with a plan for each of their ponies. "Right before the walk I was really, really nervous. David [Sterckx], my trainer, walked us through the whole entire thing," said Kennedy "Kenzie" Chang.
Chang (Pasadena, California) and Thunder d'Azure, her 2007 Connemara gelding, and Finley Hamilton (Pasadena, California) and Focalize Dew Drop, her 2011 Belgian Sport pony mare, each scored a clear round for their team. Ashlin Goodwin (Santa Barbara, California) and Tippy Toes, her 2006 Welsh pony cross mare, and Cash Delia (Petaluma, California) and Trewithian Hawkeweed, his 2009 Connemara gelding, had strong performances for their team as well.
In an exciting finish, the Zone 10A and Zones 1/7 teams were tied on 20 faults, requiring a jump-off. "I was really nervous, but excited," Goodwin said upon finding out the teams would have to jump-off for a gold medal. Delia and Trewithian Hawkeweed were selected as the team's pair for the jump-off, and they delivered a fast clear round to clinch the gold medal.
"My horse can jump from a lot of angles, and I kind of like the pressure. It makes me get excited and know that something is on the line," Delia said of the jump-off.
The Zone 10A team came together to have a top performance. "I have ridden with Kenzie and Cash, but this is my first time meeting Ashlin," said Hamilton. It was the first time on a team for each of the riders, but they rose to the occasion of a team experience.
"I thought it was really fun and cool. It was fun to be on [a team]," added Delia.
Team Results
Zone 10A
Zones 1/7
Combined Flyers (Zones 3/8/9)
Heading into the Individual Final, three combinations sit tied for the lead on four faults: Alexis Bauman (Woodstock, Illinois) and Miracles Happen, Amber Bauman's 2005 Welsh Pony gelding; Michaela Munson (Rogers, Arkansas) and Bluebelle, Genevieve Munson's 2000 Pony mare; and Audrey Turner (Timberlake, North Carolina) and Prince Oliver, her 2009 Warmblood/Quarter Horse gelding. The Individual Final takes place at 4 p.m. on Saturday.
Want more Pony Finals? We've got stories about special competitors here. You can find results at Shownet.biz. Plus make sure you're following The Chronicle of the Horse on social media @chronofhorse.