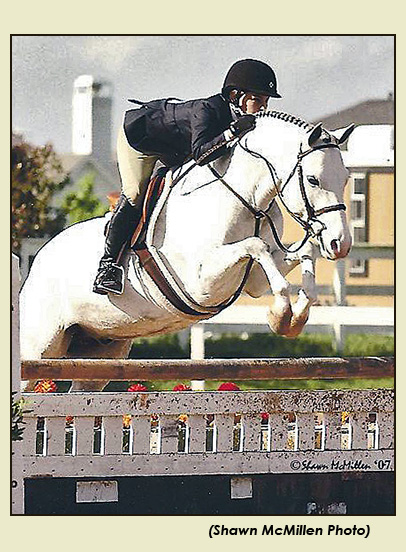 For three young girls, the USEF Pony Finals offer a lot more than just stiff competition.
From riding without stirrups to wielding two crops devised to keep thumbs up and hands in position, from seemingly never-end-ing bending lines to collecting strides, young riders will endure various training methods on the road to the 40th USEF Pony Finals, to be held Aug. 15-19 in Lexington, Ky.
Despite all this strenuous preparation, the lure of meeting old friends fills some of the junior riders with as much anticipation and excitement as the competition itself.
Even 6-year-old Abbygale Funk, a former spectator and 2007 debut exhibitor at the Pony Finals, is looking forward to rekindling relationships with the numerous other riders she's met during her travels around
the country. Funk, along with a small pony she's leasing, is just one of the more than 300 pony-and-rider combinations who flood the Pony Finals locations every August to take part in a five-day competition dedicated solely to ponies.
"Aside from showing, one of my favorite parts of Pony Finals is the exhibitors' party, where they have a dog show that's like a mini horse show, except for with dogs," said Bethany Bolen, who plans on competing her English Toy Spaniel, Chip, in the walk-trot class. "And I'm really looking forward to seeing all of my friends there too," she added.
The exhibitors' party, held the night before official competition begins, gives competitors the opportunity to relax before the showing commences.

All The Way From Texas
Bolen, 12, has quite a few Pony Finals exhibitors' parties lodged in her memory. She started riding seven years ago, and this year marks her third pilgrimage to the finals from her home state of Texas. Along with trainers Joanie Waterman and Bill Roberts, Bolen hopes to arrive early enough to watch other riders compete so she can analyze the courses and the layout of the ring.
"Bending lines are a challenge for me because the ring is so big. But I always try and watch the division before mine go so I can see where other people are making mistakes," explained Bolen, who will compete in the medium pony hunter division with her 10-year-old mount, Humor Me.
"My goal for Pony Finals is to finish in the top 10," continued Bolen, her voice a bit weary from three weeks on the road horse showing. "I'll be competing against some of my friends, but it's OK. We all support each other."
Still on cloud nine after a blue-ribbon round at the Devon Horse Show And Country Fair (Pa.) this year, Bolen hopes to duplicate her award-winning performance.

First And Last
Like Bolen, Genevieve Zock also plans to spend quite a bit of time ringside analyzing other rounds.
"I like to watch other riders on course so I can see what the course is like—what turns come up fast and what other riders seem to have trouble with," Zock said.
Along with her four-legged companion, a Welsh-Thoroughbred named Sailors Take Warning, Zock will make her first and final appearance at Pony Finals in the large pony hunter division. At 5'4″, Zock has almost outgrown "Sailor" and is anticipating a move up to horses in the near future.
"I've had Sailor for almost two years now, but this will be our first time at Pony Finals. A lot of my friends have gone, and they all tell me how much fun it is and what a great experience, so I'm excited," commented Zock, 12, who hopes to also make an appearance at the fall indoor shows with Sailor.
Under the tutelage of trainer Val Renihan, Zock has been working hard to prepare herself both mentally and physically for the nerve-wracking competition that demands stellar performances for acknowledgement from hunter judges Rob Bielefeld, Leo Conroy and Alex Jayne, who will be looking for any means possible to narrow the competition field.
"We've been doing a lot of flatwork at home and working on my balance, which means riding without stirrups," explained Zock, who resides in Scarsdale, N.Y. "Val has me ride with two crops to keep my thumbs up and a neck brace to keep my head up. We've also been working on collecting his stride.
"My goal is just to be consistent and not get anxious and make a move at the last jump. I'm always the one who makes the mistake. Sailor tries so hard he never makes mistakes," said Zock modestly.

Following In The Footsteps
The young Funk has also been riding without stirrups under the watchful eye of her mother and trainer, Mary Ann Funk, who made her own debut at the finals 21 years ago.
"My mom has been making me practice lines with lots of strides. I've also practiced hand galloping," said Abbygale. "Sometimes it's hard to make the strides. I don't have to kick, but I have to squeeze really hard to get down the lines."
"I know she's anxious to show, but I also know Abby is really looking forward to going and seeing all of her friends," said Mary Ann, who lives in St. George, Kan., where she runs Ashwood Farm with her husband, Brad.
Unfortunately, a friend's wedding is going to keep Mary Ann from seeing her daughter compete in her first Pony Finals.
"Mindy Darst is going to be helping Abby, but they're great buddies, so I know she's in good hands," Mary Ann enthused.
But to Abbygale, meeting up with old buddies is just the beginning of the fun. "I'm really excited to do the kid jump part at the exhibitors' party," she said. "But I'm also excited to show my pony. He's so perfect. He's a dream come true."
Mary Ann believes that Abbygale would almost rather just jump on her own, without her pony. Abbygale is a huge fan of cantering on her own two feet over the mini-jumps set up for the children to navigate. "She spends hours at a time jumping with her sister and friends at home. Then, at Pony Finals with everyone there, it is like paradise for her!" Mary Ann said.
Abbygale leases Dee Thomas' small pony, Tristan's Paint By Numbers. The strawberry roan Welsh has already forged quite the bond with his petite jockey.
"He always comes right to the gate when I call him, and he's so good about everything," insisted Abbygale, still a little breathless from a walk with her new Jack Russell puppy.
Just 3 years old when she started riding, Abbygale spends hours every day at her family's stable helping groom, turn in and out, as well as ride, so she's had ample time to acquaint herself with her new mount.
"She definitely works hard," said Mary Ann. "I think God made her to be a trainer."

Elizabeth Shoudy