He makes his inaugural advanced outing with Gaspar II a winning one.
Michael Pollard hasn't had the ride on Gaspar II for long, but he's been enjoying every minute of their partnership, especially their recent win in their first advanced outing together at the Five Points Horse Trials, held in Raeford, N.C., Sept. 12-14.
Kate Luce owns the 9-year-old warmblood, and she left him and a few other horses with Pollard to sell after she finished school and decided to take a break from riding.
"We thought they'd be sold already because they're really nice horses, but the market is slow right now," said Pollard. "I can't complain. I have to make sure my focus is still selling them."
Darren Chiacchia campaigned Gaspar to the advanced level, but this was the gelding's first advanced start in two years.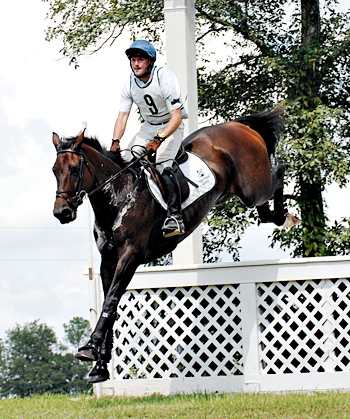 Pollard waxed enthusiastic about Gaspar's talent in all three phases. He's come second three times this year at intermediate, so Pollard was thrilled to finally win one, especially at advanced.
The pair placed fourth in dressage and moved up to second after cross-country with 4.8 time faults. They dropped two rails in show jumping, but only Jonathan Holling and Lion King jumped a double-clear round, and the cross-country leaders, Ashley Adams and Vaunted, had four rails to drop to fifth place.
"He's a super nice horse, and he certainly deserves it," said Pollard, Chatsworth, Ga. "I'm lucky to ride a horse of that caliber. His weakness has been in the show jumping, but he's gotten a lot better in it."
Pollard also said he's focused on improving Gaspar's speed cross-country.
"I ran him a little bit faster this weekend, which contributed to the win," he said. "But I'll have to improve my other phases and keep that speed as I head towards Fair Hill."
Pollard admitted he's going to have to up his game and pay attention to the small details if he wants to put in his best performance at the Fair Hill CCI*** (Md.). The 27-year-old hasn't had the time he'd like to devote to riding between the birth of his new son, Phinneas, and his business ventures in the carpet industry.
A Different Line Of Work
"We've got a number of things going on that we're excited about, and that's taken a lot of my time," said Pollard. "Especially since [my wife] Nathalie just had our first son, I've done my riding in the wee hours of the morning and late at night."
The Pollards have several business ventures that include an industrial chemical company that provides dye chemistry and lubricants to manufacture carpet, a printing company that creates print displays for carpets in retail stores like Lowes or Home Depot, and a recycling business that will include a line of textile-based horse footing products.
"Nathalie and I both enjoy manufacturing in general. It's something we've shared as a passion," said Michael. "To me it's important not to only do horses but to have something else that is enjoyable and gives me some perspective. I get the same enjoyment from doing a deal and trying to make a business run that I get from having a clear round on cross-country. It's a lot of work but extremely rewarding when things go well."
Since he hadn't been to the Carolina Horse Park in two years, Michael was excited to find all new permanent stabling.
"The cross-country has always been beautiful and a real confidence builder for the horses since John Williams started doing the course, but the stabling makes it one of the premier facilities," he said.
Will Faudree, who lives in Southern Pines and won both divisions of intermediate, also raved about the facility this fall.
"We had 10.5 inches of rain in Southern Pines that week, and the footing could not have been better," he said. "It was unbelievable. It was wet in some parts, but on cross-country day, because of the great sandy soil, you don't even know. Had it not rained all summer, the footing still would have been better than anywhere else."
A year ago, Faudree, 26, flew to Seattle, Wash., to look at a horse Amy Tryon recommended to him. He bought that horse, Pawlow, and came home with McGlade as well.
"I could not ask for two more different horses," said Faudree. "I used to call Antigua my Kawasaki dirt bike, but 'Mickey' is an even smaller Kawasaki dirt bike that goes twice as fast as Antigua. He's like a pogo stick, but he's so rideable. He goes cross-country in a fat, German snaffle. He doesn't pull. Pawlow is like a very slow cruise ship. If I don't kick every stride, he'll walk."
He Sees Dead People
Pawlow had competed through preliminary when Faudree bought him, but colic surgery in December set his schedule back.
"He's a very quirky horse," said Faudree. "I thought I would sell him this spring because I didn't feel he was going to have it, but he really turned over a new leaf. Maybe we met at the 50-yard line and started to develop a partnership."
The 9-year-old Thoroughbred has won three of his last four intermediate starts, but it hasn't been an easy road.
"He is insanely spooky, the most spooky horse I've ever sat on," said Faudree. "We think he sees dead people. He can spin and bolt faster than you ever know what hit you. I got spun off him earlier last week. We were hacking, he was being really good going down the road and the next thing I knew I was on the ground, and he was trotting back to the barn. That makes him difficult in the competition ring. In dressage, I have to constantly be in shoulder-fore or he spooks at the letters."
"Ernie" also has trouble with the start box on cross-country. Faudree stays far away from it and just trots in and out when the timer starts counting him down.
"A lot of times they say go before I get there because I can't hang out there," he admitted. But working through Ernie's issues has been an important education for Faudree.
"He's really different than any horse I've ever had. It's taken me a while to figure him out, but I think I'm on the right road now," he said.
While Ernie's talents were evident from the outset, Mickey was a little crazy horse with no dressage skills whatsoever, according to Faudree.
"I was back to basics with him last year," he said. "At the Millbrook Horse Trials (N.Y.) people in the warm-up were fleeing from me. He was on his hind legs dancing around. He was an orangutan.
"We persevered through it," he continued. "I think the world of McGlade. He is just so fun to ride, and it's so easy for him, everything. He's got the most amazing heart. I've really felt like I've developed a partnership with him this year."
The 8-year-old New Zealand-bred Thoroughbred moved up faster than Faudree anticipated, starting 2008 at training level.
"He did six or seven prelims and was double clear at all of them and was really rideable," said Faudree.
Mickey and Ernie went into show jumping in second place, and both geldings jumped double-clear rounds to win.
"There were no triple combination but three in-and-outs," said Faudree. "I haven't seen that in a long time. Especially on a horse like McGlade who likes to overjump into the combinations, it really reinforced what I needed to do. It was educational for both of us."
Both horses are qualified for a two-star this fall, so Faudree hope to run them to the Fair Hill CCI** (Md.).
Sara Lieser