Beezie Madden holds off McLain Ward with the tightest turns.
They may end up being teammates later this summer at the Olympics, but in the $50,000 Jr. Essex Troop Garden State Grand Prix, Beezie Madden's objective was to beat fellow international rider McLain Ward and prevent him from having his second major victory of the week.
Madden and Allan Shore's Play On, who had been a close second to Ward and Larioso in the $20,000 welcome stakes three days earlier, eclipsed Ward's time by almost 1 second to claim the $15,000 first prize in the main feature of the May 7-11 Garden State Horse Show in Augusta, N.J.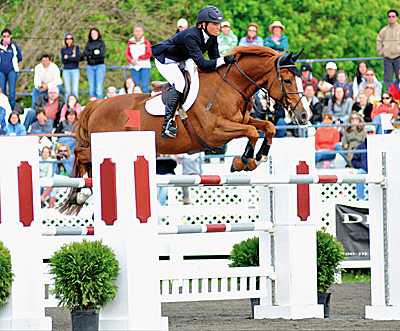 Shore's victory was even sweeter since he was returning to the show after a hiatus. While he had come to the event four years ago, "I originally had been to the show 20 years ago," said Shore who bought the 11-year-old gelded son of Jus de Pomme on the recommendation of John and Beezie Madden. Beezie had seen the Dutch-bred in Johan Heins' barn. The German horseman is a partner with the Maddens, and they stable at his barn when they are in Europe.
Play On handled the Ken Krome-designed course easily. The starting field of 28 whittled down to 10, including three ridden by Beezie. She and Integrity were on top in the order of go and laid down the first of seven clear rounds. Ward and Blue Chip Bloodstock's Larioso used tight turns to post the time of 41.28 seconds as the mark to beat.
Madden and Onlight had a speedy time—40.30 seconds—but the bay Holsteiner mare dropped a rail in a combination. Then, returning as the last one out on the shortened track, Madden refined her approach to the combination with Play On and beat Ward with their 40.29-second finish.
"I think my turn to the triple bar and the vertical double was quite tight with Onlight and Play On. I think only McLain and I used the inside turn," she mused. "I had ended up a little too wide with that line of approach to the end jump [with Integrity and Onlight]. I had a more direct line to it with Play On."
Ward's mark of 41.28 seconds on Larioso put him in second. Laura Chapot finished in 41.34 seconds on B&B Saddlery's Church Road to secure third.
A Meaningful Mother's Day
Mother's Day, May 11, had special meaning for Lee Kellogg Sadrian, winner of the amateur-owner, 36 and over, and grand hunter championships with her Sterling.
Sadrian's mother, Cynthia Kellogg, and Sadrian's infant daughter, Ellie, were there to see it, as was Sadrian's niece, Carolyn Kellogg.
"This is my first Mother's Day [since the birth of daughter Ellie last October] so this is a great day," said Sadrian, of New York, N.Y.
Sterling is a dream come true for Sadrian. "Ever since I had my gray junior hunter [Traverhill], I have always wanted a gray again. So I asked Rolf [Bauersachs, her trainer for eight years] to find one for me, and he did when he bought Sterling in Germany," she said.
Sadrian, who also is coached by Jennifer Bauersachs, Rolf's wife, showed the 16.1-hand Rhinelander twice in the amateur-owners in 2007 before becoming pregnant and putting riding on hold. She and Sterling were back together last winter when they captured championships on the Florida circuit.
Before he was imported, Sterling stood at stud. Since some of his semen was saved through freezing, Sadrian's mother plans to use the semen to breed her mare.
Another Bauersachs-trained duo, Maria Takacs and her Mombo, took the reserve grand champion hunter title. Takacs, Rumson, N.J., also laid claim to a pair of tricolors for the first year green working hunter title and the low hunter honors with her Dominus, ridden by Jennifer Bauersachs.
A one-time jumper prospect, Dominus was an investment purchase for the Bauersachs until Takacs saw the German-bred gelding at the couple's Spring Hill Farm.
"He had been shown locally in suitability [to be a jumper] classes in Germany," said Jennifer. "Maria has an amateur-owner hunter, but she was looking for a horse to buy to bring along. Then she wants to eventually move him into the amateur-owners."
Jennifer started the Westphalian in Florida, where the 16.1-hand bay earned championships in the pre-greens. Jennifer moved "Diaz" up to the green working division before she was sidelined with a broken collarbone in February. When she returned to the saddle in April, he beat horses "who had been doing the first years since January," said Jennifer.
Ricky Martin Takes Center Stage
Lauren Powers, 14, brought along almost singlehandedly the large pony hunter champion, Ricky Martin.
The Powers bought the 14.1-hand, bay, Welsh-warmblood, by Farnley Belshazzar, at the Professional Auction Services American Hunter Pony Classic Sale at the 2005 USEF Pony Finals.
"His personality attracted Lauren," said Lauren's mother, Nancy. "Lauren rode him once, cantering him at night and under the lights before the sale. When she got off of [the then 5-year-old], she said, 'It's him; he is great.' "
Lauren wanted a pony she could bring along herself. "So I worked with her the first year, but she has done pretty much all the work herself," said her trainer, Nancy Wallis, who also trains Lauren's younger sister, Katie, 13.
The girls have trained in the Wallis' Titusville, N.J., barn for 31⁄2 years, and Lauren's small pony hunter, Kodak Moment, once a nationally rated pony hunter, is retired to the Wallis' Duncraven barn in central New Jersey.
"The best thing about these two kids is their attitude and their dedication to their animals. They are A students in school and can do it all," said Wallis.
Lauren, an honor-roll high school freshman, also took third in the USET Medal. Next year she will move on to her junior hunter, Dr. Wendy Furlong's former three-day event horse, Cool Jazz. The teen also wants to do the big equitation classes next year as well as the jumpers.
Katie, a seventh-grade student, was sixth in the USEF Pony Medal with her medium green pony, Dreams Comes True, and got ribbons in the pony jumpers with her Scotland-bred mare, Miss Incredible Snowy. Lauren qualified "Ricky" for the Pony Finals for the third time, and Katie is eligible with her Dreams Come True.
"Lauren does it all: she braids her own pony, longes it and rides every day," said their mother, who drives the girls to and from their Newtown, Pa., home to the barn.
Full Circle
Ramsey, the conformation hunter champion, has come full circle with Courtney McKay, a professional rider from Lionshare Farm. She initially competed the 12-year-old, 15.3-hand, bay German-bred warmblood as a junior hunter and now rides him in the regular conformation hunters.
"He is a very special horse who has graced many people's lives. A lot of people have shown him or had him in their programs," said McKay.
"He's an all-round guy who can do it all," owner Lisa Inganamort said of the gelding she got from Heritage Farm (N.Y.) two years ago. "Courtney rides him in conformation classes while I do him in the amateur-owners."
Nancy Degutis