He takes the second leg of steeplechasing's Triple Crown in commanding fashion.
There will be no sweep of Steeplechasing's Triple Crown races this year. Not after Fox Ridge Farm's Planets Aligned entered the competition on April 19.
The chestnut easily won the second leg of the series in the $75,000 Temple Gwathmey grade II novice stakes at Glenwood Park in Middleburg, Va., dashing the hopes for a one-horse winner of all three.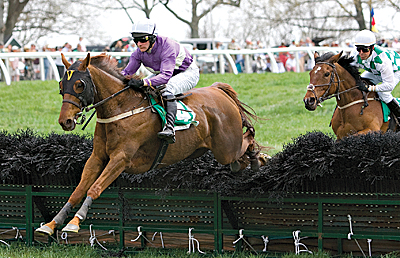 The series, open for novice horses, started at the Carolina Cup (S.C.) in March, then the Middleburg Spring Races, with the final leg at the Radnor Hunt Races (Pa.) in May. Considered a stepping-stone to the big-money races later in the season, no horse has ever won all three.
Trained by Tom Voss, Monkton, Md., and ridden by Irish import Padge Whelan, Planets Aligned, the 2007 National Steeplechase Association novice hurdler of the year, was in command of the race from the start. He followed just in striking range of frontrunner Calvin Houghland's Dr. Bloomer (Robbie Walsh).
But Planets Aligned also had his own stalker in the form of Carolina Cup winner Imagina (Jody Petty). The hard knocking Chilean-bred mare wasn't about to let the 7-year-old grandson of Deputy Minister get too far out ahead.
With a turn to go, Xavier Aizpuru and Gil Johnston's Swagger Stick parted ways, and Dr. Bloomer started to come back to the field, paving the way for Planets Aligned and leaving only L'Escargot Stable's Irish Embassy (Chip Miller) to trail.
As they approached the last, Imagina started to close steadily on Planets Aligned, but as if on cue, he found another gear.
By the time the two horses entered the stretch it was clear Planets Aligned was not fading anytime soon, crossing under the wire with more than 3 lengths to spare.
"Mr. Voss told me to just let him run," Whelan said. "It's nice when you only have to sit up and steer a horse. It makes the job so much easier."
Whelan started riding for Voss this spring. The professional jockey has spent the better part of the past eight years riding in England and Ireland, but this winter his friend and fellow Irishman Calvin McCormack convinced him to try the other side of the pond.
"I fancied a little bit of a change of pace, and I heard the prize money is pretty good over here so I thought I would give it a bit of a go," he said. "I am enjoying it so far."
Blue Bloods
The horses in the first race on the card at Middleburg had some impressive pedigrees, including the 1992 Eclipse Award winner Pleasant Tap, the 1988 Kentucky Derby/ Preakness Stakes winner Sunday Silence, the 1995 Kentucky Derby/Travers Stakes winner Thunder Gulch, the 1988 Eclipse Award winning sprinter Gulch and the 1994 Preakness and Belmont Stakes winner Tabasco Cat.
In the end it was Thunder Gulch's 4-year-old son, Randleston Farm's Spy In The Sky, all alone in the stretch to win the $25,000 Sport of Kings Maiden hurdle.
Trained by Jimmy Day, White Post, Va., and ridden by Liam McVicar, Spy In The Sky took the lead early on the backside and widened the margin coming into the stretch. Only Tabasco Cat's progeny, Kinross Farm's Run The Light (Chris Read), was close, but he had to settle for second some 11 lengths back.
McVicar had just wanted to give the horse a confidence builder after they had trashed a few fences at the Carolina Cup, which left them scrambling to hold onto third place in the maiden race there.
Timber Preps
Trainer Desmond Fogarty has had a couple of good weekends with timber horses he trains for owner Irvin S. Naylor. Hot Springs won the $30,000 My Lady's Manor (Md.) on April 12, and then Allimac took the $20,000 Middleburg Hunt Cup.
Fogarty has about 11 horses in work at Naylor's farm in Glyndon, Md. Until about two years ago, Fogarty was riding and training in Kentucky.
Ridden by William Dowling, Allimac wired the course, beating the 2007 NSA timber horse of the year Augustin Stable's Irish Prince and the 2005-2006 Virginia Gold Cup winner Kinross Farm's Miles Ahead.
Allimac was formerly trained by Sanna N. Hendriks and won the $75,000 timber stakes at Iroquois (Tenn.), but, unfortunately, he broke down with a bowed tendon. Naylor gave him and a few other horses to Fogarty to start back. After treatment with ACell and a regimen of swimming, the horse came back to place fourth at the International Gold Cup (Va.) last fall. He appears to have made a full recovery.
"Jimmy told me to let him settle into jumping and when the time is right, let him go," McVicar said. "For a 4-year-old he's still immature. This is his fourth start. He has just taken time to get himself together, and today he was brilliant."
Gil Johnston, who owned two horses in the first race, had better luck in the allowance hurdle with Orpington. Aizpuru piloted the horse and found himself in a stretch duel with William Pape's The Price Of Love (Danielle Hodsdon), but Orpington was able to keep the pair back by a neck.
Trained by Jack Fisher, Monkton, Md., the horse has gradually been getting better, and Aizpuru said he's starting to listen to instructions.
"He's pretty straightforward to ride," Aizpuru said. "Just let him get comfortable and do his thing. Every time I asked for a little bit extra, he kept giving it. He acted like the model pupil today."
Flag Trouble
Just when they seemed to have fixed the massive confusion of the Great Meadow Steeplethon, its sister race, the $15,000 Alfred M. Hunt Steeplechase, became the backdrop for several disqualifications.
Horses must jump hurdles, timber and large natural brush, and negotiate a U-turn in the middle of the Alfred Hunt course, which was the scene of the rider error.
Alfred Griffin's Hidden Key (Matt McCarron) provided the speed in the race. The pair whipped around the course, easily negotiating the different obstacles with Kinross Farm's Thegooddieyoung (Chris Read) not far behind. As they approached the U-turn it appeared another group of horses and riders, Hound's Cry Farm's Te Akau Five (Jeff Murphy) and Naylor's Run Up The Flag (Darren Nagle) were choosing a different flag for their U-turn.
Even announcer Tony Bentley was unsure who was right.
Hidden Key and Thegooddieyoung were the first to arrive under the wire, but it was Murphy riding Te Akau Five who demanded the photo in the winner's circle. About 20 minutes later, Murphy was indeed correct. The stewards ruled that he had chosen wisely. Run Up The Flag moved up to second, and Stewart Strawbridge's Straight Path (Carl Rafter) was third. Hidden Key and Thegooddieyoung were disqualified and the veteran jockeys fined $400 apiece.
Murphy, who has ridden the course a few times, won the race last year with Naylor's Bon Fleur.
"It was hard to see. We stopped to turn around the flag because we know where we're going, but the lads had not even seen it yet," Murphy said. "Even though we knew we were right, Carl Rafter was right behind us. We were having a race of our own. It's not like we dilly-dallied our way home; we were racing proper."
This is Teddy Mulligan's first sanctioned win as a trainer. The amateur jockey has admired the 13-year-old, New Zealand-bred timber horse Te Akau Five, owned by Tom Kirlin, for many years. He said he didn't do too much to get him used to jumping hurdles again.
"I took him hunting," Mulligan said. "I got to school over some hurdles over at Kinross Farm on Tuesday. I rode him, and he jumped so well I thought I might ride him myself. I love that old horse. I asked to get him from Tom so I could hunt him too."
Mulligan plans to ride Te Akau Five at the Willowdale Steeplechase (Pa.) on May 11 in the amateur race.
Sarah L. Greenhalgh