The word "confidence" rang out many times—from the covered arena where Debbie McDonald coached developing rider Genay Vaughn on Donarweiss GGF and 15 minutes later the same word came across the speaker in the outdoor arena as Robert Dover reminded elite rider Dawn White O'Connor on Aristo that the greats have confidence because of the success of the work at home.
Confidence was a touchstone during the USEF/USET Foundation Dressage Pipeline Clinic. "What is cool is that we seem to be working in the same way. It's natural to us," said Scott Hassler of the approach of all three coaches. "This sport is an art. All of us have the passion. Yet, hopefully we have the similar way of getting to the end result. We don't have one certain thing we say. There is no prep work. We present our philosophy and ideas independently."
The Oct. 11-12 West Coast version of the Pipeline Clinic showcased some fancy participants—the USEF Developing Horse Prix St. Georges Champion Sanceo, ridden by Sabine Shut-Kery; Markel/USEF 4-Year-Old Champion Rosalut NHF ridden by Carly Taylor-Smith; and Markel/USEF 5-Year-Old Champion Emilon SA, ridden by Kelly Casey.
All 17 horse and rider combinations in the Pipeline Clinic carried a healthy list of accomplishments at many levels which brought them to the attention of Pipeline coaches Robert Dover, USEF Chef d'Equipe/Technical Advisor, Debbie McDonald, USEF Developing Coach, and Scott Hassler, USEF Young Horse Coach, for the invitational clinic at Epona Farms in Thousand Oaks, Calif.
All three coaches rotated through two arenas for 45-minute sessions, before 70 auditors, bringing an air of excitement about the riders and their prospects. Each coach has his own style and emphasis and yet there is a clear compatibility in their teaching philosophies and focus.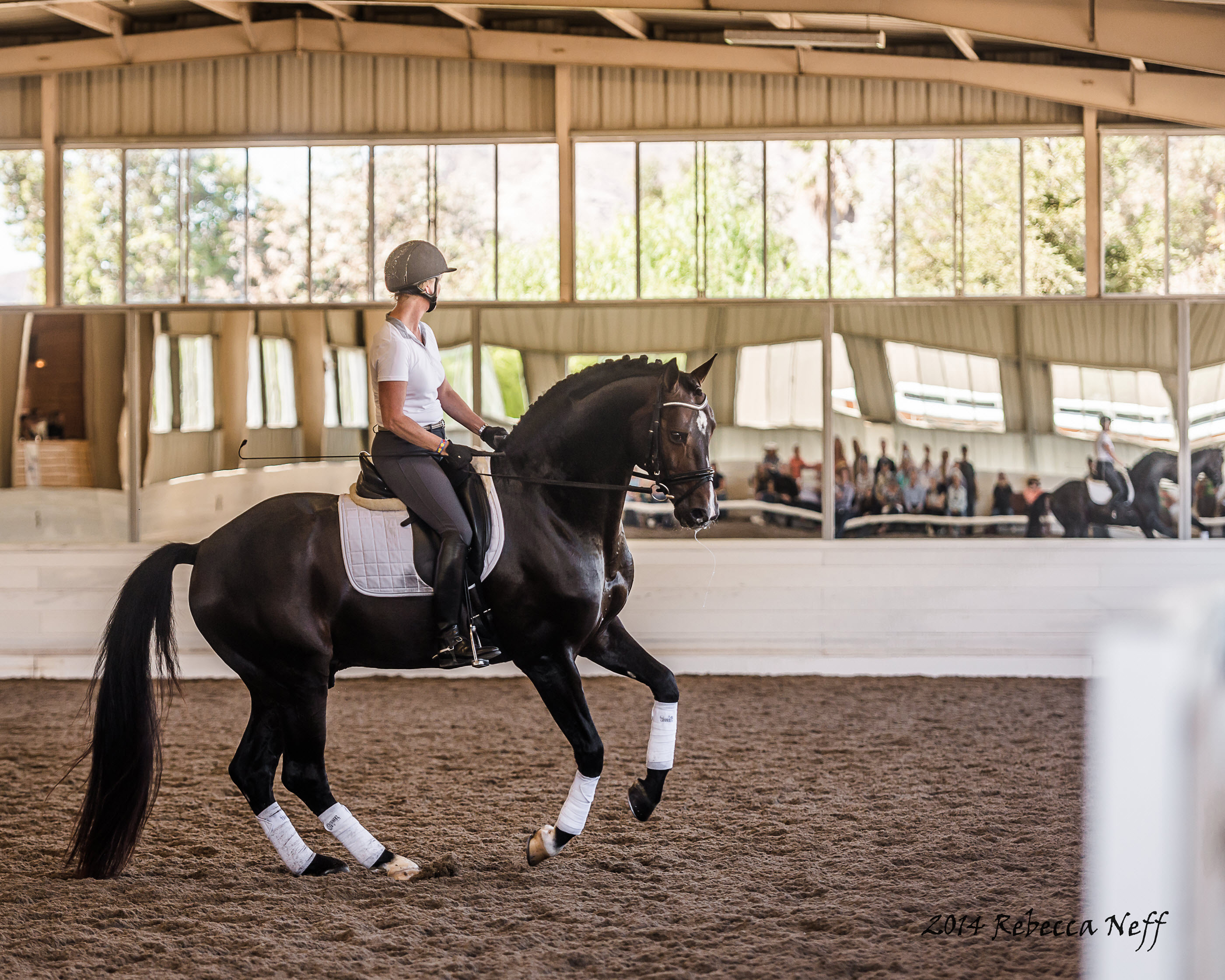 Sabine Schut-Kerry participated in the Pipeline Clinic aboard her young superstar Sanceo.
Photo by Rebecca Neff
Directing The Knowledge
The horses and riders move through one or more of the four categories—Youth, Young Horse, Developing Horse and Elite—working under the direction of one or more of the four national coaches. The concept of the pipeline for horses and riders is more firmly part of the equestrian culture in Europe, but is making progress in the United States.
"The clinics are helping to show the use of our brackets. We're like directors—we direct the knowledge. If I know about a horse in my program, the young horse category, I might pass it on to Debbie to look out for this horse who is really good coming along and direct it up the pipeline," says Hassler. "This country is so big. When you find someone you didn't know about, you think, 'Holy moly. That's exciting.'
"Let's say I have about 200 horses in my radar. There are probably 2,000 I don't know about. I've been doing this for 10 years and now I'm hearing from dressage or breed judges that they've seen a great horse that I should know about a horse," Hassler continued.
Spokane resident Kasey Perry had been scouted when she competed in Florida last season. Dover clearly recalled Perry and Diane Perry's mare Trøstruplund's Scarlet from their competitions. After watching her warm up Scarlet, he asked her goals. When she spoke of the FEI World Cup Final, they agreed that her 72 percent for her highest freestyle score might be greater with an improved technical side of the test.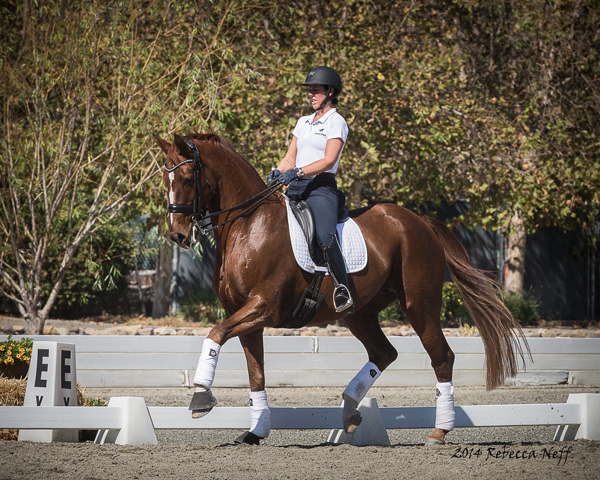 Kasey Perry worked on responsiveness to the aids during her time riding Trøstruplund's Scarlet
with Robert Dover during the Pipeline Clinic. Photo by Rebecca Neff
Perry explained, and Dover had witnessed, that the mare is quite hot at shows, but relaxed and calm at home to the point where Perry feels she needs to work to keep her impulsive. At shows, she tends to back away from aiding the mare because of her exuberance.
"Do you feel you need to use the spur to keep her going?" Dover asked. "You need to get her reliably trained that this is what you want. Make it normal. You want to sit like the queen of England, looking gorgeous, and think, driver, take me over here. Your job isn't to keep her going every step. At shows, you need her on the aids you want, not to back off and just guide her around."
That consistency included teaching the mare to always work responsively off Perry's seat. "Have her hot so you can sit in correct position and stay like that. Do piaffe and passage without leg [aids]," Dover advised.
Other wisdom imparted by Dover moved Perry and Scarlet into a different level than the one she rode on when she entered the arena. He advised:
Feel the intention of extended trot in passage. With your mind, see the extended trot, but not with the spur;
Collect that which wants to be extension all the time and then manipulate the balance.
Brilliance lives on the edge
At the end of the ride, Dover exclaimed excitedly, "that was freakishly good. The passage went from a 7.5 to a 9. That's what happens when the brakes aren't on. You don't look like you need legs or whip and the horse is happy. That's how you ride every day. It's not about pushing. It's about expecting greatness for the few minutes every day. The mare should go home and think 'look at me.' And you should think about having 'fabulous' every day."
That excitement was replicated in the other Epona arena where McDonald entreated developing rider Ari Lopez, riding Coralander II, to not settle. "It's no longer about just getting the job done or what you can get away with," McDonald said.
"I'm a strong believer that young trainers should be training horses that anyone can ride. The aids are effortless. If everyone used the same aid to canter, the horse would understand that. For example, you don't compromise those aids just to get tempi changes, like you see people in changes that swing from side to side. It's just correct riding that make those horse rideable. Really what I want to pass on is [the importance of] training a horse that anyone would be honored to ride because it is so well trained—this is what a trainer should strive for."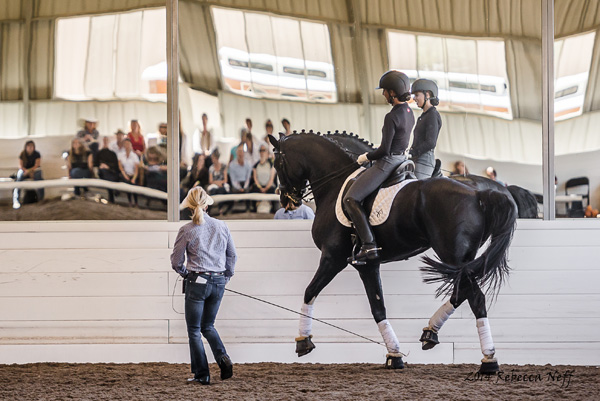 Debbie McDonald worked with Genay Vaughn on Donarweiss GGF. Photo by Rebecca Neff
Learning Out Of The Saddle, Too
The Pipeline Clinic had much to say about the complexity of an equestrian athlete's life, not just about riding.
The strategy of the clinics and their accompanying coaching segments is to develop the athletes scouted to participate in the program not just as riders, but as all-around professionals. In addition to riding for two days with a coach from their category, riders attended sessions on score analysis, nutrition, fitness, sports psychology, and media/sponsor/owner relations.
Riders were introduced to the benefits of a digital analysis of their tests, movement score by movement score, through www.globalanalytics.com. The program shows which movements are pulling down the overall score and tracks trends in tests over time.
"I kind of know which my problem movements are, but it will make it clearer to see the trend," said elite rider Kasey Perry of Spokane, Wash., who rode Diane Perry's mare Trøstruplund's Scarlet. "For example, last year I had problems with my walk. Now my scores are consistently higher. The website's program will give me my focus for improvement this year."
Fitness sessions conducted by strength and conditioning physiology specialist Amanda Wittenmyer of the U.S. Olympic Committee found the group divided between riders whose only work-out is the several horses they ride every day and those who work out in addition to riding.
"I look at a sport and work the muscles that you don't use every day in the sport," says Wittenmyer, who trains many types of athletics. "With riders, for example, the inner thigh muscles are usually strong, but the outer thigh muscles are not."
After a breakthrough clinic ride on Cadence LLC's mare 11-year-old Grand Prix Westphalian mare Liaison, Beth Ball joked about "channeling her inner Dover," referring the inspiration derived from riding with the clinician.
Her private sports psychology session with USOC's Dr. Lindsey Thornton brought some revelations that were useful immediately. "In this clinic, I brought in so much input that I was becoming lost. Dr. Thornton helped me to focus on just two things and regain my footing," Ball said. "I described to her how when I'm riding I have my hard vision within a bubble around my horse and my position. I have my soft, peripheral vision outside that area."
The sports psychologist described how she works with competitive marksmen. She has the shooter aim and then, having them focus only on the gun sight, not on the target, for better accuracy.
Media, owner and sponsor relations was the topic for the Saturday evening dinner with a panel discussion moderated by Mason Phelps of Phelps Media Group. Among the panelists was USET Foundation Trustee Betsy Juliano of Havensafe Farm whose gift has made these clinics possible.
Juliano, a dressage competitor, explained why she chose to help these clinics come to fruition. "When I started to have horses compete, I would see the riders go through the process of getting to Gladstone, and then the [World Equestrian Games], and I realized the importance of synergy among team members. And as we are an innovative and strategic culture, we needed a strategy to ensure that everyone knows each other in a non-competitive arena where they are supportive of each other," she said.
"I saw our riders cheering for each other at the national championships in Gladstone. I saw WEG riders Laura Graves and Adrienne Lyle high-five each other as one rode out of the arena, and the other rode in. That optimizes our goals (for the Pipeline program)."
Juliano's passion is to see the elite dressage competitors develop as a community. "I've seen that good relationships catapult companies forward, and we can do for the sport of dressage. The more the riders see each other, the better the relationships."
As Perry was packing up her trailer to head back home, she thought about the major highlights of her weekend. "I learned so much from my session with Robert, but I loved getting out of my comfort zone and getting to know the other riders, watching them ride and spending time with them."
Dover summarized his vision for the program. "We are creating the system in which excellence can thrive. Americans like be the winner of things. When we see something inhibiting our ability to be at the forefront, we do what's necessary to be in front," he said.
"After enjoying decades of being in the top three in the world in dressage, we saw ourselves fall off the top spot. We lost our way instead of progressing to the top of the podium. My job is to re-navigate us back on course toward medal podiums, but also to create a machine that is world-class in quality from the little kids on ponies, juniors, young riders, under 25s, developing up to international elite that will be self-sustaining."