As Elisa Wallace was browsing for horses for sale online six years ago, she stopped short when she came across As You Wish, a splashy chestnut paint American Sport Pony listed for $750.
Wondering what an American Sport Pony was, Wallace's interest was piqued, and she drove the 20 miles from her home in Jasper, Ga., to check him out as a possible event horse for her student Katie Bartz.
Although the then 5-year-old half paint-half British Riding Pony had been a breeding stallion until recently, his owner wanted to sell him and offered him for the same price as his stud fee.
Wallace brought Bartz back to try him and they were both sold once they started jumping him.
Last year, with Wallace in the irons, "Westley" tackled his first preliminary level events and this season, he's serving as a suitable mount for his small-statured owner. They earned the senior training reserve championship at the Area III Championships held May 29-30 at Poplar Place Farm (Ga.).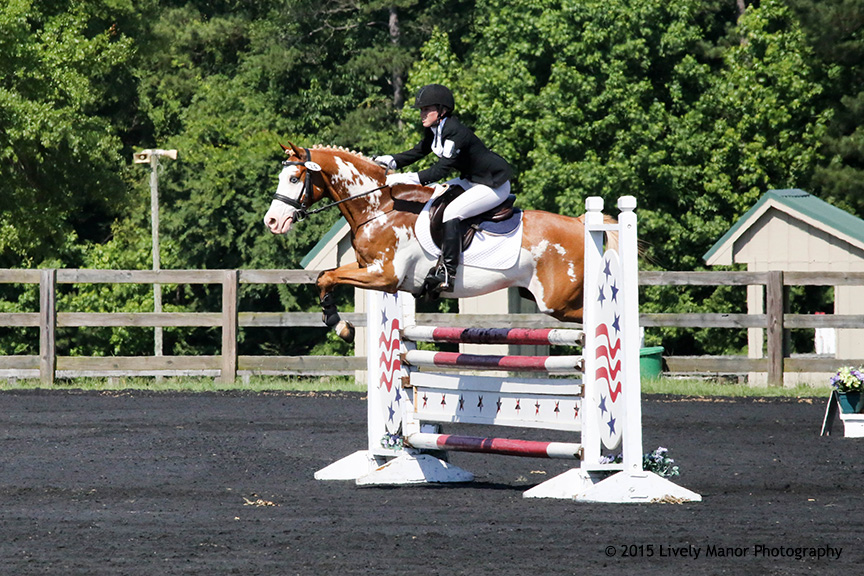 Katie Bartz and As You Wish on their way to second place at training level at Poplar Place. Photo by Lively Manor Photography
"We're so similar," said Bartz. "People say we belong in a box because I'm a little blond and he's got his blonde mane and we kind of match. He has one blue eye; I have blue eyes.
"He's the kind of pony that girls dream about," she said. "He couldn't be any more perfect for me. [And Elisa's] helped me get where I am today. Ultimately, both of them have helped me live the dream that most riders want to live. I feel extremely blessed for it."
When Bartz brought the gelding home, she knew she had to name him after Prince Westley from The Princess Bride.
"He always says to the princess, 'As you wish,'" she said. "When we first went to try him, we were testing him to see how brave he was. We put a blue tarp down and he wouldn't go over it unless he followed me. It kind of helped that he had such a willing attitude, but he needed another person's confidence. He really will do anything you wish."
Bartz, 31, an instructor at Willow South Eventing in Johns Creek, Ga., started eventing about six years ago and also rides horses for Wallace.
She started the 14.1 hand gelding by Rosslyn Pearl Fisher at beginner novice and has competed him through training level, but wanted Wallace to give him some confidence at preliminary before she hopes to move up in the fall.
"She's done fantastic with him up the levels," said Wallace. "I've ridden him to build his confidence. He is little and he has to be pretty brave and in a pretty cocky mindset to kick around the prelim. I've schooled some intermediate stuff on him too. He can do it. If you believe he can do it and you don't doubt him, he'll try. He gets all the horse strides no problem."
Watch Wallace and Westley take third in a preliminary horse division last year…
Wallace gained notoriety for retraining several wild Mustangs, so she's used to riding and competing small horses and ponies and has no problem tackling big fences on Westley, who competes barefoot.
She said the biggest obstacle is finding the right body balance. "It's mainly a mental game I find in doing it with the ponies," she said. "If you're aggressive and positive, he eats it up and it becomes easier for him.
"He just powers up over it," she continued. "Sometimes I feel like I have the advantage over a course like [Chattahoochee Hills] because he covers the ground, he's light on his feet and I'm able to make tighter turns and nip in and out of stuff. He's so light in the bridle. He's a very maneuverable, easy type of horse to ride."
Westley proved easy to bring up through the levels, and can even teach beginner lessons. "We try not to because then all the beginners love him and only want to ride him, and then they want him but they can't have him!" joked Wallace.
Bartz described Westley as "self-sufficient" but friendly.
"He's the neatest horse in the stall," she said. "You won't see him get very dirty. If he were a person, he would be the kind holding a tennis racket and having an argyle sweater tied around his neck. He's very regal. He knows he's a cute little guy."
Her goal is to compete in a one-star eventually, and Wallace thinks that will be no problem.
"He's priceless," she said. "I don't know how far he's going to go. Hopefully Katie will do well with him at prelim—who knows, he might go intermediate. I think right now he's really coming into his own, especially movement-wise in the dressage. I'm excited for him for this upcoming year and for Katie. I think it's going to be a good year for them."
"He's taken me to my dreams and I can't wait to ride him prelim. He's been working hard and I've been working hard to get there," Bartz added.
Are you part of, or know of, an unusual or inspiring horse/rider combination that's out competing in eventing, hunter/jumper or dressage? If so, drop us an email and let us know about it!