"Do you want to ride?"
It's an obvious question to ask a little girl in jodhpurs and boots when she's hanging around the barn, but hunter/jumper trainer Kama Godek didn't have any ponies at her Wellington, Fla., base. So she threw 5-year-old Michaela Munson up on Regalo, an experienced equitation horse.
"She asked if she could ride a horse, and she said, 'I can post and everything!' " Godek said. "I have 'Regi,' who is perfect, so I told her she could get on him.
"She trotted right over to their car and pulled out her saddle and was ready to go! We were in the ring with her, and she walked and trotted just fine, and she asked me if she could canter. I told her yes, and she kicked him right into a canter. She was on the wrong lead, but Regi swapped right over the to the correct one. She had a great time."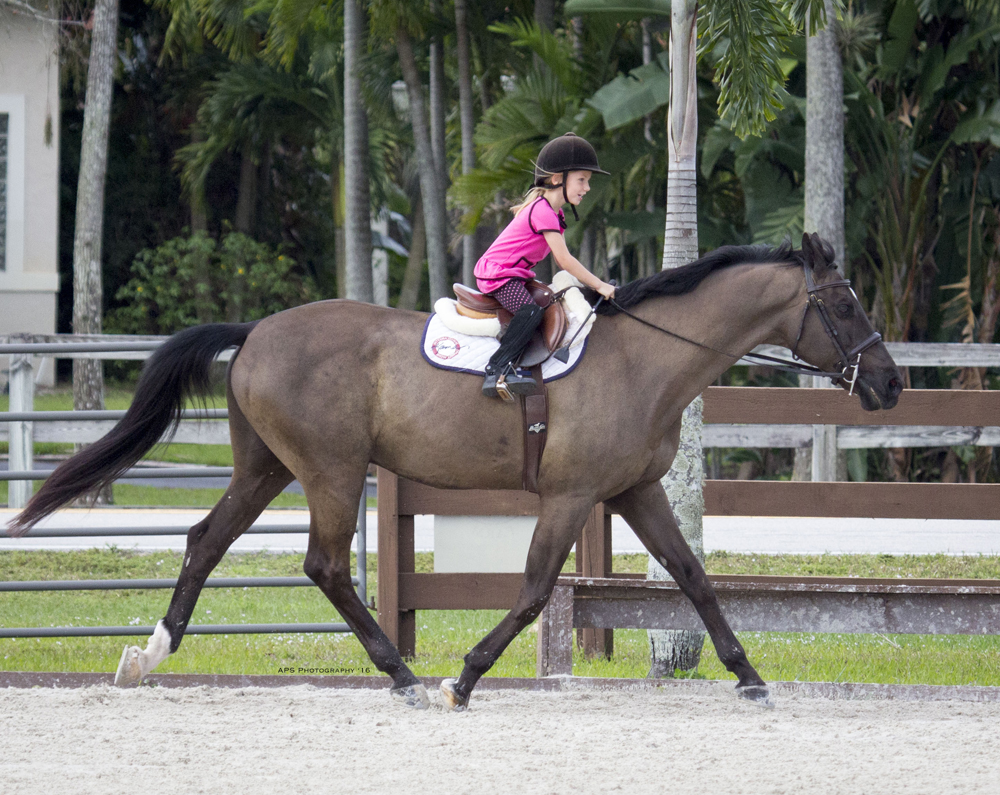 Michaela Munson hacking Regalo. Photo by Leigh Fields/APS Photography
The hardest part of Michaela's relationship with Regi? Bridling! Godek posted a hilarious video of her trying to get the bridle on him on her barn Facebook page:
Opps‼️ #littleworker #juniorjumper #wef2016 #wef #showjumper #kamagodek

Posted by Kama Godek LLC on Wednesday, February 24, 2016
"She's very independent and wants to do everything herself, and that's how she ended up flying in the air like that," Godek said. Michaela's older sister, Genevieve, is riding with Godek during the Winter Equestrian Festival (Fla.), and Michaela tags along to the barn.
"She comes out and pets Regi and goes out of her way to brush him. She'll give him a bath, and she puts so much soap on him that she makes designs like hearts on his body with the bubbles. She doesn't even come up to his elbow, and he just stands there. He's great with her," Godek said.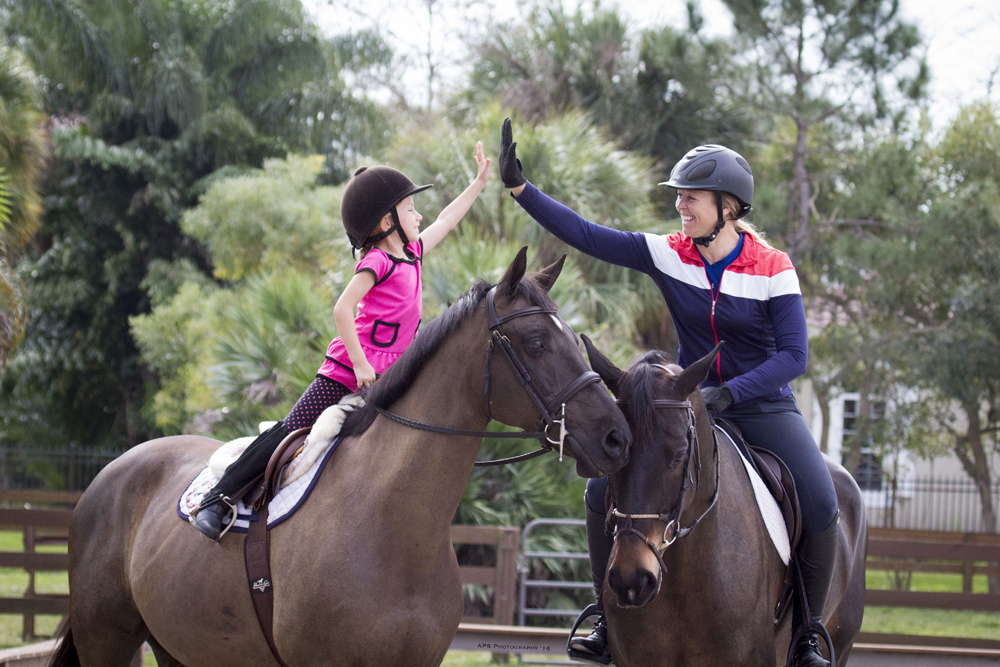 Kama Godek (right) high-fives Michaela Munson after her ride on Regalo. Photo by Leigh Fields/APS Photography
"She's grown up on a horse farm, so that's all she's ever known," said Michaela's father, Michael. "She's been around horses all the time, so the size doesn't really intimidate her. She's happy just painting their hooves or grooming."
Genevieve, 12, won the USEF Individual Pony Jumper Championships (Ky.) in 2014 and is named to the U.S. team for the children's Nations Cup at WEF on March 5. (Make sure to follow along as www.coth.com covers all the Nations Cup action this weekend!) Michaela aims to follow in her sister's footsteps.
"Her goal in life is to be like her big sister, Genevieve," said Michael of Michaela. "So she travels with us everywhere and tries to get in the middle of it. She always brings her helmet and boots. Kama was kind enough to get her on a horse, and she had a great time."
Michaela has a pony of her own at the family's Rogers Equestrian Center in Rogers, Ark., and has shown walk-trot and crossrails. Both the girls are also Pony Clubbers—Genevieve is a C-2 and Michaela is a D-1. Michael founded the Northwest Arkansas Pony Club in 2013 and it runs out of the Rogers Equestrian Center.
The older Munson siblings—Morgan and Gabriel—rode and now teach lessons at the family facility, which focuses on the lower levels. "We taught 1,600 riding lessons in 2014 and a few less in 2015, so it's a big up-down farm," Michael said. "What we do is we go as far as we can, but we take Genevieve to trainers like Carlie Biesel, Richard Lamb and Martien van der Hoeven. We have to travel. It's a little bit of a challenge to travel like that, but we've found that all those different point of views have allowed our riders to leapfrog in progress. A different person will say something differently and it's an "a-ha!" moment.
"We've done everything from breeding Andalusans to whatever you can do in Northwest Arkansas," Michael said. "But the jumping stuck. We had some early success with Morgan at a regional level and she won a breed national championship in '07 in the Arabian Sporthorse jumpers. Genevieve grew up as that was going on, and she wanted to do it too. Michaela came along, and she's always been, 'Me too!' "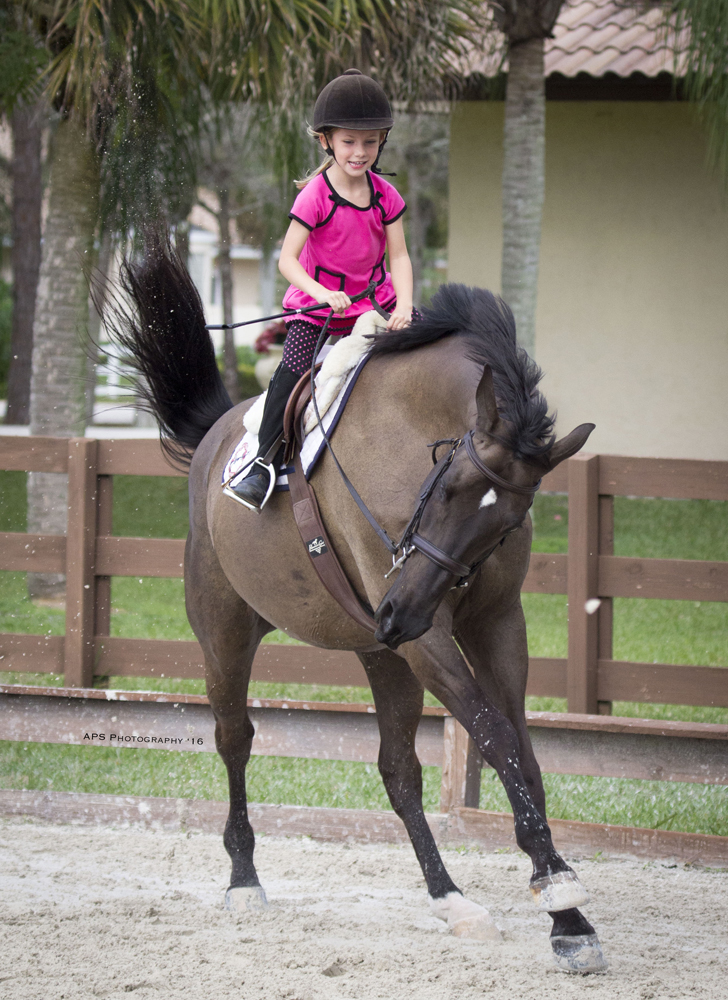 Michaela kicking on. Photo by Leigh Fields/APS Photography