When Mary Claire Piller first met Oreo as a 3-year-old in for training at Miramonte Equine, she and the team at the Kentucky farm weren't quite sure what to make of the mare.
They figured the colorful cob-Percheron cross would be fun to train, but they didn't know if such a young horse would be suitable for her sexagenarian amateur owner Elaine Knowles Cole. And they certainly didn't realize how far she'd go in dressage.
"We thought [Cole] was crazy" when she bought a green 3-year-old, Piller said with a chuckle. "All she was looking for was a horse with a good temperament."
It turns out Cole's intuition was right, and Oreo, now 8, has been a pleasure to train for head trainer Emily Brollier Curtis and Piller, who started as a working student and is now an assistant trainer.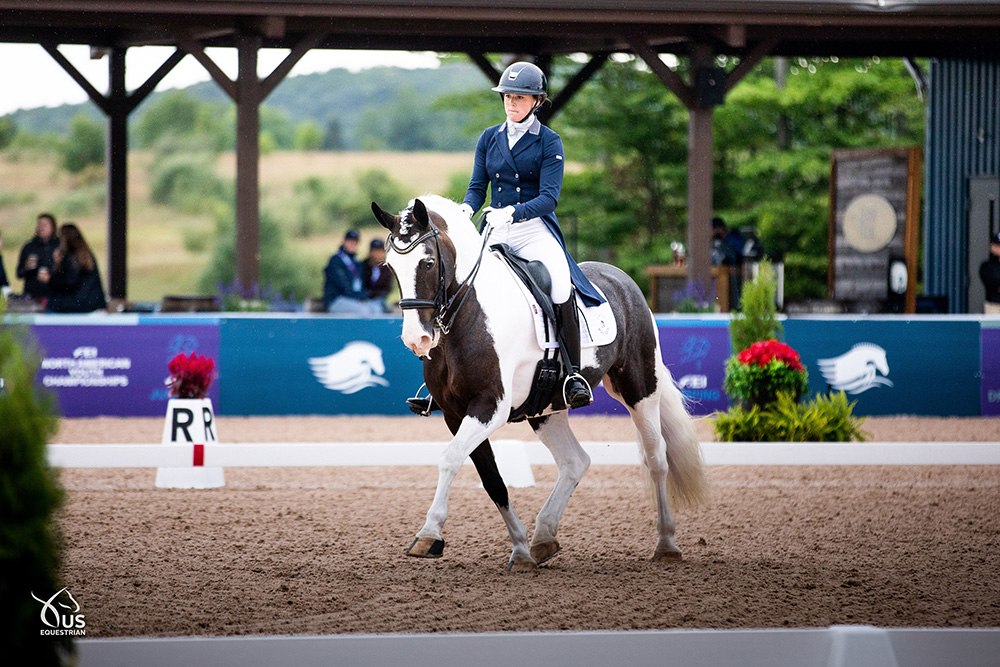 "She's been so simple. She's competed at regionals almost every year and done well," Piller said. "We treat all of our clients the same, and we give them the same training and care, no matter what they bring in the barn. We took her into the program, gave her our best shot, and every turn she's been just the best horse in bringing up the levels. They told me putting the changes on her was so simple. When we have horses like that, who are willing and happy to do their jobs, it's fun and easy to bring them up the levels."
A year ago, Piller got a chance to ride and show Oreo regularly, and when Cole suggested she try competing at the FEI North American Youth Championships this year, she was able to qualify at the last minute.
Piller and Oreo got a chance to lead the victory gallop with the combined Young Rider team from Regions 3 and 9, earning a team gold medal alongside Sophia Schults (Conocido HGF), Sydney Schultz (Dunkirk) and Sydney Lipar (Zerragamo) at NAYC, held Aug. 9-14 in Traverse City, Michigan.
"This was the first CDI she's ever done, and we couldn't be prouder of her," said Piller, 20, who also was competing in her first CDI and NAYC.
Originally from Knoxville, Tennessee, Piller got interested in dressage after her jumper and equitation horse was having trouble with balance to his fences. She learned the basics and then found Curtis, who's based in Nicholasville, Kentucky, when she was in middle school. She started as a working student and moved to Kentucky three years ago to become a full-time employee.
"She's an incredible boss and person to work for," Piller said. "She's just very generous and loves to give her girls opportunities. She gave me the ride on Oreo for the year. The horse is just incredible. She's unreal.
"Her owner is in her upper 60s, and she can take her out and do walk/trot lessons on her, and then I can get on her and do all of the Intermediaire I with a smile on her face," she continued. "Nothing is difficult about that horse. She's just awesome."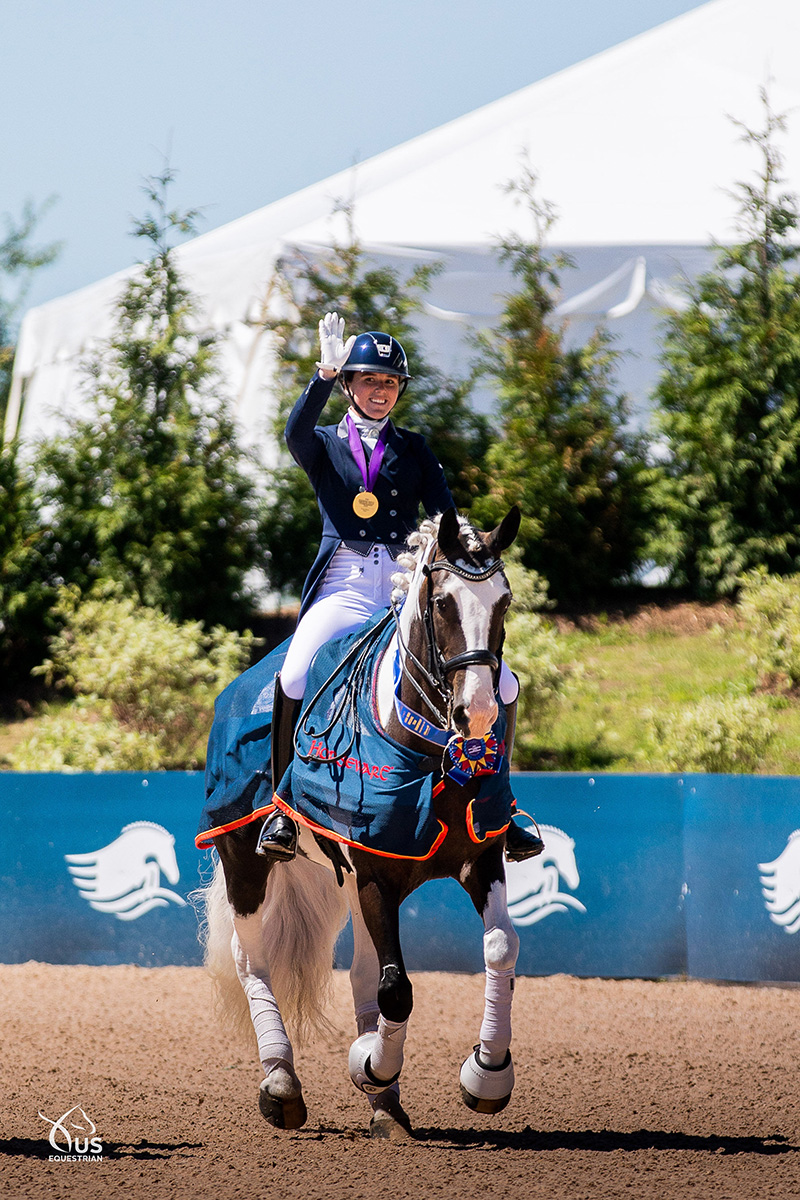 Heading to NAYC, Piller got a little inspiration from another unusual horse succeeding at the upper levels of dressage—Adiah HP, formerly competed to Grand Prix by Jim Koford and now competing with amateur rider Ashley Maul.
"You don't see a lot of draft-cross pintos doing CDIs and the big stuff," she said. "Going up to this horse show, I was watching some of Jim and Adiah's stuff, seeing what he did and figuring out how I could save some points."
Piller hadn't met her teammates before NAYC but enjoyed getting to know them.
"It was a really great experience meeting all of the riders I did at the show, especially Sophia Schults, on my team," she said. "We clicked right away. We're very similar personalities. We work very hard, and we're both riding at big training barns. It was cool to start that friendship with her.
"The show was out of this world," she continued. "It was a very long competition. It was thought out very methodically with planned days off and schooling days and ring familiarization—just the whole process of learning how to show at a CDI was really easy to learn at this show because everything was so well thought out. She just tried so hard for me. I couldn't have been happier with our ride and our experience this year."
The pair also won the Best Turned Out award. "For me it's just a lot of hours covered in purple shampoo," Piller said with a laugh. "That's about it. I bathed her almost every day coming into this show. She has a solid white tail, so you have to keep it pristine."
Piller is grateful to Cole for the chance to ride Oreo without the pressure she saw some of her competitors at NAYC facing.
"Her owner is very encouraging," she said. "The text messages I got from Elaine before I showed Oreo were, 'You're doing great, go have fun.' That was really helpful for me to go in and not have to worry if my owner's going to be upset. She just wants to see her horse go and do."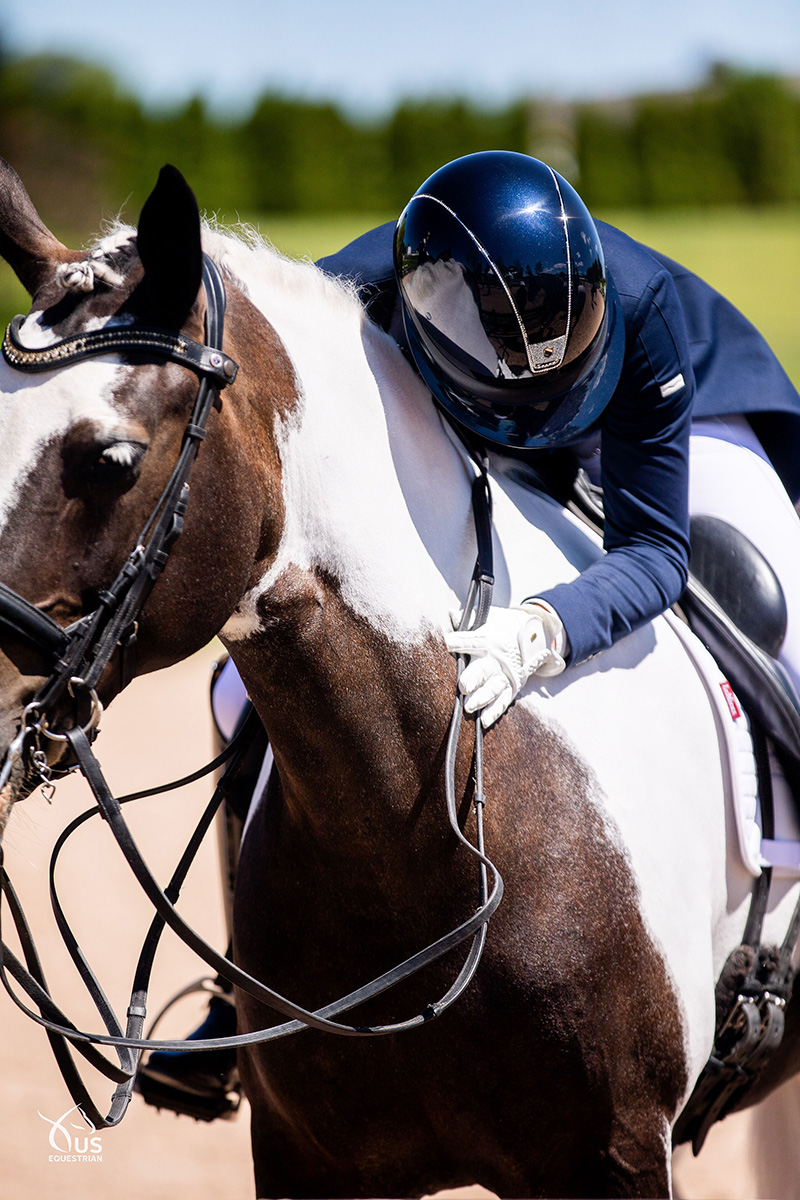 At home, Oreo, who's by Ace's Majestic Arrow, is everyone's favorite. She helped working student Rachel Angelucci get her third level scores for her USDF bronze medal last year and enjoys her work with Piller.
"She's done a little bit of eventing," said Piller. "We got a wild hair last year, and Emily did [two] beginner novices on her. She's just a very versatile horse who tries really hard at anything you throw at her."
At 15.3 hands, Oreo is draft-bred but not "big and clunky," Piller said.
"She's not really the typical draft cross," she said. "She's real go-ey and uphill and quick behind. I don't really run into the normal struggles you usually have with a draft-cross. She's kind of a one in a million temperament-wise and ability-wise. She has piaffe, and we started a little passage. She just eats it up. It's so easy for her. The only issue is that sometimes the judges don't like her!"
Piller was planning to head to the University of Kentucky right before the COVID-19 pandemic hit, so she took a gap year which has been extended indefinitely while she's learning to become a professional in the horse industry.
She's never had the opportunity to own her own horse, but she's enjoying getting to ride a variety of horses for Curtis.
"I've always had to work very hard to get the opportunity to ride some horses," she said. "Some mornings I get up at 5 a.m., go for a run and start my job at 7:30. I ride about 12 horses a day. I ride everything. Naughty Thoroughbreds, breaking babies and all the way to up to something like Oreo that I'm able to ride because I don't mind getting on the naughty horses. I love every minute of it."
Piller's looking ahead to regional finals at Intermediaire I and is hoping to do some Under-25 Grand Prix classes next season with "The Wonder Pony."
"The feeling I got standing on the podium winning a gold medal with my team was completely surreal and will be a feeling I'll be chasing again for the rest of my life," she said.