Washington, D.C.—Oct. 28
The atmosphere at Capital One Arena changed the minute Saturday night's festivities surrounding the $135,000 Longines FEI Washington World Cup qualifier concluded. The majority of horses have packed up and left the city of Washington, District of Columbia, leaving the roadside stables seemingly ghostly. If you didn't make an effort to peer down into the stalls you wouldn't see the ranks of top-level ponies still waiting to take their turn.
Those ponies got their chance in the early hours of Sunday morning. They surfaced with their grooms in the cool, pre-dawn light—a reminder to all that the true party was only just getting started.
Which one of this year's pony champions would you take home as your own?
The Schoolmaster, Bit Of Love 
Bit Of Love knows how to help young riders come along. He has guided the development of riders like Sophie Gochman and Emma Kurtz, and for the past two years he's been helping Maddie Tosh learn the ropes of showing.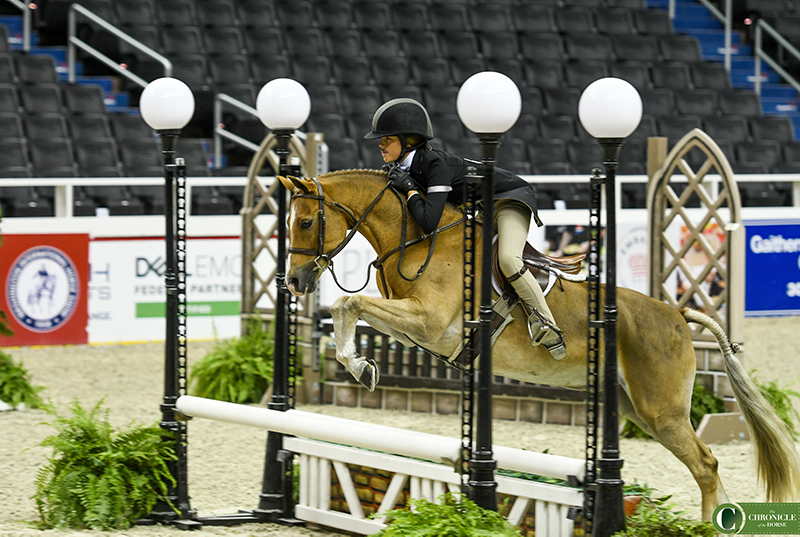 The 12-year-old Welsh Pony helped Tosh close out the Washington International Horse Show with a third place finish in the $3,500 small pony working hunter stake, and he helped her earn the overall championship for the division.
"[My week has] been great," said Tosh. "Just consistent top ribbons with both of my smalls which has been really nice. My pony has been amazing."
"[Bit Of Love] is owned by Dr. Betsee Parker and I'm very grateful to be able to ride him for her," she continued. "He's so sweet, he just wants food and cuddles all the time."
An Acquired Taste, Anisette
Not every rider appreciates the patience and tact required to befriend some mares, but 13-year-old Tessa Downey is not one of those riders. Her first pony (Bringing Home Blue) was a mare and Downey has had a soft spot for them ever since. That fondness includes Anisette, with whom Downey partnered to win the $3,500 medium pony championship. The pair also picked up the grand hunter pony championship, the best child rider on pony award, and the Potomac Trophy, which is presented to the highest scoring rider who also owns their pony.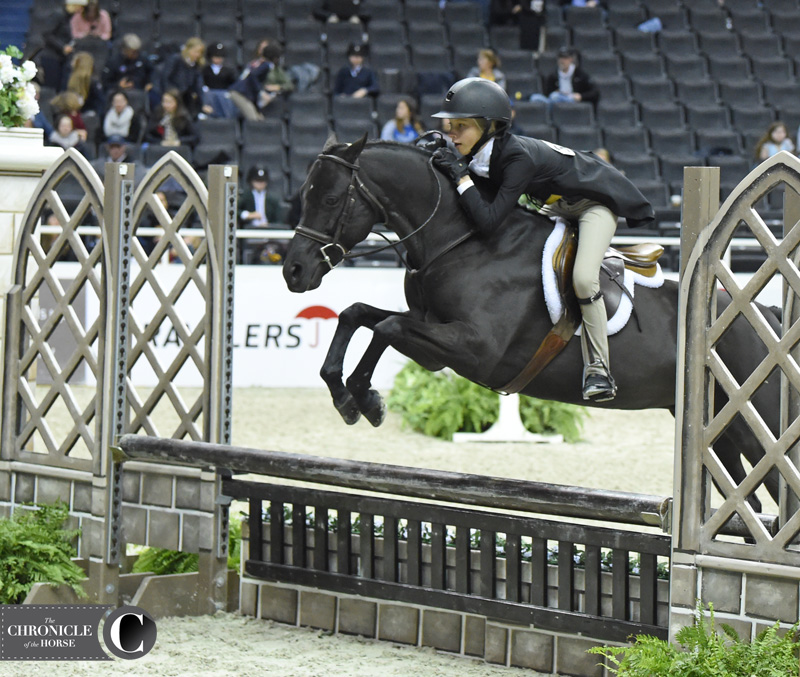 "[Anisette] is very rude," Downey said candidly, but without spite. "She thinks she's the best and gets turned out alone because she's the pasture queen, but she's great. We were friends with the owners while Caroline Signorino was leasing her and the owners were telling us how great she was and how she'd be such a great fit for us so we decided to try her right after Capital Challenge [Maryland] last year. We said, 'That's the pony for us.' She's just been amazing for me."
Great may be an understatement for the 12-year-old Welsh Pony cross (Cusop Jovial—Northwind Katrina). She and Downey—from Houston, Texas— were medium pony hunter champion and pony grand champion at the Pennsylvania National Horse Show this year under the instruction of Peter Pletcher. They also took home the medium pony championship at USEF Pony Finals (Kentucky) and were second in the $2,500 medium pony championship at the Devon Horse Show & Country Fair (Pennsylvania). In light of all that, a "pasture queen" tendency seems allowable.
Catch-Ride King, Storyteller
Storyteller is such a regular in the winner's circle that his name is almost synonymous with championships. The 15-year-old German Sport Pony of unrecorded breeding has carried the likes of Mimi and Sophie Gochman and Grace Debney to tricolors for years, but his win in the WIHS pony equitation finals was different.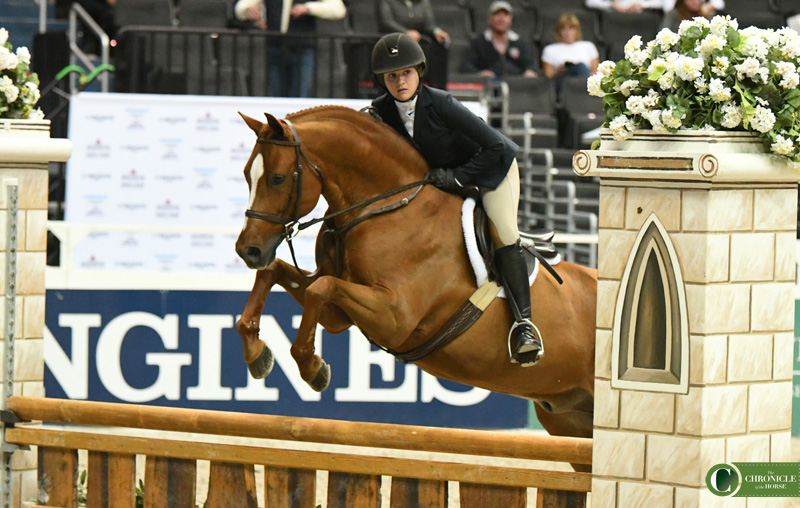 Instead of partnering with a rider he knew well, "Story" teamed up with 13-year-old Samantha Takacs (New Jersey) mere hours before the start of the finals.
"I've never jumped him before today," said Takacs, who trains with Dave Belford and Chris Payne of New Hope Farm (Ohio). "I wasn't showing in the hunters [at Washington] because I didn't have anyone to ride, but luckily I qualified for the medal and my friend Caroline Signorino leases [Story] and was kind enough to let me borrow him."
Takacs topped a class of 25, which included riders from all three pony divisions. She scored an 88 in the first round, then impressed judges Brian Lenehan, Mike Rosser and Steve Wall in the flat portion enough to stand out from the rest of the top 10. Kat Fuqua came a close second only a point behind Takacs, and Tessa Downey placed third.
The MVP, Brighton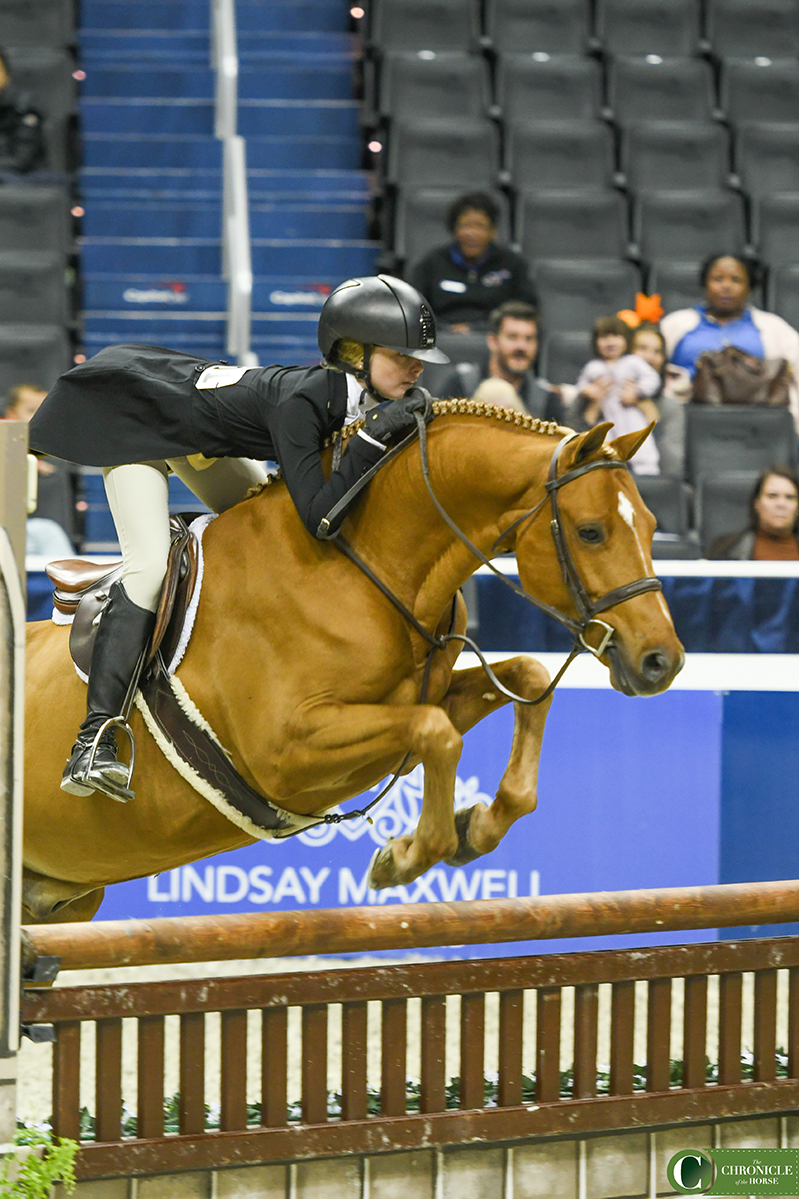 Kat Fuqua didn't expect to be named large pony hunter champion following her win in the $3,500 large pony hunter stake, but it came as no surprise that the 9-year-old German Riding Pony Brighton would help earn her the titles.
"Brighton's a really special pony and he's won me a lot [of classes]. I think I've had him for six months. He has a great canter, it's like riding on a cloud," she said.
The pair have accumulated over 30 top-10 finishes since first competing together in June. Prior to the WIHS, they attended the Pennsylvania National Horse Show in Harrisburg, where they finished first-place in the large pony under saddle.
IMPORTANT LINKS:  All the COTH Washington International  coverage  |  What You Need To Know  |  live results/order of go  |  live streaming  |  show website
More in-depth coverage of WIHS will run in the Nov. 22 print issue. Subscribe today!