The Plains, Va.—July 7
While there were only nine riders to start the dressage this evening at the Great Meadow International CICO***, Canada's Jessica Phoenix started off the event strong, scoring a 44.0 with Don Good's Pavarotti to take the lead.
Making a return to upper level competition for the first time in more than two years, Jan Byyny and Inmidair scored 46.6 to slot into second, while Kurt Martin and Anna Bella are third on 46.7.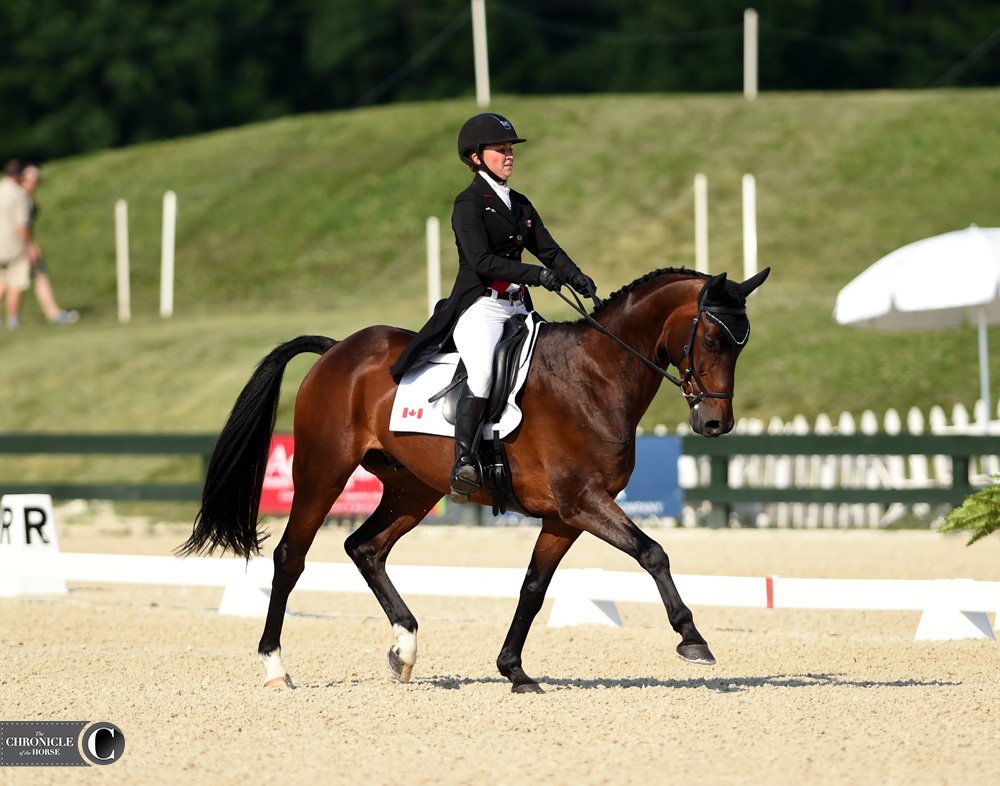 It was Pavarotti's first competition back after finishing 17th at the Rolex Kentucky CCI**** in April.
"I was certainly happy with him. You never really know if they're going to go in and be a little bit fresh and lit up like with the atmosphere at Rolex, but he went in there and was such a professional. It's always just a pleasure to ride with him," she said.
Phoenix was thrilled to be representing Canada in the Nations Cup with teammates Selena O'Hanlon, Waylon Roberts and Lisa Marie Fergusson, who will ride their tests tomorrow morning. She also has two other rides, A Little Romance and Abbey GS, to come tomorrow.
"We're so excited for the team we have. We've got some old faces and some new faces and some really exciting individual riders this weekend as well. We're feeling very optimistic," said Phoenix. "The course looks great. It looks well-suited to our horses, and we're really excited."
Phoenix noted that the atmosphere at the event, which includes large VIP tents and close public seating around the arena, makes for great practice.
"This event means so much to us—the level and quality of riders that are at this event, and just the grounds itself. When you go to a big time event in Europe or a big time World Championship, this is what it feels like. To be able to have this in our backyard and the incredible footing and the beautiful cross-country footing is really exciting," she said.
Full scores are available here.
Dressage resumes on Saturday at 8 a.m. and will be followed by show jumping at 5 p.m.
IMPORTANT LINKS:  Ride times  |  live scoring  |  full event schedule  | virtual cross-country course walk  |  map of the Great Meadow facility |  live stream