Toronto, Ontario—Nov. 15
On the final day and evening of the International Jumper division at Toronto's Royal Agricultural Winter Fair, the old guard made way for some fresh faces. Twenty-two-year-old Jessica Springsteen, showing at the Royal for the second time, picked up first place in the always-amusing $15,000 Canine/Equine Challenge on the afternoon card, while the night—and the lion's share of $75,000—belonged to 21-year-old Nicola Philippaerts, aboard Challenge Vd Begijnakker.
Philippaerts, making his third trip to Toronto along with twin brother Olivier, out-strategized six other riders to take the GroupBy Big Ben Challenge Grand Prix, including veterans like Todd Minikus, Beezie Madden, McLain Ward, and Switzerland's Beat Mandli.
Going third in the jump-off, Philippaerts had watched Minikus (Quality Girl) and Columbia's Daniel Bluman (Apardi) take risks and each catch a single rail. But with Madden (Coral Reef Via Volo), Mandli (ZaZa Harvey), and Darragh Kenny (Prof De La Roque) still to come, the careful clear was not an option. Philippaerts showed the finesse bred into the son of Belgian team stalwart Ludo Philippaerts when he delivered the first clear of the jump-off, stopping the timers in 36.90 seconds.
"In the World Cup [class], my horse jumped very well in the [first] course, but he was a little spooky in the jump-off," he said. "There were so many quick ones in the jump-off tonight. I knew I would need a bit of luck, and for the others to have a fault and me to jump clear. I'm super happy."
Challenge Vd Begjinakker ("Challenge" to his friends) is a 12-year-old Dutch-bred that Ludo Philippaerts passed on to his son when Nicola's other grand prix mount got injured. "I've only been riding him a few months, but it's been going very well."
Taking the GroupBy Big Ben Challenge Grand Prix counts as one of Philippaerts' biggest wins to date. He won the Longines Grand Prix in 2012 in Falsterbo, and was a dominant force at the European Young Riders Championships, winning gold, but of late has been somewhat overshadowed by his brother Olivier, who won the $1 Million CN International Grand Prix (Calgary) at Spruce Meadows in 2012. "We always try to beat each other," said Philippaerts, "but it's one big team when we come out of the ring, and I think that's very important."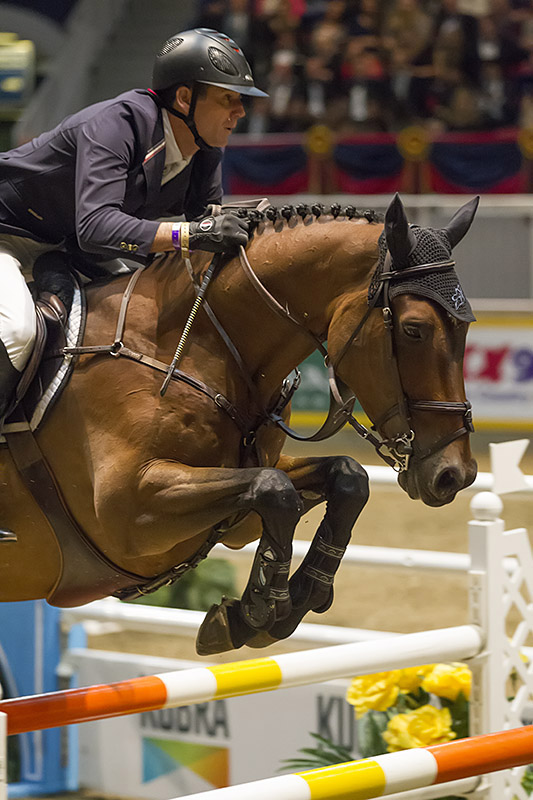 Switzerland's Beat Mandli and ZaZa Harvey came in
third in the $75,000 GroupBy Grand Prix.
Photo by Ben Radvanyi.com
Brazilian course designer Guilherme Jorge, back at the Royal for the first time since 2001, set an exacting and forward track for the Big Ben Challenge Grand Prix, including a diabolical six-stride line from a very rampy triple bar, to a stained-wood vertical that had been causing trouble all week. It took till mid-way through the class before the riders appeared to have figured out how best to ride forward to it, after trailblazer Ian Millar (Star Power) rode it extremely conservatively (and picked up a time fault for his caution).
The jump-off clustered fences at either end of the ring, necessitating more long gallops between fences. Apart from Philippaerts, Beat Mandli was the only other rider who managed to leave all the rails in the cups, and he did so only because he decided on a very careful clear for his green-to-grand prix 10-year-old, ZaZa Harvey.
Fowardness was also rewarded in the Saturday afternoon class, which paired each competitor with an agility dog. Run as a speed class, there were faults converted to time for both equine and canines and Springsteen, aboard the 10-year-old gray Dutch-bred mare, Zero, was lucky enough to be paired with last year's doggy winner, a Border Collie named Kung Fu Panda.
"That was a really fun class," said Springsteen afterwards. "The dogs were so cute, especially the Newfoundland who plowed right through the last jump! It's a real crowd-pleaser. We really love coming here, and this is part of the fun. I was actually third, if you go strictly by points and discount the contribution of the dog." (Canada's Christian Sorenson, riding Wriomf, an 11-year-old Dutch mare, delivered the fastest clear of the class, but was hampered in the final ribbons by his canine partner, an Australian Shepherd with something of an attention-deficit disorder.)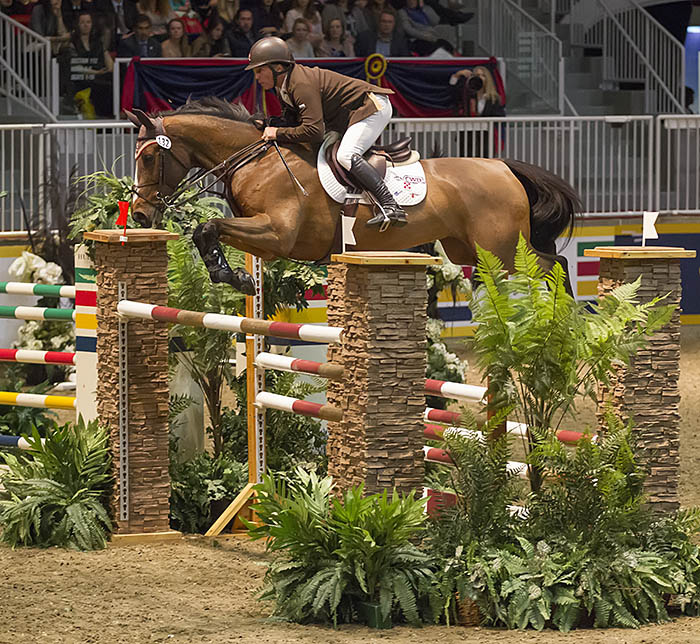 Todd Minikus and Quality Girl came in third in the $75,000 GroupBy Big Ben Challenge Grand Prix.
Photo by BenRadvanyi.com