With the dressage Nations Cup at the Aachen CHIO halfway completed, the U.S. team sits in second to a powerhouse German team. Steffen Peters on Legolas 92, Katherine Bateson-Chandler on Alczar, Shelly Francis on Doktor and Arlene "Tuny" Page on Woodstock edged out teams from Demark, Sweden and Spain to lie in second with 218.41 as a combined score.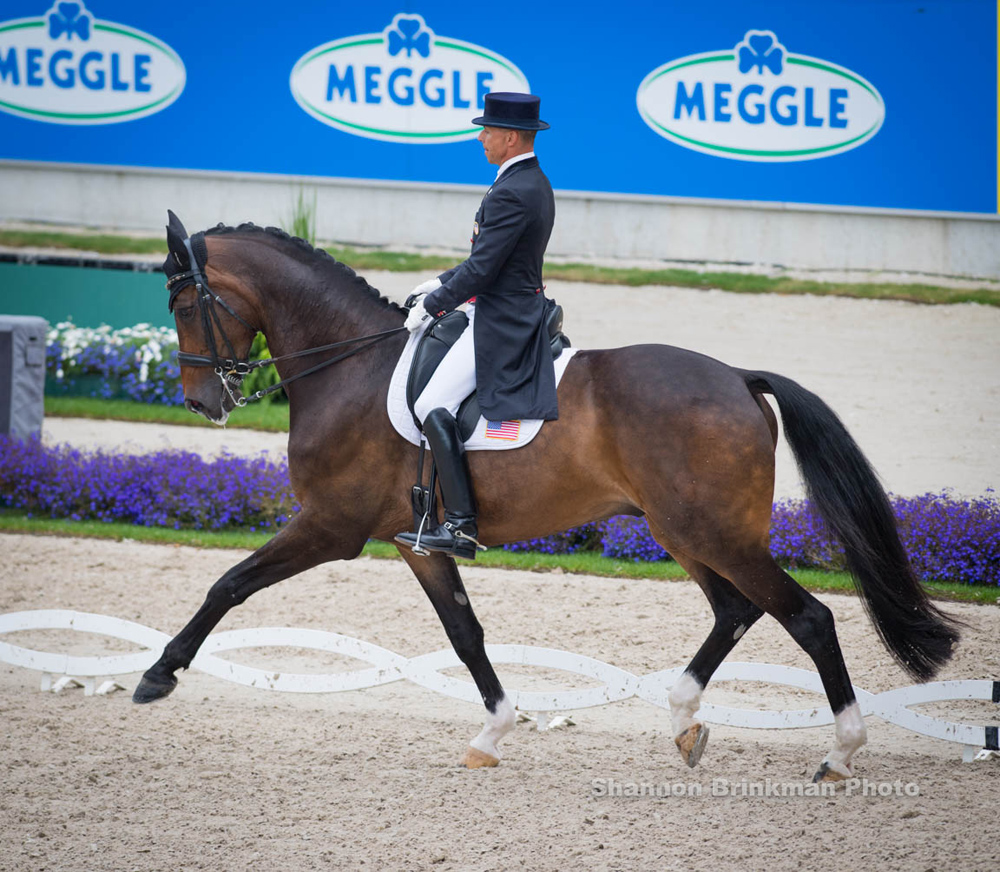 Steffen Peters and Legolas 92 on their way to fourth place in the Grand Prix. Photo by Shannon Brinkman
This year the Olympic format applies for the Lambertz Nations Cup of the dressage at the CHIO Aachen, the World Equestrian Festival.
So, the winners of the team competition are not decided until after the Grand Prix and the Grand Prix Special. Just like at the Olympic Games in Rio de Janeiro in August: Grand Prix + Grand Prix Spécial = team result.
Naturally, one shouldn't count one's chickens before they hatch, but after the Grand Prix, it certainly looks likely that Germany is going to win the Lambertz Nations' Cup this year after they took a sizeable lead in the Grand Prix with a combined score of 246.28 points.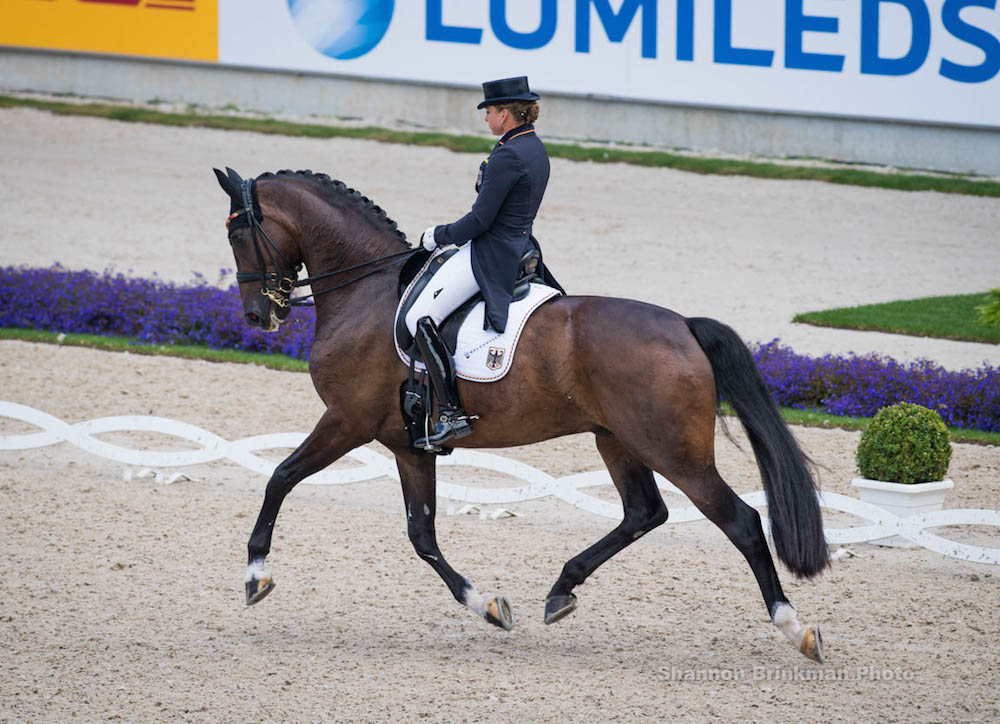 Dorothee Schneider and Showtime FRH scored an 80.70 percent to help Germany take the lead in the Nations Cup. Photo by Shannon Brinkman
Germany already has a virtually uncatchable lead in the team classification, ahead of the USA (218.41) and Denmark (214.24). Isabell Werth won the Grand Prix on Weihegold OLD with a 83.27 percent, but two other German pairs earned scores of over 80 percent in the Grand Prix as well, which is historic. The German trio of Werth, Kristina Bröring-Sprehe and Dorothee Schneider picked up first, second and third in the Grand Prix individually.
U.S. rider Steffen Peters and his Olympic mount, Legolas 92, claimed fourth individually with a 77.24 percent score.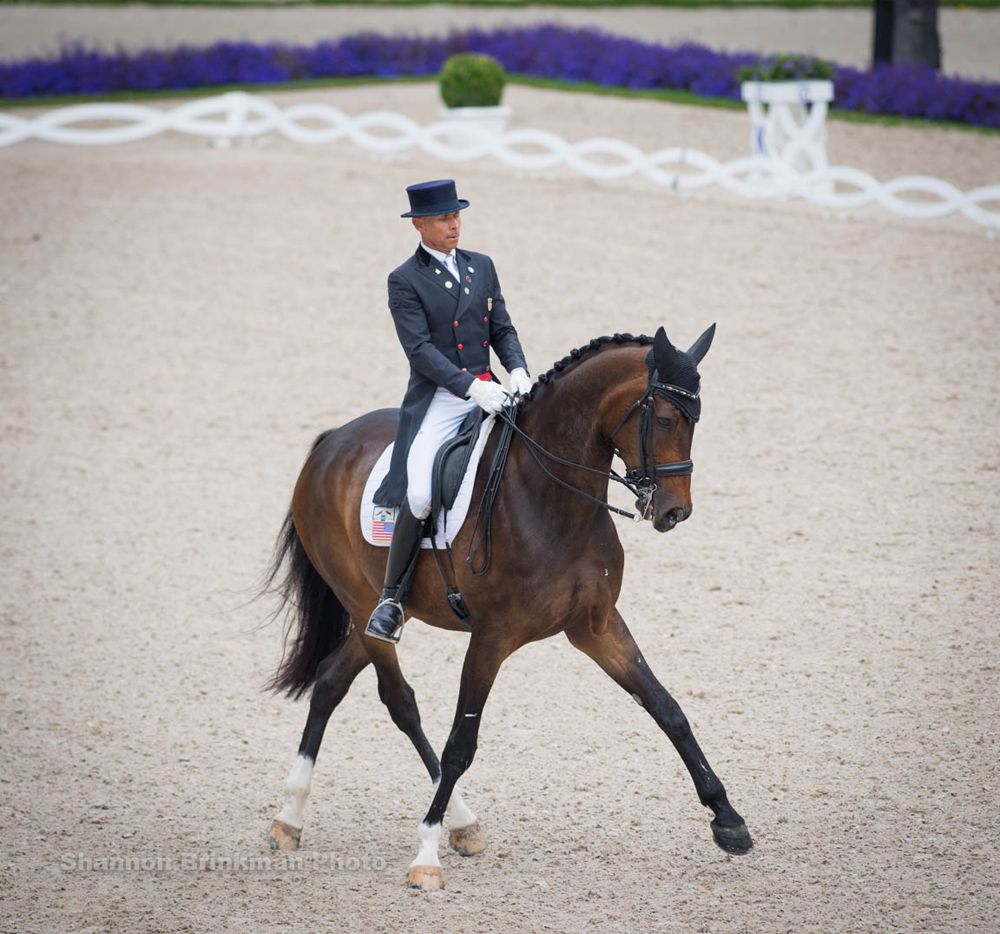 Steffen Peters on Legolas 92. Photo by Shannon Brinkman
So, it is no surprise that the national coach, Monica Theodorescu, said: "That was fantastic, a super outcome and nevertheless there is still room for slight improvement—things couldn't be better after the first day."
With "room for improvement", she was referring to the performance of the two youngsters in the team, Sönke Rothenberger, 21, and Cosmo, a 9-year-old. The pair gave everyone a fright in the morning when the horse suddenly wanted to stop in the middle of an exercise. But Rothenberger stayed cool and finished the test well after the incident. And it still sufficed for a score of 75.60 percent, i.e. fifth place in the overall classification. The national coach praised the young team member for showing such nerves of steel.
The three ladies in the team, Dorothee Schneider with Showtime, Werth with Weihegold and Bröring-Sprehe with Desperados delivered excellent results, particularly Isabell Werth, who not only won the Grand Prix, but also achieved a personal best result of 83.27 percent with Weihegold. Afterwards she beamed: "Aachen really is a special venue! And when things go so well, I am a bit touched…" Whether her mare was nervous because of the setting? "No, she is a lady, they love that!"
The European Championship silver medalist of Aachen 2015, Bröring-Sprehe was also happy and satisfied after her ride with Desperados, which was rewarded with a score of 82.31 percent, the second best result today. She asserted herself against the new German freestyle champion, Schneider with Showtime (80.70%).
Both riders, Bröring-Sprehe and Schneider, were on the silver-winning German team that competed at the Olympic Games in London in 2012. German officials plan to name their Rio team after Sunday's CDIO***** freestyle and in Rio the mission is: gold.
As Werth put it: "I think I can safely say that we have an extremely strong team that is certainly in a position to fight for gold."
See full results from Grand Prix and from the full Aachen CHIO.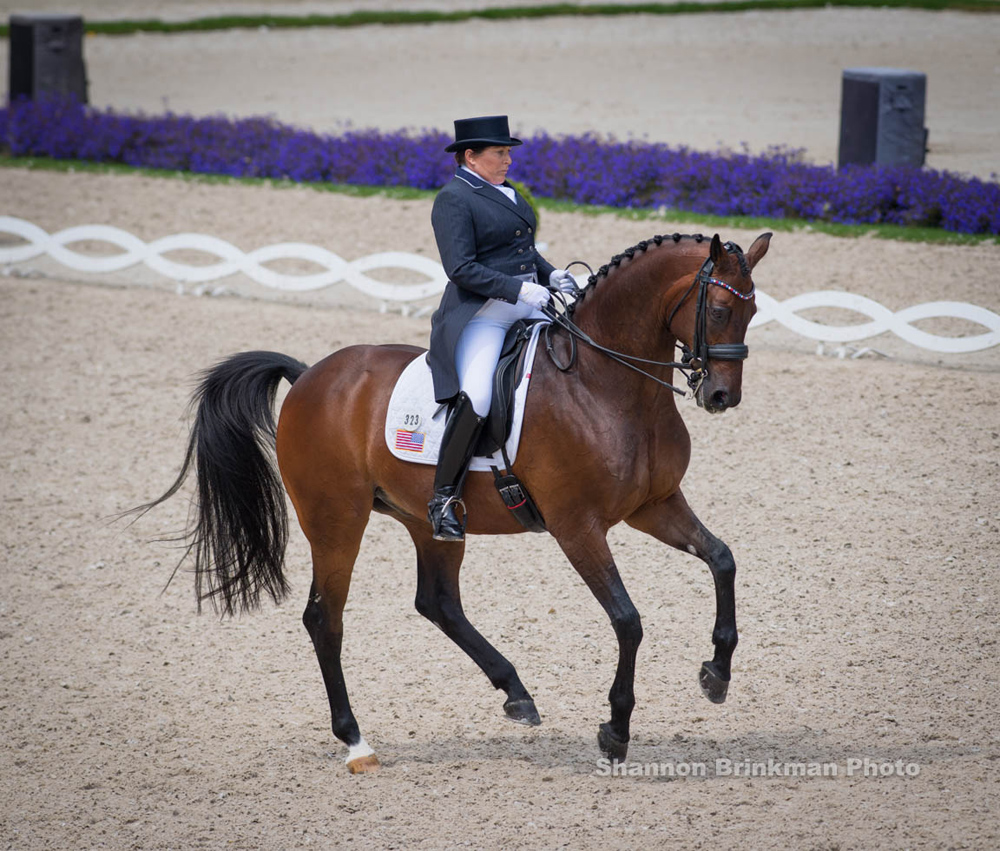 Shelly Francis on Doktor scored 72.20 percent for 12th in the Grand Prix. Photo by Shannon Brinkman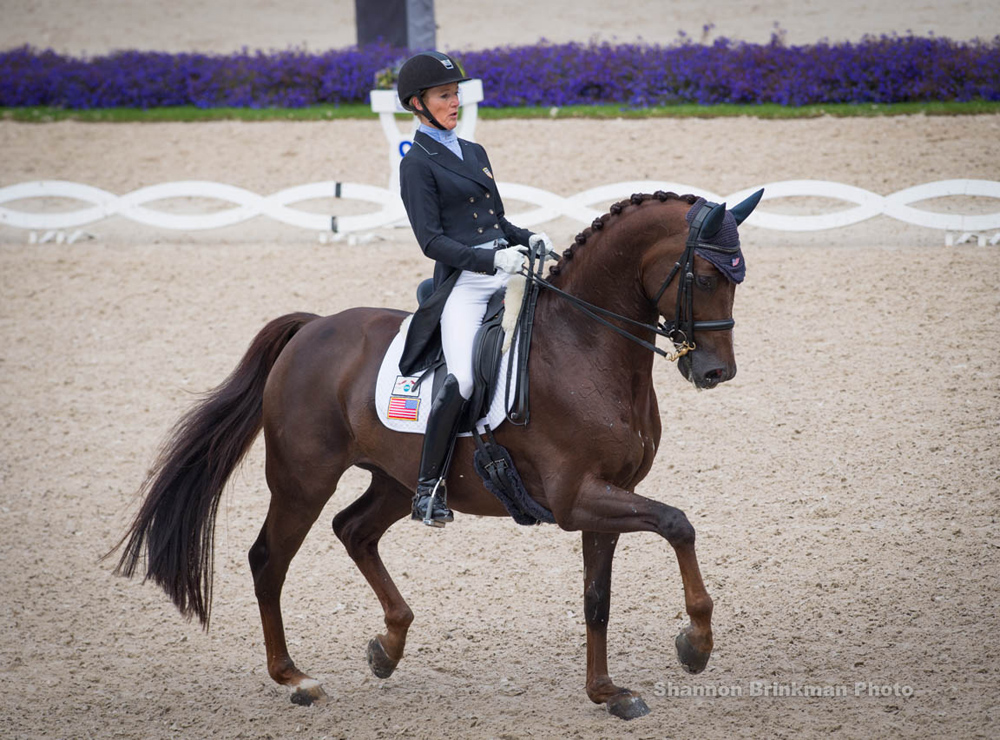 Tuny Page and Woodstock scored 68.97 percent in the U.S. team's second-placed effort. Photo by Shannon Brinkman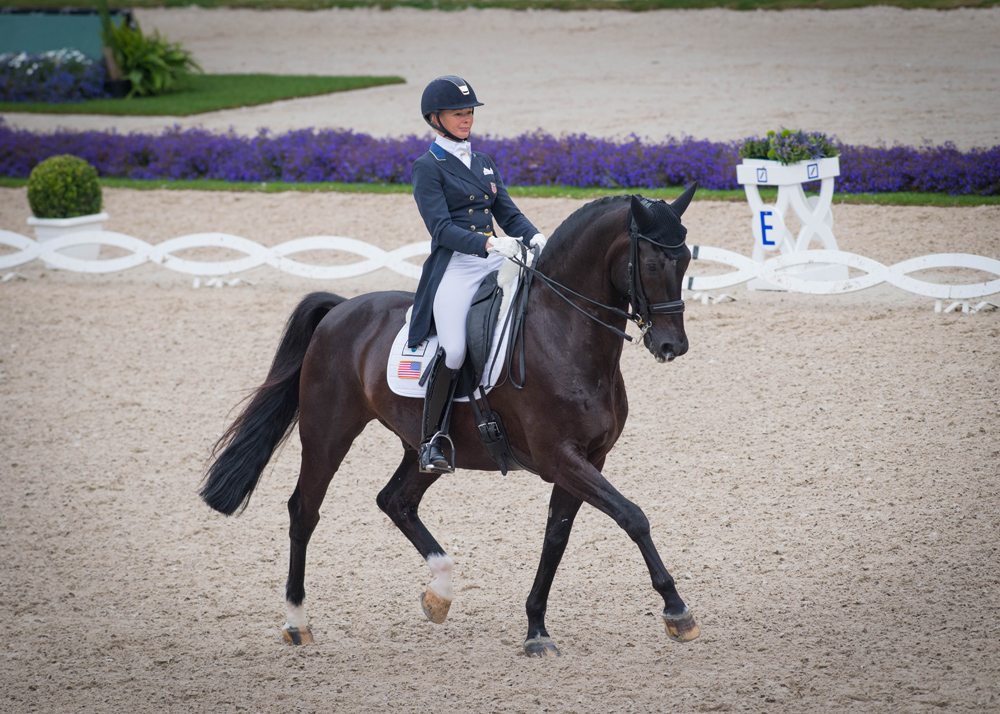 Katherine Bateson Chandler and Alcazar's score of 66.31 percent finished in 32nd individually and was the U.S. team's drop score. Photo by Shannon Brinkman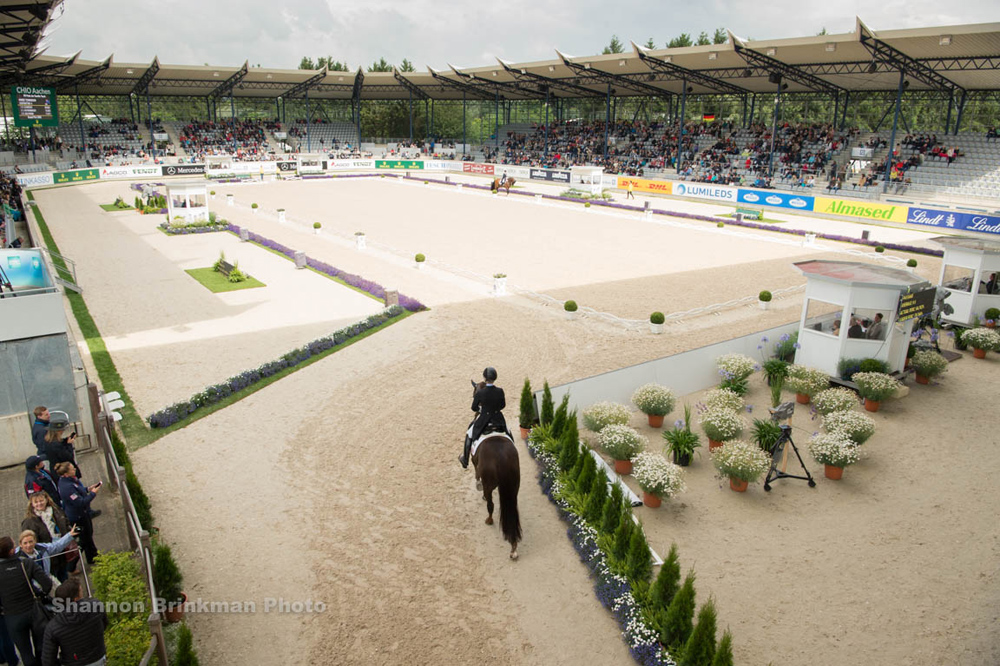 The dressage arena at the Aachen CHIO. Photo by Shannon Brinkman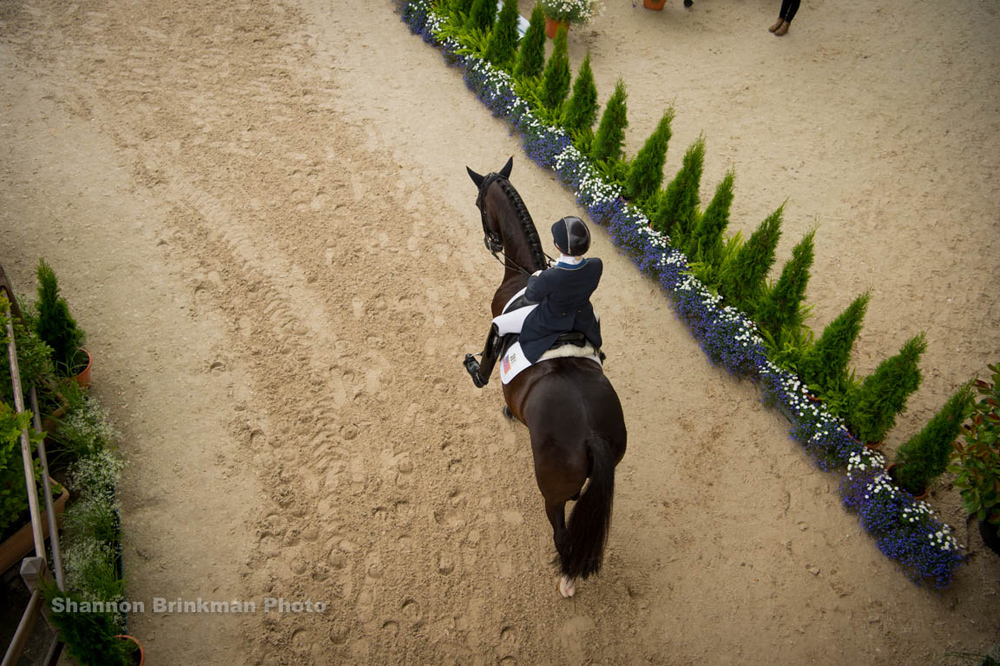 Katherine Bateson Chandler on her way into the ring at the Aachen CHIO. Photo by Shannon Brinkman