The hard-working junior leads from start to finish for the prestigious title.
Kimberly McCormack finished the day of the Pessoa/USEF Medal Finals much the same way that she finishes most horse shows—grooming and wrapping her horse, packing her trunk, and preparing to ship home.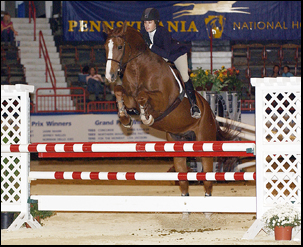 This trip was a little different, however.
McCormack could replay the events of the day, Oct. 21 in Harrisburg, Pa.—the day she won the Pessoa/USEF Medal Finals.
McCormack, 17, led from start to finish over two rounds and a test, besting the largest field in the history of the competition—292 starters.
"She just kept winning," said Geoff Teall, who judged the class alongside Julie Winkel. "I thought her first round was fantastic. I thought her second round was equally fantastic. She had all the pressure in the world on her in the test, and she held on and did great. That was hers to lose, and she won it."
McCormack follows in her sister, Kristy's, winning footsteps. Kristy won the BET/USET Show Jumping Talent Search Finals-East (N.J.) in 2002. "Kimmy" was fourth in those finals this year. Both girls grew up riding with their mother, Allison Wren, who runs a small barn in Clermont, N.J. Kristy went on to train with Frank and Stacia Madden, while Kimmy approached Missy Clark and John Brennan in 2004 for guidance.
"I saw her ride at Devon [Pa.] a few years ago, and she and the horse were both very green, but I immediately saw some real potential in both of them," Clark said.
Kimmy rode Sundance, 11, to the Medal Finals title. The lanky chestnut had come to her mother's farm as a sale prospect four years ago, and they recognized his potential.
"They totally made that horse from scratch," Clark said. "And he lives at home with them, and they take care of him themselves."
Kristy, who worked as an assistant trainer for Clark, wasn't able to witness Kimmy's victory since she now works and rides in Belgium, but she planned to travel back for the ASPCA Maclay Finals (N.Y.) on Nov. 3.
"I have to give a tremendous amount of credit to Kristy," Clark said. "She had a great deal to do with training Kimmy, and then they approached me and we started working together. It's been a nice arrangement. Kimmy has a great work ethic."
Round 2 Shakes It Up
Kimmy had to wait until 252nd in the order of go for Round 1, but she didn't mind.
"I've gone late a few times here; I got to watch and relax and really know the course and prepare for it," she said.
Until Kimmy went, Jessica Springsteen, 14, had led the standby since her go as 40th in the order. But Kimmy's round stood out.
"I know my horse so well. It was a great course for him so it worked out well," Kimmy said. "He loves to go left, and a lot of the bending lines were to the left. He has a big stride, but he comes back very well, so a lot of the straight adjustment lines were easy for him." (See sidebar for course description.)
The judges called back 29 for Round 2, in reverse order of standing.
Addison Phillips returned 13th, but after she turned in a stellar round she moved up to sixth for the test. Shelby Wakeman also moved up in Round 2, putting in a forward, bold ride after coming back in ninth. The judges called her back for the test in fourth. Hannah Selleck also shone in Round 2, moving up from eighth to third for the test.
Springsteen, Colts Neck, N.J., knew she had to impress to regain the lead from Kimmy, and she took a chance in Round 2. She came out of the corner and struck up a good gallop to a single oxer on the diagonal. Nothing ventured, nothing gained. But the plan backfired when the distance didn't come up, and her horse stopped, taking her out of the running.
Kimmy turned in an elegant and flowing Round 2, keeping herself on top.
The Final Test
For the test of the top six, Teall and Winkel broke with tradition and didn't ask the riders to change horses.
"We wanted to get away from the switching of horses that happens at almost all the finals now. I think we're getting away from giving the riders a chance to show their training and nerves," Teall said.
The test asked riders to hand gallop a single oxer across the diagonal, then counter-canter around the short end of the ring to a vertical out of the corner. Then, in a six-stride straight line toward the in-gate, they performed a simple change of lead through the walk and cantered an oxer. From there, they trotted both fences 1 and 2, the four-stride first line (with the oxers now small verticals). They finished by counter-
cantering around the short end of the ring again to fence 9AB, halting, and walking out of the ring.
"We wanted to test a lot of flatwork and transitions and see how thorough their flatwork education and basics were," Winkel said of the demanding test.
Phillips, New York, N.Y., returned first, in sixth place. She had difficulty confirming the first counter-canter.
Jacqueline Lubrano, Glenmoore, Pa., in fifth, walked to get the counter lead in the straight line but was never able to establish impulsion in the canter, and her horse stopped at the oxer—she came off over his head.
Wakeman, Westlake Village, Calif., in fourth, had a good test, but she tried to get to the last counter-canter with flying changes, and her horse insisted on swapping back to the true lead multiple times.
Selleck, Thousand Oaks, Calif., in third, put in a lovely test, performing all of her transitions to counter-canter through the walk to move up to second place.
"I was nervous because my horse has just started doing the equitation this year, and this was his first indoor competition," she said.
"I tried to keep him relaxed. I wanted to start out nice and bright to the first fence, and then he's good at holding the counter leads, but not at doing flying changes to get them, so I knew I had to set up for a change through the walk."
Tina DiLandri, La Jolla, Calif., had been in third after Round 1 and moved up to second in Round 2. She rode an accurate test and also chose to execute simple changes to the counter leads. But her hand gallop to the first oxer was conservative, leaving her third.
"My horse is just 7 this year, so he's still learning. He's the same as Hannah's horse—he holds a counter lead great, but I knew I should do the simple changes to get the counter lead," DiLandri said.
"He got a little fussy in the mouth today—I think my nerves were coming out. It's been a great indoors for me, especially because last year here I crashed through almost all the fences!"
It was Kimmy's class to win or lose, and she put in a flawless test, also choosing to get the counter leads through the walk.
---
An Innovative Course
Judges Geoff Teall and Julie Winkel used an unusual concept for the two rounds of the Pessoa/USEF Medal Finals. For Round 2, they used the same track as Round 1 but changed the jumps.
"We wanted to see if the riders understood how to ride different types of jumps, and how a similar line would ride if the jumps were different. It was fun for us to see how that worked out," Winkel said.
"I find that when kids walk a course, they just walk the number of strides—they never talk about the jumps," Teall explained. "I think course designers sometimes set courses without giving the types of jumps enough thought. It's a hard class to build for—we were trying to make it comfortable for the majority of the riders, but we also wanted to separate the best ones and test them."
In Round 1, riders started out down a vertical-to-oxer line along the long side of the ring, in front of the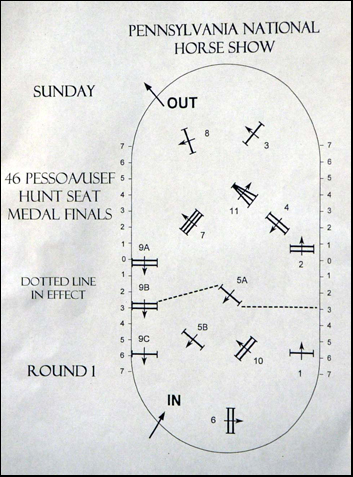 judges. The line rode in a forward four strides, and both the jumps were white rails with rolltops and brush.
From there, they rode a snug five-stride bending line to the left to a vertical of three birch rails, set in short standards without a ground line or filler.
From there, they negotiated a tight rollback to the right in the short end of the ring and jumped a square oxer out of the corner, the first element of a diagonal line across the ring toward the in-gate.
A long four or tight five strides after the oxer was a tight two-stride combination of airy plank verticals, headed directly to the in-gate.
Riders then made a short turn—five bending strides—left and away from the in-gate and jumped a narrow natural coop set at the end of the ring.
Then was a long gallop out of the corner and across the diagonal to a triple bar of natural rails, filled with straw bales and brush, giving riders a chance to show off their eye and boldness. But from there, riders had to complete another tight 180-degree rollback at the end of the ring back to a narrow vertical of blue, white and yellow rails set on short standards.
Then, they accelerated down the long side of the ring over a triple combination of Swedish oxer-Swedish oxer-vertical, going right toward the in-gate. After cantering around the end of the ring, they jumped an unusual Swedish oxer—a large oxer of crossrails—with no filler or ground line.
Then, they finished in a gallop on a bending line of 10 or 11 strides to the last jump, a fan oxer of white rails.
Round 2 followed the same path as the first round, but the fences changed.
The first four-stride line became an oxer-to-oxer of airy birch rails, with a bending five-stride line to a single hanging birch rail. A quick rollback, and the former oxer at fence 4 was a vertical, and the same five- or four-stride option existed to the two-stride in-and-out, now two square oxers.
The same quick left turn to the coop followed, then the turn out of the corner with a long run across the diagonal to a simple square oxer where the triple bar had been. A rollback led to a narrow square oxer of colored rails. The triple combination became a ramped oxer to a vertical, to a ramped oxer. The last line was a fan oxer out of the corner, then a right-hand bend to a Swedish oxer.
The riders responded well to the changes.
In the first round, most competitors rode the tight five strides from the oxer to the two-stride plank vertical combination, while in Round 2, the four strides to the two-stride of square oxers was the popular choice.
"You definitely took into account when they changed a plank vertical to an oxer—obviously, you're not going to run to a two-stride of plank verticals, but when they made it a scopey oxer-to-oxer, it gave you the option to ride it forward in four strides. I think they wanted you to show that you knew the difference," said winner Kimberly McCormack.
"We were also trying to tie in the idea of a Nations Cup format—coming back over the same track," Teall said. "I think it's a good experience for them, and we need to promote the kind of riding that will go on to international riding."
Molly Sorge