Gladstone, N.J.—May 21
Watching Adrienne Lyle and Kasey Perry-Glass before the awards ceremony at The Dutta Corp. U.S. Dressage Festival of Champions, you'd never know they were Olympians. They're taking pictures, hugging one another and kissing their horses' noses.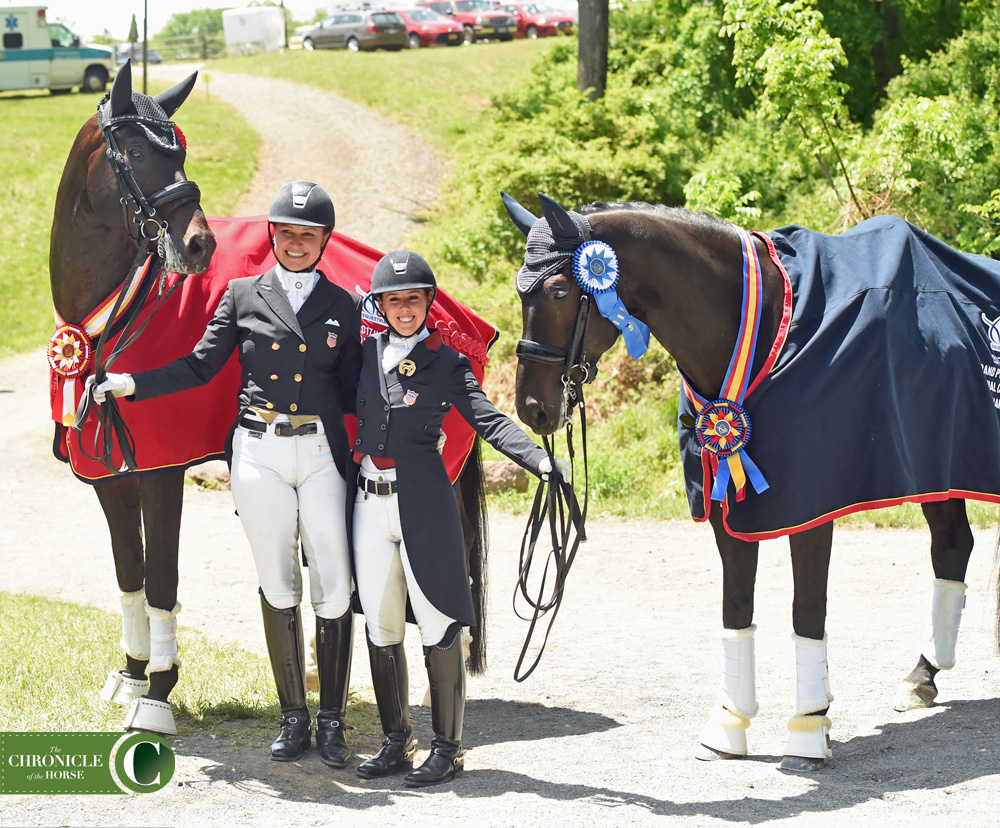 They both train with Debbie McDonald so they share in each other's successes and act as cheerleaders for one another when things don't go as planned. And that camaradierie follows them even when they're competing against one another.
"We absolutely root for each other 100 percent," said Lyle.
"I think when we're in the warm up ring we're always keeping an eye on each other," said Perry-Glass. "And if we see something that looks really good just kind of encouraging each other in the warm up. You'll see us following each other into the ring. It's really important to have friends like that, especially when you're competing against them."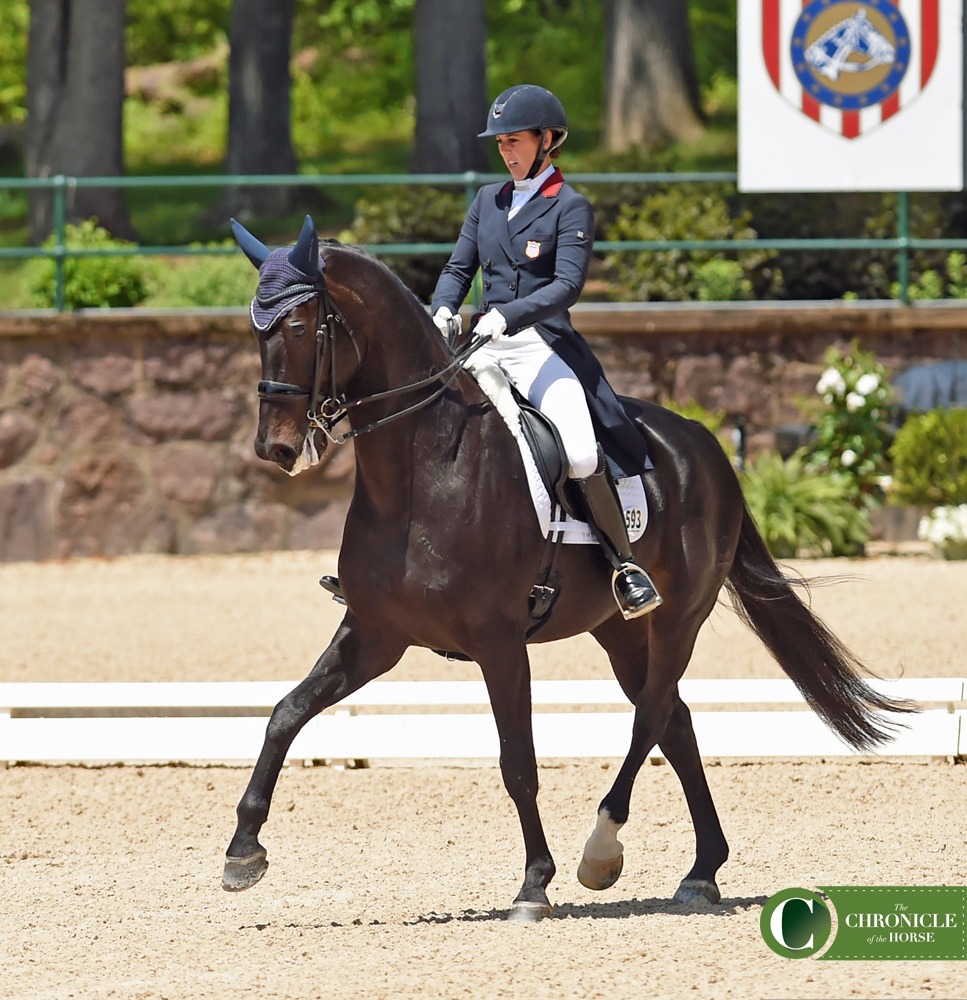 That encouragement helped Perry-Glass especially, who felt she didn't have the best week with Goerklintgaards Dublet. The pair won the Grand Prix but costly mistakes in the Grand Prix Special diminished their lead for the USEF Grand Prix Dressage National Championship. They rallied some for the freestyle, scoring a 73.32 percent to give them the win.
Lyle was the big winner in the freestyle with Salvino and their freestyle score of 76.32 percent boosted them to the reserve championship. Another McDonald protégé Olivia LaGoy-Weltz and Lonoir took third.
"This whole entire show was really not our best show, but you kind of need those," Perry-Glass said. "Especially, this is our second year at Grand Prix, and our first year was kind of a whirlwind. We're picking on the small stuff and sometimes it all gets a little dysfunctional when you're picking on the small stuff.
"Today I was really working on keeping my eyes up," she said. Something judge Gary Rockwell was quick to jump in and say didn't happen.
"I was like I'm going to stare them in the eyes," Perry-Glass said with a laugh, "and trying to make it a pretty clean test and that didn't happen either."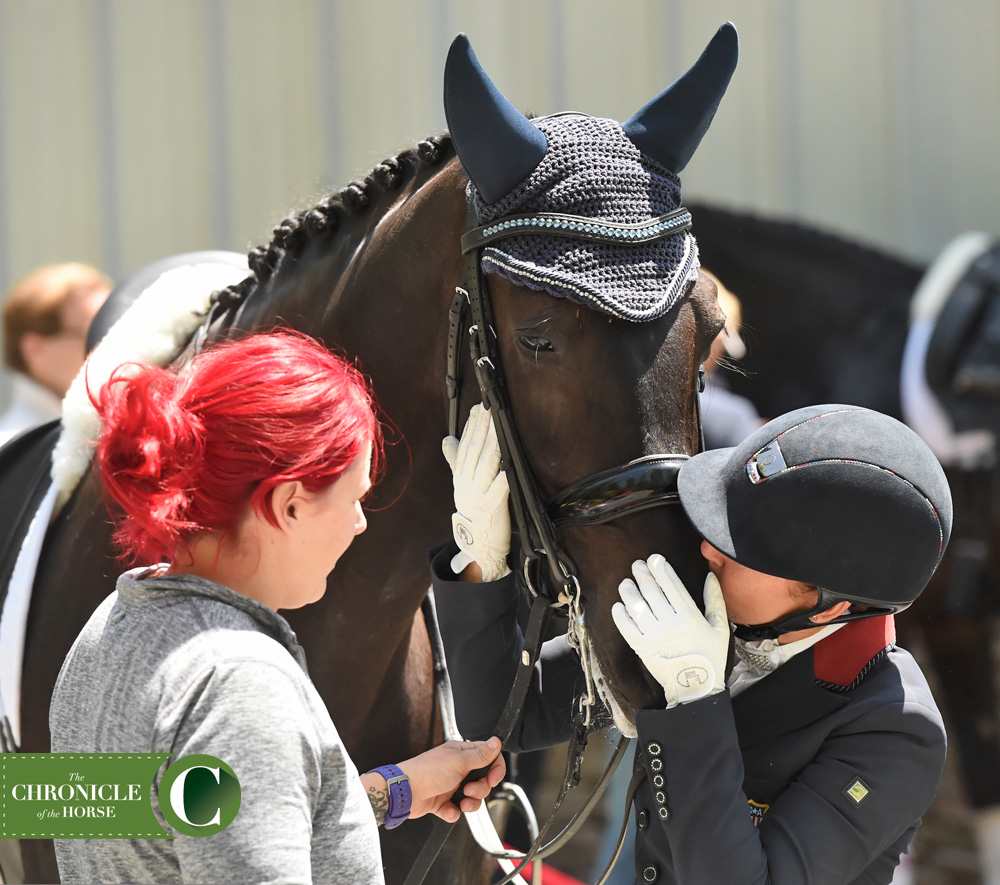 For Lyle, Salvino's set a high standard for his future freestyles. This was the stallion's first freestyle, so she borrowed her 2012 Olympic mount Wizard's music and edited it to fit Salvino's stride.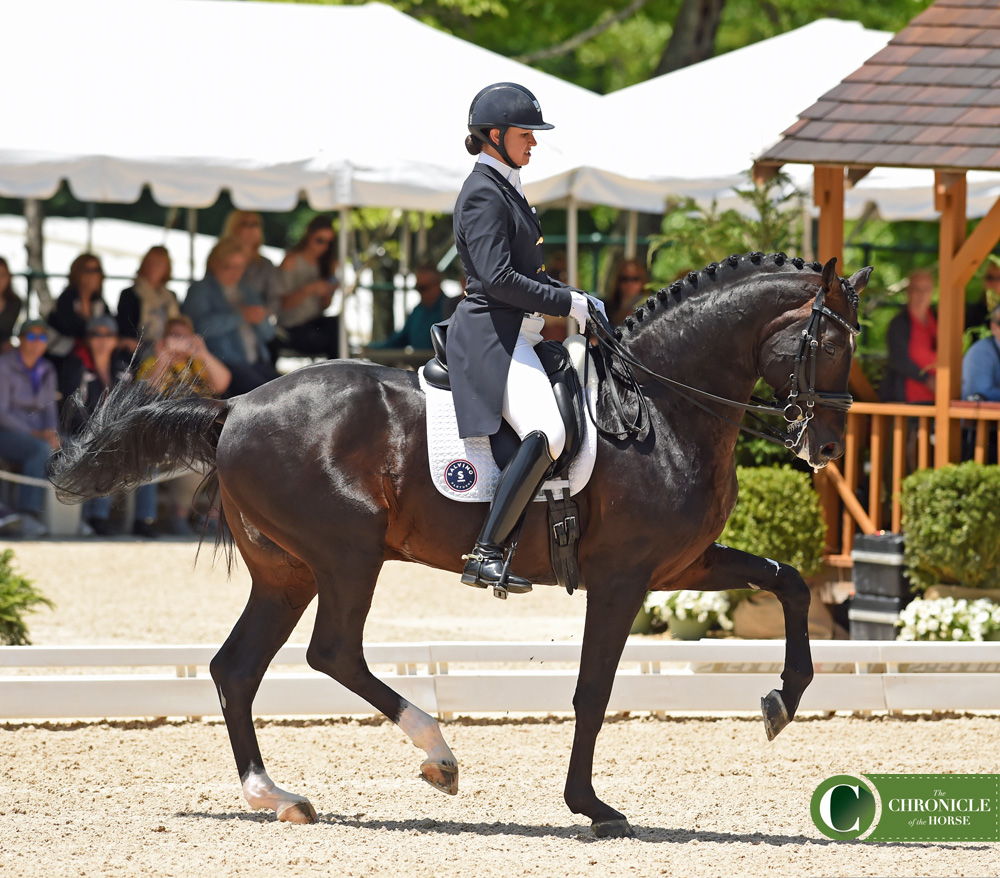 "Terry Gallo did a great job with me calling, of course at the last minute, saying 'Help me! I've got to go to Gladstone! I need a freestyle!' " she said. "I love that music. I've ridden it for years on Wizard.
"It's really fun music. It draws the audience in, and I was thrilled with how Salvino handled it," she said. "I didn't know what he was going to be like with the music and the crowd. There's a lot of stuff happening, and we haven't really practiced the freestyle because we've been focusing on the Grand Prix."
Horizon Soars
Earlier this week Lyle was described as an overachiever, and she followed through with it, topping the USEF Intermediaire 1 Dressage National Championship with Horizon and taking third with Harmony's Duval.
After having a mistake during the Prix St. Georges, Horizon sat fifth. A win in the Intermediaire 1 brought her to third and her freestyle score of 75.50 percent sealed the deal.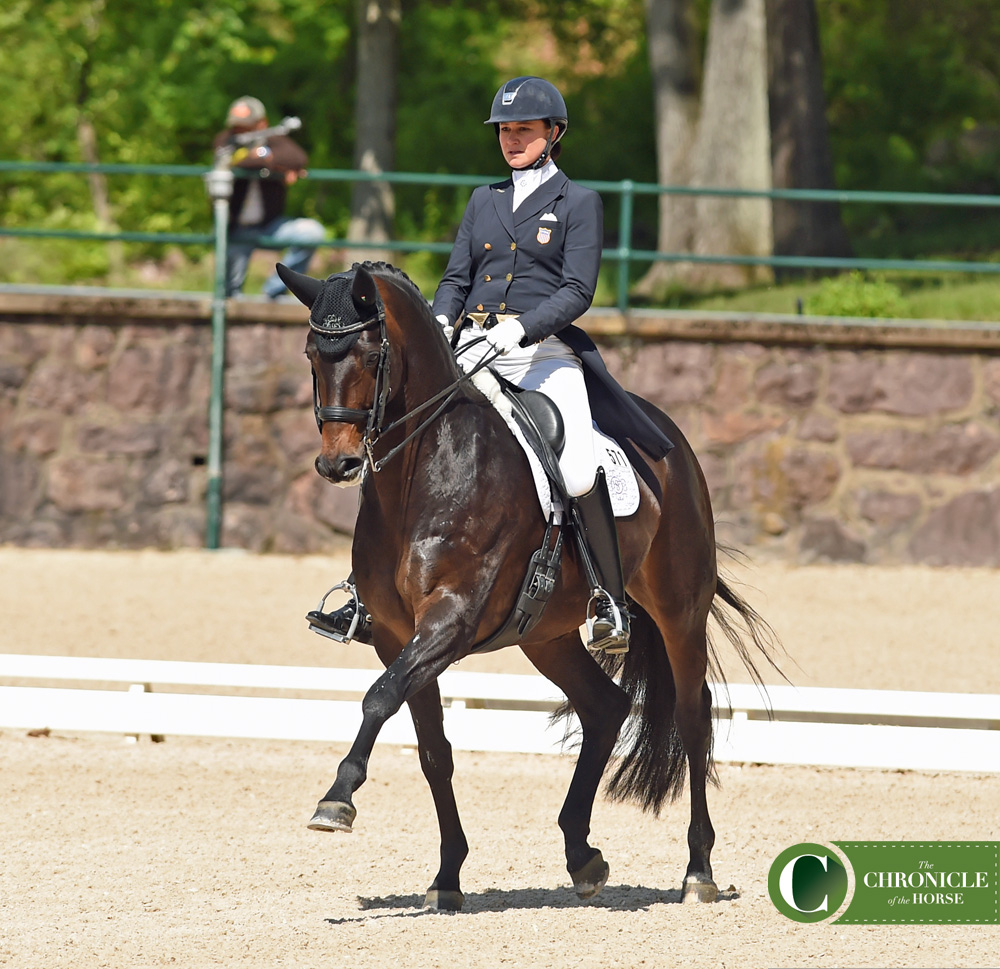 "That was a really fun one too," she said. "That mare is so fun in the ring. She loves to get out there and perform, and when she's on you just kind of sit there and pilot her through it. She's so sensitive, and she's such a sweetheart and tries so hard. I think that was our personal best score for her and that was really fun. I borrowed that music from Katherine Bateson, so thank you Katherine."
After this all of Lyle's horses will get to take a break before heading to Europe to compete later this summer.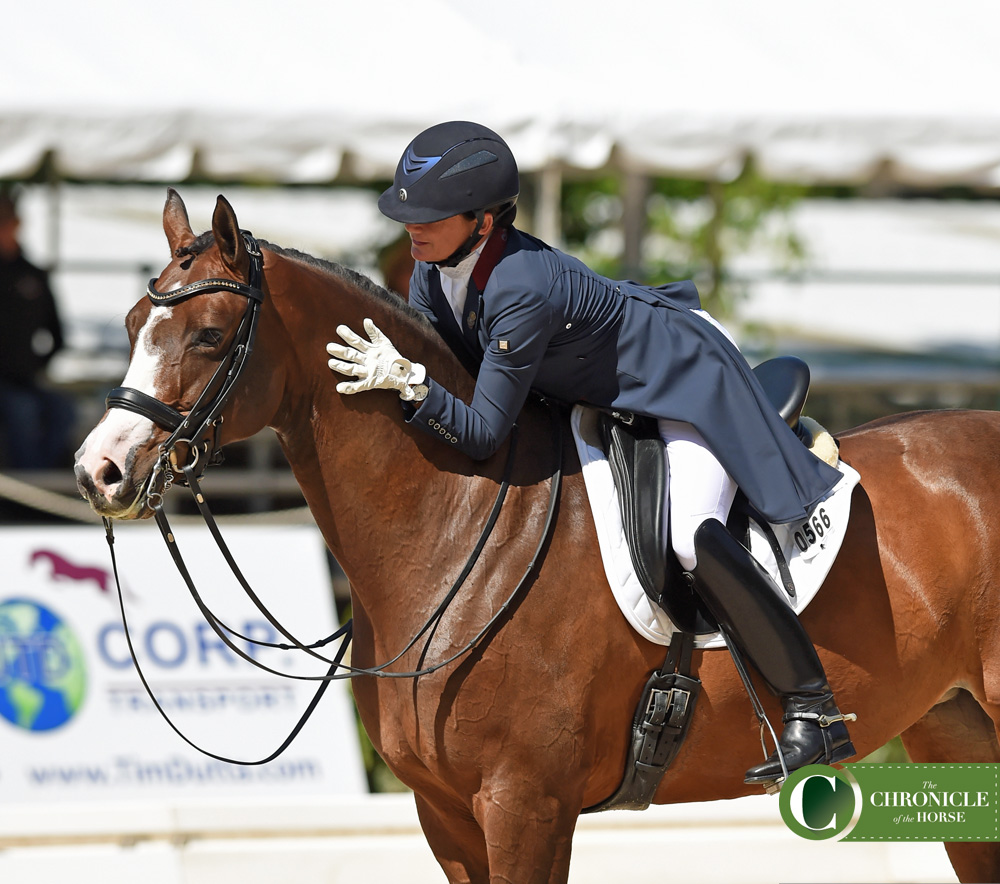 Jane Cleveland rode her final step of small tour with Monique, so it was only fitting that they left Gladstone with the reserve in the Intermediaire 1 championship.
"My ride was so much fun," said Cleveland. "We did better today than any freestyle we've done. It's the last time we're going to ride it, so we went for it, and she was super. She was better than she's been all week. We actually made a lot of training progress at this show, and it was a super test."
Cleveland's music was inspired by the pure barre class she participates in, and Monique danced in to the "Genie In A Bottle."
"I had a friend that sent me a text last night, saying 'Oh my gosh they played your music at pure barre today, it's an omen,' " Cleveland said.
See full results here.
To see all of the Chronicle's coverage from the Festival of Champions, click here. And make sure to read the June 5 issue of The Chronicle of the Horse (which is also the annual Dressage Issue!) for more in-depth coverage from the Festival.