Catalina Peralta's equitation career has been plagued by bad luck with horses over the past few years, but she's persevered through a series of unfortunate situations.
As an elite equitation rider—she won the THIS National Children's Medal Final when she was 12—her connections always tried to make sure she was well mounted to give her the best chance at placing well, but as the daughter of professionals, she didn't have an unlimited budget. Still, her positive attitude, friendly demeanor and willingness to work hard meant that, over the years, others went out of their way to help her find rides, which paid off at this year's National Horse Show in Lexington, Kentucky, where the 18-year-old finished as the reserve champion at the ASPCA Maclay Finals.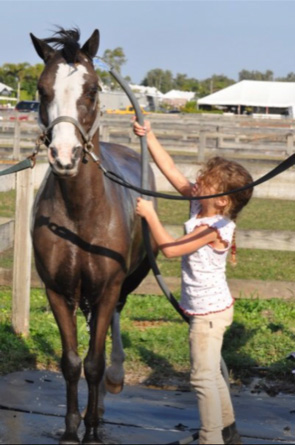 For most riders, not having a steady mount throughout their equitation career would be a deterrent, but not for Peralta. Her parents Wendy and Ezequiel Peralta run Sea Breeze Farm in Geneva, Florida, and she grew up throwing a leg over anything and everything, as well as working in the barn helping to keep the operation running.
"The majority of my junior career has been catch riding," said Catalina, who also rides jumpers with John and Beezie Madden. "My parents run a sales barn as well as training. When no one's at the farm and my mom needs a video of the 3-year-old going around the grass field, guess who's getting on: It's me. That experience is priceless."
The Curse Begins
Catalina's streak of bad luck started at the 2019 ASPCA Maclay Finals. Her horse came out of his stall to warm up for the class lame, so her trainer Stacia Klein Madden and the crew from Beacon Hill sprang into action to prepare a backup horse for her.
Peralta was granted permission to move down in the order, and the backup horse took a quick spin on the longe line while braiders gathered to quickly plait him before the class. Catalina put in a spectacular round on that horse, whom she'd never ridden, and was called back for the flat phase in good position. When the Beacon Hill team realized he had his hunter bit on rather than his equitation bit, they swapped bridles to his usual pelham. But by the time he went in the ring for the flat, the horse hadn't had it on long enough to acclimate to the bit and got his tongue over it in the second direction, causing Catalina to struggle with required flying lead changes. She moved down in the order and came back early in the second round.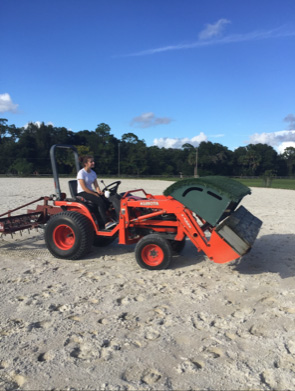 "She had another amazing round," said Stacia. "You just knew if we had kept the same bit, or luck hadn't gotten in her way, and he hadn't gotten his tongue over the bit, she would have gotten a ribbon that year."
The next year, her mother missed the deadline for Maclay entries because on the due date she was focused on Catalina's equitation horse, who had to be rushed in for emergency colic surgery. The Maclay was oversubscribed, so Catalina couldn't get in late. One of the only ways she could compete was by getting a top-10 ribbon at the Dover Saddlery/USEF Hunter Seat Medal Final. But with her equitation horse recovering from surgery, she again was horseless.
"One of our generous customers, the Yarbroughs, allowed their horse to get leased for her to use at Medal Finals," Stacia said. "She used him in the first round of Medal Finals, but he got super sick after Round 1 with a rare kidney issue and had to get rushed to the hospital."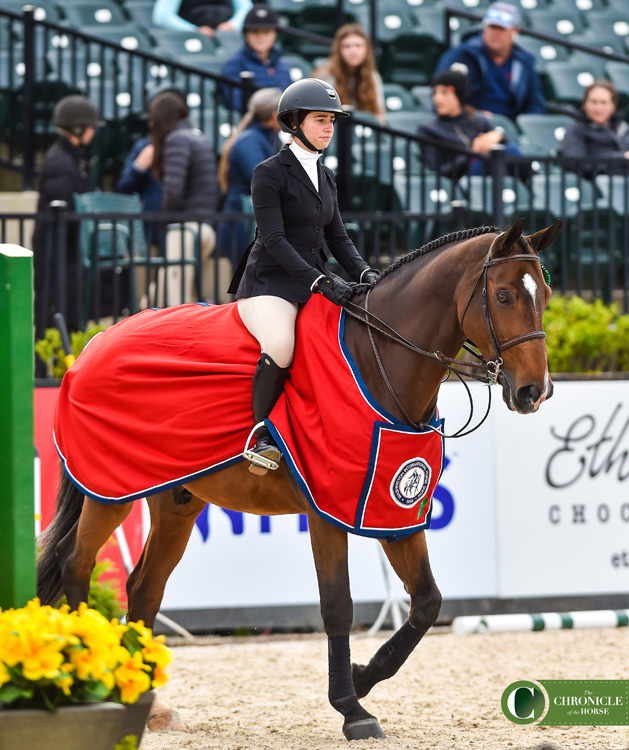 Her concern for the horse was mingled with disappointment for herself: Her hopes of gaining entry to Maclay Finals were dashed, so she looked ahead toward 2021.
This year, her parents were determined to have a cache of equitation horses so she could have a good chance at the Finals. They purchased a promising young horse, H Zambaccio, who showed well at the start of the season, and Catalina looked forward to having him to show during finals time once he gained more experience. But that horse died suddenly and unexpectedly while trailering.
"I was devastated," said Catalina. "I loved that horse, and we really believed in him. We thought he was going to do incredible things, and he probably would have. My parents have always taught me to be very positive and look on the bright side of things so even though there was this devastating event that occurred my mom said, 'At least he wasn't suffering for a long time.' I tried to focus on those silver linings and proceed."
The Generosity Of Friends
Meanwhile, some of her parents' clients at Sea Breeze, the Bakker family, let Catalina show their horse Griffins van d'Heyboght, whom she'd been riding for many years, and they started thinking about using him for one or more of the finals. But that horse colicked in September, and when the recovery went poorly, he was euthanized.
In addition to the fretting over the string of tragedies endured by her daughter, Wendy also worried that, heading into Finals season, Catalina's life had changed dramatically. She entered the University of Georgia in August, which meant going from riding five or six horses a day alongside Wendy and working at the farm to focusing on school and riding two hours or so a week. But those two hours a week were stringent training with the UGA's riding program, and Catalina felt her flatwork improve as she practiced sophisticated maneuvers and patterns without stirrups.
With the Platinum Performance USEF Show Jumping Talent Search Finals—East (New Jersey) approaching in October, the Peraltas and the Beacon Hill team were scrambling to find a mount for Catalina. The Talent Search requires a specialized equitation mount who can jump 3'9" and clear open water, so options were even more limited. Beacon Hill finally narrowed it down to one horse. But that plan went out the window right before the competition.
"He was working on Thursday before [Talent Search Finals] in the indoor ring and had a freak accident where he fell into the wall accidentally, lost his balance in a weird way and caught his stifle on one of the beams of the indoor ring," Stacia said of the horse. He was out for the show, though he went on to make a full recovery.
Catalina was studying in her room in Georgia the day before she was supposed to leave for Talent Search Finals when her mom called to tell her that the horse had been hurt in a riding accident. So Catalina shut down her computer, quickly packed a bag and headed to the airport a day early to get up to Beacon Hill in Colts Neck, New Jersey, and try a different horse at 7:30 that night.
In the end Karen Healey, Quentin Judge and McLain Ward all offered her horses, and Catalina ended up catch-riding Ward's Sprinkles, finishing eighth. Catalina also earned the sportsmanship award there.
In a twist of fate, fellow equitation rider Gigi Moynihan found herself in need of a new mount the morning of Talent Search Finals when her horse refused to jump the water in the warm up. While Catalina and Moynihan were just acquaintances, not close friends, Madden and Catalina offered Moynihan the other two horses Catalina had tried, and Moynihan selected Judge's horse to ride.
"She ended up doing really well too," said Catalina. "It warmed my heart to be able to aid someone. The horse still got the opportunity to show—it was the horse's first equitation finals—and it was a great experience."
In early September Wendy and Stacia had secured a horse for Catalina for the Medal Finals, the WIHS Equitation Classic and Maclay Finals: Clover. Stacia had suggested Clover, a horse Catalina had ridden a bit during the Winter Equestrian Festival (Florida). Wendy admitted she wasn't sure about the match at first.
"Stacia said, 'I feel like Clover can do it,' " recalled Wendy. "They really formed a great relationship, and Stacia was 100 percent on target."
Catalina tacked up Clover, owned by Sail Horse Investments, for Medal Finals, finishing 10th, and when she went to WIHS Equitation Finals in Tryon, North Carolina, she finished sixth.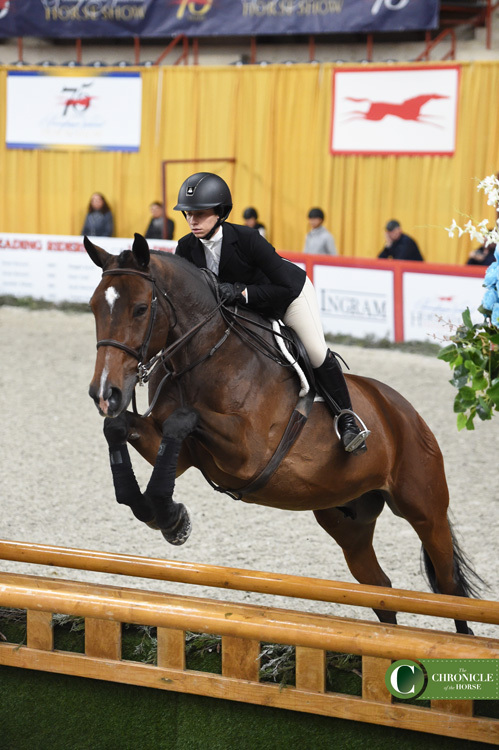 Getting Her Due
At Maclay Finals she tacked up Clover again, starting strong and moving up from third to second on the flat, thanks to the challenging flat lessons she'd been taking as part of UGA's team. And after a second round and a no-stirrups test—where Catalina's habit of dropping her stirrups for at least 15 minutes a day paid off—she finished as reserve champion.
"Maclay Finals has always been one of my favorite finals, and I really missed out last year—I missed participating quite a bit," she said. "So going into Maclay Finals [this year], I just wanted to finish out my junior career in the best way possible. For me the best way isn't way isn't the best ribbon necessarily, I just wanted to enjoy the process with the people around me. I tried to soak every moment in as much as possible and absorb as much information at my last show as possible.
"I never went into a finals thinking that I had to create this unattainable goal in my head of perfection," Catalina added. "I just really wanted to produce solid good riding rounds and enjoy my horse. Keeping my mindset really helped me appreciate where I was. These are incredible events we're so privileged to get to compete in. You can become so casual about it, people don't [remember] how crazy it is you're there competing at an amazing event."
Despite her difficulties over the past two years, Catalina hasn't grown jaded about the sport.
"It made me a better rider to not have everything go perfectly and ride a wide variety of horses," she said. "Trying to make a variety of horses look seamless is a fantastic tool young riders can use in their professional lives.
"Young juniors that aren't necessarily super wealthy shouldn't be deterred [from trying equitation]; they shouldn't be deterred if they don't have a specific body type, or ride a certain way. Equitation will make you better no matter what regardless of what your background or circumstances are. You learn concepts for hunters, jumpers and everything else. I'm not saying every person should do the equitation, but if someone's interested they should give it a try."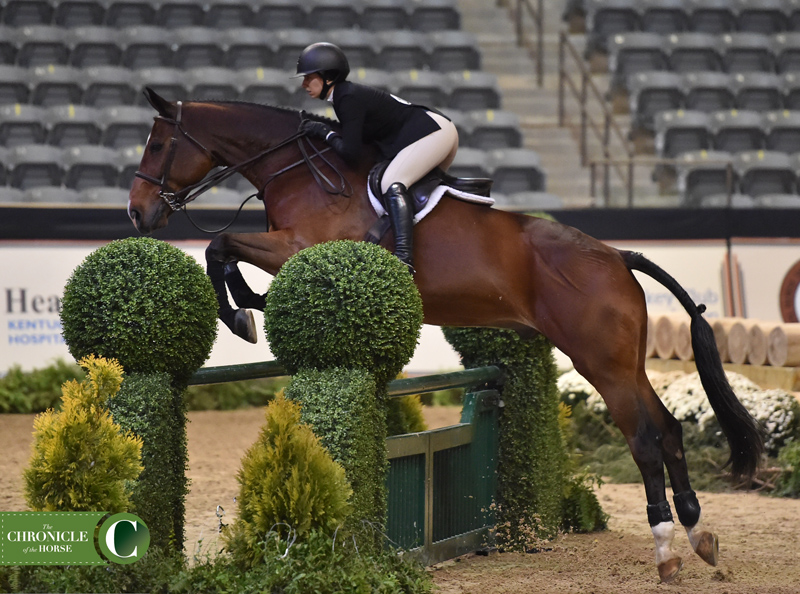 For Stacia, Catalina's story shows that even at the elite level, riding isn't about the prizes.
"We've always used our philosophy that riding is way more about life lessons than it is about putting ribbons on the tack room, and that's what the sport has got to be for young kids," she said. "Not every kid is going to have aspirations of riding for Nations Cup and Olympic teams, even though you've got to treat everyone like you do. But the important thing is the life lessons that this sport can teach you along the way. Catalina's example is too many life lessons for one young kid to have to learn, but it really shows that that's what this sport can offer: teamwork, camaraderie, getting through adversity, and having your eye on the ball at the end of the year."
Fellow Beacon Hill trainer Krista Freundlich has been helping teach Catalina since she was learning her diagonals. Freundlich's husband, Max Amaya, and Ezequiel had been best friends in Argentina when they were children, so the families are very close. She said it's easy to see why so many people bent over backward to help get Catalina mounted.
"Everyone loves her," Freundlich said. "The grooms love her; the staff loves her; the other kids love her. She's helpful, and she could probably run the whole barn if she needed to. When she went to real school, she used to get up before school and muck stalls in the barn before school and try to ride early before school because lived in Florida, and [it was] too hot after. She could take care of any of these horses herself and does quite often when needed. Plus she has a great sense of humor, and she's very caring; she's the first one to compliment somebody when she sees someone she hasn't seen in a while. She's just a great kid."
For more from ASPCA Maclay Finals and the National Horse Show, check out the Nov. 22 issue of The Chronicle of the Horse magazine.