It's been slightly more than a week now since the horse world lost one of its greats, eventing super pony Theodore O'Connor (p. 112). And although this is our annual Dressage Issue, we would be remiss to not honor the memory of this larger-than-life equine ambassador.

Anyone who ever witnessed one of "Teddy's" feistier moments in the dressage ring might chuckle at his likely distaste at being featured in this particular issue. But the spunk that abounded in his every performance–from Rolex Kentucky to Rio De Janeiro and back–was only one of the qualities that earned him devotees beyond the eventing community and around the globe.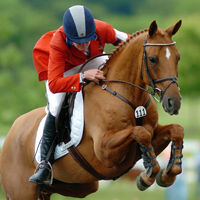 Teddy's imperfections were absolutely irresistible. At just 14.1 hands, the Shetland-Arabian-Thoroughbred was the very definition of an underdog, but after taking home double gold medals from the Pan American Games (Brazil) last year, he proved those "imperfections" were anything but. He was everything we wanted in a star.

Since last Wednesday, we've been working to gather photos and memories for a tribute to Teddy that we'll bring you in next week's issue. Throughout that process, the staff here at the Chronicle has, just like everyone in the equine community, struggled to deal with the emotional impact of losing the wonder pony we all so adored.

It was a privilege to have any connection with Teddy, even one so impersonal as mine, which was almost always through a camera lens. This spring I wrote a lengthy profile of him as the Chronicle's 2007 Overall Horse of the Year (Feb. 1, p. 16), and have been keeping up with his rider, Karen O'Connor, for her "Road to the Olympics" installments (April 4, p. 54 and May 23, p. 18). I was also on hand at the Jersey Fresh CCI*** when the O'Connor Event Team lost their veteran advanced mount Tigger Too just a few weeks ago. So, having had the honor of getting to know "Teddy's people" just a little bit better over the past few months, the news of his death hit home just a little bit harder than expected.
While it wasn't a life-altering national tragedy, as a horse person, I will always remember where I was when I learned that "The Pony" was gone. From the pages upon pages of grief-stricken condolences posted on the Chronicle's online forum, www.chronicleforums.com, I know I wasn't the only one who said a prayer for the OCET that night, as well as a silent thank-you for one more day with my own horse. I'm willing to bet that there were a lot of extra hugs and pats being given in stables and fields across the country that night.
Despite consciously knowing that Teddy wasn't ours, it was easy for everyone to feel they had a stake in him. We saw in him what we wanted to see in our own horses and ourselves. His boundless energy, indomitable courage and inherent joy were all contagious, and while his untimely death fit the bill of a tragedy in every way imaginable, it's consolation to know that his inspiration is certain to outlast his lifetime.
Kat Netzler, Editorial Staff