What do you get when you put together a crabby miniature stallion, a patient trainer and a whole lot of creativity? An amazing act that's enchanted spectators across Europe. Experienced circus trainer Mélie Philippot dresses Luna as a lion, complete with a mane and ears, a braided tail and a nose-shaped muzzle. Dressed as a gladiator, Philippot shows off Luna the Lion's impressive liberty work, including airs above the ground, jumping through a ring of "fire" and a variety of tricks.
Xavier Canonne gets the act going by bringing Philippot into the ring on a chariot pulled by four miniature donkeys, before Luna takes over the show. We caught up with Canonne after a rainy performance at the Alltech World Equestrian Center Expo Center while Philippot took Luna back to the barn.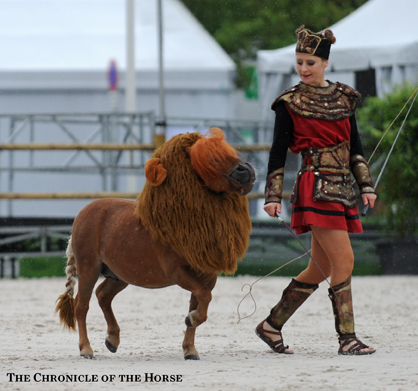 How did you get the idea for this?
Mélie used to say "He's a lion!" because he's always angry, and he really acted like it. So she decided to dress him like one, and it took off. He's very smart and very athletic.
How long have you had this act?
She had been training him in dressage about five years, and she made Luna's mane three or four years ago. That's when the act started.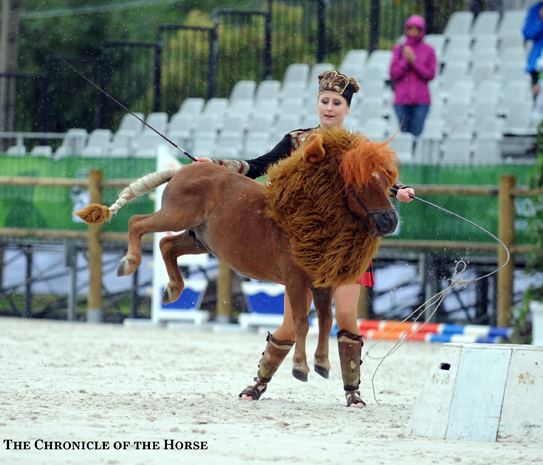 How does he train?
She trained him a little bit at a time, maybe 4 or 5 minutes, 10 minutes maximum at once, and not every day. The rest of the time he lives free in a field with his "wife" and his son.
What's his schedule like?
We travel a lot, so when we come back home [to Picardie, France] he rests for a little while. He's here for one week doing demonstrations, not the whole Games.
What else happens at home?
We have a stable with 20 horses and perform a circus with eight or nine other artists, Diego N Co.
Watch Luna's performance at the Horse of the Year Show.
There are lots of interesting people here for the Games besides the riders. Check out these Americans who came half for work and half for pleasure, the family that came from Great Britain to support two different nations and find out what it's like to work at the trade fair during a major competition.
Make sure to stay informed with the Chronicle's online coverage. You can find all the stories at our main World Games coverage hub.