Robert Dover on Thursday kicked off his signature event for promising young dressage riders, the Robert Dover Horsemastership Clinic Week, by diving straight into dressage theory and the training scale while citing colorful examples to illustrate his talking points.
He talked about how a rider's hand on the outside rein should harness and recycle the horse's energy, comparing it to the way a revolving potter's wheel creates energy to transform a lump of clay.
"Once the wheel is going around fast enough, with the hand you begin to mold the clay that is energetically, constantly and consistently going around; then you create this beautiful art. As the horse is running forward, the energy is contained by the closing of the outside hand with that undulation of the half-halts," he said, and the energy is then recycled and forms a circle. "And there we have the entire story, guys, that the beautiful arch and the consistent balance and the shape never changes. Even though it's going from a halt to a canter, an extension to a walk, a walk to a passage, the center of gravity from half-halt to half-halt looks the same."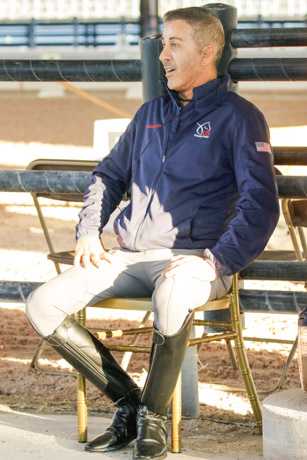 With that, mounted sessions for the 20 young athletes began at the Adequan Global Dressage Festival showgrounds in Wellington, Florida. On the first day of the clinic, which runs through Jan. 9, each spent 45 minutes one-on-one with some of the top riders and coaches in the U.S., including George Williams, Sabine Schut-Kery, Jan Ebeling, Guenter Seidel and Olivia LaGoy-Weltz.
She's Got to Carry That Weight
George Williams had Kat Fuqua, who is in the Discover Dressage USEF/USDF Emerging Athlete Program and from Atlanta, work on bringing DreamGirl's shoulder in to a "half shoulder-in" while cantering down the long side. The goal was to get the Dutch Warmblood to stay in front of Fuqua's inside leg and into the outside rein to carry more weight on her hind legs.
Williams asked Fuqua to bring the mare's front end slightly off the track, collect her and transition down to walk maintaining a bit of a shoulder-fore angle, then straighten and ask for canter down the long side.
"In the canter, think of a half of a shoulder-in, and once you walk, you can increase the angle of a shoulder-in and just get this connection from your left leg to the right rein," he said. "In other words, once she walks she continues to carry a little bit more weight behind."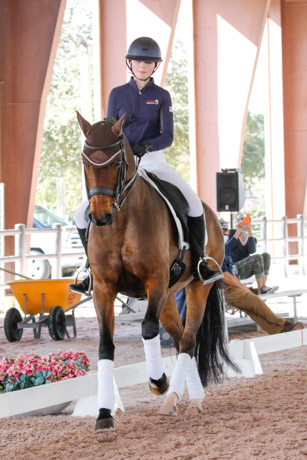 He then asked her to slow the walk just a fraction when she transitioned from the canter to the walk so that DreamGirl had to carry a bit more of the weight into the walk and Fuqua could have more influence on the horse's longitudinal balance.
Power Squats at the Gym
Jan Ebeling asked Allison Nemeth, Flemington, New Jersey, who is also a Discover Dressage USEF/USDF Emerging Athlete, to make a game of transitions to help her mare Tiko relax. The powerful Danish Warmblood was encouraged to quietly trot and then almost walk and trot again.
"Slow her down," he said. "Bring her back; slow her down. Be committed. Think you want to go to walk, and then just don't go to walk. So think it's really just a bounce, bounce, and then forward it again. Collect, bounce, bounce and let her go. Cool. Nice."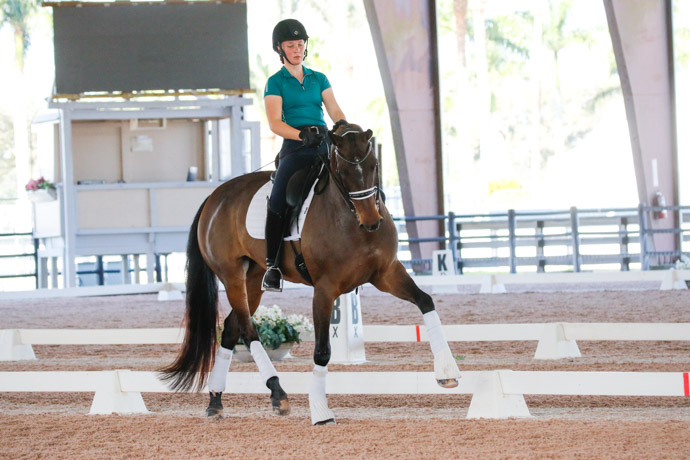 As the pair worked to relax, Ebeling continued. "She has so much go. I think you have to watch out that you don't ride too much power, too much forward. Then she just starts to run off and run away from you."
Ebeling likened the transition exercises into going to the gym and doing squats. "It's a real pain in the neck to do squats, you know, because there's a lot of work. But you get very strong from it, and as she gets stronger and builds that muscle, which takes some time, this is going to get better."
When they schooled pirouettes, he had Nemeth spiral in on a circle and then quickly get back out. "It requires strength on the horse's part, and it requires trust on the horse's part," he said. "And you have to do it all in the same rhythm, and it has to look very easy. So that takes a lot to get the horse physically ready for that and mentally ready for that."
He returned to transitions at the end of the lesson: "Riding is all about doing transitions. If your horse is good at doing the transitions, the rideability gets really good, and then it's easier. Not easy but easier to do the movements. Whether that's a pirouette or whether that's one-tempi or half-passes, the more pliable the horse is the better the balance is and the easier the horse becomes to ride. It's that simple."
Rubber Band Elasticity
Olivia LaGoy-Weltz encouraged Maren Elise Fouché-Hanson, 14, Colfax, Georgia, to push Estremadura MVH forward into what almost felt like running.
"It's not that I want you to run all the time, but that you've got to take it to the spot where she actually pushes through sometimes," LaGoy-Weltz said, explaining that the mare owned by Dressage4Kids and leased by Fouché-Hanson has big movement. "And what can happen is that with a horse like her, it takes quite a lot to push through, to fill out the whole scope of her stride."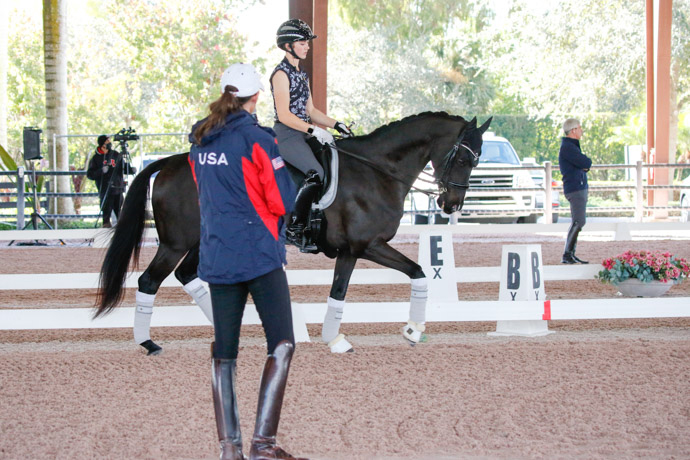 To create collection, the rider needs to be able to compress something that's fully expanded. "It's that she's tight, and you want to rubber band that. She doesn't give you her full elasticity," LaGoy-Weltz said.
While pushing the mare forward, the rider was also urged to make the mare more round and through.
Fouché-Hanson said the Dutch Warmblood mare she calls "Z" is fun to ride but complicated and much different than the drafty pony she rode to qualify for the RDHCW. She was thrilled to be able to ride with LaGoy-Weltz. "She helped me with my seat, and she was really good at explaining what the feelings were and what I was doing while I was riding."
Mentoring Session with a New Horse
Bianca Schmidt, Excelsior, Minnesota, is also a member of the Discover Dressage USEF/USDF Emerging Athlete Program, and CK Sir Shimmi is a new horse for her. The big, black gelding is powerful and needs guidance and relaxation.
Sabine Schut-Kery stressed that Schmidt should act as a mentor for the horse, to actively keep riding him and to be confident because that's what the horse needs—even when he is hot.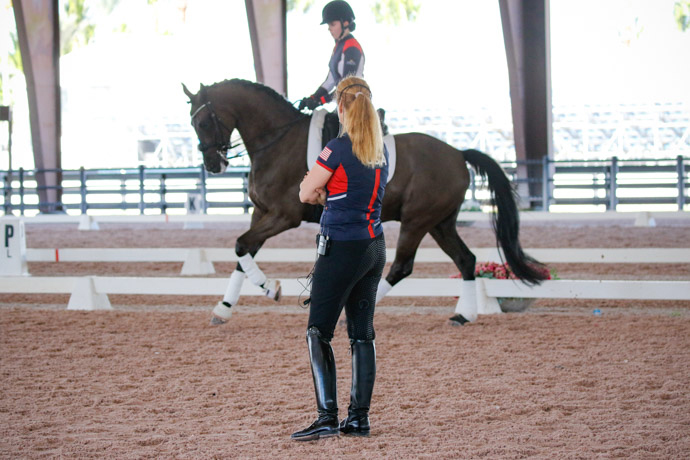 "It's not just the leg or just the rein," Schut-Kery said. "It's guiding him from your inner leg to your right rein while he's positioned left in the poll. And keep riding. Think that you have to support him. He's not the horse right now where you can mentally let go. Mentally, you have to be his mentor, and you have to be there for him. And you have to guide him, because if not he gets a little bit the wrong ideas."
Schut-Kery stressed good posture, saying that keeping the shoulder blades back and the chest up keeps the core engaged. She also encouraged Schmidt to keep her inside leg by the girth to really influence the horse's ribcage.
"To me, the two most difficult body parts [of the horse] to get to in dressage are the poll and the rib cage," Schut-Kery said. "It's easy to push the haunches over. It's easy to bring the neck in or out, right? But can you bring the head a little to keep the neck straight?"
Later in the lesson, she reminded Schmidt to ride more with her leg. "The more you can ride him, and that is not meant the more pressure you make with your leg, but the more you feel he reacts to your leg and he doesn't run from it, the better. That's when he starts relaxing."
Robert Dover Horsemastership Clinic Week continues through Jan. 9. Athletes will continue their daily mounted lessons along with educational sessions on equine health, hoof care, athlete fitness and nutrition and other topics. On the final day, participants will ride a dressage test and receive feedback from FEI 5* judge Gary Rockwell. Action from the clinic's main arena is being livestreamed on USEF Network.