A fifth-generation horseman, Peder Fredricson runs Grevlunda in Vitaby, Sweden, with his wife, Lisen Bratt Fredricson. Peder is a four-time Olympian, most recently earning team gold and individual silver at the 2021 Tokyo Olympic Games with H&M All In. The pair also won an individual silver at the 2016 Olympics in Rio. Peder has an individual gold and team silver from the 2017 FEI European Championships (Sweden) and an individual bronze from the 2021 championship in Germany. He's competed at four FEI World Equestrian Games, earning team silver in 2018 (North Carolina), and he was third in the 2019 Longines FEI World Cup Final (Sweden). Peder started his career in eventing and attended his first Olympics in 1992, finishing 14th, before changing disciplines shortly before the 2004 Athens Games, where he won team silver and finished fourth individually. He's also worked as an artist and graphic designer and designed the Fédération Equestrian Internationale logo for the seven disciplines.
---
All my horses go out in the field every day. I think it's important because they live together in groups normally, and they are used to moving a lot. It's good for them to move a lot.
I've been turning them out for a long time, but I realized the importance of it more recently. I've always liked it, but now I really think it's important. They all have a friend; I turn them out two-by-two.
This is something I've only done recently with older horses. Sometimes I could do it with younger ones or ones [that] were resting or something, but now I do it with my sport horses. I've done that for maybe 1 1⁄2 years, and it's very good because they can be in the field longer if they are two-by-two. They always have something to do, and it's not like one of them starts running; they all go quietly. You also have more fields, so you can have them out longer.
[I changed my turnout method because] I wanted to see how I could improve things and make my horse perform better. The more comfortable the horse is, the more relaxed and the better it feels, the better it will perform.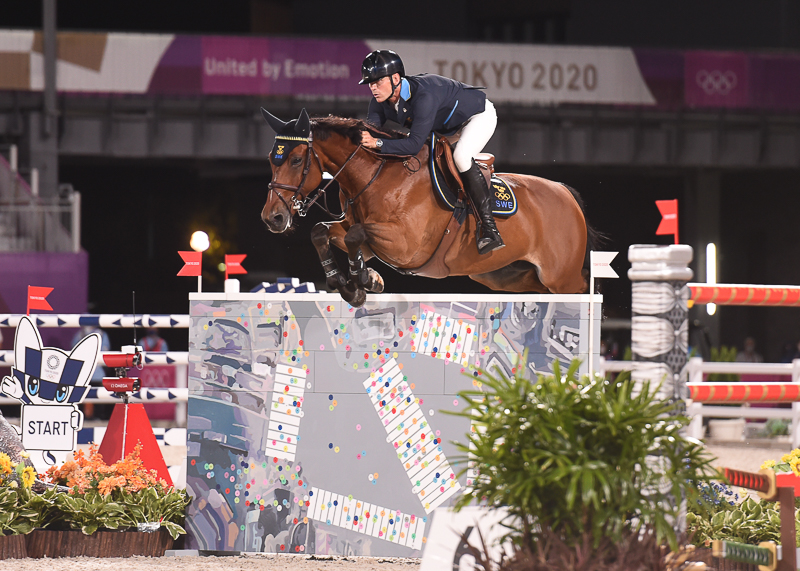 The Benefits
It's very important that they move a lot. It keeps the circulation going in the feet and the body, and that's good for the legs. They move together with another horse, and they move so much more. They play with each other, and they get a bit of a run.
I don't mind them taking a bit of a run. The more they move, the better it is. If they're just cantering around or playing, I'm really happy, because that's what they're supposed to do. I don't like them to run in a stressful way. They shouldn't run because they're stressed; they should run because they enjoy moving.
Before I could turn them out with other horses, I had some horses that were very difficult to turn out because they would get stressed and just run along the fence forwards and backwards. For a horse like that, it's better not to be outside. It's better to handwalk or take them for a hack or whatever. But when you turn them out with other horses, and one of them is calm, normally the other one is calm, and that's a big benefit.
I have a lot of older horses, and it just keeps them soft and relaxed in the muscles. Also, mentally, and for the stomach and the general well-being for the horse, it's a better alternative than to have them inside the stable all day.
My Olympic gold medal horse All In has his own field with his own house in it. He goes out at 7 o'clock in the morning, and he basically comes in around 4 in the afternoon. All In goes together with another horse in the field, which I think is good for the mind because they have somebody to interact with. They're supposed to be with another animal. That makes them move in accordance with their instinct. I think it's really good for the body and the mind.
It's good to have big fields. I have both large and small, but my goal is to have them in the biggest fields.
Mitigating Risk
I have all the horses without shoes, and then of course the risk is much less. If you turn them out with shoes, you have to be a bit cautious; you have to make sure they're friends. Even without shoes, you have to make sure the horses know each other a little bit before [turning them out together]. Maybe have them in the box together so they can learn, and make sure you've ridden them before you turn them out so they're a bit tired or not super fresh, running around too much. Normally it's only the first time they go out together that's a bit of a risk. After that it's not much of a risk.
If I don't own the horse, I always ask if it's OK to turn them out with another horse. So far, I haven't had anybody say I couldn't do it or [be] negative about it. You have to do it with good sense, good horsemanship, read the situation, and make sure it goes as safely as possible, but so far, we've been lucky.
And of course, you make sure that the field is safe—no nails or sharp things or holes or stones. If it's very frozen and hard, then we put protection on the hooves so they don't get sore feet because they have no shoes. You have to make sure they're never uncomfortable.
We keep an eye on them but not all the time. If they're walking quietly we don't. When we hack out, we have a look when we walk past. For sure you have to keep an eye on them just to make sure they feel well.
I realize that some stables do not have this opportunity. I love to do it, and I think it's fantastic, but it's not like I'm looking down on people who don't do it or think it's cruel not to do it. You can look after horses in a very good way also by longeing or handwalking, making sure they move a lot anyway, but this is the way I do it.
---
This article ran in The Chronicle of the Horse in our March 7 & 14, 2022, issue.

Subscribers may choose online access to a digital version or a print subscription or both, and they will also receive our lifestyle publication, Untacked. 
If you're just following COTH online, you're missing so much great unique content. Each print issue of the Chronicle is full of in-depth competition news, fascinating features, probing looks at issues within the sports of hunter/jumper, eventing and dressage, and stunning photography.