In the first day of equestrian competition at the Tokyo Paralympics, Great Britain continued its dominance in para-dressage while both U.S. riders to compete in today's individual medal rounds qualified for the freestyle competition.
For the United States, Beatrice de Lavalette opened the Paralympic competition as the day's very first rider in the ring for the Grade II individual test. The junior member of the U.S. Para-Dressage Team, she finished fifth with a score of 70.26 percent aboard Clarc, owned by Elizabeth and Nicolas de Lavalette, to secure a spot in the Grade II freestyle competition Monday.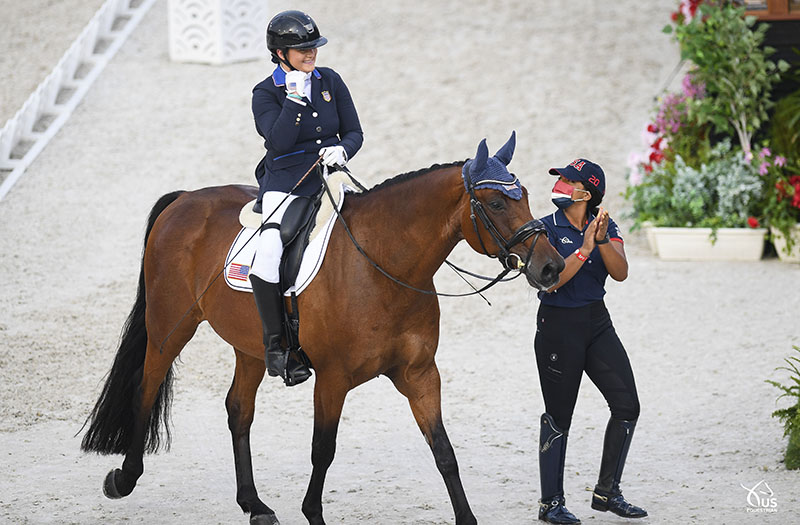 "I was very happy about it," said Beatrice of her test. "It wasn't the score that I was looking for, but I'm still very proud of my horse and very proud of myself. Being the first one out there is not easy but just being able to enjoy it and have fun in there—it was a very enjoyable ride."
Beatrice, Loxahatchee, Florida, has ridden since childhood and lost her legs at age 17 at Brussels' Zaventem Airport, where she was waiting to fly back to the United States for spring break, when a terrorist standing next to her detonated a bomb. She suffered burns and a spinal cord injury in the blast, as well as injuries that led to the amputation of her lower legs.
"To me personally it's a great honor to be here representing the U.S. and having fun with my horse and being here after five years of fighting for my life it's been—it was really very emotional for me at the end, and I was very happy to be here and just have fun with the horse," said Beatrice, 23.
"Setting that goal [of competing in the Paralympics] in the ICU five years ago was a dream and being here today was a dream realized," she continued. "I'm very proud of myself and very proud of my team because without them I couldn't be here. It's just one of those things you dream about, and when it happens you're just the happiest person in the world."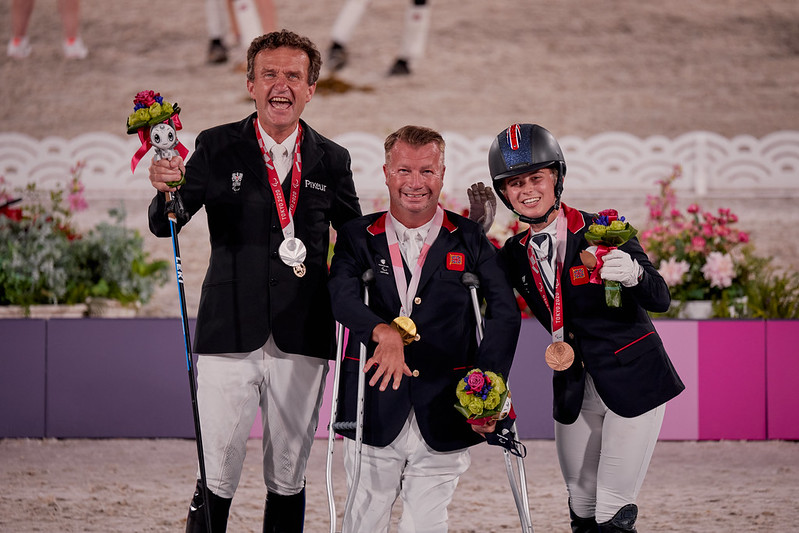 Lee Pearson, stalwart of the British Para-Dressage Team, scored a personal best of 76.25 percent to win the Grade II individual test with his own Breezer. It is Pearson's 12th Paralympic gold medal.
"I am very, very emotional. I cried on the second X on hold in the arena," Pearson said after his test. "It's been such a long journey. Breezer is a horse who I've had since he was born. I am also a Dad myself now, and that has also made me more emotional.
"I didn't think having a home-bred horse would give this a little extra meaning but it has. I saw him at hours old in a field and to complete that test, which at my last test event I did not complete, that added to the emotion."
His teammate Georgia Wilson kicked off her first Paralympics by taking bronze aboard her, Geoff and Julie Wilson's Sakura, on a score of 72.76 percent. In a nod to the depth of the British squad, Georgia was a reserve to the team and was tapped to ride just a few weeks ago, when veteran Sophie Christiansen had to withdraw her horse for veterinary reasons.
Between them, Austria's Pepo Puch took the silver medal aboard his own Sailor's Blue with a 73.44. Puch, who competed at the 2004 Athens Olympics as a three-day eventer, was injured in a 2008 accident that left him with incomplete paraplegia. Picking up para-dressage as part of his rehabilitation from that accident, he won gold in the Paralympic freestyle event at London 2012 and Rio 2016.
The top eight finishers in each grade earn a berth to Monday's freestyle. The other Grade II riders moving on to the freestyle are: Heidemarie Dresing and La Boum 20 of Germany (72.29%), Katrine Kristensen and Welldone Dallas (69.79%) of Denmark, Mitsuhide Miyaji and Charmander (66.82) of Japan, and Iuliia Poliakova and Romina Power (66.82%) of the Russian Federation.
Grade IV
The Netherlands Sanne Voets and RS2 Dressage Center de Horst's Demantur, the gold-medal freestyle combination from the 2016 Rio Paralympics and triple gold medalists at the 2018 Tryon World Equestrian Games (North Carolina), showed they haven't lost any form in Tokyo, earning 76.58 percent and individual gold in Grade IV.
"I'm just over the moon with him. He still amazes me every day and he travelled here well. When you enter the stable and you see he's happy, relaxed and at ease, you realise again that's what is most important," Voets said of Demantur.  "Of course you're here to perform at your very best and you want to win medals, but there's always one thing more important than the result, and that's just your horse being happy.
"But when you are sitting on a horse like that, there's no way you cannot smile and not enjoy your test."
Rodolpho Riskalla, who twice finished behind Voets in Tryon, continued his silver-medal winning ways. He and Don Henrico, owned by Gestüt Schafhof, finished second with a score of 74.65 percent.
A Paralympic debutante, Manon Claeys of Belgium, took bronze with San Dior 2, owned by Claeys, Philippe Claeys and Ingrid Thilleman on 72.85 percent.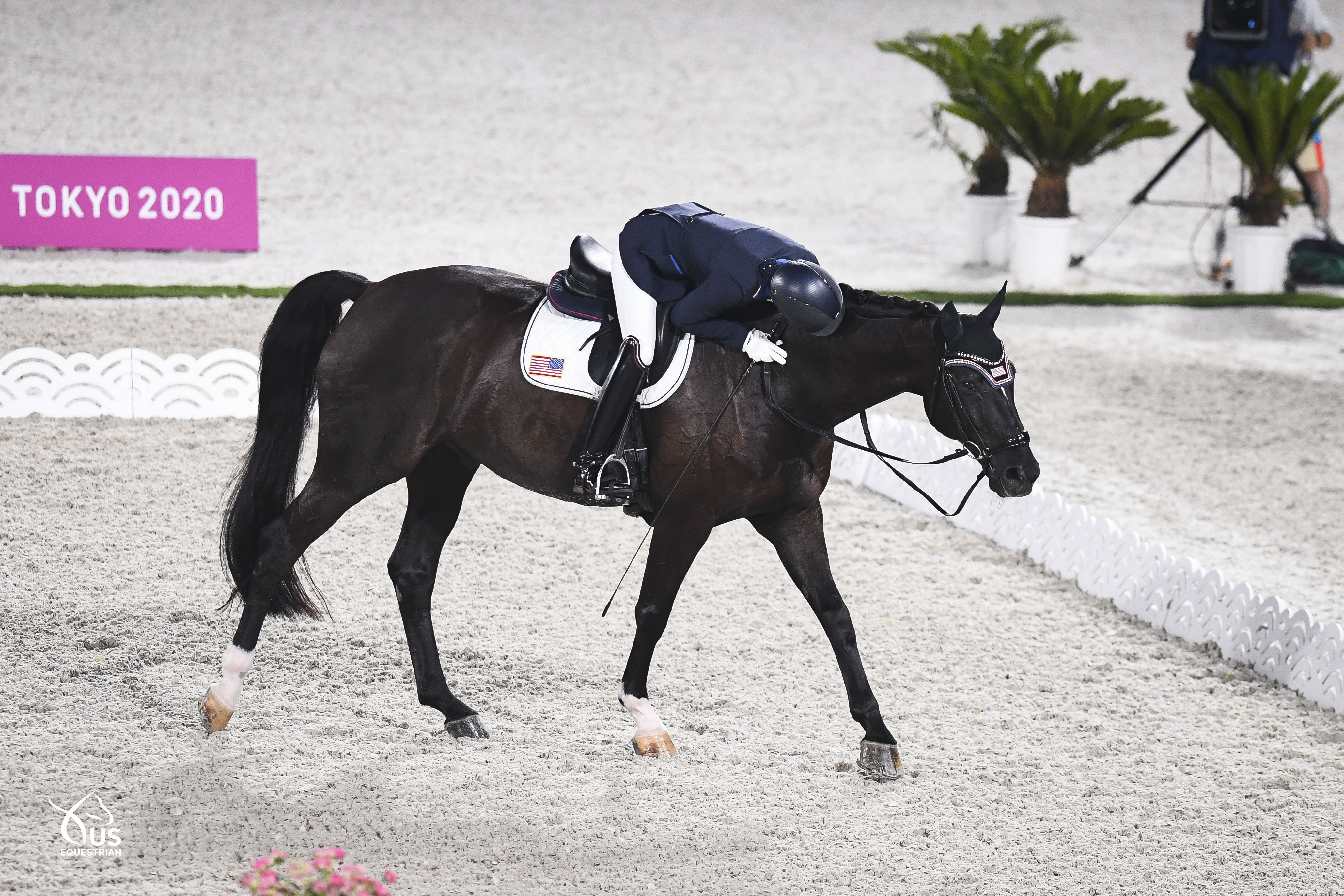 U.S. rider Kate Shoemaker and Solitaer 40, owned by Kate, Craig and Deena Shoemaker, with whom she won freestyle bronze at the 2018 WEG, finished seventh in the individual test with a score of 70.85 percent, qualifying them to move on to the freestyle competition.
"I'm just incredibly pleased with my horse," Shoemaker said. "Of course, a little bit disappointed in the scores, since we hoped to be in the medals, and I thought our ride today was quite good. But, all I can do is be happy with my performance in there, and I absolutely love my horse to pieces."
Shoemaker, an equine veterinarian in Wellington, Florida, has white matter lesions from periventricular ischemia, which cause motor control dysfunction, muscle weakness and spasms on the right side of her body. She has been partnered with "Soli" for seven years.
"It's a partnership that's been a long time coming," she said. "When I first rode him and showed him, I was told to sell him, that I would never be able to ride him. I then went on to do my first international championship, and I was told it wouldn't get any better than that. Then I was told WEG was a long shot, and then we went to WEG; the medal was a long shot; we medaled. So now, I think people have stopped telling us what we can't do. I guess I'm going to need a little more pressure."
The other Grade IV riders moving on to the freestyle are Louise Etzner Jakobsson and Goldstrike B.J. (72.63%) of Sweden, Susanne Jensby Sunesen and Leeds (71.97%) of Denmark, Saskia Deutz and Soyala (70.97%) of Germany and Philippa Johnson-Dwyer and Just In Time (69.78%) of South Africa.
Grade V
Belgium's Michèle George added Grade V gold to her medal collection after a strong test aboard her own, Wendy Laeremans and Camille Vangheluwe's Best Of 8 with a mark of 76.52 percent. She switched from Grade IV four years ago, and came to Tokyo already having earned Grade IV individual silver and freestyle gold in Rio.
"I'm really proud of my mare and I enjoyed the ride," George said. "And this is for me the most important thing, that I could come home and say I've done everything I could. She had a beautiful performance and she gave her best."
Grade V World No. 1 Sophie Wells claimed individual silver to add to her individual and team gold medals from Rio for Great Britain and a trio of gold medals from Tryon. She tacked up Roland Kinch's Don Cara M to earn a mark of 74.40 percent.
Dutch rider Frank Hosmar earned a 73.40 percent to take bronze aboard his own, A. Hosmar-Keekstra and A. Cornelissen's Alphaville. That was his partner for Grade IV freestyle bronze at the 2016 Paralympics as well as team gold, and Grade IV individual and freestyle silver in Tryon.
Other Grade V combinations moving on to the freestyle include Regine Mispelkamp and Highlander Delight's (73.19) for Germany, Natalia Martianova and Quinta (71.40) for the Russian Federation, Lena Malmstrom and Fabulous Fidelie (69.83) for Sweden, Kevin van Ham and Eros van Ons Heem (69.35) of Belgium, and Amelia White on Genius 60 (69.23) of Australia.
For more, watch the replay of Thursday's competition or view complete results here.
Competition continues Friday with the Grade III and Grade I individual tests. Grade I begins at 3 a.m. Eastern time, with Team USA's Roxanne Trunnell and Dolton scheduled to ride at 3:24 a.m. Grade III begins at 6:15 a.m. with Rebecca Hart and El Corona Texel competing at 8:26 a.m. Eastern.