Lexington, Ky.—April 29
After a strong spring season last year, Starr Witness was conspicuously absent from the eventing start lists in the autumn. Between preparing for the Tokyo Olympics with his veteran campaigner Vandiver, a full competition schedule with his jumpers, and that he wasn't aiming the mare toward a five-star, rider Doug Payne decided to save her eventing wear-and-tear for the remainder of the year.
But the 11-year-old Dutch Warmblood mare (Chello III—Carmen, Veneur), who Payne owns with Laurie McRee and Catherine Winter, wasn't just hanging out in the field. Instead, Payne used the time to focus on the fundamentals—and teach "Ginja" a few new dance moves, like piaffe, passage, pirouettes and tempi changes.
At the Lexington CCI4*-S at the Land Rover Kentucky Three-Day Event, the extra time in the sandbox paid off Friday when she scored a 23.2, a personal best at the level.
"We just took that time to try and improve her on the flat: stronger, sharper, increased complexity," Payne said. "She's a horse if you don't challenge her, she's going to look elsewhere for something to spook at, jump at or do whatever, so the more you throw at her, the better she is."
Payne has his U.S. Dressage Federation silver medal and has always wanted to go for his gold. He thinks Ginja will be the one to help him achieve it.
"When you have the horse in the barn, you might as well make the most of it for sure," he said. "Competing across disciplines has always been my ultimate goal, to be able to show up in any pure sport and be competitive. I think she has the real try to do it, and she's only 11 so tons of time, so might as well make it happen."
Canada's Colleen Loach snuck into the second spot with Vermont on a score of 24.5. Yesterday's leader, Liz Halliday-Sharp and Cooley Quicksilver held onto third (25.7).
"I know my horse can [produce a top score], and I kind of put the pressure on myself to get it out of him, and it turned out great," Loach said. "I knew it was going to be hard to beat Doug, but I was hoping I would."
Four-star cross-country starts at 9 a.m. Saturday.
Looking for more info? Check out what you need to know here.
Results I Course Walk I Live Stream I COTH's Coverage I Schedule I Ride Times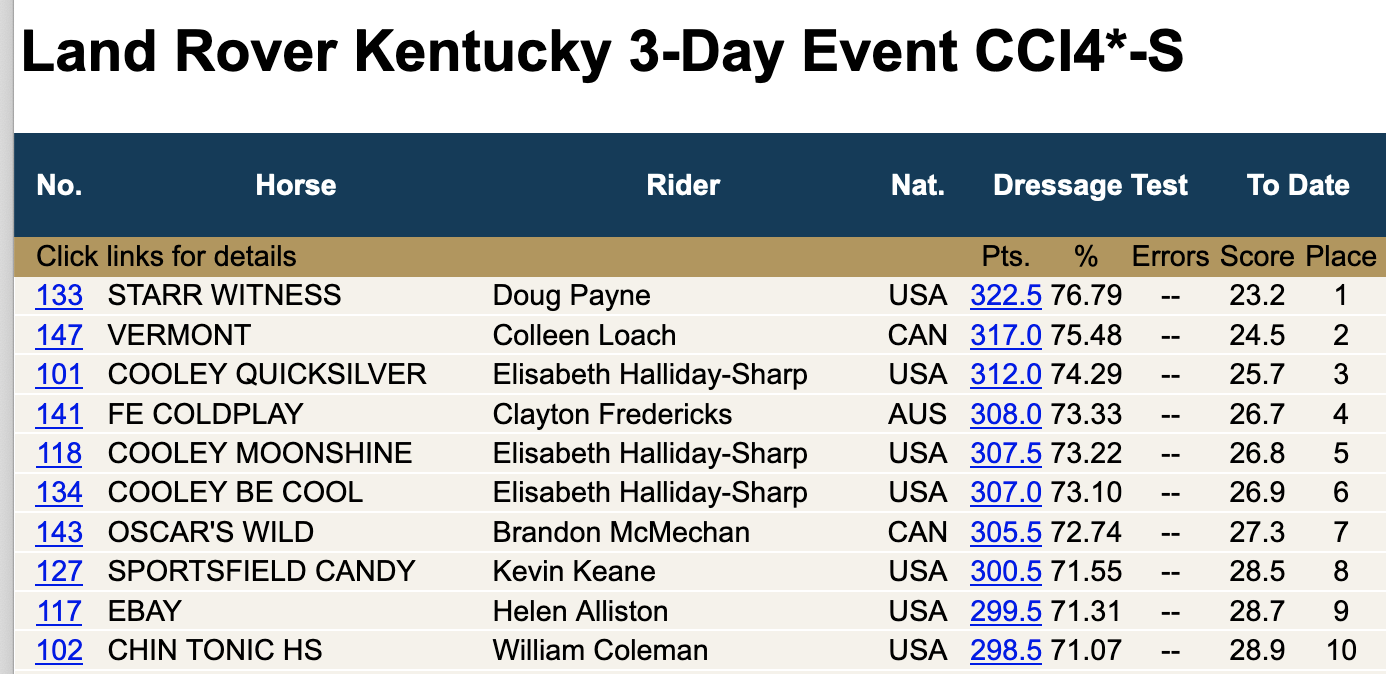 The Chronicle of the Horse will be on site all week for the Land Rover Kentucky Three-Day Event bringing you reports from each round of competition, beautiful photos and stories from the competitors. Follow along with all of our coverage here, and be sure to read our May 23 Kentucky Results issue for more in-depth coverage and analysis of the event.