Tyron, N.C.—June 10  
French rider Eric Navet will be the first to tell you that his ride in the $216,000 Horseware Ireland CSI**** Grand Prix does not jump in classically beautiful form. While other young horses were wowing onlookers with snappy knees and cracking backs, Catypso's form was a bit more ugly ducklingesque.
"It's a horse that was very weird in the beginning; he didn't jump so well," Navet said with a laugh. "I've been working on him for four years to get him here. He had very bad technique, he jumped very hollow with legs down."
Navet didn't give up on the horse though—he persisted with his training and waited patiently to reap the results, and it was Catypso's night to shine in Tryon as they galloped away with the win in the CSI**** as the only double clear pair.
"We always knew he had a really easy big scope—that he can jump anything, and [jump] easily, he never struggles," Navet said.
It was that solid foundation Navet kept in mind as they very slowly progressed up the ranks to where they are today.
"If you take your time and you're patient and you give every horse the time he needs to get to that level, normally you get the payback," Navet said. "It's only a question of time."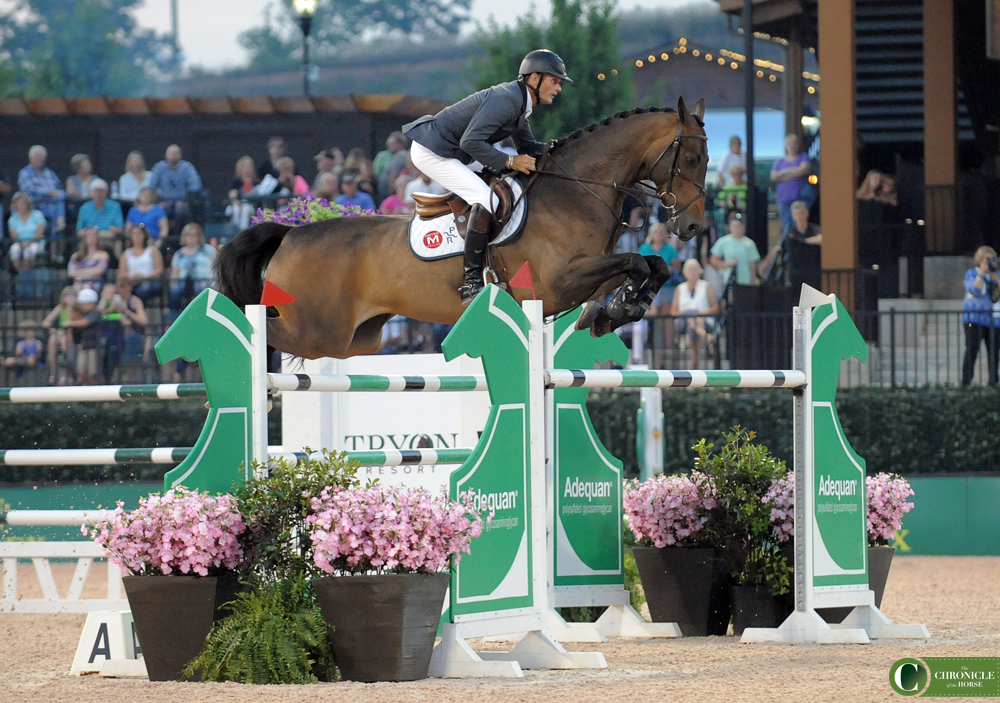 Time was on many a rider's mind as they set out to tackle the Alan Wade-designed course for the grand prix. Only four pairs from the original 32-horse field progressed to the jump-off with seven first-round pairs adding time faults to their scores. A particularly careful vertical set on the out of a tight oxer-vertical line caused its fair share of problems but faults accumulated for riders all throughout the track.
"I think it didn't walk so difficult, but that's typical Alan," Navet said. "When we walk it doesn't seem as hard, but there are always less clear than expected."
Second-place finisher Hunter Holloway up on VDL Bravo very nearly didn't get a chance to contest the jump-off when she had a hairy moment in Round 1.
"I almost fell off; my horse is amazing," Holloway laughed. Holloway was briefly unseated and riding in front of her saddle in the middle of the line with a particularly careful vertical on the way out.
"He's amazing. That horse I have such a good partnership and I really trust him. This is one of the bigger classes I've ever jumped on him so I walked it and was like, 'Oh my, this is a little bigger than we're used to,' " Holloway said. "He jumped the liverpool and got a bit of a rub and then he came to the Rolex oxer and I mean he really fired, and I wasn't ready for it."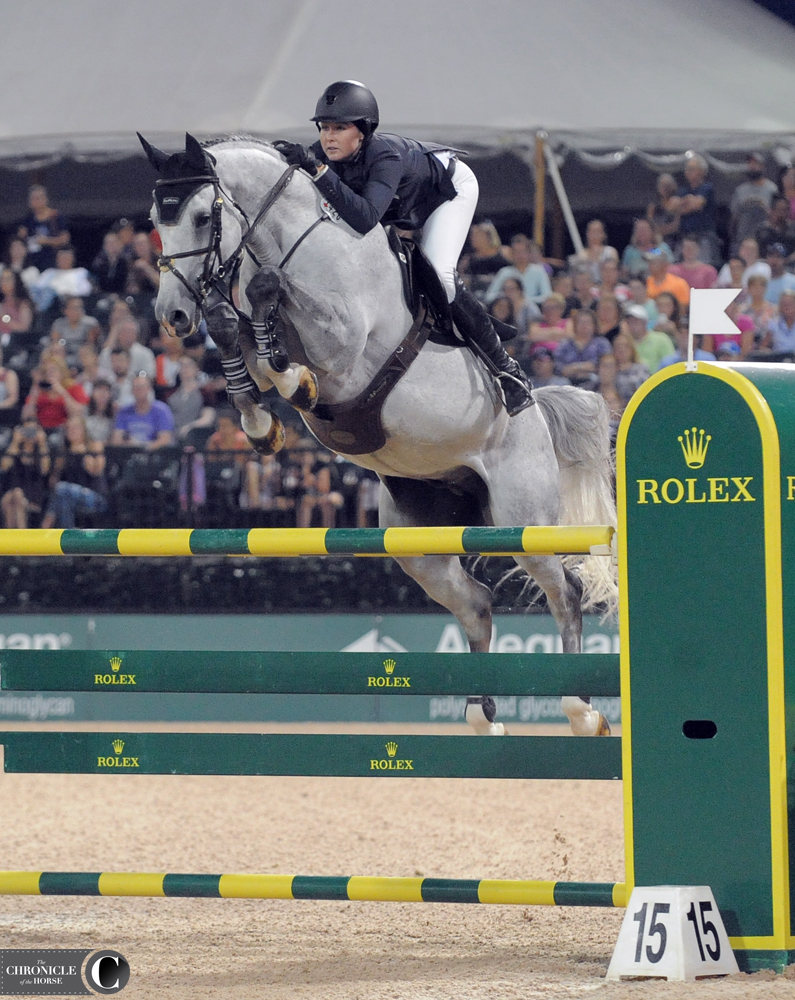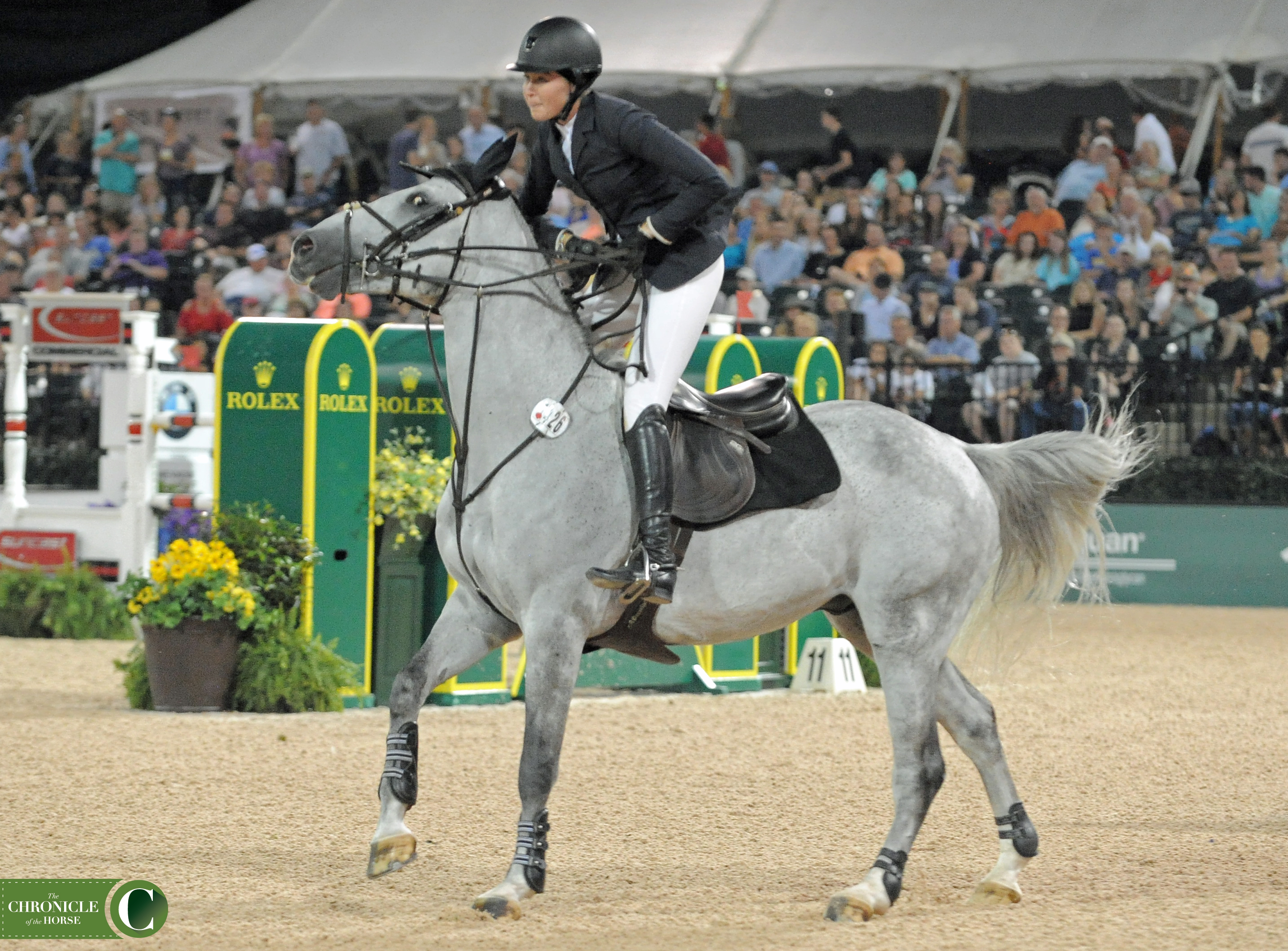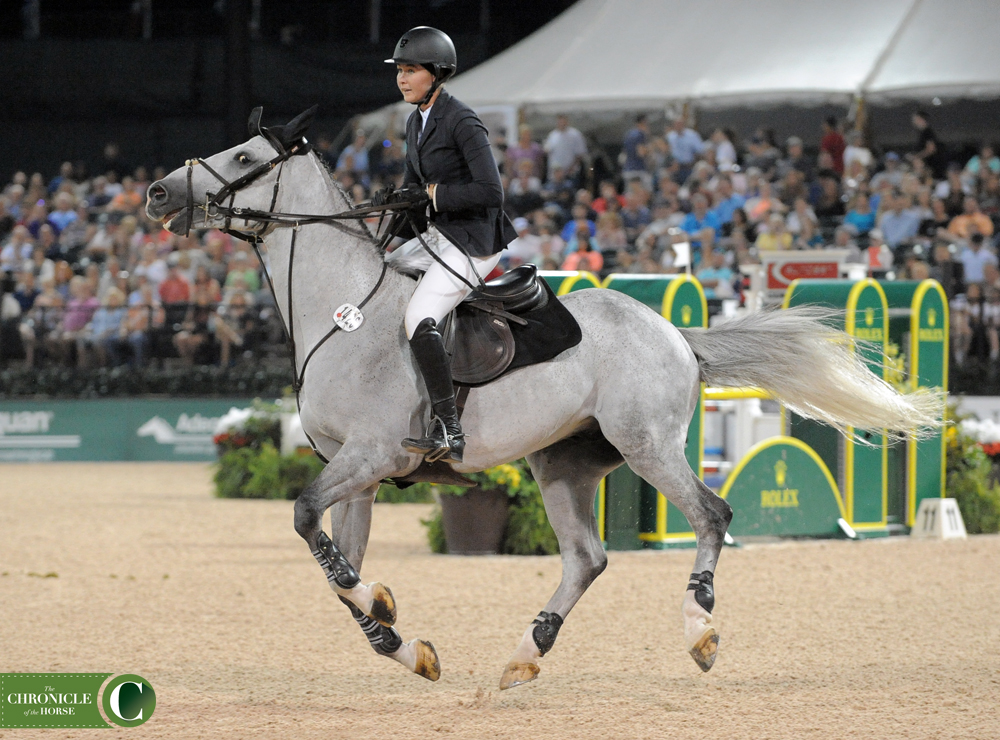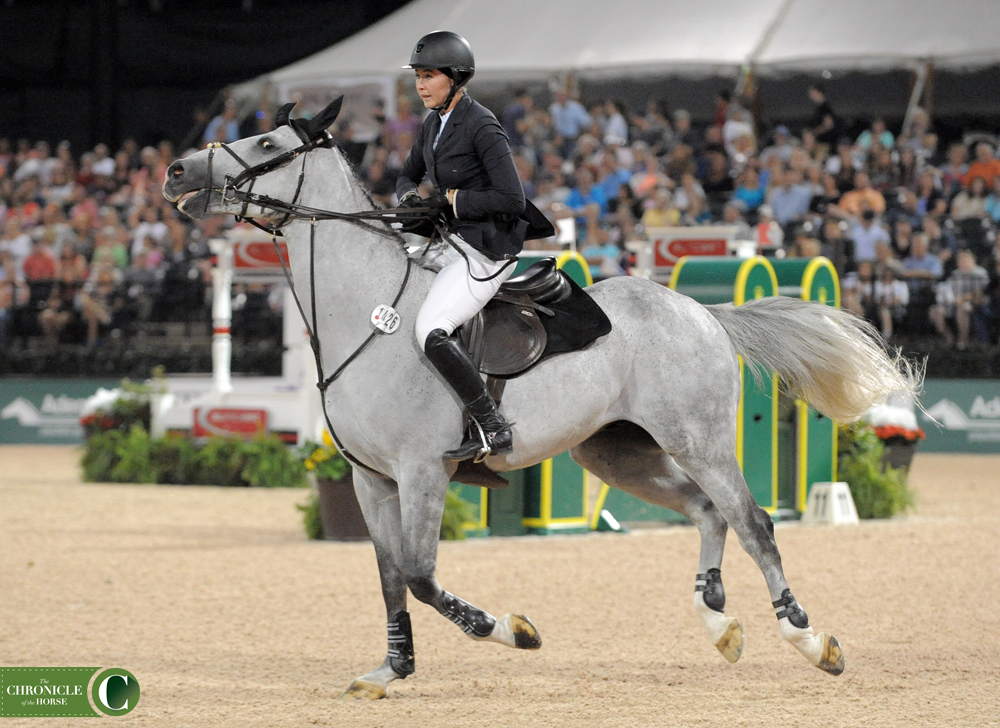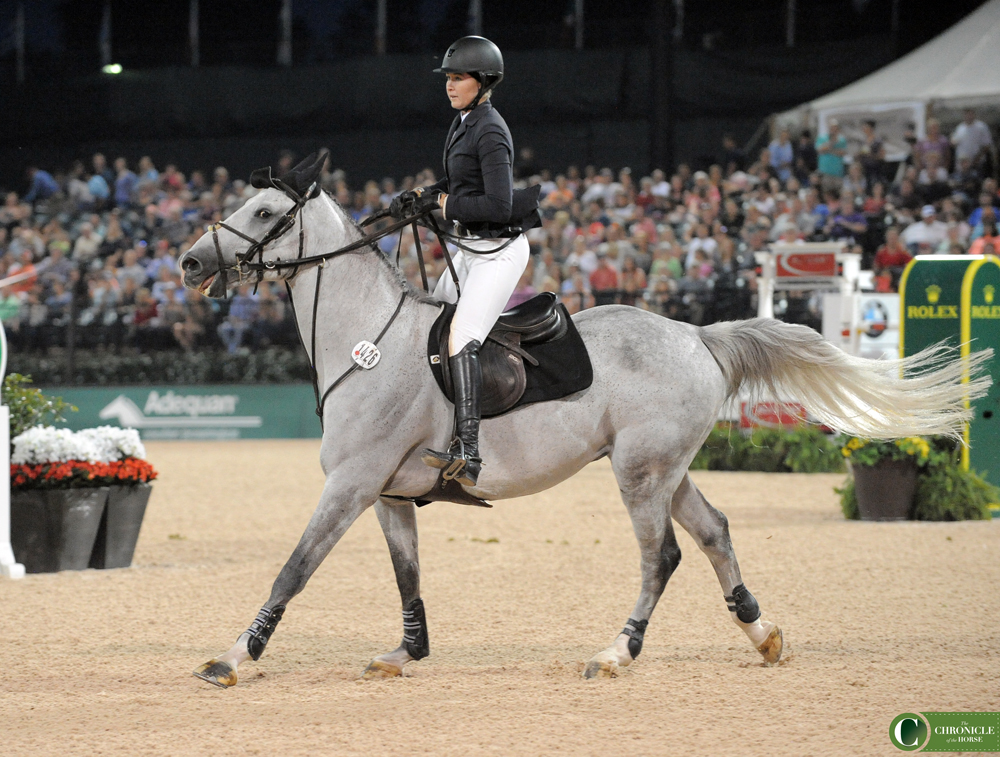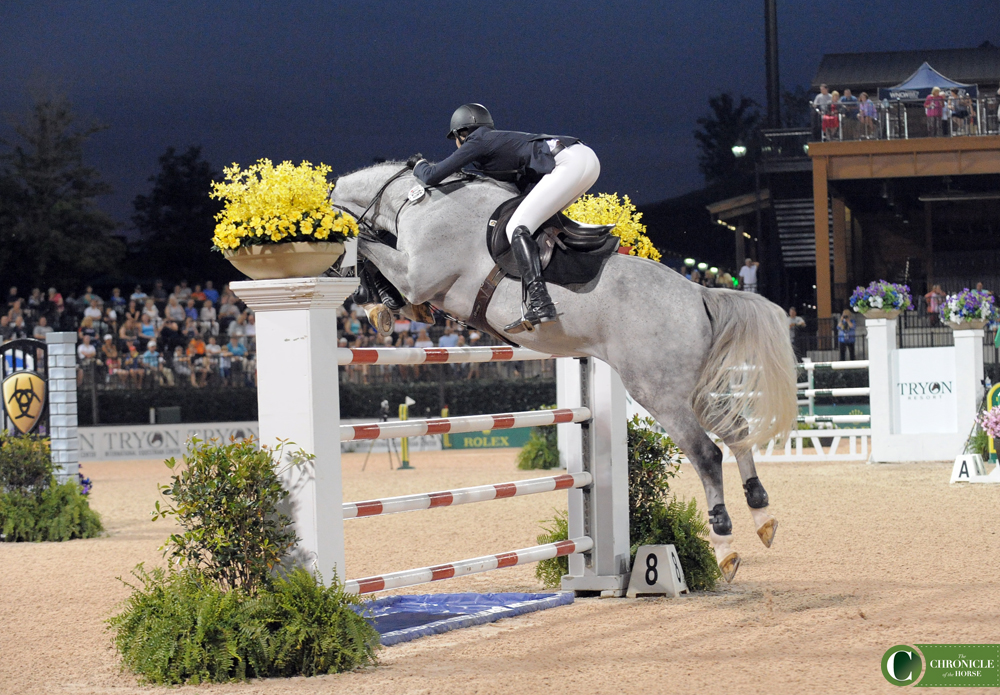 "I don't know how I stayed on. He kind of lifted me back up like, 'Stay on mom!' " Holloway continued. "I climbed back on and managed to keep going and he was just like, 'What are you doing lady?!'"
Holloway had just the final fence down in the jump-off to slot into second. Kristen Vanderveen and Bull Run's Testify came in third with Vanderveen pulling a rail in the combination over the short course.
"My horse is not naturally the fastest—Eric's is quick in the turns, mine is a little bit slow in the turns," Vanderveen said. "But I never like to go in the ring and not try to win, so I was a little bit torn and I did go in and think I would try to be competitively fast.
"About halfway through it crossed my mind to maybe take a breath and just go clean and take second," Vanderveen continued. "And while I was thinking that was when I was missing my distance to the combination, so I made a mistake and didn't give him much of a chance there."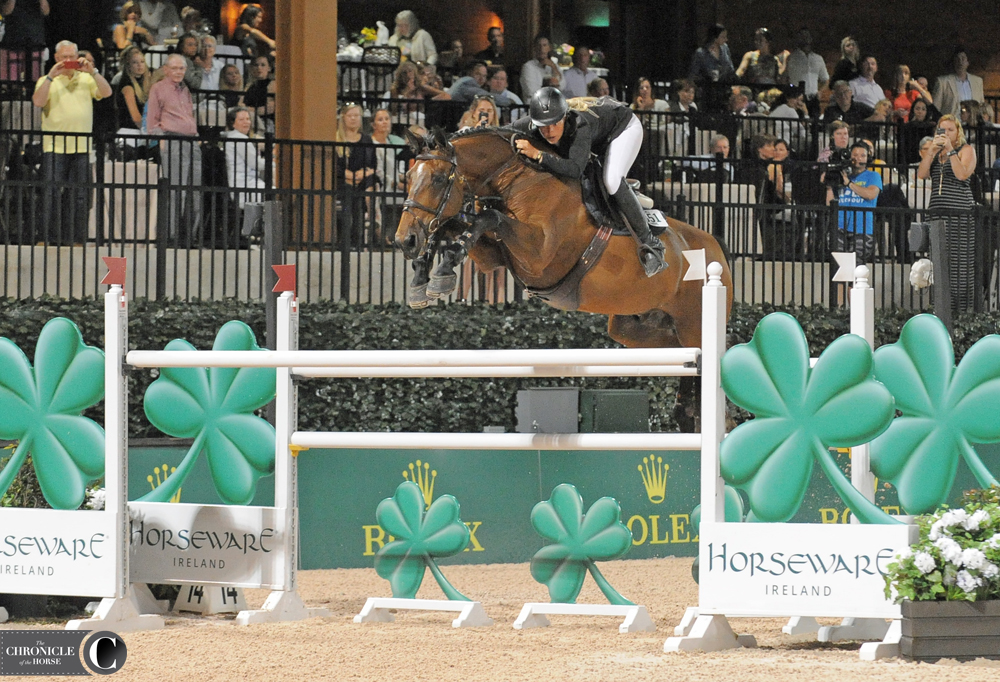 Vanderveen had two rides in the night's class, riding the stallion Bull Run's Faustino De Tili earlier in the order. The gray, almost white, stallion has quite a large presence in the ring and can overshadow a regular old bay like Testify (Vanderveen and Faustino De Tili won the previous week's welcome and grand prix and topped this week's welcome), but Testify has a special place in Vanderveen's heart.
"He's like a glove to me, I'm so comfortable on him. I always put him in the biggest class when I'm feeling a little bit insecure myself so he's like my teddy bear," Vanderveen said. "He's a steady Eddie, he always goes out there and does his job, he's very, very reliable."
Click here for full results. Check back with The Chronicle of the Horse July 3 issue of the magazine for more in depth coverage from Tryon.