The U.S. Para Dressage National Championships will join the roster of national championships held during the U.S. Dressage Festival of Champions beginning next year.
The change speaks to how far para dressage has come as a sport in the United States and is an important step toward ensuring its continued growth, U.S. Para Equestrian Association President Hope Hand said.
"I think we're bringing more awareness of the sport, especially with our performance at [the Tryon World Equestrian Games] in 2018, and gaining medal strength, and it shows that it's a credible sport that should be included, and people want to see it,"  she said.
Para dressage is one of two new divisions being added to the Festival of Champions for 2022 when it returns Aug. 22-28 to HITS Chicago at Lamplight Equestrian Center. The young horse divisions also will expand with a new 7-year-old class, according to an announcement this week from the U.S. Equestrian Federation.
Joining the festival was the next logical step in an ongoing effort to strengthen the U.S. para dressage program by bringing international para dressage competitions (CPEDIs) to the same shows and arenas as international able-bodied dressage.
"[An] aim is to continually bring able-bodied dressage and para dressage closer together, because ultimately they are the same sport: They're both still looking for harmony, rhythm, cadence, whatever it might be," USEF Director of Sport Will Connell said. "Bringing coaches from able-bodied dressage and into para, and getting more para competitions at able-bodied shows is all part of that."
Now, Perrigo sponsors CPEDIs held concurrently with CDIs at major venues such as the Adequan Global Dressage Festival (Florida) and Tryon International Equestrian Center (North Carolina). Holding those shows has helped educate more riders, trainers, sponsors and owners within the FEI dressage ranks about para dressage, from the quality of the horses to the demands of the tests.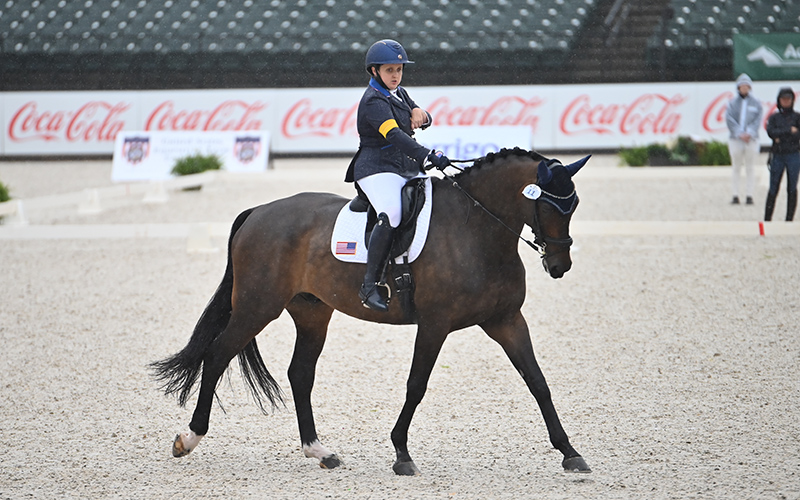 "We just had to get the sport out there in front of our able-bodied peers because it was a mystery to them," Hand said.
Adding para dressage classes to the country's biggest shows also is important for developing successful international riders, she noted.
"It's so important to be visible and be included in the bigger competitions and the main arenas [because] that's where we compete" in international championships, she said. "It's just a big leap, going from a recognized show to bright lights and 10,000 spectators. We needed big-arena experience for our horses to adjust and be able to perform at their peak."
Being one of the 16 national championships to be held during the Festival of Champions also will help grow para dressage at the grassroots level by encouraging more shows to offer para dressage test-of-choice classes, Hand said.
"By having it in the Festival, you have a lot of regional shows that are going to be qualifiers," she said. "This helps us, para, tremendously because show management wants to be part of that and wants their show to count as a qualifier. The caveat is that they can't have a qualifier for able-bodied without including para. That opens a lot of doors for para, whereas we were kind of limited before, especially on the West Coast."
This year's USEF Para Dressage National Championship will offer a CPEDI1*, 2* and 3* in which several classes will be offered at each grade and be held over three full days, Oct. 28-31, at Tryon International Equestrian Center.
When the competition joins the already packed schedule of the week-long U.S. Dressage Festival of Champions, it will have to condense significantly, likely to one class per horse.
The timing of next year's Festival of Champions puts it one week after the FEI World Championships, which will be held Aug. 6-14 in Herning, Denmark.
"Unfortunately the schedule conflicts with Worlds taking place in Denmark, so what that means is there's not enough time for the very elite to do both and show up at nationals," Hand said. "Maybe that's a good thing, that'll build our pipeline and give them a goal, another opportunity to shine. I think it'll built the sport."
Along with adding para dressage, the Festival of Champions also is expanding its young horse divisions to offer a 7-year-old national championship, bringing the total to 16 divisions offered:
• USEF Grand Prix Dressage National Championship
• USEF Intermediaire I Dressage National Championship
• USEF Young Horse Dressage National Championships for 4-, 5-, 6- and 7-Year-Old Horses
• USEF Developing Horse Dressage National Championships for Prix St. Georges & Grand Prix
• USEF Young Adult Brentina Cup Dressage National Championship
• USEF Young Rider Dressage National Championship
• USEF Junior Dressage National Championship
• USEF Pony Rider Dressage National Championship
• USEF Children Dressage National Championship
• USEF Dressage Seat Medal Finals for the 13 & Under and 14-18 divisions
• USEF Para Dressage National Championship
USEF also announced Festival of Champions dates at HITS Chicago, pending contract finalization, for the next three years: In addition to Aug. 22-28, 2022, the championships will be held Aug 21-27, 2023, and Aug. 19-25, 2024.