It's not often that you get to be the first person to do anything, but sisters Cassidy and Kimberly Palmer achieved that honor when they won the pas de deux at the FEI Vaulting World Cup qualifier at the Stuttgart German Masters, Nov. 13-17. It was the first time American vaulters had won a World Cup qualifier.
"It was the best feeling ever," said Cassidy, 20. "I couldn't be more happy. When they raised the flag and played the national anthem, that was definitely an unforgettable moment for my sister and me."
The pair performed with Leon, a 15-year-old Württemberg gelding (Lanthano—Daisy, Disco-Tänzer), to music from the movie The Great Gatsby. Wolfgang Renz, who is an accomplished German vaulting coach and owns Leon, longed them.
"Leon was perfect, and I'd love to take him home with me," said Cassidy. "We were also excited to hit one of our lifts that we often struggle with."
Renz coached them earlier this year when they came to Europe for competitions in Saumur, France, and Aachen, Germany. They train at home with Carolyn Bland. The pair also won the U.S. Nationals this year, as well as in 2010.
They're aiming for a spot in the World Cup Final, in Bordeaux, France, on Feb. 7-8. Therefore, they'll stay in Europe and contest the remaining legs of the series: Paris-Villepinte, France; Salzburg, Austria; and Leipzig, Germany. Only four pas-de-deux combinations will make the Final.
From Beaches To The Big Time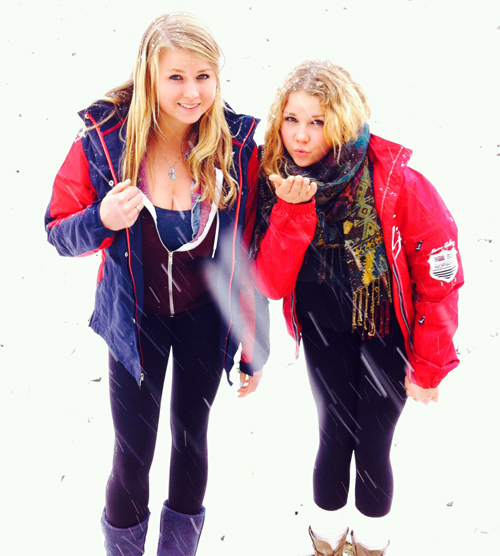 Natives of Half Moon Bay, Calif., Cassidy and Kimberly, 18, have dedicated their lives to their sport. Their mother, Jill Palmer, vaulted as a child and introduced them to it.
"We had an old Quarter Horse named Peaches who was our first vaulting horse," said Cassidy, who started vaulting at age 5. "We started our own club and called it Half Moon Bay Vaulters. We've had many coaches on and off [through the years], but our mom is always coaching while longeing for us. But now we mostly coach each other, which we find very productive."
While Cassidy did some "regular" riding as a kid, Kimberly only ever vaulted. The sisters vaulted on the same team for years before switching to pas de deux when the rules changed to allow female partners instead of the traditional male-female routines.
Jill went to Europe with Cassidy and Kimberly, while their father, Kevin, and their brother, Colton, remained in California. Colton, 15, is also a vaulter, and he competes at the gold level as well as being a level 10 gymnast. The family runs a mock western frontier town on their 46-acre property and host weddings, fundraisers and other events at their Long Branch Saloon & Farms.
The town includes a jail, dressmaker's shop, barbershop and a hotel. The original barn was transformed into a saloon with authentic gambling tables and an enormous bar used in the movie set for The Quick And The Dead. The latest addition is the Grand Palace Parlor with the original bar from The Palace Hotel in San Francisco, which survived the 1906 earthquake. They conduct educational field trips and tours there in addition to hosting events.
What It Takes
The Palmers generally practice on the horse three days a week and do conditioning and running six days a week in order to keep in top shape for competitions. Both sisters competed up to level 9 gymnastics, though they don't compete anymore.
"We fall off more than the average rider," Cassidy said with a laugh. "Almost every practice we fall off, but we generally land on our feet. We've both taken a handful of hard falls, though. Most of the time we land on our backs, and it just knocks the wind out of us."
However, major injuries have impacted the sisters' rise to the top. Kimberly had elbow surgery in 2009, and last year at the U.S. Nationals, Cassidy dislocated and fractured her knee while competing in the pas de deux. The injury set her back more than six months, and she still wears a knee brace for additional support.
The Palmers agreed that the hardest part about new tricks is trying them at the canter for the first time. "Once we've tried it once at the canter, it's not hard to try it again," said Cassidy.
At the moment, both are working on getting even fitter and improving and smoothing out their choreography. Cassidy said her strengths are balance, standing on the horse, and basing, while Kimberly excels at strength, creativity and flying.
They also share a dislike of vaulting in the cold.
"Vaulting when it's cold definitely makes it hard on all our joints," said Cassidy. "And the dedication to eating healthy and conditioning is for sure one of the hardest parts."
Vaulting also comes with its fair share of wardrobe malfunctions.
"When we were competing at Aachen, Kimmy and I were in the warm-up arena, and Kimmy's uniform split," Cassidy said with a laugh. "Mom and Mary [another vaulter] were running around trying to find a needle and thread. Mary came back with one first, so she gave it to Mom, and Mom started sewing while her uniform was on right there in the warm-up arena! Mom got it sewed just in time before we went into the competition arena. We were all laughing after we finished competing."
Keeping Their Eyes Ahead
The sisters have decided to take next year off from school in order to focus on vaulting, and they have their eyes on their ultimate goal: the 2014 Alltech FEI World Equestrian Games in Normandy, France.
As for after the WEG? They hope to continue to grow their vaulting club, and Cassidy is considering becoming a full-time gymnastics coach. Kimberly is interested in competitive boxing and in pursing her B.A. in illustration from the Academy of Art University in San Francisco.
For now, however, they're looking forward to continuing to compete in Europe.
"We went to see a castle and have been shopping in Munich. We have plans to go to London. And also while in Paris we are going to Disneyland," Cassidy said. "But without a doubt our favorite memory so far is winning in Stuttgart."
See full results from Stuttgart.