The horse world's most adored underdog earned legions of fans and brought his sport into the mainstream media in 2007.
The tale of Theodore O'Connor is one that lends itself easily to alliteration. Throughout 2007, phrases like "pony power," "mighty midget" and "pint-sized prodigy" have been bandied about in the equine and mainstream media, and the 14.1-hand event pony morphed from competitor into cultural phenomenon.
But to the members of the O'Connor Event Team and the Theodore O'Connor Syndicate, he's simply a beloved and blissfully ignorant star.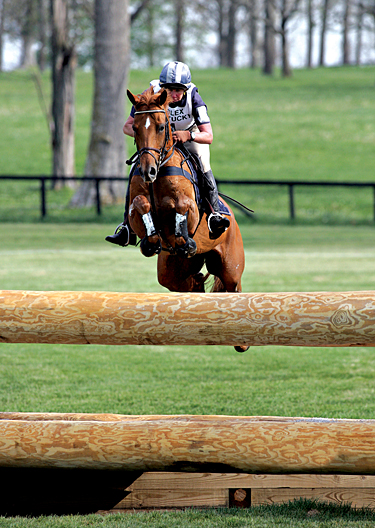 "I think all horses who are competitive understand a sense of competition and intensity, but he is just a horse," said Theodore O'Connor's three-time Olympian rider Karen O'Connor, whose matching surname is purely coincidental. "Horses are really humbling. I know that despite the hype surrounding this kind of cool story, all I have to do is get on "Teddy" and listen to him. That takes all of my energy, rather than being self-absorbed in all the articles and stories surrounding him. He doesn't know how remarkable he is."
After winning the CIC*** at The Fork (N.C.), placing third at the Rolex Kentucky CCI**** and capturing double gold medals at the Pan American Games in Rio de Janeiro, Brazil, this year, Teddy has learned to live in the limelight, but he still seems unaware that he's well on his way to becoming the horse world's most adored underdog.
Bred by P. Wynn Norman and owned by the Syndicate, the unlikely champion's well-documented rise to fame began when O'Connor took a chance on him and agreed to add him to her string of mounts in 2005.
The pony's popularity has now eclipsed that of all her other horses combined, and the veteran rider is still learning new lessons every day.
"I'm really excited about all this happening this late in my career," said O'Connor, who considered retiring from competition four years ago and will turn 50 this month. "I think I would have taken the ride when I was younger, but I don't think I would have done him justice, because he's a pretty hot little number. Understanding how to ride the horse that puts himself under pressure is an endeavor you can only take on with experience."
While her lifetime of practice made her the perfect match for the wayward pony back in 2005, O'Connor said Teddy often restores the feeling of youth.
"It feels like I'm 18 or 19 years old again, [riding my 15-hand horse] Erin's Shamrock. Although we're both looking up at the jumps, it doesn't feel that way because once he leaves the ground, it's an amazing, scopey, rocket feeling, and you know he's going to be just fine."
Attitude And Aptitude
Though Teddy's performances this year earned him legions of devotees, less than three years ago he had nary a fan in sight.
O'Connor's former student, then-young rider Christan Trainor, had taken him from training to advanced, but his career hit a stalemate in the summer of 2005. The cost of competing at the upper levels had become prohibitive, and neither Trainor nor Norman could afford to keep Teddy going.
Personal Profile
Description: 13-year-old, chestnut gelding, 14.13⁄4 hands. By Witty Boy, a 16.2-hand, Thoroughbred stallion, out of Chelsea's Melody, a 13.1-hand half-Thoroughbred, 1/4-Arabian, 1/4-Shetland Pony mare.
Owner: The Theodore O'Connor Syndicate.

Alternative Monikers: The Pony, Super Ted, The Red Rubber Ball, Redhead Red Ted.

Equivalent Human Personality: "We call him Doug Flutie," said groom Max Corcoran, referring to the diminutive but famed football quarterback. "Because he's a little guy in a big man's sport–a little man stepping up." The "Connor" portion of the pony's name, which he earned by kicking every human who entered his stall during his first week of life, is a reference to the notoriously aggressive tennis star Jimmy Connors.
Treats Of Choice: Mrs. Pastures Cookies and carrots, but nothing sweet.
Tack Fitting And Bitting: Teddy is currently awaiting the arrival of his new custom Stackhouse dressage saddle, and rider Karen O'Connor said she initially had to hunt for weeks to find a dressage girth small enough to fit him, finally locating one in Vermont. The U.S. Equestrian Team Foundation placed a special order for 68″ team blankets when Teddy traveled to Rio de Janeiro for the Pan American Games. He wears a D-ring snaffle for the dressage and goes in either a Dr. Bristol or a double-twisted wire in the jumping phases.
Best Equine Compatriots: Although Teddy is typically independent, he and his fellow advanced-level travel companion, Hugh Knows, are "kind of pals," according to Corcoran. But not all of his stablemates are so tolerant of the little star. "Upstage certainly can't stand Teddy at all. He's always wanted to be the cute little one."
Favorite Competition: The CIC*** at The Fork (N.C.). "I think he enjoyed Rolex Kentucky pretty damn well too," Corcoran added.
"Most people didn't believe me that 'The Pony' was going to do great things," Trainor said. "They thought I was a little nutty. I had some big-name coaches tell me I was crazy for even taking him advanced, but when you rode him, you just knew he could do it. He never had a cross-country [jumping] penalty with me from training through advanced."
"After Christan did her first two-star with him, she was trying to get a little syndicate together to buy him, but it didn't happen," Norman said.
Teddy stood out in a field with only occasional hacks for the majority of the summer while Norman tried in vain to find him a new home. She soon grew impatient with her prospective buyers' lack of vision.
"Everybody else expressed interest in him for a child, and he's a lot of pony. I really thought he could do more than what a child would need," she said.
While few seemed to grasp the reality of Teddy's talent during that era, Norman said she was encouraged by the interest of one particular proxy: Buck Davidson.
Davidson, who was scouting for an advanced-level prospect for one of his adult amateur students at the time, said he felt Teddy would have been a nice match for his rider. But nearly three years later, he's now just as happy to admit that O'Connor has proved herself to be the optimizer of the pony's potential.
"Did he have possibilities of going advanced? Sure. I thought he did anyway," said Davidson, who ended his pursuit of the pony when O'Connor expressed interest in riding him. "But was he going to win the Pan Am Games? No. Was he going to be third at Kentucky? No. Obviously, I didn't know it was going to turn into this. I don't think anyone did. Karen's done a fantastic job with him."
Karen's husband David, who serves as U.S. Equestrian Federation president, agreed. "From a horsemanship point of view, I think watching him come from where he started and gaining that confidence has been my favorite part," he said. "And [Karen]'s been a professional for a long time and to finally get the accolades that she deserves is very exciting for all of us."
Norman still recalls the steamy August day she delivered her charge to the O'Connor's stables at Jacqueline Mars' mountaintop Stonehall Farm in The Plains, Va.
"It was so hot that day, and they'd just had that great big mountain road resurfaced, and my rear tire was stuck about half a tire deep," Norman said. "I couldn't even call anyone because there's no cell phone service, but finally someone came down and drove to get a signal to rescue us."
"The trailer ramp dropped, and these two roly-poly ponies come bounding off," recollected Max Corcoran, longtime OCET head groom. "Teddy had been out in a field for about four months and had clearly been enjoying himself, and we were supposed to be taking him to [the CCI*** at] Fair Hill, which was still a long format at the time. I was like 'Oh my god, Karen is absolutely ludicrous.' "
Although the pair ended up contesting the Radnor CCI** (Pa.) that fall in lieu of Fair Hill, Teddy wasted no time rocketing to stardom.
The Golden Ticket
It was Teddy's CIC*** win at The Fork in April that jump-started his record-breaking streak in 2007.
"His dressage score [49.7] at The Fork was when it finally all came together for him," said Norman. The mark was fully 15 points lower than their score at the Red Hills CIC***-W (Fla.) just one month earlier. "Once they had that score that was within striking distance, I really thought the whole event was theirs to lose, and they certainly didn't lose."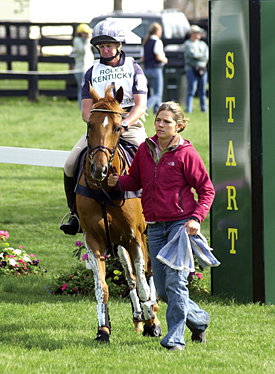 The true turning point, however, came at Rolex Kentucky, where Teddy proudly sported bridle No. 1. Another solid score left the pair 15th after dressage, but having the only pony in the history of the four-star go out as the first horse on Saturday's massive cross- country course was not a welcome prospect to Teddy's family.
"I was nervous," admitted Corcoran. "Karen knew she could either go out and be a hero or it could end her career. It was either one or the other."
O'Connor added, "I felt like that decision was mine and mine alone, and I took it very seriously. I knew he could jump all the jumps by themselves, but his ability to put them all together as a package was very much an unknown. I was really nervous that I was going to overface him, but that made me much more aware of myself and my riding."
Corcoran said she'd put Karen in the start box a lot, but Kentucky was different. "I'll never forget walking her around at Rolex, and just as they got down to about 10 seconds, she looked down at me all of the sudden and said, 'We're OK, right?' I just smiled and told her, 'We're great!' So off she galloped, and I was left there being like, 'Why are you asking me that?' "
But nonchalant as ever, Teddy allayed the fears of every skeptic as he ate up the course that morning. As the announcements of the pair clearing each obstacle rang out over the Horse Park's loudspeakers, the cheers of the crowds grew progressively louder, finally erupting once "The Pony" was cleanly home through the finish.
"My friend and I were standing by the Jumbotron out in the big field, and we both just fell down on our knees when he came running past us," recalled Norman. "There were so many cheers and tears in that crowd. It was really something."
The following morning, a double-clear show jumping round–one of only two in the entire competition– cemented Teddy's third-placed finish.
After that performance, the idea that the pair would lead the CCI*** field in Brazil three months later was no great leap of the imagination.
2007 Highlights Farnam/Platform USEF Horse of the Year

USEF Equestrian of the Year–Karen O'Connor

USEA Horse of the Year

USEA Pony of the Year

USEA Lady Rider of the Year–Karen O'Connor

Individual Gold–Pan American Games (Brazil)

Team Gold–Pan American Games (Brazil)

1st–The Fork CIC*** (N.C.)

3rd and Best Conditioned Horse–Rolex Kentucky CCI**** (Ky.)

5th–Poplar Place Farm Horse Trials–Advanced (Ga.)

7th–Rocking Horse Winter Horse Trials II–Advanced (Fla.)
Although Norman wasn't able to make the trip to Rio, she kept up with the scoring online.
"Again, once he got a dressage score that was within striking range, I knew he could do it. To me, that was already winning," she said. "I think Karen was a little bit surprised when she called to tell me they'd won the gold medal, because I just said, 'Oh, that's nice,' kind of nonchalantly, because in my mind I kind of already knew it would happen."
Pan Am teammate and individual silver medalist Phillip Dutton was happy to see O'Connor's superpony take the top prize, but it did cost him a bit of personal grief.
"My American cell phone didn't work in Rio," Dutton explained during the year-end awards ceremony at the U.S. Eventing Association Convention. "So the first text message I got when I got home was, 'You let a pony beat you?' "
"Teddy's going to do everything in his power to stay ahead of Phillip," O'Connor jovially countered later. "I look forward to Phillip having the same feeling at next year's annual meeting as he had this year."
Theodorable
Overwhelming as it was in 2007, Teddy's star appeal is only likely to increase in the coming season. Fans drive for hours to catch a glimpse of "The Red Rubber Ball" bouncing around a 6-minute cross-country course, and children seem to trail behind him like the Pied Piper at every event he attends.
"On Sunday night at Kentucky, all you really want to do is get them back to their stalls, get their braids out and get them dinner," Corcoran explained. "But he was just bombarded. They take the fences down around the stables, so people were just everywhere, and I couldn't get away. I finally had to put our motorbikes around our stall so people couldn't get to him.
"I'll stop at a random gas station somewhere, and some little girl will come up and ask if Theodore O'Connor is inside," Corcoran continued. "I refer to him as a sideshow, but he's really not a sideshow. He's still got so much more to do and a long way to go before the Olympic Games."
If Teddy does in fact make the trip to Hong Kong, he'll likely have the biggest cheering section in the history of eventing. This summer his story was featured on Fox News, and his image has graced the pages of The Washington Post multiple times. He has his own Breyer Horse model, a Wikipedia page, countless mash-up tribute videos on YouTube, and multiple fan clubs have cropped up on the popular networking website Facebook, including the largest group, called "Theodorable!" And after winning the USEF Horse of the Year, his photo will soon appear on Platform Treats packages–in essence, an equine Wheaties box.
Teddy also has his own website, created and maintained by Norman.


"I spend more time on Teddy business than my own," said Norman. "He got more Christmas cards than I did."
"He's got tremendous star appeal," O'Connor added. "He's a poster boy for the modern day event horse. But I'm also grateful that his fan club understands we're doing it one event at a time, one jump at a time. It brings discussions to the table about what's possible."
As president of the USEF, O'Connor's husband David agreed.
"It's the public adoration of him, not just the technical achievements," he said. "The emotional response from the public and fans has just been way beyond most horses I've ever seen."
For the members of Teddy's inner circle, daily contact with the feisty gelding is never taken for granted.
"Because of who he is as an individual, and not just because of his success, he's definitely one of my favorites," said Corcoran, who has groomed countless champions. "I feel very privileged to be part of his life. He's very specific with who he likes and doesn't like, so when a horse appreciates you as a caretaker, it makes it more special.
"My favorite time with him is hanging out braiding him in the stall, cause he gets affectionate and that hardly ever happens," she added. "Certainly standing with him at the awards ceremony in Rio was pretty cool. All of the sudden he decided I was going to be his scratching pole, and it made me laugh out loud. He's still just a pony."
Trainor now runs her own barn in North Carolina, but she often thinks back on her bond with Teddy.
"When I had a bad day, I would get on bareback and go for a hack, and he would come to me in the field when I would come out in the mornings. I just miss the little goober," she said. "But I'm so thrilled that someone was able to get out of him the potential that was always there."
The depths of that potential may still be untapped, and all eyes will be watching expectantly as Teddy heads into the coming season.
"I don't really worry about him being small anymore," O'Connor said. "Whereas a year ago at Rolex I was so afraid, and I felt a little alone out there, I don't feel alone anymore. I feel like everybody's really behind us."
---
Teddy's 2008 Timetable
After spending some time in training with dressage guru Betsy Steiner and show jumper Laura Kraut in January, Teddy is getting geared up for the spring events, including the CIC***-Ws at Red Hills (Fla.) and The Fork (N.C.), and an eventual Olympic bid.
"At this point he's heading toward Rolex, but I don't really know that he'll go there for sure," Karen O'Connor said. "Certainly if you do Rolex in the spring you end up with a very fit horse that needs little conditioning for the summer program."
Meanwhile, the rider said they'll continue to polish their flatwork skills and work to keep their jumping accurate.
"I have to keep the same kind of responsibility I felt last year in the 2008 season and not take for granted the fact that he's done Rolex and The Fork and all these big courses," O'Connor said.
"His natural stride is very big; he's got a huge range of what he can do with his body," she continued. "He's really just now finding all that out as an educated horse. It's been a lot of fun for me to watch that developing. The real fun is starting to happen."
---
Theodore O'Connor: The Total Body Workout
Although Karen O'Connor has competed mounts of all sizes throughout her career, piloting a pony around advanced-level courses has generated significant modifications in the physics of her riding.
"It's really helped my position," O'Connor said. "I always thought of it as a great asset to get the opportunity to ride Teddy. It's slowed down my upper body at the base of a jump quite a lot and kept me from ducking. He doesn't have a lot of length to his neck, so there's not a lot out in front of you."
Although O'Connor is only 5'6", she still has to ride Teddy with her stirrups several holes shorter than on most of her other mounts. This keeps her feet from dangling below the pony's belly and closes the angles in her position, requiring more core strength. An independent upper body helps her balance her mount without hauling on his mouth or using a leverage bit.
"Two years ago when I just started moving him up to advanced, Teddy really would pull on cross-country and would drag into a snaffle," she said. "So now he actually goes in quite a sharp bit–a double twisted wire–which gets a bad rap, but you can actually ride quite lightly in it. He likes this bit a lot. It's like driving a Ferrari.
"It makes you really responsible with your position," O'Connor continued of the accuracy in balance Teddy's size requires. "It's being able to put your upper body in a place where the center of gravity is quite a bit lower than on other horses."
In contrast to Teddy, one of O'Connor's other advanced mounts, Hugh Knows, stands more than 17 hands. Training both horses simultaneously has helped her to foster a ground-covering gallop and safe, scopey jump in the former and a careful, efficiently packaged stride for technical combinations in the latter.
"It's given me the tools to help Teddy be big when he needs to be, and Hugh be small when he needs to be," she said.
Kat Netzler