Tryon, N.C.—Oct. 28  
Paul O'Shea of Ireland and Skara Glen's Machu Picchu flew through the short-course timers to claim top honors at Tryon International Equestrian Center in the $130,000 Greenville-Spartanburg International Airport Grand Prix CSI*** in what served as the final Saturday Night Lights of the Tryon season, and also the first test event prior to the FEI World Equestrian Games™ Tryon 2018 for the discipline of jumping.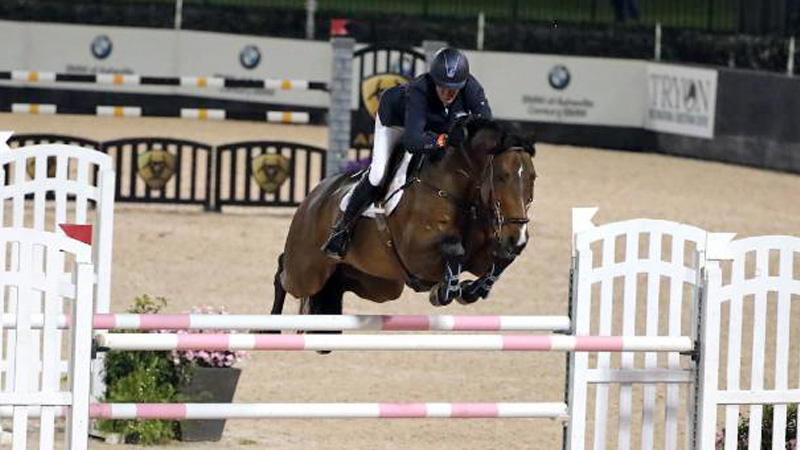 Shawn Casady and Valinski S, a 15-year-old Dutch Warmblood gelding (Nijinski x Rockina), owned by Wyndmont Inc., stole second place with their jump-off time of 35.10 seconds, while third place honors went to Margie Engle and Dicas, an 8-year-old Rheinlander gelding (Diardo x Cassini I), owned by Gladewinds Partners, LLC, for their 35.25-second finish.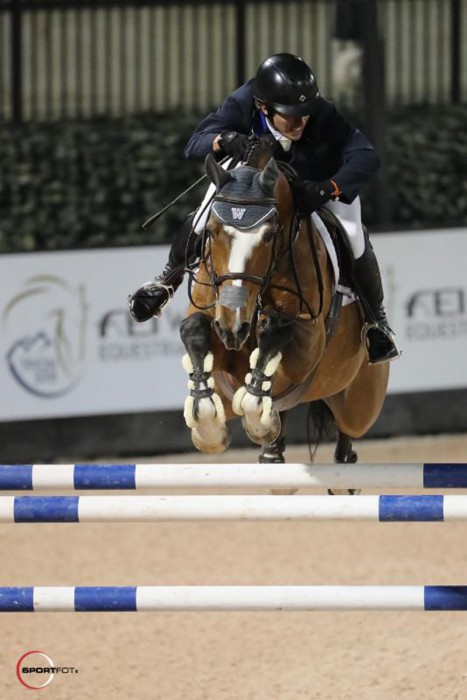 The Anthony D'Ambrosio-designed course saw 36 entries test the first-round track, while 10 pairs returned for the jump-off. Five entries finished double-clear on the evening and O'Shea commented on the course's appropriate level of difficulty.
"It was the perfect course for the three star and Anthony [D'Ambrosio] did a super job building. We had a nice amount of clears and I thought it was a good result," he smiled. "Obviously, it rode great. I'm really happy with it."
O'Shea and the 10-year-old Dutch Warmblood gelding (Silverstone x Verona H) owned by Skara Glen Stables have been together for three years. "This horse was on the winning Nations Cup team in Florida this year and went double clear. He's a fantastic horse, great mind, great to ride, and just a lovely horse," said O'Shea.
With a tough track and competitive riders in the hunt for the victory, O'Shea explained that there were some elements he had to consider carefully. "The triple to the water rode differently than I expected. I thought it was going to ride a little short, but it actually rode long, so that took me a little bit by surprise, but it worked out well," he said.
"The big question was whether to do eight strides to the last fence in the jump-off. It was a long, long way away, and he really locked onto it and jumped it well, but of course that was a chance there to leave out the stride."
O'Shea's grooms Collie and Diego Valvidia and Jose Louis Castro were awarded with the Absorbine FEI Grooms' Award for their dedicated care of the winning grand prix mount Skara Glen's Machu Picchu.
The jumping test event is the first of eight that will be hosted at TIEC ahead of the FEI World Equestrian Games™ and is meant to help prepare the venue to host all eight FEI disciplines: dressage, para-equestrian dressage, driving, eventing, endurance, jumping, reining, and vaulting. The test events are not used as qualifiers for the Games. The schedule for the remaining test events for the FEI World Equestrian Games™ Tryon 2018 is as follows:
Eventing: April 5-8, 2018 (CIC 3*)
Driving: April 19-22, 2018 (CAI)
Dressage: April 19-22, 2018 (CDI 3*)
Para-Dressage: April 19-22, 2018 (CPEDI 3*)
Endurance: April 26-28, 2018 (CEI 2*)
Reining: May 11-13, 2018 (CRI 3*)
Vaulting: Spring 2018 (CVI 2*)