The Netherlands has turned the established order of international para-dressage on its head on Sept. 21, by winning the team competition at the Adequan Para-Dressage at the FEI World Equestrian Games. In doing so, the Dutch team not only secured the first team spot, out of three, to qualify for the Tokyo 2020 Paralympic Games, it also knocked Great Britain off the top of the podium for the very first time at European, World, and Paralympic championship level.
"I feel like I just can't believe it," said Joyce Heuitink, the Dutch chef d'equipe. "It's been a dream since I started this job six years ago after London 2012, and the gap with Great Britain was so big.
"But every year the gap seemed to be getting closer, so we kept working hard and just worked on everything that we can," Heuitink continued. "And then you happen to have four amazing riders that do four amazing tests. But we were so nervous and thought 'what if they beat us by just one percent?' "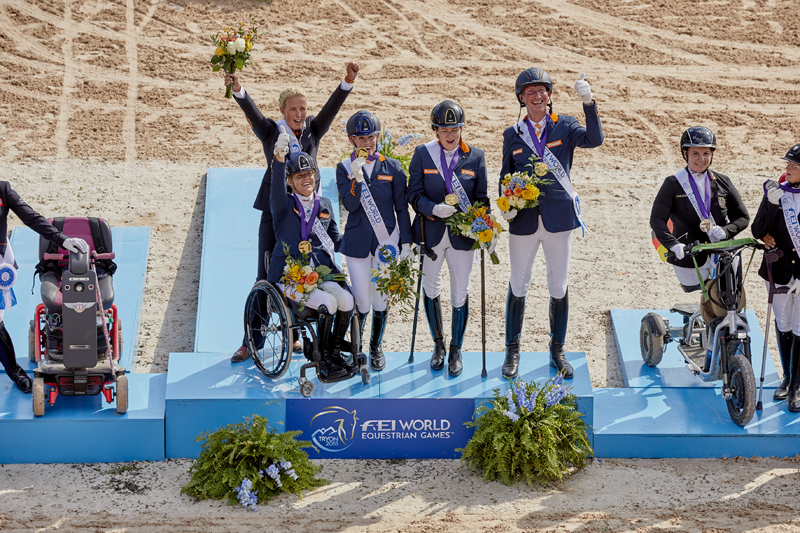 The Dutch team – Grade II's Nicole den Dulk, Grade III's Rixt van der Horst, Grade IV's Sanne Voets and Grade V's Frank Hosmar – clinched the championship with a total score of 223.59 percent after van der Horst, on Findsley, scored 73.55 percent, the first score of the day in her grade's team test.
That initially left the door slightly open for Great Britain to catch up, and they would have needed scores of 73 plus from both Natasha Baker and Erin Orford to defend their title. Baker rode first and was the highest scorer in the grade, with a personal best 74.11 percent on Mount St John Diva Dannebrog. Orford, competing at her first global championships on Dior, then scored 69.02 percent. In the end the gap between the two countries was just 0.62 of a percentage point.
"We watched Erin [Orford, Great Britain's final rider,] and said we would not be noisy," Heuitink said. "We gave her good applause and waited to be sure it was on the scoreboard that we were ahead, and then her score came up, and it was true. My team manager went straight to the general store to get Champagne. I've been full of tears for the last two days, and I'm afraid I will break into tears when I stand on the podium."
With the top two spots decided in the first session of the day, the afternoon's Grade I contest turned into a battle royal between Germany and Denmark for bronze and the final qualifying spot for Tokyo.
Denmark's Line Munk Madsen was up first, on Hoennerups Beebob and scored 73.17 percent, leaving Germany's individual bronze medal winning Elke Philipp a target of 73.20 percent. Riding Fuerst Sinclair, Philipp scored 74.37 percent and Germany were on their way to Tokyo by just 0.15 of a percentage point.
By winning the competition, Hosmar and den Dulk picked up their first ever world gold medals. Speaking after the ceremony Hosmar said: "It's really nice. We worked hard for it, and finally we beat the British. Every year we were closer and closer and closer and then, today, we beat them. Yeah! We have freestyle tomorrow, so we won't celebrate too much tonight, but tomorrow night I think we will."
"First gold, that's amazing," added den Dulk. "We really rode as a team, and there are no words for it yet. Riding here is such a big deal and being here as a team and actually doing it, that's something else – wanting it and doing it. We're all ecstatic.
"We rode our hearts out, and the judges saw that today and yesterday – happy horses and happy athletes."
For full results from the FEI World Equestrian Games, click here.
For everything you need to know, including broadcast schedules, click here.
For all WEG coverage, click here.
We'll be onsite for the full two weeks of WEG to bring you all the news you need to know plus gorgeous photos and insight into the competition. Be sure to check out the Oct. 8 issue of the Chronicle for detailed analysis.