Uma O'Neill held her breath as the final horses jumped the first round of the $145,000 CSI****-W Longines FEI Jumping World Cup Vancouver, and she did not exhale until final competitor Brazil's Eduardo Menezes pulled a rail. Then, she was exuberant.
O'Neill, 23, and her own Clockwise of Greenhill Z won the class as the only pair to produce a clear first round over the Alan Wade-designed 1.60-meter course. She and the 11-year-old Zangersheide stallion did not have to jump-off and recorded the first World Cup qualifying victory of their respective careers Sunday at Thunderbird Showpark in Langley, British Columbia.
"I'm ecstatic," O'Neill said. "I just went out and gave it everything I could today and asked a little bit extra of myself and my horse, and it really paid off."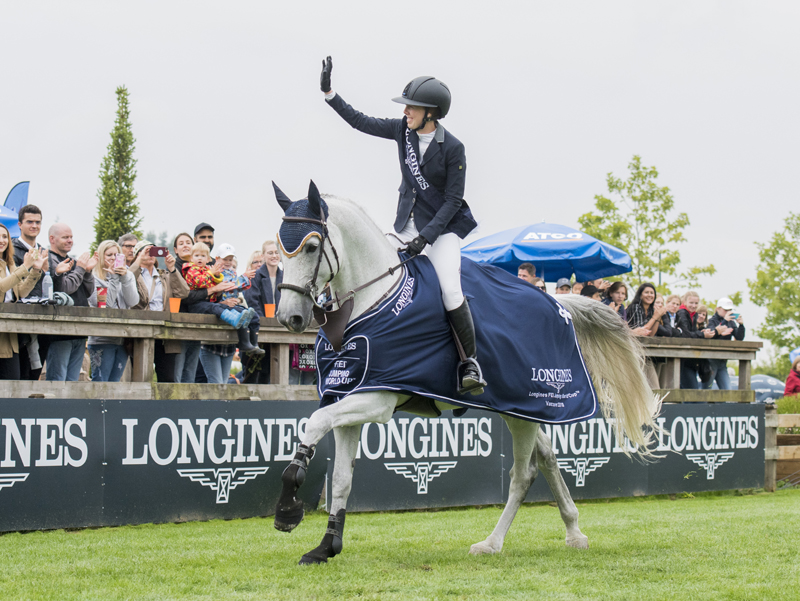 Defending champion Conor Swail and Rubens LS La Silla, who also won Thursday's $75,000 CSI****-W Maui Jim Welcome, finished second as the fastest 4-fault round (76.90 seconds). Juan Jose Zendejas Salgado and Tino La Chapelle finished third on 4 faults in 75.87 seconds.
"I was very, very pleased with [my horse's] performance today," Swail said. "It was just one of those things. It's very easy to make a small mistake. I'd say it was more my mistake than [my horse's], unfortunately, but it's fantastic to get second place. Congratulations to [Uma] for her clear round."
O'Neill excelled with a superior effort from her mount, who fought through the challenging Longines triple combination and a six-stride line to an oxer that followed. She and her mount jumped second in the field of 30, and their clear round held—albeit with some anxiety for the rider—throughout the remainder of the class.
"There were a lot of little tests out there," Wade said. "[The course] was solved very early on— second horse in—so we knew it was solvable. There were a lot of riders with 4 faults that, I believe, felt that if they had a second chance, they would have gone clear. But that's one of the great things about show jumping: You get one chance, and you have to take it. We got a lot of excitement and anxiety from people knocking poles late [in the class]. It doesn't all have to be about speed [in a jump-off]. It is showjumping after all. I think it was good sport."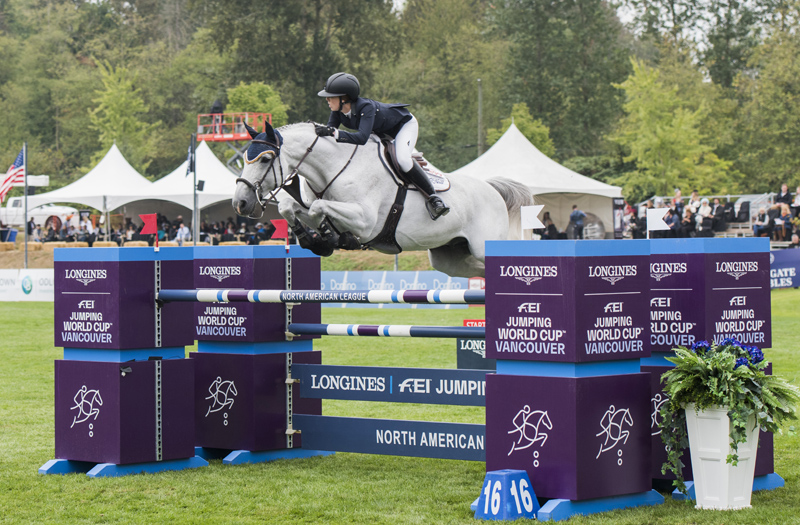 O'Neill was especially emotional to record her win at Thunderbird, which was where she was when her winning partner was imported four years ago.
"We got him as a 7-year-old," she said. "We actually got him imported as when we were [at a tbird show] in August. He is such a good stallion. I just love him."
The emotion was similarly felt by Thunderbird President Jane Tidball, who hosted an immensely successful World Cup event for the fourth time. Thunderbird also hosted its first ever five-star Nations Cup in May.
"It's our 45th anniversary," she said. "I think my mom and dad, George and Dianne Tidball would be incredibly pleased to have a World Cup event here at Thunderbird—which, we've had a very successful one. I always think of them when things go well. I'm sure they are all keeping an eye us down here."