In most ways, One Hundred And One is your typical top junior hunter. He's a gorgeous mover and athletic jumper who regularly claims championships at A-rated horse shows. But that doesn't mean he blends in with the competition.
In the procession of bays and chestnuts, punctuated by the occasional gray, One Hundred And One bursts into the ring with a coat full of color.
But that's not why rider Jenna Petrie-Moran loves him. She's been a part of One Hundred And One's life since Day 1, and transformed him from a super green horse to a reliable charge.
Now 18, Petrie-Moran was on foal watch the day he was born, and watched him hit the ground. She remembers the excitement of the day she curried the then-2-year-old colt, and saw the promised splash of silver start to appear in his coat. She watched her uncle and trainer Scott Petrie give him his first rides. And before she watched her uncle take him to his first shows as a coming 4-year-old, she came up with his name.
It wasn't long after that she was the one getting a leg up and riding the bucks out of the then frisky young horse. When her legs started dipping below the sides of the ponies she rode, he was the first horse she competed.
"She needed a horse and she did him better than I did," recalled Petrie. "I stopped showing him completely."
By the time he was 7 and they had two seasons under their belt, One Hundred And One and Petrie-Moran placed third at the Washington International Horse Show Children's Hunter Championship (D.C.) and sixth at the North American League Children's Hunter Finals at the Pennsylvania National. They stepped up to the juniors the next year, solidifying their bond.
"I remember that she cried the day that he wasn't green," said Petrie-Moran's mother Candyce Petrie, who trains her along with Scott. "In the beginning he was really tough, but now he's not afraid of anything. He's amazing indoors. He doesn't spook or look at anything."
That's The Kind Of Horse I Am
If you ask Scott, One Hundred And One's story started long before his niece needed a horse.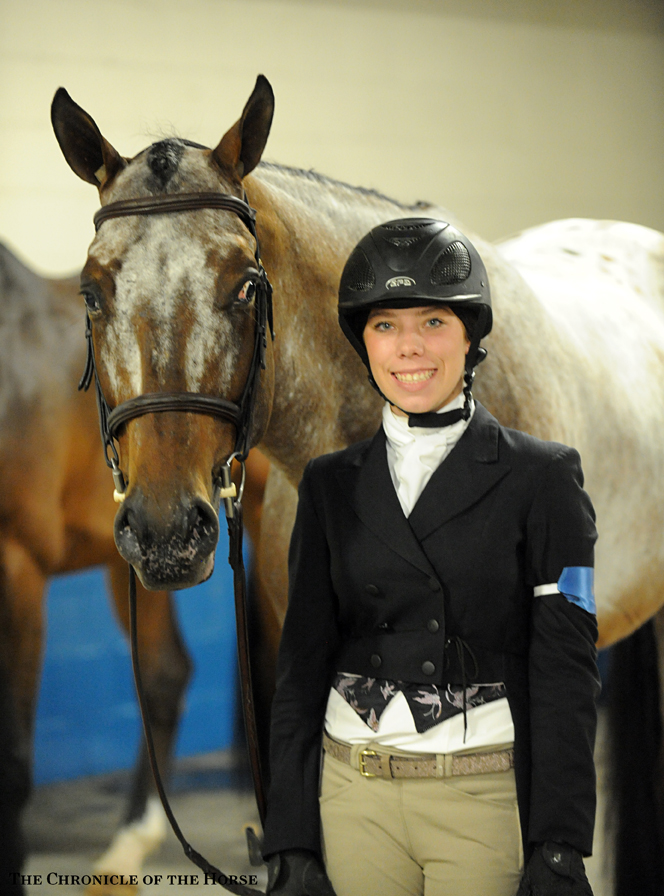 Scott had a well-bred mare in his barn named Ellie around the time he was retiring his beloved Appaloosa amateur jumper, Puttin' On The Ritz. In a bout of sentimentality, Scott pulled out his stallion guide of The Chronicle of the Horse, and started flipping through ads for Appaloosa sires. A page for Wap Spotted caught his eye, drawn by that horse's propensity to pass along his athleticism and good feet. He figured between Ellie's good breeding—she was out of another of his amateur mounts, Four To Go, and by Michael Matz's Barcelona Olympic Games mount, Heisman—he could get another great jumper.
But One Hundred and One had other plans. Sure, he had the scope for the jumpers—he's ribboned at several USHJA International Hunter Derbies—but when Scott saw him trot he knew he had a hunter on his hands.
"We did all the work on him as a young horse in a barn full of warmbloods," recalled Scott, who runs Petrie Show Stables along with Candyce in Medina, Ohio. "When he was little he'd go in the hunter ring and say, 'That's the kind of horse I am.' We'd put him in the equitation ring and he'd say 'That's the kind of horse I am.' Now he knows his job really well."
By now Petrie-Moran jokes that he's so straightforward, her biggest challenge for getting him ready to show is getting him clean.
That's a good thing because she's been buckling down during her freshman year at University of Akron (Ohio) and didn't have much time to prep before bringing "Richard" to the Pennsylvania National. She admitted she came in a touch rusty, but they earned good scores and a jog in today's large junior hunter, 16-17, stake. She'll be back for her last show of the season at the Washington International (D.C.) next week.
The Appaloosa Guy
Scott's soft spot for spots is no secret.
"Everyone calls and says, 'I've got a horse for you!' when they have an Appaloosa," said Scott. "Of course, just because it's an Appaloosa doesn't mean it's great. But I ended up getting a pony Appaloosa for Jenna."
That pony, Tickle Me, earned plenty of zone awards in the medium division, with Petrie-Moran and Scott's daughter Tyler, among others. Petrie-Moran had another appy pony in Blazing Around as well.
When Richard was born he was plain bay, much to his chagrin.
"He didn't have a spot on him until he was 2," said Scott. "He was plain bay. I was in Florida at the time, and when they called I said 'Did we get color? Did we get color?' They didn't care that we didn't, it was me that cared! They were just so excited for the foal. He had one silver spot on his rump, but some mottling around his eye. I called [Wap Spotted's breeder] and she said 'Don't worry! It'll come when he's 2.' "
Only when prompted does Scott say that he's seen his horse the victim of predjudice thanks to his loud coloring, but he doesn't doubt that fact.
"Definitely. Absolutely. 1000 percent," he said. "If an Appaloosa makes a little mistake it's like a bay horse's big mistake. You remember when it happens. But sometimes it's the other way around, and they really like him. It's been fun win, lose or draw."
Want more color? Here's a picture of another top appy hunter, Bravo and Jessie Lang. Then check out this gallery of eye-catching eventers with lots of good looking athletes.
Want more Harrisburg? Stop by The Chronicle of the Horse's official Pennsylvania National page, and catch up on all the junior hunter news here. There will be a full report from the Pennsylvania National in the Oct. 28 issue of The Chronicle of the Horse. Check out the Pennsylvania National's website for results. There's also a live feed at USEFNetwork.com