Lilly McKenna found it hard to contain her excitement. It was literally bubbling over and she couldn't sit still as she talked to me. "It's wonderful. It's my everything to be here, my birthday, my Christmas, everything! I can't even believe I'm here," she told me.
McKenna, 17, was sitting on a tack trunk outside her horse's stall at the Farm Show Arena in Harrisburg, Pa., where she was preparing to compete in the Pessoa/USEF Medal Final. She just kept repeating how amazed she was that she'd made it to this point. "I started this year with 3'3" being my goal for this year, so I certainly didn't think I'd get here!" she said.
"I just want to tell everyone that you can do it. You might not have a huge budget or tons of horses, but you can do it," she said.
McKenna, of Washington Crossing, Pa., is just the kind of person who a year ago thought a major equitation final was out of her reach. "When I was little, I'd sit and watch the equitation finals videos on YouTube and I'd think, 'I want to do that someday!' But I was doing the pre-children's my freshman year of high school. I didn't think I'd actually get from there to this," she said.
She hadn't started riding until she was a teenager. "I started late riding, and none of my family knew anything about horses. So it took me a while to figure out what the big-time riders do. I had to make it happen because my parents didn't know anything about it," she said.
She started at a local lesson barn, then in her freshman year of high school she moved to a different barn and started showing more seriously. "Until my freshman year, I was just riding bareback every day, going over poles, doing the pre-children's," she said. "In my sophomore year, I did my first Taylor Harris and I got an 86, and I was hooked. I was like, 'I've got to do the three-foot.' It was always tough to move up because I didn't have the budget or the opportunities."
What made the difference? A special horse and a trainer who was willing to invest in her goals.
In March 2015, McKenna was in the market for an equitation horse and her search took her to Lindsey Knight at Halcyon Equestrian Center in Connecticut. Their price point dictated something greener than a veteran equitation horse, so Knight showed them Eddy Escobar, a then-5-year-old young import that had just a few shows in the 1.0-meter jumpers on his resume.
"I never buy 5-year-olds [as sales prospects], but this one is really special and really brave. Lily got along with him really well," Knight said.
McKenna took "Eddy" home to Pennsylvania and showed him in the 3' classes and medals for the rest of 2015. In early 2016, they moved up to 3'3" and the THIS Children's Medals and started attempting the Medal and Maclay 3'6" classes. But by July, McKenna was looking for a change. She approached Knight about training with her, and the idea of going to the Pessoa/USEF Medal and ASPCA Maclay Finals was born.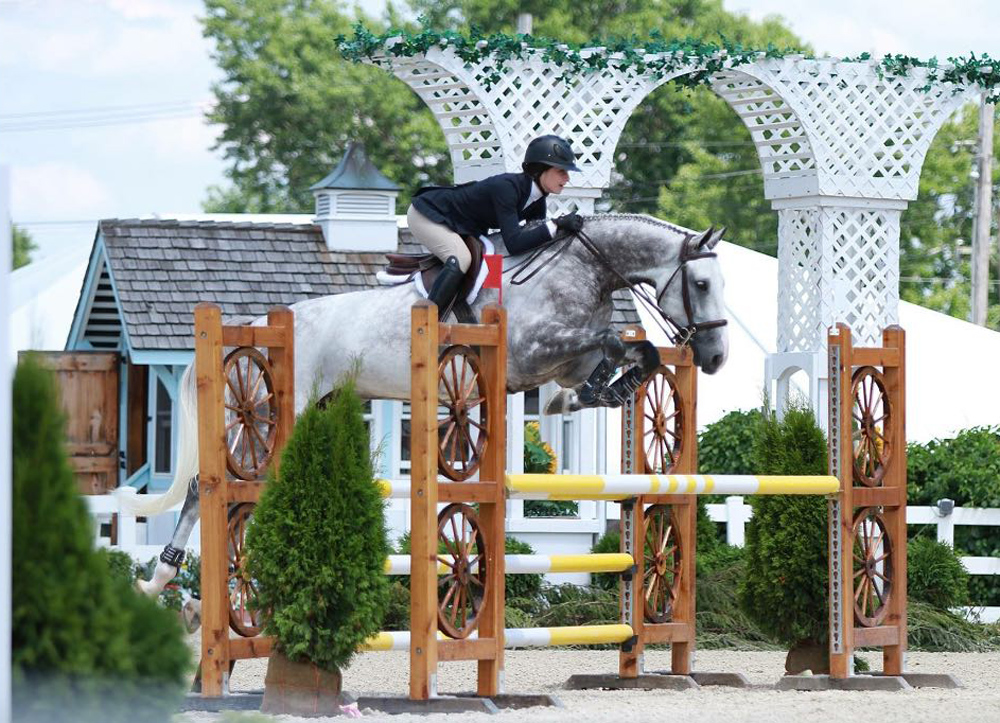 Lily McKenna and Eddy Escobar
"They came to me and said, 'Oh, we're not going to qualify for anything.' And I was like, what are you walking about, we have three weeks to get qualified!'" Knight said.
With Knight at the helm, McKenna and Eddy won three Medal classes in a row in August and promptly qualified for the Final. And then McKenna placed 15th in the Region 2 ASPCA Maclay qualifier to earn a spot in that Final as well.
It was a concerted effort for the McKenna family, as Knight and Eddy were now a four-hour drive away. McKenna's mother would make the trek on some weekday evenings for lessons and on weekends for shows. "I'm so thankful for my parents, what they've given up to make this happen for me," McKenna said. "This is a one-time thing for me. There's no way I could do this multiple times. My parents gave up so much for me."
McKenna will also say it was Eddy, a Dutch Warmblood by Cardento, who made all the difference. "When I first got on him, I could just feel his kindness. And the way he jumps is incredible. He's so soft and he's just the kindest horse to ride," she said. "The beginning was rough because I had to learn quickly and re-adjust my eye to ride a 3'6" course. I have a bond like no other with Eddy. We were both newbies to the eq ring but we took care of each other."
"I think she's ready to do it," Knight said of the Finals. "She came off some horses that maybe weren't quite as good-minded as he is. He's so trustworthy that she knows that if she makes a mistake or something doesn't come up out of the turn the way she expected, it'll work out. He never holds a grudge if it goes wrong."
And so Knight, McKenna and Eddy are in Harrisburg, ready to show in the Pessoa/USEF Medal Final tomorrow.
"My goal is just to get in there and let him do his thing and enjoy the ride," McKenna said. "It's not about the results for me as much as it is to give him a good ride. It's all about giving him confidence. I just have to go in with the mindset that he's young and it's both of our first times doing anything like this. I just started doing the big eq six months ago! So my goal is to show him off. He deserves a good ride."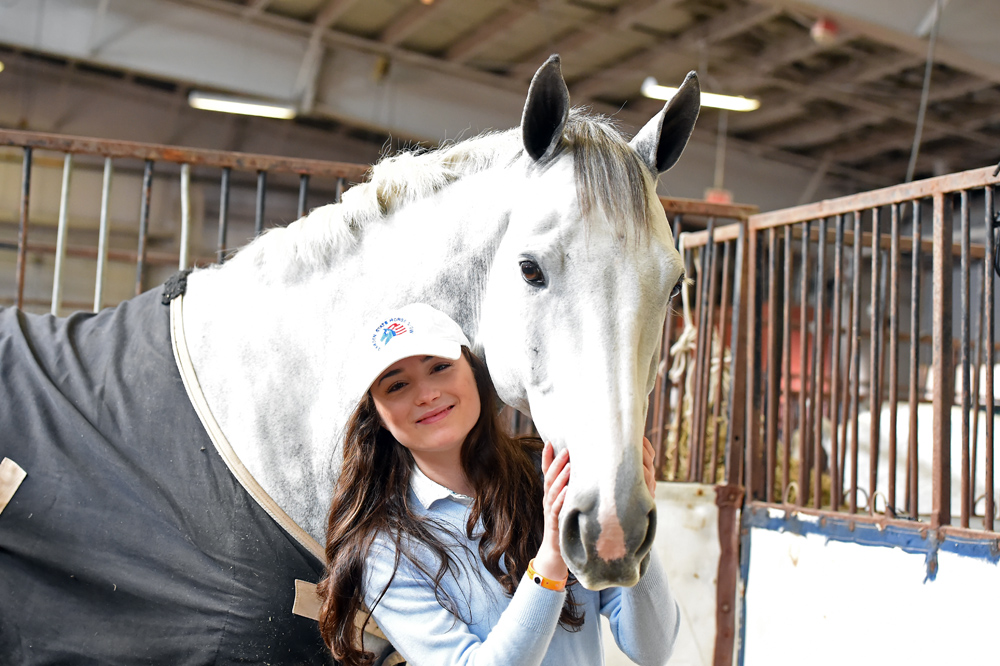 Lily McKenna and Eddy Escobar
This fall will be McKenna's last hurrah in the show ring, as she heads off to college next year. Eddy will go on to a new owner, and McKenna will seek out some new goals.
"It's not about winning the finals for me. It's about getting this special horse of mine into that ring because he deserves the spotlight. I know he'll bring his next rider to high levels. And when he does, I will smile ear to ear and be so happy to know that I brought him along," she said.
Want to see how McKenna and Eddy do in the Pessoa/USEF Medal Final? You can follow along with the Chronicle's Molly Sorge and Mollie Bailey in their round-by-round blog on Oct. 16 at www.coth.com.
Follow all the Chronicle's Pennsylvania National coverage. And don't miss the Nov. 7 issue of The Chronicle of the Horse, where we'll have more in-depth coverage from the Pennsylvania National.