If you're looking for Kelli Cruciotti after a day of showing at Devon (Pa.), don't look in the stands. Or at the fudge booth. Or even back at the hotel.
Odds are Cruciotti, 17, will be back at the barn, grooming and wrapping a horse or cleaning tack. She might have help, since she's got five horses showing at Devon, but Cruciotti makes it a priority to do as much as she can of her horses' care.
"My philosophy is that the horses jump so hard for me and try so hard for me, the least I can do is take care of them well," Cruciotti said. "That's always been a big part of my life. I do enjoy it, taking care of them and making sure they're put away correctly and that they have the best care. If they're giving me 110 percent all the time, then I need to give them 120 percent of my effort. It's hugely important to me. My mom raised me to always put the horses first and that it's not about the blue ribbons; it's about taking care of them."
Cruciotti's mother, Cindy, is her trainer and mentor. Kelli grew up riding before she could walk, and her mother, who is an experienced rider and trainer herself, has been guiding her way the whole time.
"We want to do it together because we both have such a love and passion for it. We treat each other with respect," Kelli said. "She's a fantastic rider and trainer; I have so much respect for her. It really works.
"I've always been a little horse-crazy," Kelli said. "My godmother is my mom's first trainer and now her associate, Kelli Clevenger. I always used to watch them work together and teach and train, and all I wanted to do was the same thing. I think my entire life, those two have been my idols. I really aspire to be the riders and horsewomen that they are. I've never wanted to do anything else."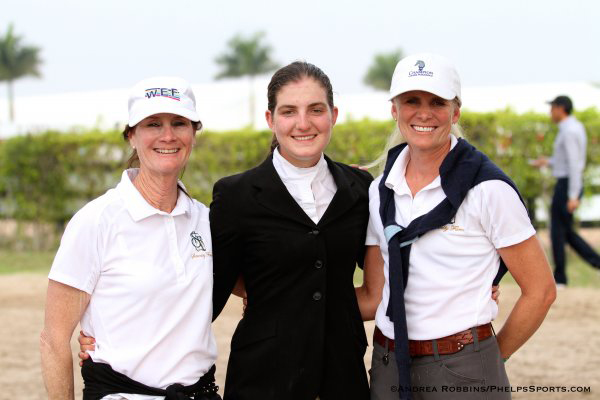 Kelli Cruciotti (center) with her mentors, mother Cindi (right) and Kelli Clevenger. Photo ny Andrea Robbins/Phelps Sports
Kelli grew up toddling after Cindi and Clevenger at Serenity Farm Show Stables in Elizabeth, Colo., where Cindi runs her business alongside Clevenger. As the child of a professional trainer, Kelli's been able to collect quite a string of horses even without having a bottomless pocketbook at her disposal.
She's brought all her big guns—two equitation horses (Monterrey and Cincinatti), two junior jumpers (Zidante and Wallenberg) and a grand prix horse (Chamonix H)—to Devon. It's her last junior year, and Kelli's making it count. "It's unbelievable. I never thought in my wildest dreams that I'd have this many fantastic horses going to such a prestigious show," she said. "It's a real honor to ride them and to ride at a horse show of this caliber. I'm so excited."
There aren't many junior who stay for senior week at Devon to show against the top professional names as well, but that's Kelli's plan. Not only is she going to trot into the ring for the $25,000 USHJA International Hunter Derby on Monterrey, but she's also entered for the open jumper division and the $100,000 Sapphire Grand Prix of Devon on Chamonix H.
"When you see the list of riders for a class like that, especially at a prestigious show like Devon where you have the best of the best, it's a little intimidating, but I'm also so excited," Kelli said. "I want to do my best to try and become one of those people one day. It takes a lot of work, but they're living proof you can do it."
Chamonix H is the horse that has helped Kelli step up to a new level in the jumpers. "She's such a great teacher for me and the first horse I've gotten to jump these huge tracks on. I didn't start jumping the 1.40-meter fences until last year, when I did them with her. She's just been the best teacher I could ask for. She has so much experience," she said.
Chamonix H is 11 and jumped in Nations Cups for Sweden with Helena Persson and then was ridden by Olivier Philippaerts until Kelli bought her in late 2013, but she's not an easy ride. "She's very delicate. She's a big mare but very sensitive. Every horse is different in different programs and I feel lucky that I have a connection with her," Kelli said.
"I think there was a little bit of a learning curve. My mom always says it takes about six months to really get to know a horse," Kelli said. "When I got her, she was a little grumpy. She wasn't very social and personable. But over the last two years she's really come out of her shell. I think that's been a big part of our success together—our partnership has really grown together so we've become a great team. I think that has a lot to do with it."
With Chamonix H, Kelli jumped for Zone 8 in the junior division of the Adequan/FEI North American Young Rider and Junior Championships (Ky.) last year, placing eighth individually. Early this year, at the Winter Equestrian Festival (Fla.), they won a $25,000 Artisan Farms Under-25 Grand Prix in January and then helped the U.S. team take gold in the junior section of the Hollow Creek Farm Nations Cups.
For the jumpers, Kelli and Cindi have enlisted 2004 Olympic team gold medalist Peter Wylde to help train Kelli. "When I started moving up to the higher levels of the jumpers, we decided to look for someone who shared our viewpoints but had the experience at that level. Peter is a great rider and teacher. He has the knowledge he can share with me when we're walking the course that I don't necessarily have. He's amazing and my mom and he work together well, so it's a great team we have," she said.
Want to know how Kelli Cruciotti does at Devon? Follow along with the Chronicle. We have reporters on site for all of Devon, posting all the news, beautiful photos and behind-the-scenes stories. Don't miss a thing—stay tuned for all our coverage.