Four years ago Katherine Coleman packed up her bags and her one horse and left New Orleans for England as a young rider with just a single one-star under her belt a few years before.
Now, she's back in the United States with six horses, quite a bit of three-star mileage, a thriving supplement business in England and a firm focus on her first Rolex Kentucky CCI****.
Coleman is basing herself in Buck Davidson's Ocala, Fla., farm to help prepare her for Rolex and get more miles at top events. She'll be competing three horses this weekend at the Red Hills International Horse Trials in Tallahassee, Fla., including one of her top horses, Longwood, in the CIC***. Courage Under Fire, who's aiming for Kentucky, will be out later in the season.
"I'm really excited to be here," said Coleman, 32. "I am quite nervous about Rolex! But it's my first four-star; it's the horse's first four-star. I think everybody is probably nervous for their first four-star. It's one of those things, I'm just excited to be there. I think it's quite a milestone for any rider. It's exciting to be qualified, it's exciting to be going, and I'm just trying not to think about the nervous part."
Coleman grew up eventing in Louisiana and attended the University of Georgia to study business management.
She took a year after college to try a "real job," but soon found herself back in the horse world, helping out at her family's farm near Gulfport, Miss. Her father had hired a hunter/jumper trainer to run the facility, so Coleman took a break from eventing and tried her hand at show jumping and the hunters and dabbled in dressage. She even earned her U.S. Dressage Federation silver and bronze medals with the Swedish Warmblood stallion Carush, who's now ridden by young rider Kalie Beckers in the Under-25 Grand Prix division.
Coleman had a jumper who seemed to want to be an eventer, so she gradually got back into the sport and reconnected with Lucinda Green, with whom she'd ridden in clinics many times as a young rider, while on a trip to the Mitsubishi Motors Badminton Horse Trials CCI**** (England).
Green encouraged her to go to England to work for Irish eventer Sam Watson, so Coleman packed her bags, and her horse, and booked a ticket in 2012.
Coleman learned the ins and outs of British eventing from Watson, and began building up a small string of her own competition horses, competing at the one- and two-star levels in 2013 and '14. She eventually moved on to Headley Stud, where she met fellow American Jules Stiller and began rubbing elbows with some big names. By the fall of 2014, she and Courage Under Fire completed the CCI*** at Blenheim Palace.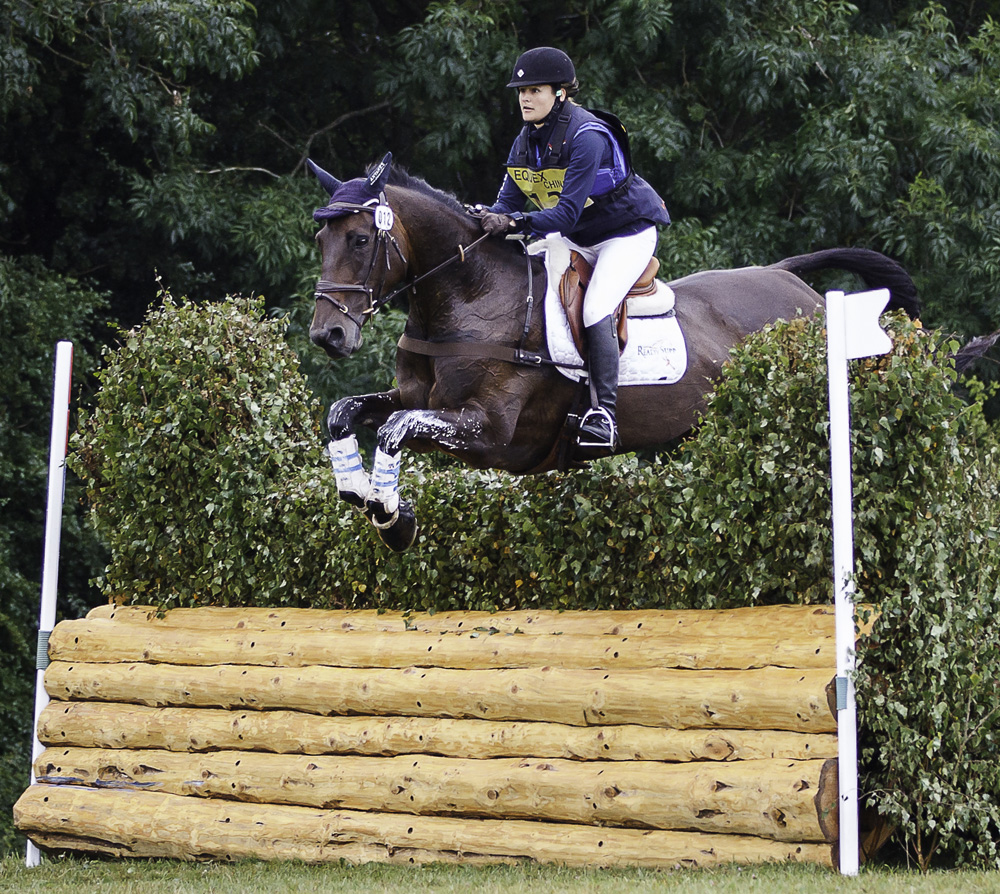 Katherine Coleman on Courage Under Fire, her three-star campaigner who's aimed at the Rolex Kentucky CCI****. Photo by Libby Law Photography
"It was definitely a bit of a shock," she said of the move to England. "Basically everything's different. The same but different! One thing to get used to was the pace. Everything is a one-day over there. But everybody is really lovely and down to earth. When I was at Headley Stud, Mark Todd was there. It just doesn't matter if it's Mark Todd or Andrew Nicholson or Lucinda Green, they're so friendly. I'm like nobody's nobody, but they're all really supportive of the young riders coming through."
Coleman appreciated the endless amount of competitions and soon saw her riding improve as she moved up the levels.
"It's so nice because there's show jumping every day during the week, they have dressage competitions, there's an event every weekend within an hour or two hours from where you are. So if you have a bad show it's fine," she said.
After a year at Headley Stud, Coleman moved to Green's daughter Lissa's yard and spent a year there before moving on to the facility where she's based now near Marlborough, Windmill Stud. British young rider star Flora Harris is also based at the brand new facility, which backs up to the Barbury Castle event grounds.
"It's such a competitive thing for the English riders in terms of the quality and the amount of people doing it," she said. "As an American, because I'm not in direct competition for a place on a team with them, it's fun. I love being American—everybody calls me Team America. I do feel very American. They're all very receptive and welcoming."
Making A Name
Because she was in England on an entrepreneur visa, Coleman knew she'd have to start a business if she wanted to live in England for a long period.
While pondering her options, Coleman got into a conversation with her friend Didi Verdina about the popular U.S. supplement company SmartPak.
When they were both surprised there wasn't a company like that in the United Kingdom, they decided to start their own, and ReadySupp was born three years ago.
"It's kind of just taken on a life of its own. It's doing really well," she said. "We designed our own supplement line, which was a lot of fun. We hired one of the top equine nutritionists in the country to help design supplements using the latest research and new ingredients. It's been quite rewarding because as a rider and wanting to feed them to my own horses, you just realize that a lot of other companies get away with not putting half as much of the key active ingredients in there or not using the higher quality ingredients that have much higher absorption rates."
The company got a boost early on when New Zealand riders Jock Paget and Kevin McNab came to them after their positive drug tests with the FEI following the 2013 Land Rover Burghley Horse Trials CCI**** (England).
"When Jock Paget and Kevin McNab got tested positive for their contaminated supplements, afterwards they came to us wanting to use our products and came to look at our factory," said Coleman. "It was great to work with them because obviously going through that experience they had such a massive checklist to make sure the products were up to a safety standard so they were never in that position again. It was great for us a young company to be able to follow that protocol and have that traceability to make sure they're safe enough that these guys want to use the products."
Coleman balances riding six horses with helping to run the company with Verdina. They have an office with four other employees, and Coleman tends to spend most Mondays there in meetings. The winter months are spent setting targets and budgets for the upcoming year.
While keeping her horses going, Coleman is always available by phone to handle anything that comes up.
"It is a lot, but it's also about who you've got rowing the boat with you," she said. "I've got a lot of really good people that I lean on in the horses and the business that make it possible."
Coleman decided that it would benefit her to come to the United States this winter to get more training time in. She lost a lot of preparation last winter when many British events were cancelled due to rain, a trend that seems to be continuing this spring. She's also hoping to get some more face time with Chef d'Equipe David O'Connor and see how she sizes up against other top U.S. combinations.
Her Red Hills CIC*** entry Longwood, a 14-year-old Irish Sport Horse gelding (Limmerick—Cavale De Or, Cavalier Royale), was found for her by Sam Watson. He'd been competed to the three-star level by British rider Charlotte Agnew and has been giving Coleman lots of experience.
"He's a little cross-country machine," she said. "His show jumping is his weakness, and he can be a bit frustrating because he's one of those ones who doesn't touch a pole schooling or in lessons. He can really jump, but he's quite spooky, so when he gets into the show ring and there's a bit of atmosphere, he goes a bit tight and gets tight behind the saddle and has poles down behind.
"My goal here is to work on his show jumping, hopefully get him over to HITS [in Ocala] on a regular basis," she continued. "Last season was my first full season on him, so we're still kind of getting to know each other. He's super cross-country—really quick across the ground and easy to make the time. He's 16.1 so he's kind of this pocket-rocket, nimble little thing."
Coleman will also have Monte Classico, a 7-year-old German Warmblood (Monte Bellini—W-Sally, Saami xx) who came from Bettina Hoy, in the CIC* at Red Hills, and Wizard of Aus, an 11-year-old British Sport Horse (Catherston Springsteen—Without Regret, Piccolo) in the CIC**. She's hoping to bring out another two-star horse, Back To Business, who came from Mark Todd, a bit later.
Courage Under Fire, a 13-year-old Irish Sport Horse mare (Courage II—Seaview Comfort, Ballygarrett Glen), has been in Coleman's barn since 2013. They placed sixth at the Ballindenisk CCI*** (Ireland) last year and competed at the Bramham CCI*** (England), but were eliminated on cross-country. It turned out the mare had pulled a muscle in her shoulder at her prep event at Tattersalls (Ireland), but Coleman had assumed the problem was in her feet and treated her accordingly. After some rehab, she's back on track. "She's feeling very well now, and she's on good form," said Coleman.
Coleman has never been to any of the big competitions in the United States that she's entered in, but she's excited to bring her experience back.
"Before I'd left to go to England, I'd only done a one-star, so it's kind of fun to go over there and work my way up and have this string and come back over here and do my first four-star at Rolex," she said.