Julia Tait has big dreams. But she doesn't have the budget for a horse to show on the circuit. So what does she do? She works hard and takes advantage of every opportunity.
Tait, 16, hasn't ever owned a horse, but she's headed to the ASPCA Maclay Final. "This is only my second year doing 3'6". I always wanted to do this, but I never thought it would happen so soon. It's definitely crazy that it happened so fast," said Tait.
Tait, from Marietta, Ga., pitches in as a working student at Sharon Enteen's Falcon Ridge Stables. Enteen gives the teenager sales horses to ride and show; Tait is riding Enteen's Cameo in the fall equitation finals this year. "I'm super thankful that Sharon has given me the opportunity to ride her. I'm so grateful for that," Tait said.
"She earned my respect and made me want to do things for her because not only was she working hard to learn on the back of a horse, but she also was back at the barn wrapping and unbraiding, going the extra mile. She'll help anybody in the barn who needs it," Enteen said.
"She's worked really hard to get there. I know we all struggle these days with the concept of kids handing their horses off to grooms and walking away, but this is a kid who wants to do it all, who works hard to get where she is," Enteen continued.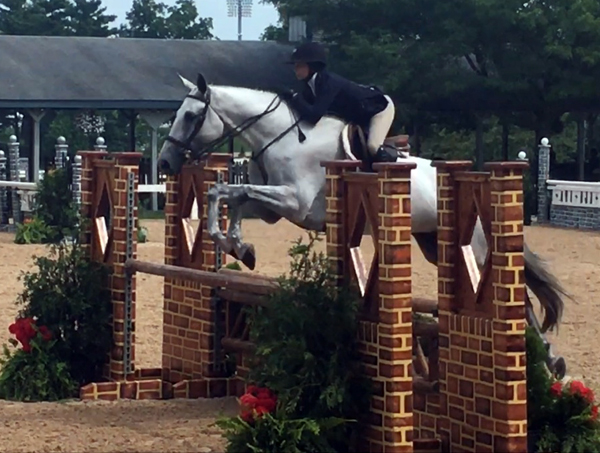 Julia Tait riding Cameo, the mount Sharon Enteen has let her ride in the ASPCA Maclay Final.
Tait grew up in a non-horsey family but was the typical horse-crazy girl. When she was 10, her mother, Susie, took her for a lesson at Falcon Ridge, and Julia never looked back. Enteen recognized her drive and gave her the rides on sales ponies and horses.
Julia helped Enteen develop the medium pony Brighton My Day from the short-stirrup division in 2013 to the green pony division at the U.S. Pony Finals (Ky.) in 2014.
After Brighton My Day was sold, Enteen put Julia on Legacy, a green prospect, in the summer of 2014. After a few shows at 3', they moved up to the 3'6" small junior divisions in January 2015. They finished last year by qualifying for all the indoor shows.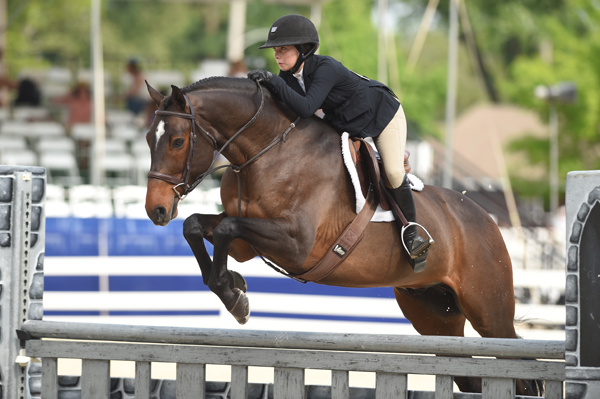 Julia Tait showing Legacy at the 2016 Devon Horse Show. Photo by Kimberly Loushin
Julia has leased a horse from Enteen here and there, but the majority of her experience has come on sales prospects Enteen imports. She rides green horses, helps school clients' horses, and does whatever she can to help Enteen.
In addition, Susie works in the Falcon Ridge office to help offset expenses.
"Just being able to get on so many different horses—some green and some more broke—she's developed a very nice feel," Enteen said. "It's made her very well rounded, so if she gets on a horse that is well trained she can really shine."
So when Cameo, an experienced equitation horse owned by Falcon Ridge, became available in July, Julia got the ride. "She's not spooky at all, and she's basically perfect," Julia said. "Last year I had a green horse, and we were learning together as we went, so this is the first year I've really been able to be competitive in those classes."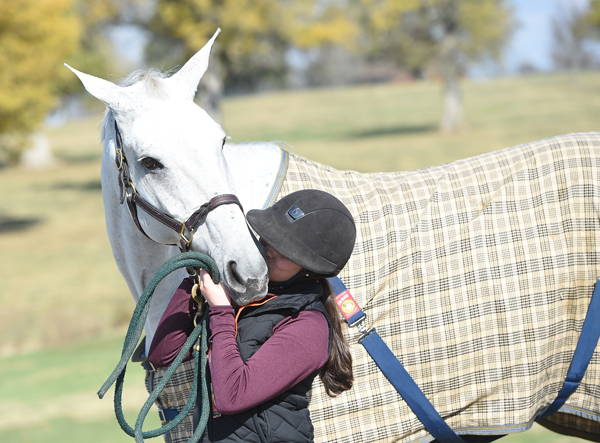 Julia Tait and Cameo. Photo by Ann Glavan
Last year, Julia competed in the ASPCA Maclay regionals and in the Pessoa/U.S. Hunter Seat Medal Final (Pa.), but she didn't qualify for the ASPCA Maclay Final. This year, however, she placed sixth with Cameo in the Maclay regional to get to the Final. "Of course making it to the second round would be awesome, but if I just have a good solid round with no major mistakes, I'll be happy with that, because it's my first year," she said.
For Julia, showing at the equitation finals is not only an accomplishment in and of itself, but also a stepping stone to the next phase of her life. "I really want to ride on a NCAA team when I'm in college, and I want to expand my riding career in the future," she said. She's currently a junior in high school and has been reaching out to equestrian coaches at colleges in an effort to get a foothold on her college endeavors.
Julia Tait goes 17th out of 176 in the ASPCA Maclay Final, which kicks off at 6 a.m., on Saturday, Nov. 5. You can find everything you need to know, including how to watch and links to all the information, in What You Need To Know.
And make sure to follow along with COTH's Lisa Slade and Ann Glavan—they're in Lexington, Ky., for the ASPCA Maclay Final and will be blogging round-by-round both days.