When the Hulbert family started leasing a mustang pony called Duck for their daughter Samantha, they never guessed the surprises the little mare had in store.
Three years ago, Duck arrived at Hunters Edge Stables, where the Hulberts ride in Memphis, Tennessee. The mare was an impulse buy that head trainer Beanie Cone picked out of the pasture on a trip to a sale barn. She had a wild way of going—hot and forward, but never in a straight line. Add in faulty brakes, uncertain leads, and hesitancy in front of the jump and she wasn't most people's first option for a lesson program.
But when it comes to kids and horses, riding isn't everything.
"At the barn, everyone likes her," said Samantha, who had been riding for three years when she met Duck. "She lets little kids walk under her; the dogs can run all around her, and she doesn't mind at all. She's everybody's favorite."
Samantha, who had just turned 9, pleaded with her parents for weeks until they agreed to try Duck on a six-month lease.
"She's just one of those ponies that's easy to love," Selena Hulbert, Samantha's mom, said. "She's easy to be around on the ground, in your pocket, loves kisses and snuggles. I think that was the first thing that drew us to her. As a mom with a 9- and 6-year-old, I needed to make sure it was safe—not just in the ring but on the ground. And Duck really gave me that feeling that they were going to be safe together."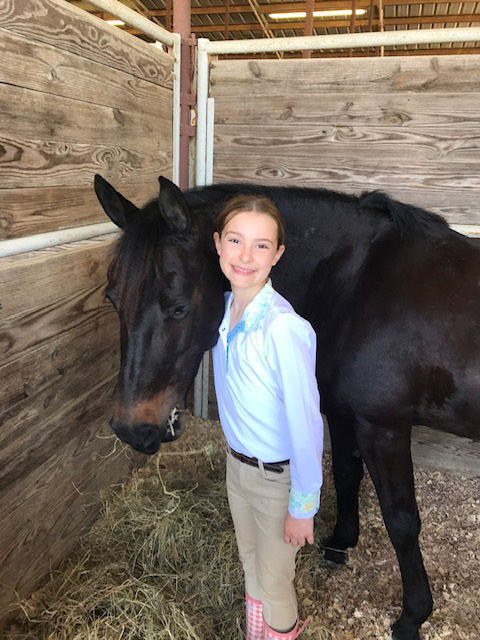 No one knew much about Duck's background. A little research into the freeze brand on her neck revealed that she had been rounded up by the Bureau of Land Management as a yearling in Bald Mountain, Nevada, in 2009. But that's all they could find out.
So they treated her like a blank slate. Within a few months, Duck had mastered her leads, could canter a straight line, and even managed to stop (most of the time). But something odd was happening to Duck; as her workload increased, she got fatter. And fatter.
"We cut her treats and managed her diet, but she continued to grow," Selena said. "Eventually we noticed her udders had filled. She was going to have a baby!"
Three weeks later, Duck delivered a healthy buckskin filly, who the barn kids immediately dubbed "Duckling."
"The best we can surmise is that she must have gotten pregnant in the week or so before she came to our farm because it was right on 11 months when she had the baby," Selena said. "At first the trainer who had her before had no idea who the father was. But once we sent a picture of the baby back, they said, 'Ooh, there is a cream-colored Paint stud down the way.' So he must have made it [into] her field."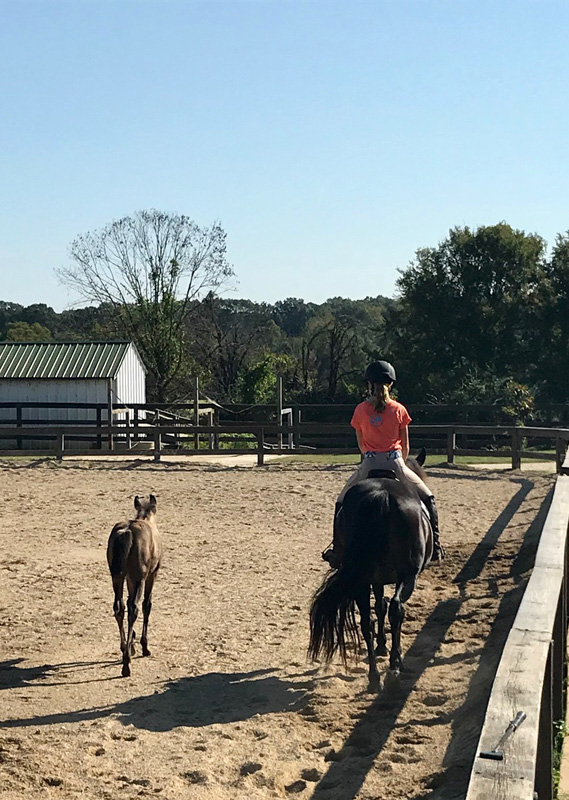 After a couple of months, Cone gave Samantha the go-ahead to start riding Duck again, with Duckling trotting along behind.
"Sometimes we had to stop and let Duckling nurse, then she'd run off and we'd start walking again," Samantha remembered. "Duck was calm about it and really good the whole time."
"It really was a magical six months," Selena added. "The whole experience was not originally in the plan. Our barn is not a breeding barn; none of the kids there have been around babies. But Duck was such a laid-back mom, the whole process was just unexpectedly easy."
Just before weaning, the Hulbert formally purchased Duck along with her growing filly. They took Duckling to a neighboring farm where she could grow up with another weanling at pasture.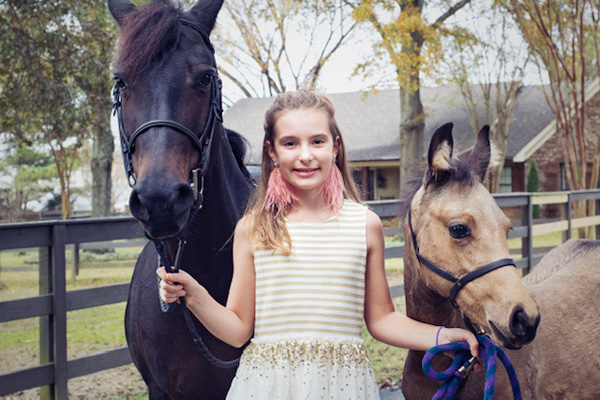 Then Samantha and Duck got back to work.
"Duck remembered all of the lessons she learned in the hunter ring," Selena said. "She and Samantha continued to improve, and by the end of the year were ready to attend their first 'A' rated show. It was a great experience and they walked away reserve champion in the medium children's pony.
"From then on, Samantha dreamed of Pony Finals," Selena continued. "She'd say, 'Can you imagine if we make it to Pony Finals, Mom? I know Duck can do it! She's the best pony ever!' "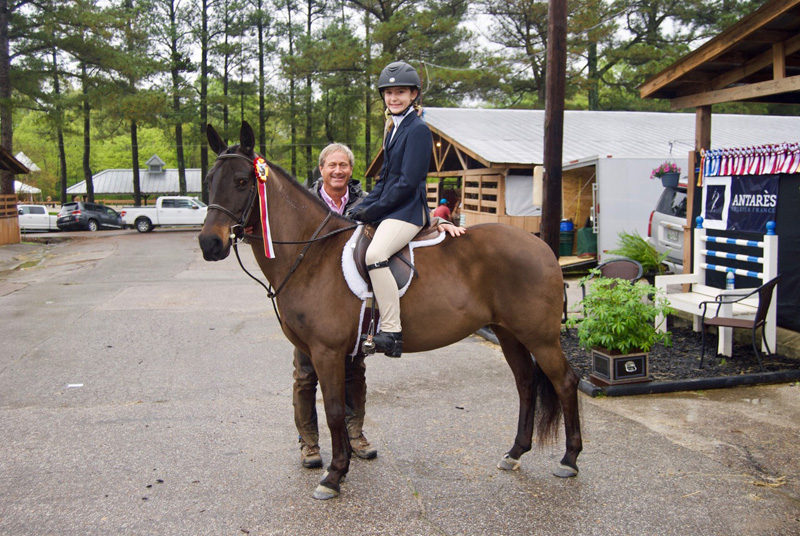 Samantha and Duck, whose show name became "Brownie Points," moved up to the medium green ponies over the winter in St. Louis.
Things didn't go as planned.
Duck felt unsure about indoors, and the pair dealt with nerves, refusals and even some disqualifications.
"Both Beanie and I tried to temper Samantha's expectations after that, but Samantha's a tough kid," Selena said. "She was still determined that they could make it to Pony Finals."
Samantha's faith in Duck paid off. They earned the qualifying results they needed in quick succession at their next two shows, and now are heading to their first Pony Finals.
"The past few years have brought a lot of firsts—first pony, first foaling experience, first A shows, now first Pony Finals," Selena said. "Samantha is really someone who likes a challenge, though, and I think that's one of the things that really drew her to Duck. Duck had never had any formal training, and Samantha was ready to be tough through that. I think especially this year, she's showed her grit and determination."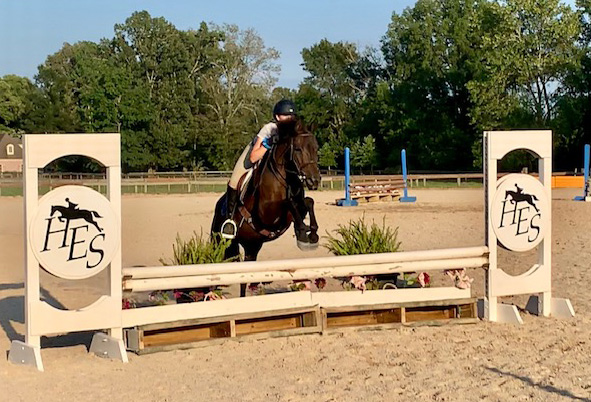 Samantha, now 12, says they were working hard in the final days before competition, mostly on steadying Duck's pace. But even if they fly around like their "tail is on fire," as Selena says, for Samantha, the dream has already come true.
"I'm just really happy to have qualified with Duck," Samantha said. "I feel like it's really good for her to be there to get more experience. Since it's my first time being there too, I'm excited to be doing it together."
Do you know a unique pair competing at Pony Finals this year? Email Laura Lemon at llemon@coth.com.
The Chronicle will have reporters on-site at the Kentucky Horse Park to cover all of action and bring you stories, news and photos from USEF Pony Finals. Check in at coth.com and make sure you're following us on Instagram and Facebook.

Check out our July 22 issue of The Chronicle of the Horse magazine, our Pan Am preview issue, for more information about the competitors, and be sure to read the September 2 issue to get full analysis from the Games. What are you missing if you don't subscribe?