Gina Economou thought she was crazy to consider competing at the Plantation Field International CIC*** with Calidore. But not because she didn't think the 9-year-old Dutch Warmblood gelding could handle it.
Economou lives near Los Angeles, Calif., and has only competed "Leo" on grass a handful of times, but when friend and student Michelle Caparelli asked her, 'Why not?' Economou decided to take the chance and make the nearly 3,000 mile drive to Pennsylvania.
She's off to a good start, landing in a tie for 13th after dressage on a 55.5, a personal best score, with the multi-talented gelding who also dabbles in grand prix show jumping.
"She told me I needed to get off my butt and get out of the West Coast and try him somewhere else," said Economou, who's a professional based in Sun Valley, Calif. "If I really want to do a four-star on him I'm not going to prep him without ever coming somewhere else other than the events at home. She motivated me to think about it. It was kind of a pipe dream. One day he was going really well, and I was like, 'Maybe I should actually come.'"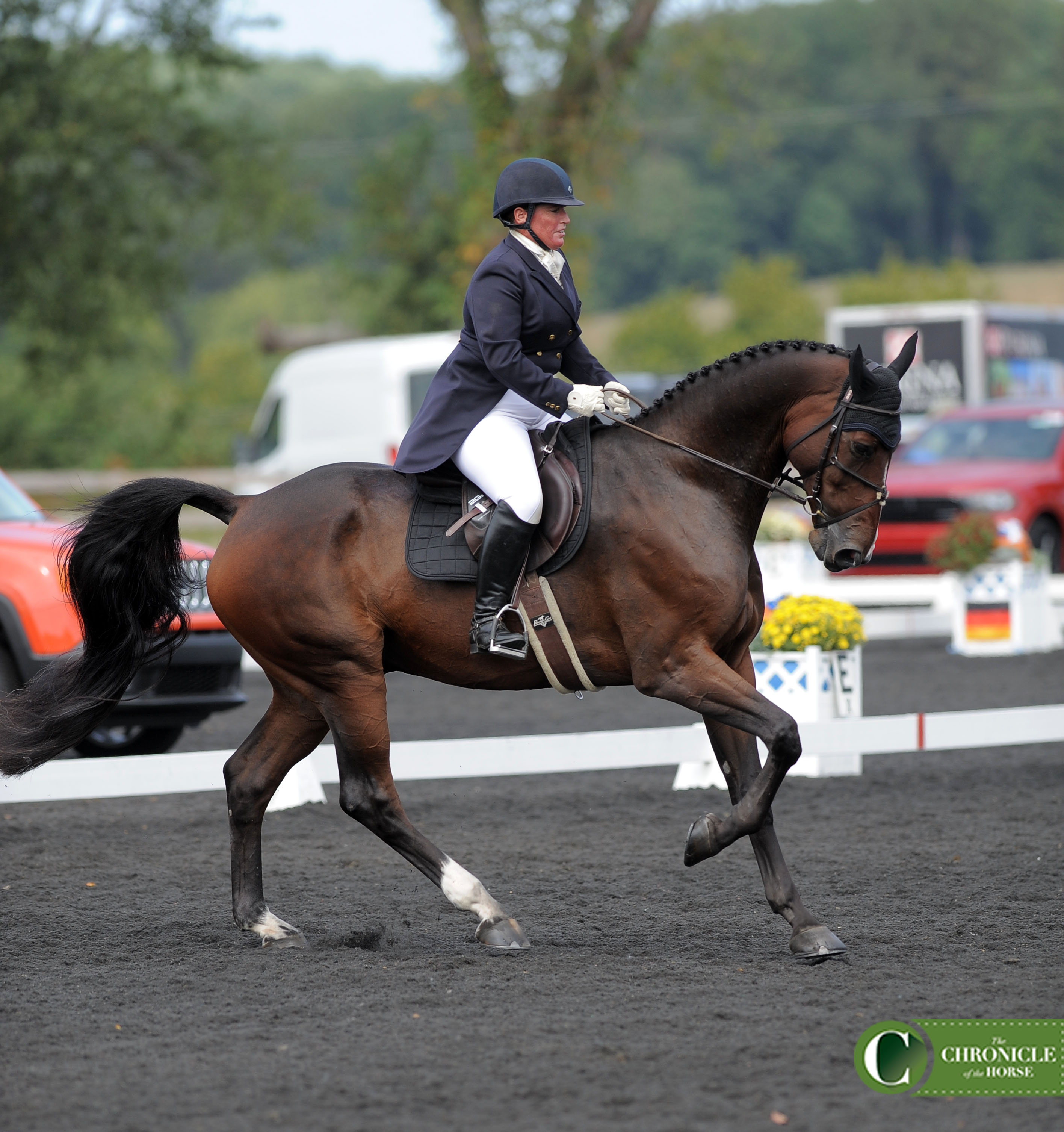 Gina Economou and Calidore. Photo by Lindsay Berreth.
Economou found Leo in the Netherlands as a 5-year-old for her student Samantha Burkhart to do jumpers and eventing with.
When he turned out to be a bit too big for Burkhart, Economou took over the ride and they went in to partnership with him.
As a young horse, Leo had a cracked tooth that abscessed but took awhile to diagnose, so he developed contact issues that Economou is still working through. A simple snaffle bit helps keep him from getting nervous in the ring.
Despite that issue, he rose through the eventing ranks easily and did the Young Jumper classes as a 5- and 7-year-old to supplement his education.
Show jumping has always been easy for Leo, but sometimes he over jumps on cross-country, so steering has been an issue for Economou.
"With his size and scope, he hasn't quite learned to roll over fences and then turn. He sees something and wants to jump it so big and round, then I land and I'm out of sorts to get to the B or C element of what's there. That's been our biggest challenge," she said. "He'd bold, and he wants to do the job, it's just when he sees something impressive, he jumps it bigger than he probably should. But I'm never going to be mad at him for trying too hard or jumping too big.
"He tries harder than any horse I've been around," she continued. "His fault is he tries too hard. I think if he would just try less it wouldn't be so overwhelming! I think he tries so hard to please that he just tries to give me everything."
The pair completed their first CCI*** at Rebecca Farm (Mont.) in seventh place this summer, but they've been dabbling in grand prixs since trying one out at the Memorial Day Classic (Calif.) last year.
"It was so easy. I didn't have a lot of control at that point in his life, but we tried it, and he was going great, and he kept stepping up and stepping up," she said.
They've since done a handful more and have been jumping at the 1.30-1.45-meter level at shows like HITS Thermal (Calif.) in between events.
"It's easy for him. I never thought in my wildest dreams that I would get to do a 1.45-meter at a track like Thermal, but he stepped up like he always does. It's been fun to get to do that," she said. "Jumping the grand prix at Thermal and then looking at the coffin I was worrying about at Galway [Downs], like that's so small! It's given both of us quite a bit of confidence that nothing in front of us isn't jumpable."
Economou packed up Leo (Okland—Honoree, Caruso), Caparelli's horse and her young preliminary horse Exclusive at the end of August and made the trip east.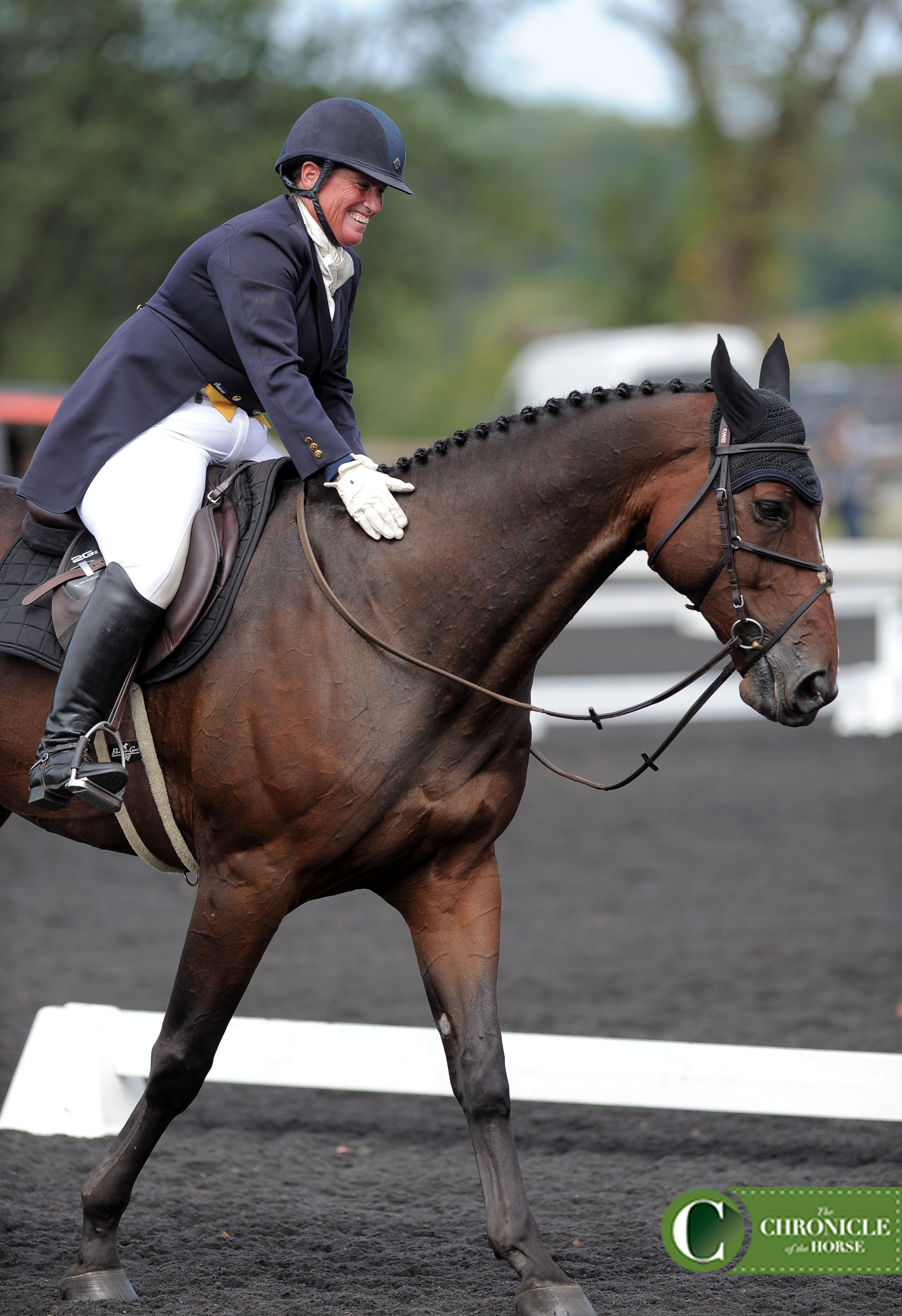 Gina Economou was thrilled with Calidore's CIC*** test. Photo by Lindsay Berreth.
She hasn't planned on bringing Exclusive, but when the person meant to be caring for him couldn't, she put him on the trailer. She left California not quite sure of where she was staying due to the last-minute third horse, but with the help of several local riders like Erin Sylvester, Beau Guimond and Matt Flynn, who all offered to keep her horses, she finally had three stalls at Melissa Gallagher's Ardara Farm.
"Tennessee was enlightening!" she said about the trip with a laugh. "Where we laid over we were waiting for some banjos to start playing, but other than that, the drive went surprisingly well.
"I'm glad it happened this way," she continued. "These people were so nice to welcome us in and say, 'here you go.' They didn't know me, and I didn't know them. I don't know Erin, but we networked, and everyone stepped up and made this possible, and here we are at a fabulous place."
Economou, 47, is planning on using Plantation Field as a prep run for the Dutta Corp. Fair Hill International CCI*** (Md.) in October. She last competed at Fair Hill 13 years ago.
She's trying to learn as much as she can by taking lessons with Boyd Martin and Richard Picken.
Five days in to her trip, Leo had a "soundness scare," but after extensive diagnostics it turned out to be an allergic reaction that caused some swelling and scabs on his legs that has since come under control.
Now that Leo's back on track, Economou's goal is to have a quiet prep run.
"The terrain kind of terrifies me a bit, just driving by and looking at the side of the hill!" she joked. "Everyone says it's quite tough. I'd like to just be positive and have a nice run as a good prep for Fair Hill. I won't be trying to break a speed record. I'll be on the more conservative side that way. I just want him to be somewhere new and hopefully step up and enjoy it."
Economou runs her business out of her late mother Maria's Pepperwood Riding Center, and she's relied on friends, other trainers and students to keep her horses in work and her business going while she's gone.
Her farrier will be coming out for free because some friends donated their airline miles.
"Everyone's really done so much to help me get here," she said.
Wondering how Economou does at Plantation? Keep up with COTH's coverage of the event. Follow along at www.coth.com and on COTH's Facebook page.